35.972970413793, -78.901330333461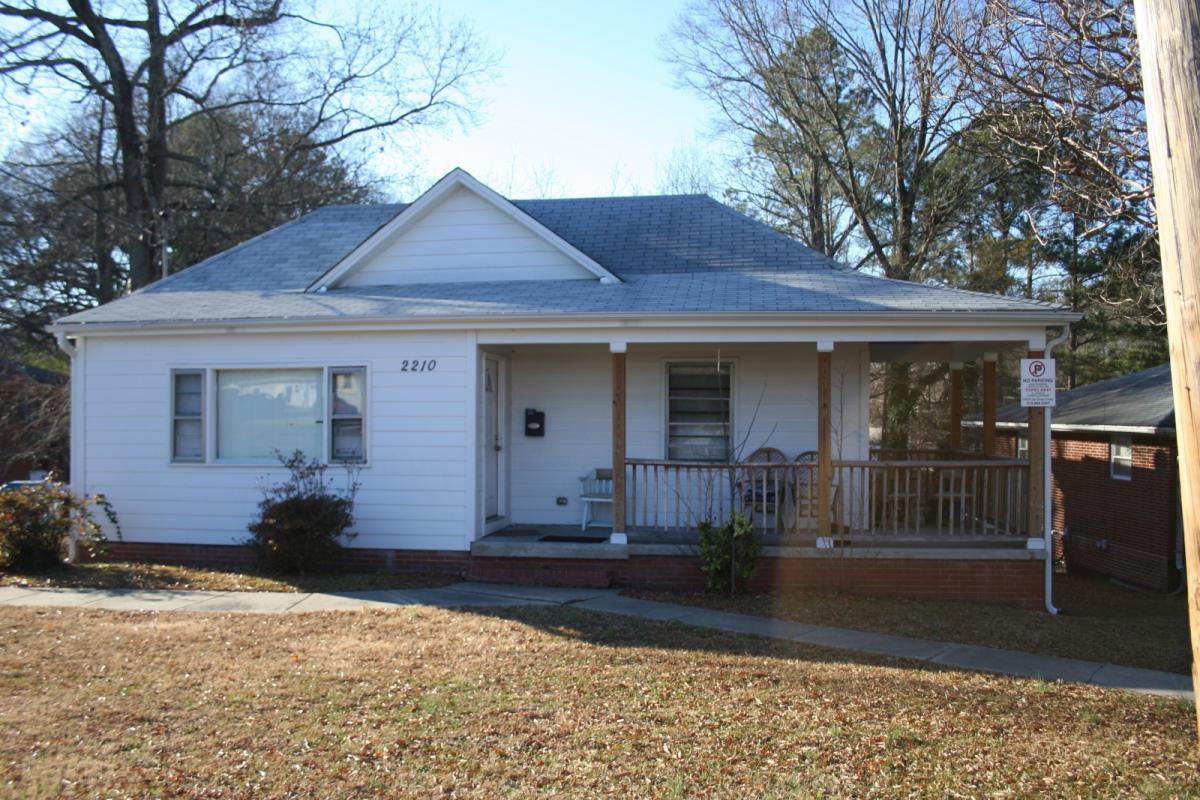 Photograph taken by Heather Slane, National Historic Register Submission, December 2017
Typical of early-twentieth-century housing, this one-story, hip-roofed house was updated in the 1950s. The house is two bays wide and single-pile with a near-full-width, hip-roofed rear wing that is two bays deep. The house has aluminum siding, two-over-two horizontal-pane wood-sash windows, and a gable centered on the façade. The left (south) end of the original hip-roofed porch has been enclosed with aluminum siding and a picture window flanked by two-over-two windows on its façade. The entrance to the house, a replacement door, is located on the right (north) side of this wing and is sheltered by the open hip-roofed porch that wraps around the right elevation of the house supported by replacement unpainted square posts with a replacement railing between the posts. Mattie T. Bass, a dressmaker, is listed on Fayetteville as early as 1925.
According to county deed records, C.C. Martin and his wife, Mary E. Martin, dated December 24, 1900 and recorded on December 15, 1903, sold a large parcel of land to Mattie T. Bass.  On December 28, 1905, E.B. Bass, her husband, signed a document making Mattie  Bass a free trader.  Mattie Bass, on October 13, 1922, conveyed a lot to one of her daughters, Dovie Bass Grady.  On September 5, 1928, Mattie Bass conveyed a lot to her other daughter, Lillian T. Bass Edwards.
On February 28, 1962, Dovie B. Grady sold two lots from the land to Laura D. Grady; and on May 10, 1963, Dovie sold one lot to Alvis O. Grady, Sr.  Later, on July 18, 18, 1963, Dovie sold another lot to Laura Grady.  The lots sold to Mr. and Mrs. Grady are on Nelson Street, the southern part of the parcel of land originally owned by Mattie T. Bass.
Dovie B. Grady sold a portion of land to the Redevelopment Commission  of the City of Durham to add a sidewalk as part of the North Carolina College Project of the Redevelopment Commission on July 11, 1966.  G.W. Edwards sold his interest to Dovie B. Grady (widow), the property conveyed to Mattie Bass on December 24, 1900, died survied by two daughters, Dovie Bass Grady and Lillian Bass Edwards, who died in 1965 and G.W. Edwards as her widower, in November 1966.
On June 9, 1982, Dovie B. Grady transferred the ownership of the house to Gladys Grady Knox.  Lucious S. Knox and his wife, Gladys Grady Knox sold the property to James D. Williams, Jr. and his wife, Sherron H. Williams, who sold it to Global R&S LLC on January 2, 2002.   Gladys G. Knox sold the house to Artillius L. Breakfield on March 24, 1995.
Artillius L. Breakfield and his wife Ann S. Breakfield sold the house to Arreola Kimberly Samantha Vilchis on December 23, 2013.  
The Bass, Edwards, Knox and Grady families were relatives.