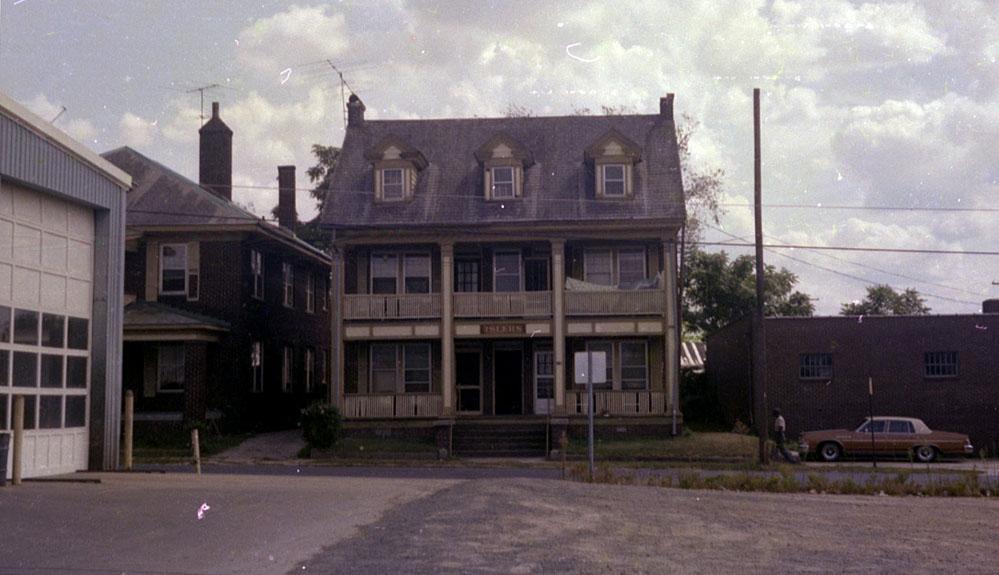 Looking east, 1981.
(Courtesy Robby Delius)

I've always had a particular affection for the 1920s-era, Colonial Revival apartment building on Hood St. Although as late as the 1980s, above, there was an adjacent apartment building as well, for the time that I've known the building, it has stood alone amidst the warehouses. I used to wonder what in the world it was doing there - it seems so incongruous.

The answer is that, even in the 1950s, Hood St. was a residential neighborhood of small and large houses, as well as apartment buildings. The combination of urban renewal to the north, the large-bore re-routing of Elizabeth St. to connect to Fayetteville - which severed this from points east, and light industrial expansion chewed up all of this neighborhood except 217 Hood.

I was sad to see the other day when I drove by that the house is suffering from a pervasive blight on the eastern side of town. Plastic Window Disease. The owners were ripping out all of the old windows and putting in new - yep 6 over 6 with the fake muntins - plastic windows.
The owner of this structure, at least from 2006-2013, was William K. Graham. Mr. Graham owns a number of houses strewn across eastern Durham. Owners like Mr. Graham sit on their holdings, convinced of the windfall they are going to net someday, and stymieing the improvement and preservation of Durham as their houses sit vacant and rotting. Occasionally, 'improvements' are made, which usually consists of ripping out original windows to put cheap plastic ones in.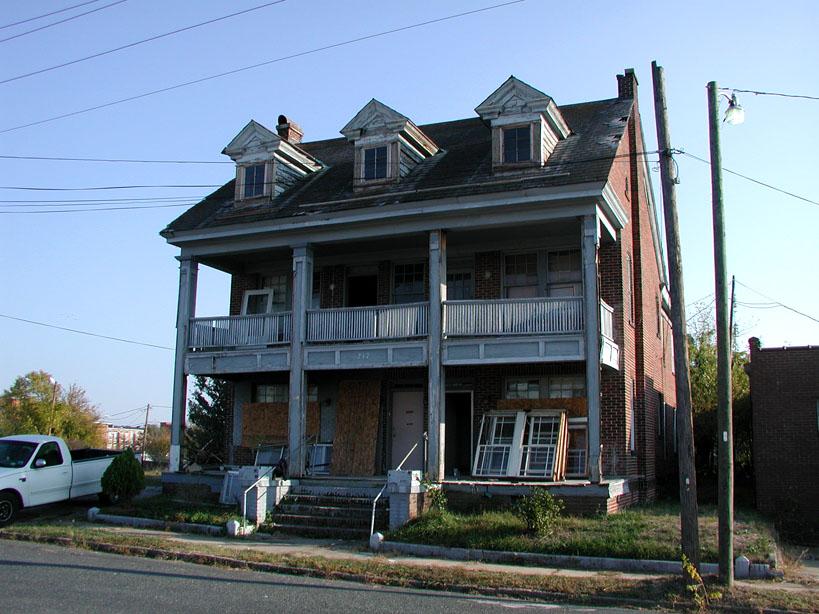 Looking northeast, 2007.
(Photo by Gary Kueber)
Somehow the window manufacturers have persuaded people that 1) Old windows are doomed to leak energy and that 2) the only solution is to rip out entire windows and replace them all with fresh-from-the-factory full window assemblies. Ugh. Yes - at least they aren't tearing the building down. But at the rate windows are being ripped out in East Durham, we are going to have a lot of ugly looking houses that people will be even less likely to preserve.
As of 2013, it is clear that this building has no positive future under its current ownership. The best thing I can say about owners that refuse to improve their properties is that they are 1) so cheap and 2) their expectations for sales price are so far out of the realm of reality, that sometimes they refuse to spend the money to remuddle a property, and sometimes they prevent things from getting torn down by developers due to their sheer obstinancy.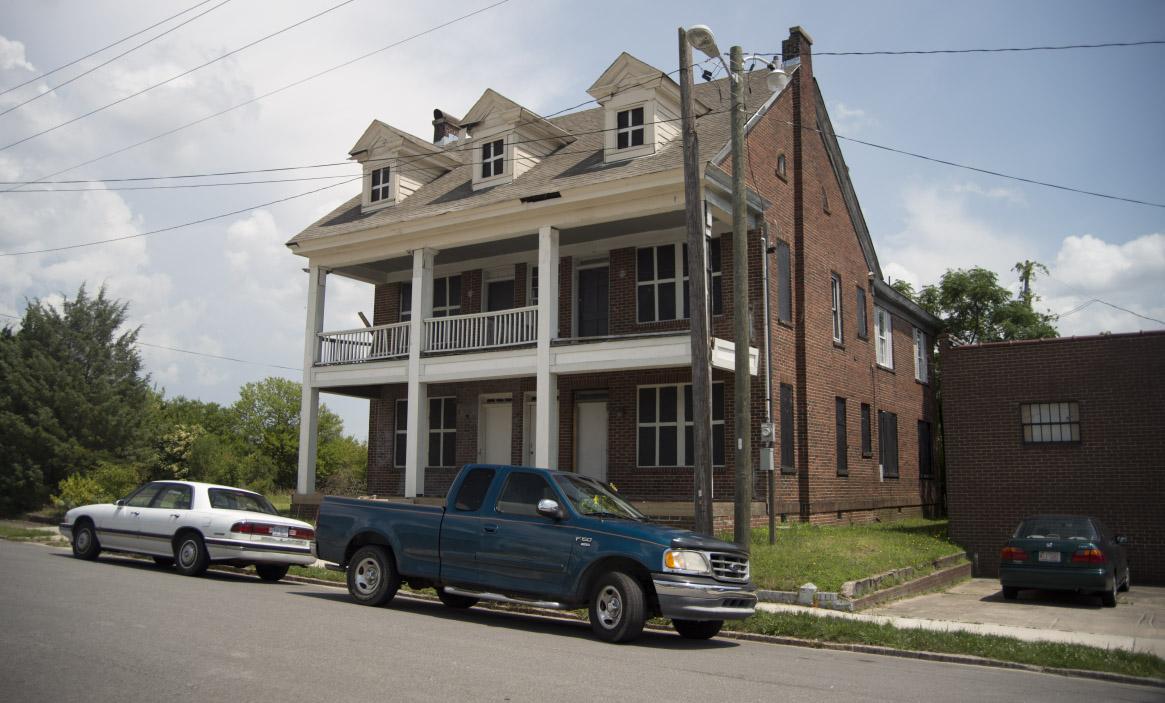 06.25.13 (Photo by Gary Kueber)
Shockingly, this building was saved/renovated.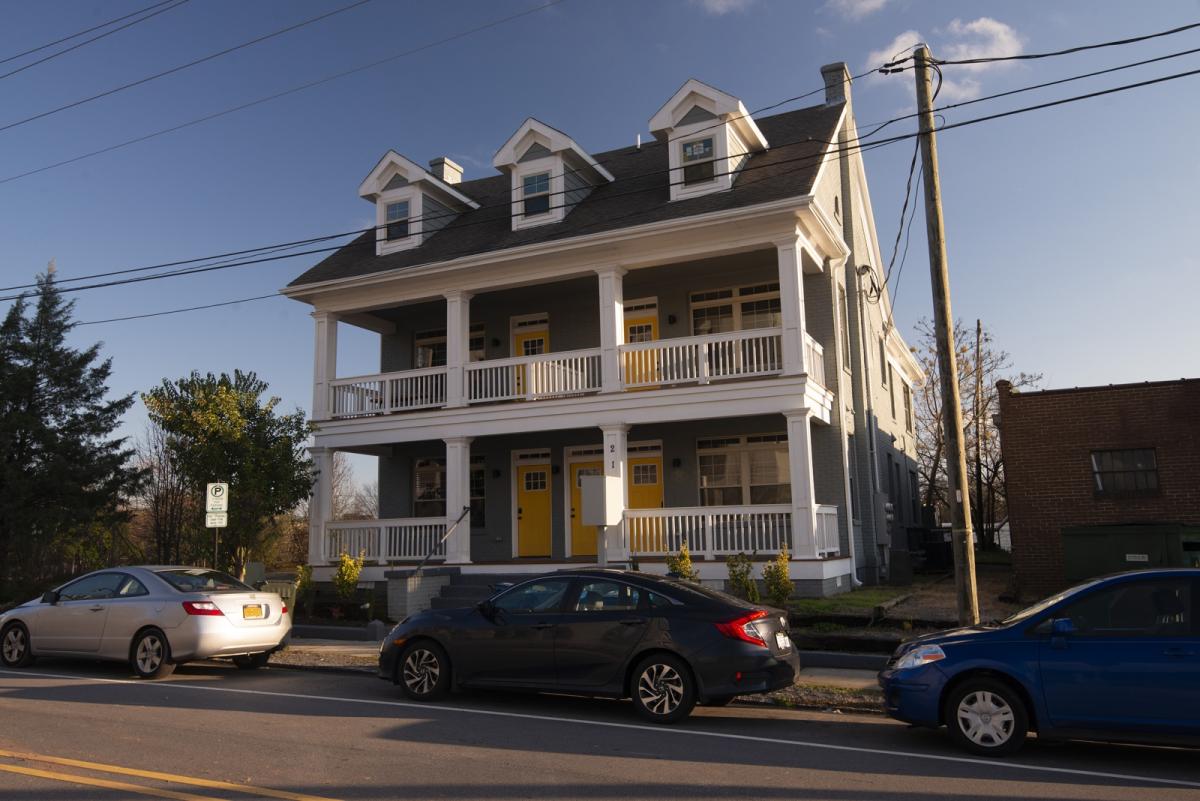 12.14.2019 (G. Kueber)