35.972488529407, -78.902692910021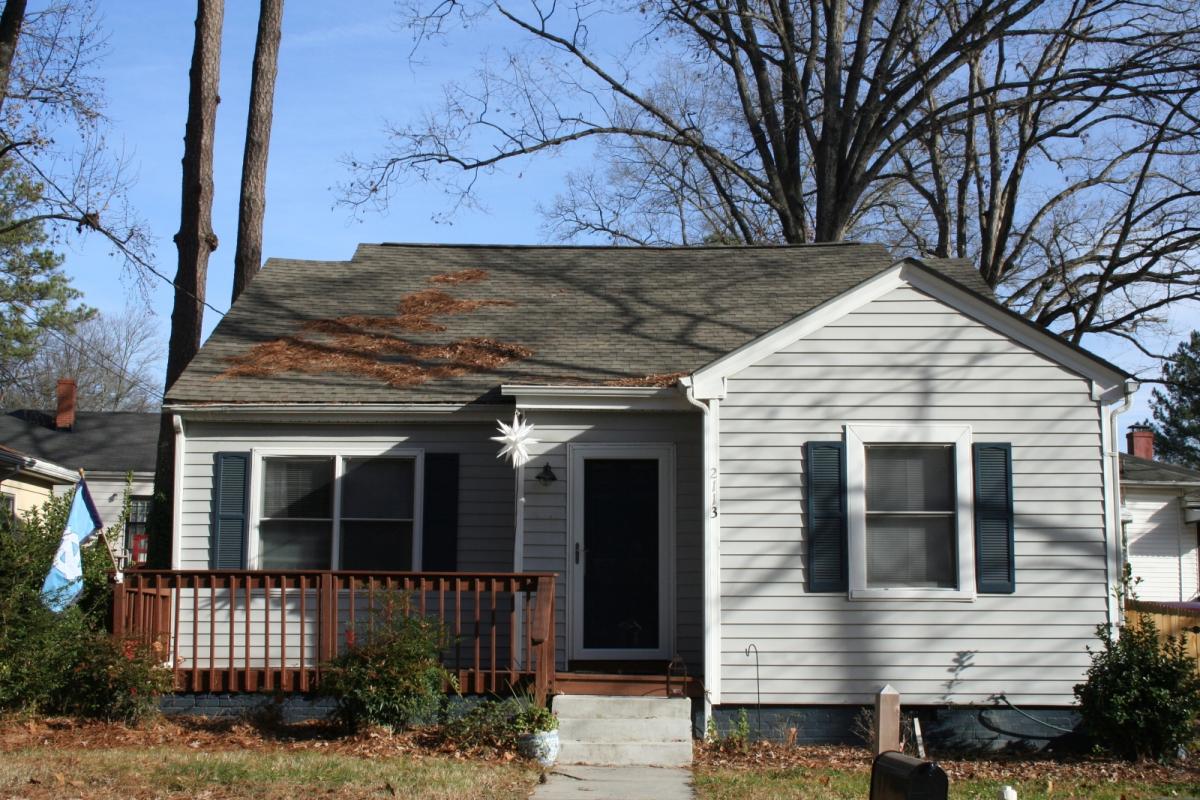 December 2017, photograph by Heather Slane - hmwPreservation
The roofline of this one-story house was raised to allow for the construction of a shed-roofed dormer on the rear elevation. The house is three bays wide and triple-pile with a projecting, front-gabled bay on the right (south) end of the façade. It has vinyl siding and windows and a six-panel door in a projecting, shed-roofed bay centered on the façade and accessed by an uncovered wood deck. A one-story, shed-roofed bay extends from the left rear (northeast). County tax records date the house to 1946,
The original owners of this property were Simeon Holloway, a music student at North Carolina College, now (NCCU) , and his wife, Dorothea who purchased the home in 1946.  They moved to Durham from Indiana after Mr. Holloway came to the realization that he would not be able to advance at the steel mill after he graduated from high school in 1939.  The United States Navy had just started admitting people of color in 1937 and only as in-service positions such as mess attendants.  Several months into World War II, President Roosevelt decided that a "Negro Band"  would be a good placement on battleships and Mr. Holloway was placed at UNC-Chapel Hill and at St. Mary's College in Moraga, CA.  In 1942, he was selected among the 45 recruits to be a part of the first all Black Naval Band, the B-1 Band.  This was a small, but significant step, that the Navy would make true integration of our Navy military forces. The musicians were sent to Norfolk, VA for basic training instead of the School of Music in Washington, DC which was segregated.  The men were then sent to Chapel Hill and lived in separate barracks.   They played for battleship launches, funerals, dances and other events.  After being honorably discharged, Mr. Holloway came to Durham and attended North Carolina College (now North Carolina Central University, where he received a BA in music and drama.  He continued and received a Masters in Music Education.  While in school, he had the honor to sing with the phenomenal Paul Roberson.  The Holloways sold this house in 1946.  He taught music for several years in different cities around the country before pursuing his goal to go to Hollywood to follow his passion   He called his friend, Ivan Dixon, an actor most noted as one of the stars of Hogan's Heroes, and got his first acting job.  For over twenty years, Holloway would be featured on many movies, television shows, stage plays and commercials.  He would work with celebrities like Redd Foxx, Sherman Hemsley, and Juanita Moore.  His credits would include roles on the television shows Amen, 227, Hill Street Blues, Little House on the Prairie, and Sanford, along with a host of others.  As written in the August 2019 issue of the The Urban Voice, Naiomi Pitre wrote, " Timothy Holloway, Simeon's son, created a film documenting his father's life entitled, "95 Never Looked So Good".  It recently won the award in the Best Documentary Short category at the 8th Annual People's Film Festival in Harlem, New York." 
In 1946, the house was sold to Burnes L. Ray, an employee at the city sewage plant and his wife, Trivalene Ray, a nurse in 1952 and a teacher years later.  They were the parents of three children.  Mr. Ray also managed several properties that he had inherited from his father.  Mrs. Ray, after being a Licensed Practical Nurse for several years, returned to.school to pursue a degree in education.  She taught in the Durham City School system for many years.  Her cousin, actor Ivan Dixon, visited her at their home on several occasions.  In 1973, the Rays moved to their new home on Castlerock Drive.  They sold the house to Martin Jarvis, who bought it as investment property, and rented it to various tenants until he sold it in 2017.
In 2017, according to property records, the home was purchased by Meredith Bryson.  She is a registered nurse and the current occupant of the house.