35.973395874921, -78.901303518565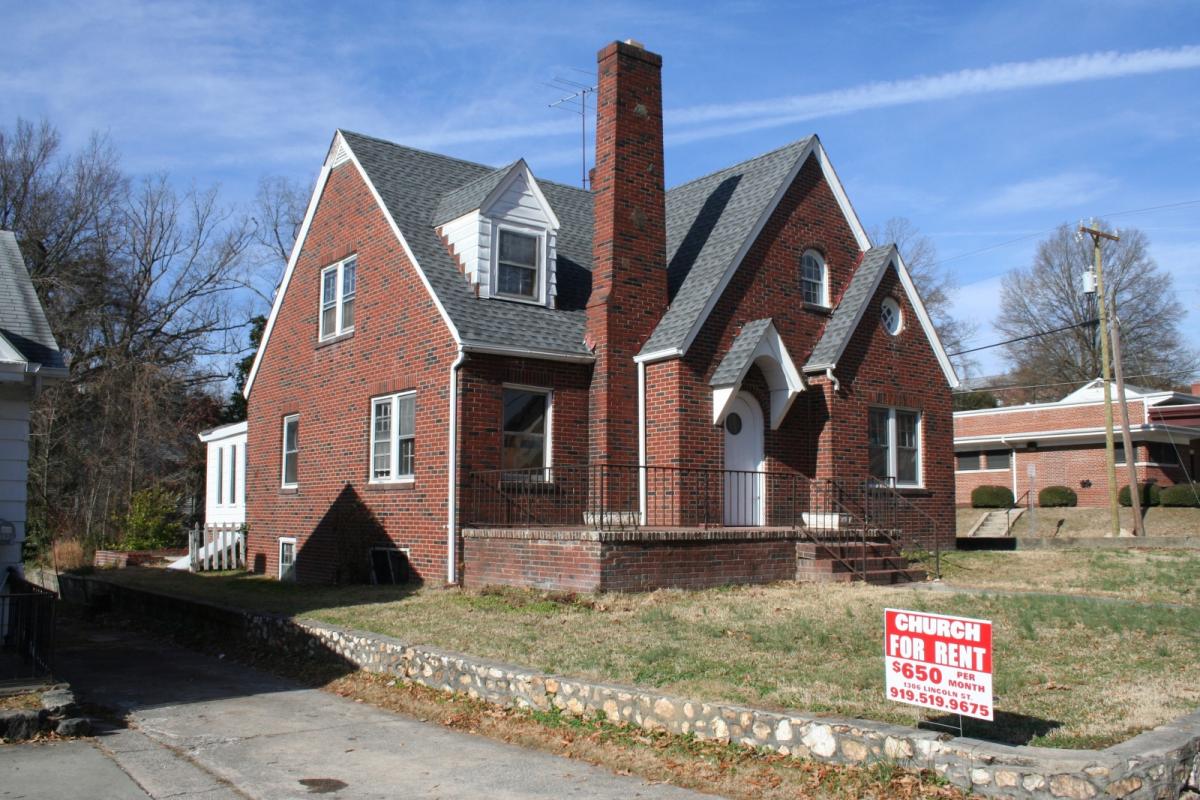 Photograph taken by Heather Slane, National Historic Register Submission, December 2017
Located at the southwest corner of Fayetteville and Pekoe streets, this one-and-a-half-story, side-gabled Period Cottage is three bays wide and double-pile. The house has a brick veneer, six-over-six wood-sash windows, an interior brick chimney, and an exterior brick chimney near the left (south) end of the façade. There is a two-bay-wide, projecting front-gabled wing on the right (north) end of the façade with an arched six-over-six wood-sash window in the gable and a smaller projecting gabled bay on its right end with paired windows and a fixed, nine-light round wood window in the gable. On the left end of the projecting wing is an arched batten door with a round light, sheltered by a gabled roof on knee brackets and accessed by an uncovered brick terrace with decorative metal railing that extends across the left two bays of the façade.  The tapered brick chimney on the façade has stone detailing and there is a front-gabled dormer to the left of the chimney with aluminum siding and a single six-over-six wood-sash window. There are paired windows in the side gables and a near-full-width, shed-roofed dormer on the rear elevation has aluminum siding. A one-story wing at the left rear (southwest) has a low-sloped gabled roof, aluminum siding, and vinyl casement windows. Near the center of the rear elevation is a shed-roofed porch that has been enclosed with aluminum windows on a sided knee wall. A stone wall extends across the front of the property adjacent to the sidewalk. The earliest known occupants are Fenton H. Rowland and his wife, Roxie, in 1945.
According to the 1940 City Directory, Mr. and Mrs. Rowland were residents of this house.  They were the parents to two daughters.
County deed records show that Mutual Building and Loan Association sold the lot to Fenton H. Rowland and his wife, Roxie A. Rowland on February 10, 1939.  Mr. Rowland was the owner of Rowland and Mitchell Tailors at 200 1/2 Main Street.  Mrs. Rowland was a member of social and garden clubs.  Mr. Rowland died in November 1954 after being struck by a train, according to the Carolina Times, November 27, 1954.
On March 10, 1993, power of attorney was signed and given to Beulah Hill, daughter of the Rowlands.  On April 13, 2007, Eric Franklin, grandson of Evelyn Rowland Boone (daughter of the Rowlands), gave power of attorney to James Hill, son of Beulah Rowland Hill.
For several years, this house was vacant and with evidence of substantial deterioration.  On January 15, 2016, Rane Boone Franklin, Eric Franklin, Clinton C. Boone III, Wanda Boone, and E. Rane Boone transferred the title to this property to Virginia Dianna Hill, daughter of Beulah Hill.  Ms. Virginia Hill began the arduous task of having the house rehabilitated.  As of October 2020, the house is still vacant and renovation is being completed.