207-209 HOLLOWAY STREET
Built in
1923-1935
/ Demolished in
1966-1970
Comments
Built in
1923-1935
/ Demolished in
1966-1970
The 200 block of Holloway was a transitional block between downtown and the East End during the middle portion of the 20th century. As Highway 98/US 70 leading into downtown, (in the pre-interstate era), gas stations and small services proliferated along Holloway. (Holloway was a dominantly residential street in the early 20th century, with the exception of the area near Hyde Park and Holloway, which was a commercial center.)
A service station was built on the northwest corner of Holloway and North Roxboro sometime 1923-1931. A masonry building was built adjacent to the service station (at 207 Holloway) in the 1930s, housing Kennedy's Auto Service Co.
By mid-century, the New Method Laundry (located in the northward adjacent buildings on Roxboro) had expanded into these structures.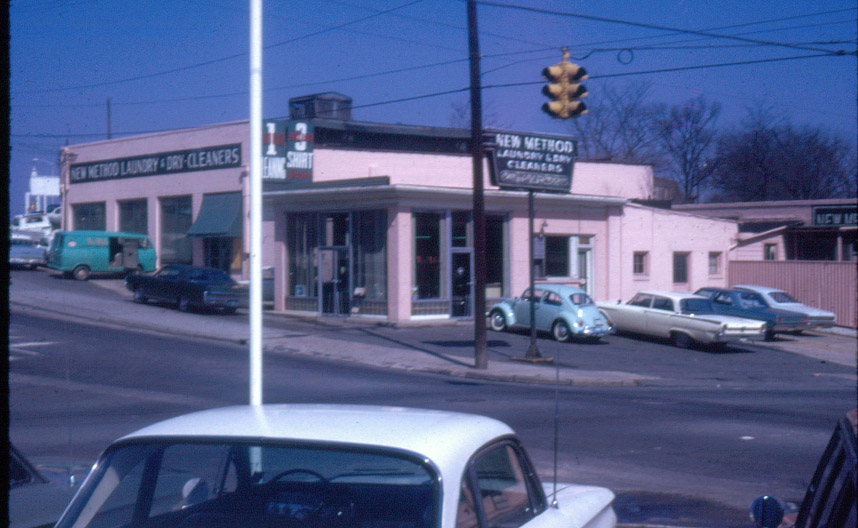 (Courtesy Durham County Library)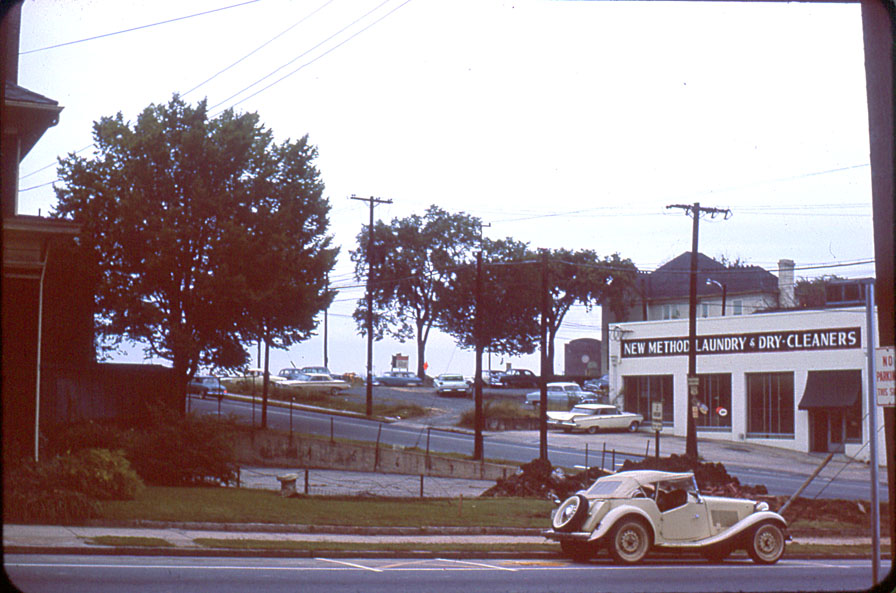 Looking northwest from the east side of Roxboro, just south of Holloway - 1962. The house in the background faces Cleveland St., and a small bit of the Fuller School is visible in the background.
(Courtesy Durham County Library)
In 1963-63, the connector road that hooked Holloway to Morgan was put through (a more sensible pre-cursor to the Block of Road Stupidity.)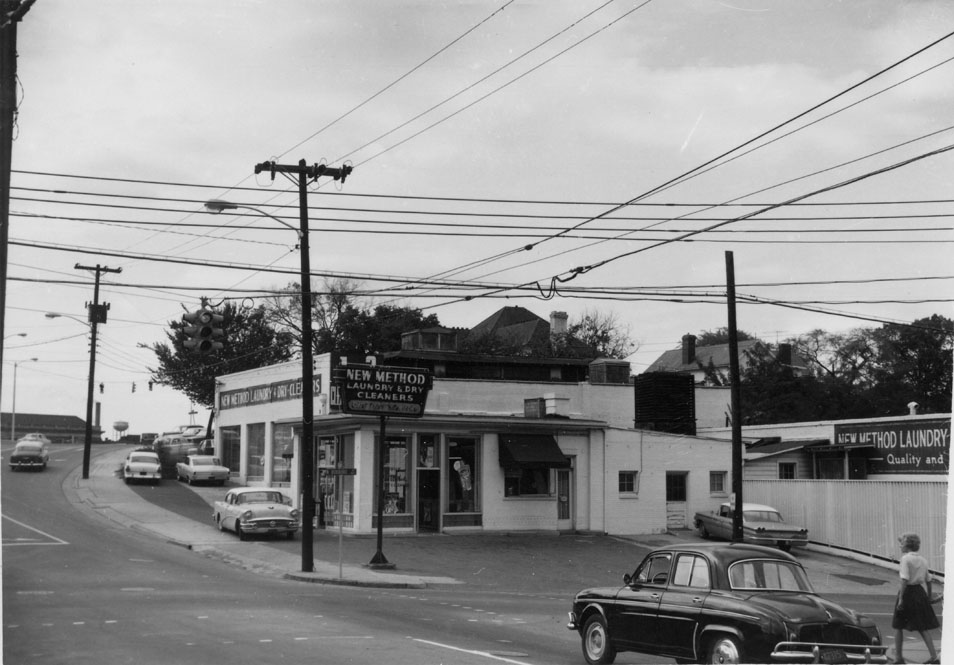 Looking west from Roxboro and Holloway Sts. ~1965. Again, the houses in the background are on the east side of Cleveland St.
This building and the houses behind it were torn down during the late 1960s. During the 1970s, PSNC built a lovely office building here, designed by the same architectural stars who brought us the 1977 city hall - John Latimer and Associates.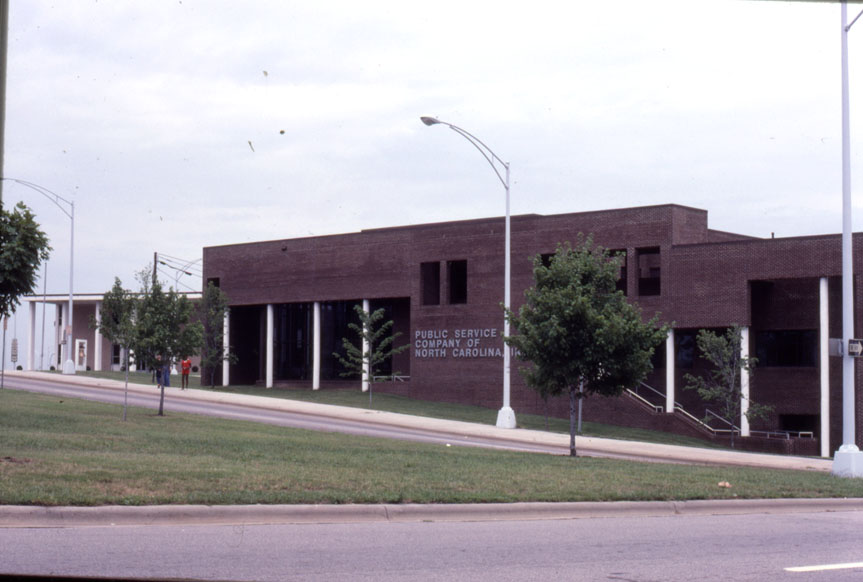 Looking northwest, 1981.
(Courtesy Durham County Library)
It is now a city of Durham building. At least trees grow to partially obscure a building like this.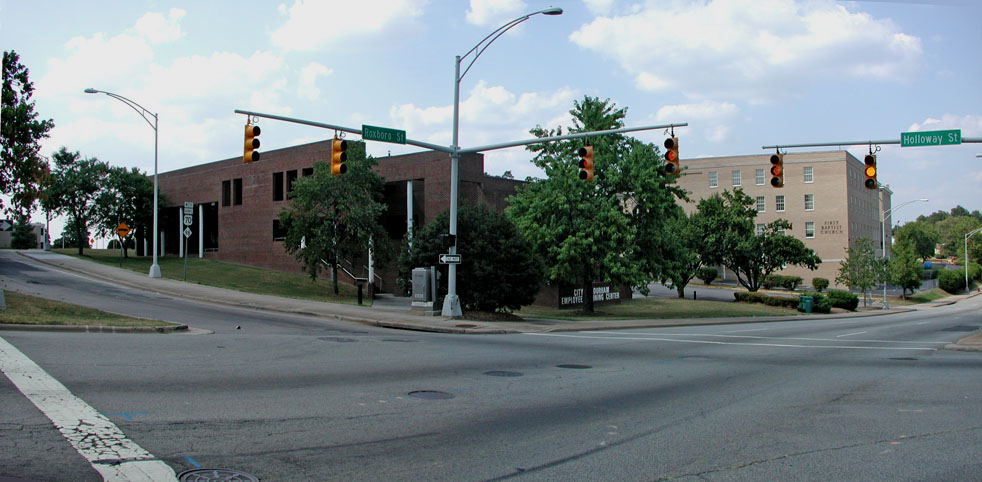 Looking northwest, 2007.