35.974116538881, -78.901389349254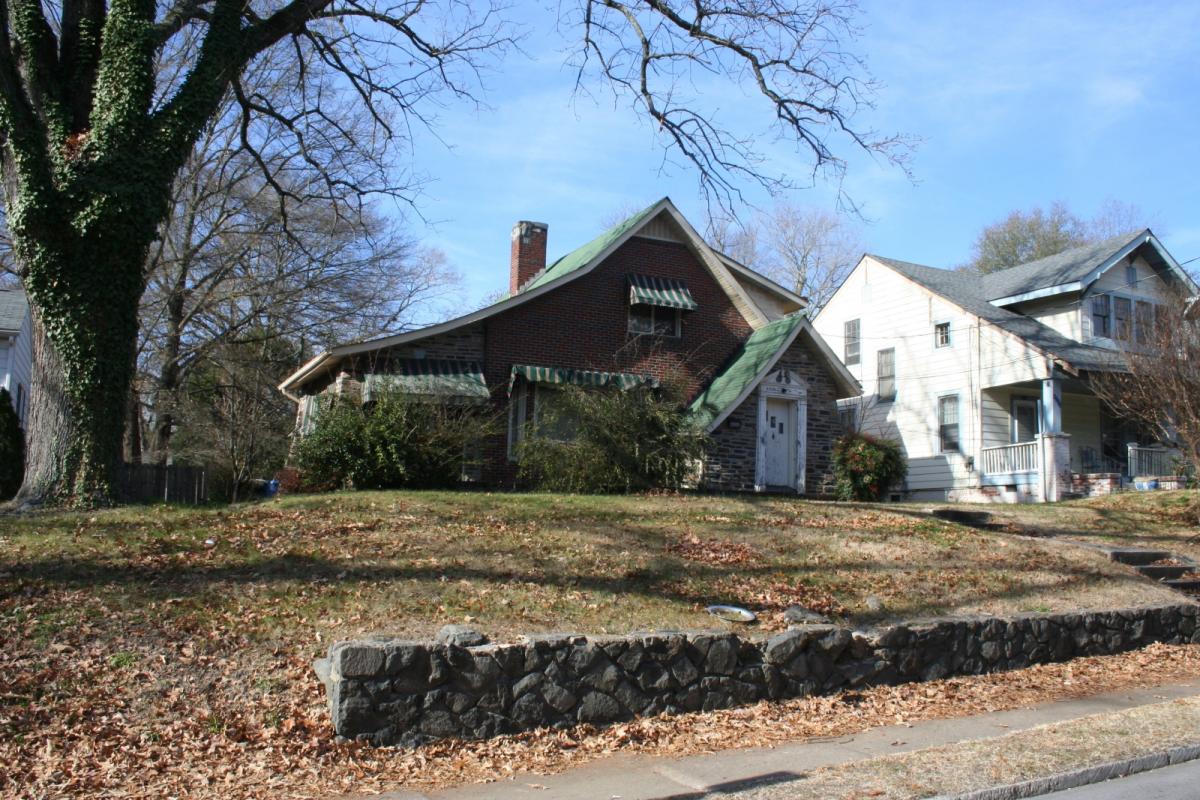 Photograph taken by Heather Slane, National Historic District Submission, December 2017
With a distinctive stone-veneered entrance bay and unique slender windows flanking a picture window to the left (south) of the entrance, this Period Cottage is one of the most unique in the district. The one-and-a-half-story, front-gabled house has a brick veneer, replacement one-over-one windows throughout, and vinyl gable vents and eaves. The house is two bays wide with a picture window on the left side. The front-gabled, entrance bay on the right (north) end of the façade has an asymmetrical front-gabled roofline, stone veneer, and batten door with three lights in a classical surround with fluted pilasters and a broken pediment. An uncovered brick terrace leads to the entrance. The house has paired windows in the front gable and a shed-roofed dormer on the right elevation is covered with vinyl siding. On the left elevation, the asymmetrical gabled roofline extends to shelter a porch supported by stone piers and enclosed with screens. There is an interior brick chimney on the left roof slope and a one-story, shed-roofed wing at the right rear (northwest) with aluminum siding. The earliest known occupants are Gow M. Bush, a professor at North Carolina College (later North Carolina Central University), and his wife, Lucille K. Bush, in 1945. By the early 1960s, the house was owned by John H. Lucas, principal at Hillside High School and his wife, Blondola, a public school teacher and later Assistant Principal at Shepard Junior High School. 
They are the parents of two children.  Their son, John H. Lucas, Jr., later became a professional basketball player and coach.
According to deed records, this property changed ownership several times pror to the Lucas family purchasing it.  On January 1, 1943, Gow M. Bush bought the land  and built the house.  On August 29, 1945 Gow Bush bough a second lot from Ardell Farrington, and another lot from Clemuel D. Grandy on September 27, 1946.
On June 2, 1964, Isham G. Newton and his wife, Eunice sold the home to John Harding Lucas and his wife, Blondola.
Mr. Lucas was principal at Hillside High School in 1962, before retiring in 1985.  He was preident of the North Carolina Association of Educators, 1974-1975.  Mr. and Mrs. Lucase sold their home to Rosemary Alsbrooks Johnson on June 26, 1991.
On April 4, 2005, Stafford C. Berry, Jr. bought the house from Thomas E. Spivey, trustee from James Cedric Johnson, under the last will and testament of Rosemary Alsbrooks Johnson.
The house is vacant currently and being renovated.