35.972571004685, -78.90631924223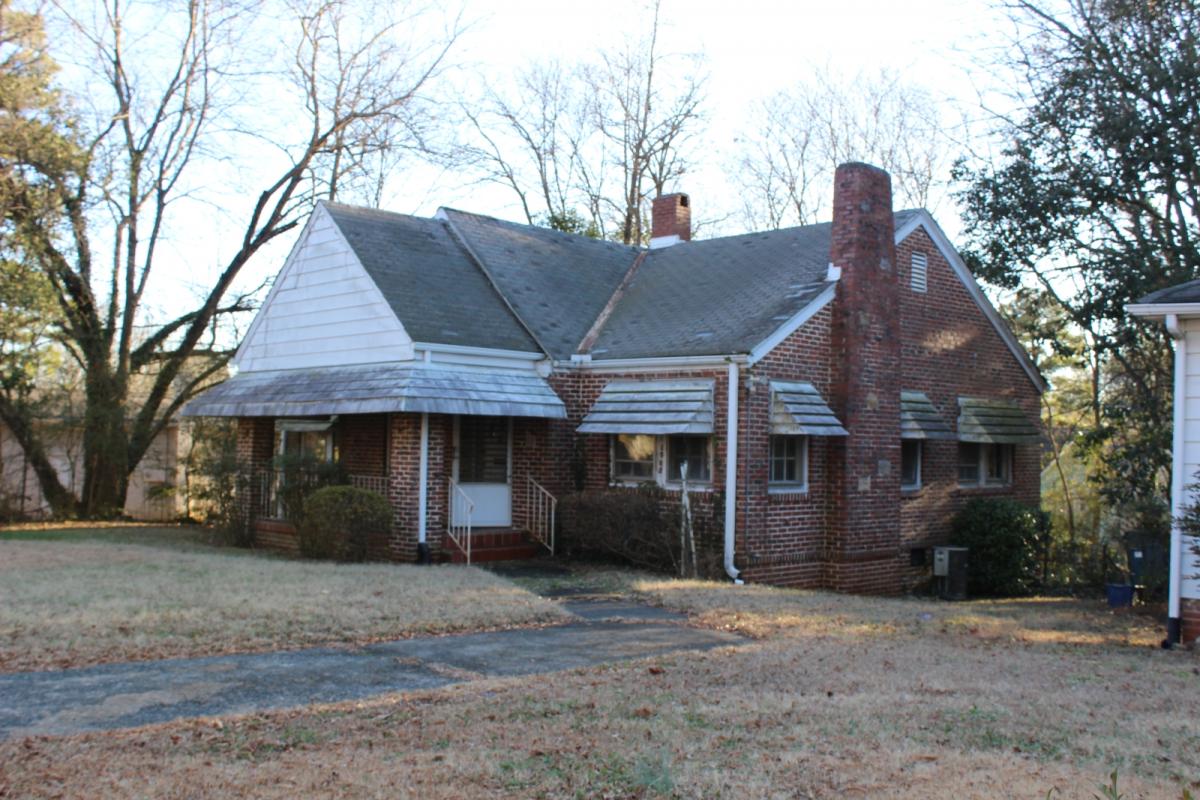 Photograph taken by Cheri Szcodronski, National Historical Register Submission, January 2018
Larger than many other homes of the late 1940s, this one-story, side-gabled, bungalow is four bays wide and double-pile. The brick veneer with header-course brick watertable, exterior brick chimney on the right (northwest) elevation with stone detailing, and the front-gabled porch on brick piers are likely the work of bricklayer Peyton Jeffreys, the home's first occupant. The house features six-over-six wood-sash windows, flush eaves with rectangular louvered vents in the gables, and an interior brick chimney. A front-gabled wing projects slightly from the façade with the entrance, a solid door with three lights, on the right side of the wing. A front-gabled porch extends the full width of this wing, supported by full-height brick piers with aluminum siding in the front gable and shaded by aluminum awnings. County tax records date the house to 1946 and the earliest known occupants are Peyton Jeffreys, a brick and stone mason, and his wife, Surluta Jeffreys, in 1950.
According to county deed records, J.F. Williams and his wife, Isadora Gray Williams sold the lot to James. T. Jeffreys, a single man, on July 12, 1947.  James Jeffreys conveyed the property to Peyton A. Jeffreys and his wife, Surluta Jeffreys on November 3, 1947.  I do not know the relationship between the two men.  On April 3, 1958, P.A. Jeffreys and his wife Surluta, conveyed the property to Lenora Jeffreys, a single woman, with life estate rights reserved to them.  Lenora Jeffreys sold the property to Thodore Holt on November 20, 1971.
On July 10,1992, Martha J. Easterling, a neighbor at 1925 Cecil Street, purchased the property by a court ordered commissioner assigned to a case related to the property.  Ms. Easterling was not a party in the court case.  The court order was for the property to be sold and Ms. Easterling.purchased it.
The property remains a part of the Martha J. Easterling estate, with her daughter overseeing it.  After staying vacant for several years, the house was rented to the present tenant approximately two years ago.