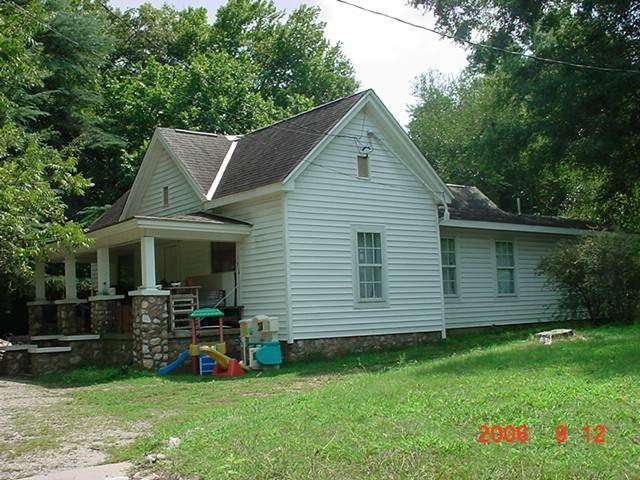 (Below in italics is from the 2004 East Durham National Register listing; not verified for accuracy by this author.)
John Marcom House. 1-story tri-gable house with vinyl siding, replacement windows, and a hipped porch with replacement stone piers. The porch posts are covered with vinyl. 1913 SM. 1930-1940 CDs: John W. Marcom owner/occupant (textileworker). 
John W. Marcom,  and later just his widow Jennie Clevie Nutt Marcom, lived in this house for almost 5 decades. John, like many of Carden Alley's residents, worked in one of the neighborhood's textile mills.
Many members of the Marcom family lived within a block or two of here from the turn of the century through the 1930s, including Julius E. Marcom,  and later Rosa Marcom Vickers,  who at separate points in time, both lived at 1907 Carden's Alley; Walter M. and Annie Marcom at 1610 East Main Street; George and Ella Marcom at 1703 Angier Avenue; Lewis H. Marcom at 1817 Vale Street; J. Clarence Marcom at 1815 Vale Street; and J. Lewis and Hazel Marcom at 512 Bacon Street. 
Carden Alley/Carden Lane runs both East/West and North/South, and the numbers therefore change from 300/400s to 1900s. Carden's Alley was possibly named for William A. Carden who was listed as a resident on Carden's Alley in the 1917 CD.  Carden's occupation was listed as "Drayman", which is nearly a non-existant profession thesedays. A drayman is someone who drives an open flatbed trucks drawn by horses to transport material. I imagine surrounded by the railyard and numerous factories that work was easy to come by for him.  For other photos of of the street as well as some great memories in the comments section from past area residents, visit Gary's post on Carden Alley.