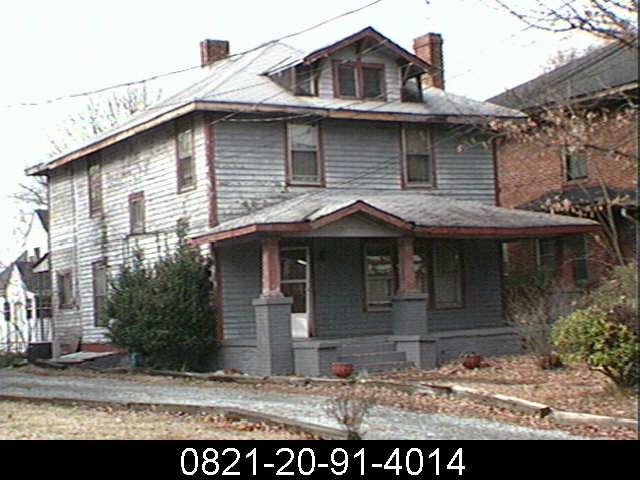 Durham County Tax Administration photograph, c. early 2000s
Below in italics from the National Register nomination for the Stokesdale district:
This two-story, hip-roofed Foursquare house is two bays wide and double-pile with a one-story, gabled rear ell on the northwest corner. The house has a brick foundation, vinyl siding, and two brick chimneys: an interior chimney just south of the ridgeline and an exterior chimney on the north elevation. A one-story, shed-roofed bay on the north elevation does not retain any windows. The rest of the house retains four-over-one, Craftsman-style windows. The gabled front dormer has two louvered vents, exposed rafter tails, knee braces, and wood weatherboards. The hip-roofed front porch is supported by tapered wood posts on concrete-capped painted brick piers; it is accessed by a painted brick stair with brick knee walls. County tax records date the building to 1926; the earliest known occupant is Felicia D. Miller (clerk, Bankers Fire Insurance Company) in 1930.
In fact, this was the home of both Felicia Miller and her younger sister Catherine for more than a half-century.  Born and raised in Goldsboro, North Carolina, Felicia Miller studied at Barber-Scotia College in Concord before coming to Durham.  She was hired as a clerk at Bankers Fire Insurance Company in 1920, the year it was founded by W. G. Pearson.  Catherine Miller may have followed her sister shortly thereafter; by the mid-1920s she too appears in city directories working for Bankers, perhaps starting while a student at North Carolina College.  After first residing a few blocks north on Umstead Street, Felicia Miller purchased this land from the Vickers family in 1925 and likely had this home constructed shortly thereafter.
Both women would eventually rise to assistant secretary of Bankers, working a combined 82 years for the company.  They were longtime members of St. Titus Episcopal Church.  Opening up their sizable home, the Miller sisters also hosted a niece, Yvonne Miller, who lived at 1610 Fayetteville while attending nearby Hillside High School in the early 1950s.  After gaining salutatorian honors in 1953, she went on to study at Spelman.  Around that time, the Millers built a garage on the property and added an additional room to the house - possibly to accomodate family members or other residents.
Only in her mid-fifties, Felicia Miller sadly passed away that same decade.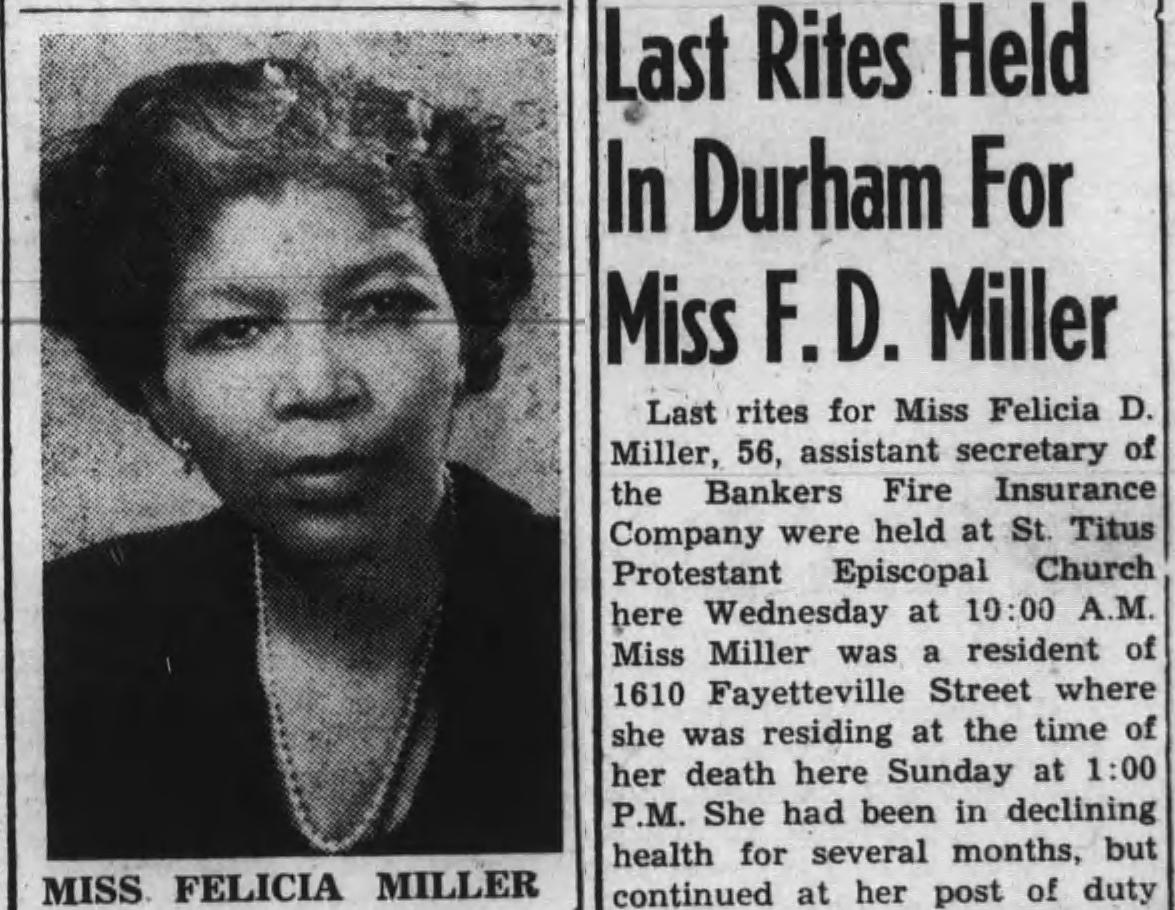 Clippings from the Carolina Times obituary for Felicia Miller, July 21, 1956 (online via DigitalNC).
Staying on at the house and the same company after her sister's death, Catherine Miller continued working for NC Mutual after it acquired Bankers in the early 1960s.  At least two other siblings, Rebecca Miller and Essie Miller Hall, joined her to live at 1610 Fayetteville for periods.  Catherine Miller remained here until her own passing in 1984.
Unfortunately, this historic structure has suffered fire damage at least twice in the years since it was sold by heirs of its original owners, with a largely exterior flare-up in June 2000 followed by a more extensive second floor blaze that displaced residents in fall 2010.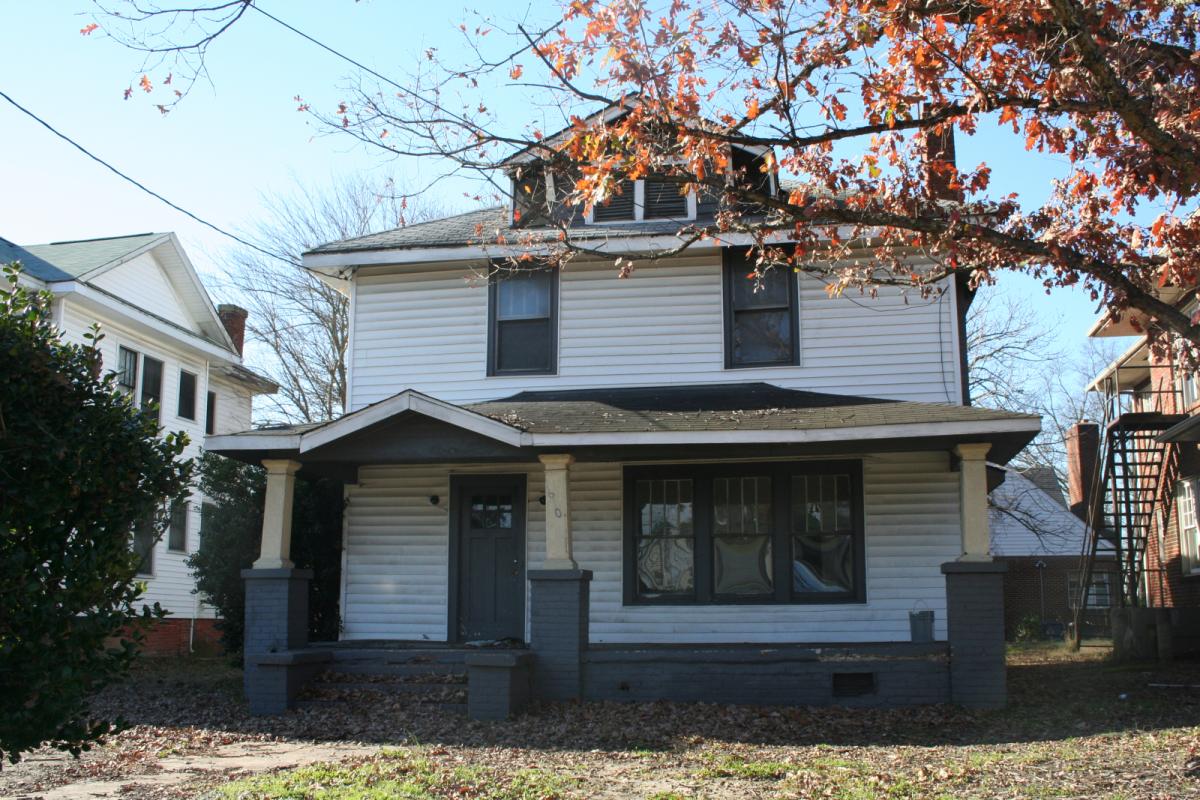 Photograph by Heather Slane (hmwPreservation) for Stokesdale National Register application, December 2009.
As of 2013, this house is threatened with demoltion by the city. Unfortunately, the mayor and council's antagonism towards the Historic Preservation Commission likely means that NIS will take a more aggresssive stance towards demolition of structures in local districts. I fear that the intended chilling effect on the commission's purview may limit their willingness to fight the 'small' things.
Update, March 2022: though apparently not in use and the site of stalled construction work, the frame of the Miller House still stands.