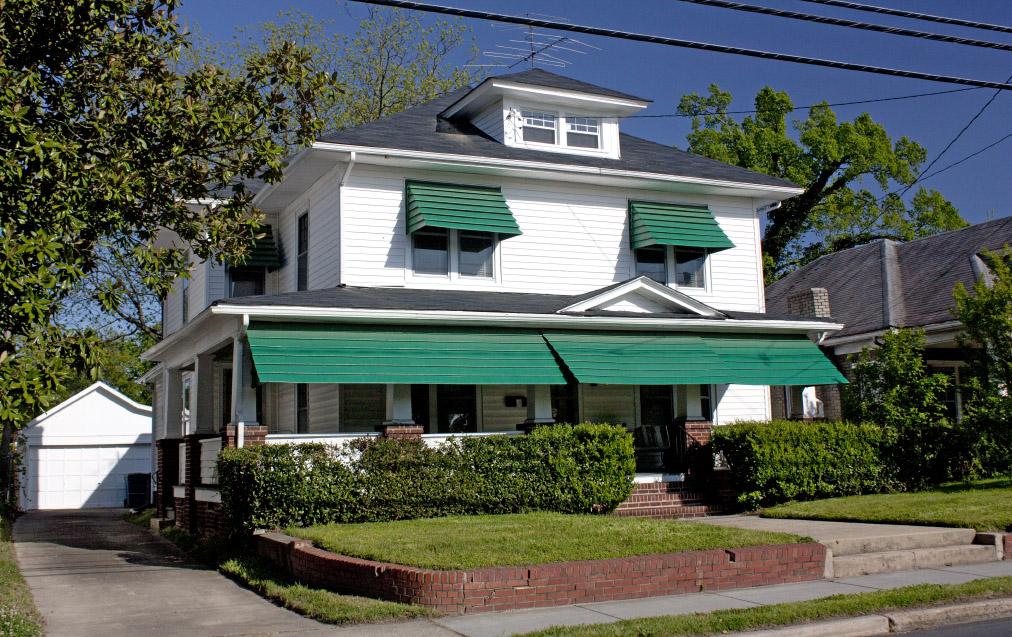 Below, in italics, from the Stokesdale National Register Historic District description:
This two-story, hip-roofed house is three bays wide and double-pile with a projecting two-story hip-roofed bay on the north elevation and a two-story, gabled rear ell on the southeast corner. The house has a painted brick foundation, vinyl siding, and nine-over-one, double-hung wood sash windows. The hip-roofed front porch is supported by tapered wood posts on brick piers and has a low gable over the entrance, which is accessed by a brick stair with brick knee walls. The porch extends across the façade and wraps around the north side of the house, abutting the projecting bay. Original wood weatherboards remain in the porch gable and wood soffits and trim remain around the hip-roofed front dormer, which has a pair of six-light casement windows. The front door is a fifteen-light French door. A low brick retaining wall extends along the driveway and across the front of the property. The earliest known occupant is Dr. John W. V. Cordice in 1925.
Garage, c. 1935 – Front-gabled frame garage with plywood sheathing, asphalt-shingled roof, and large overhead wood door; a shed-roofed block on the right side has a pedestrian entrance.
Born in the British West Indies and trained at Howard University Medical School, Dr. Cordice, his wife Pearl, and their family came to Durham in 1925 for him to join the staff at Lincoln Hospital.  He also operated a private practice with an office at 711 Fayetteville.
At left: an unidentified man - perhaps Dr. Cordice himself - stands at the entry to the physician's private practice at 711 Fayetteville Street, likely in the latter 1920s (Duke University Special Collections, online via Digital Durham). At right: Dr. Cordice in portrait submitted with immigration documents in 1940 (State Archives of North Carolina).