35.994098182237, -78.876160353764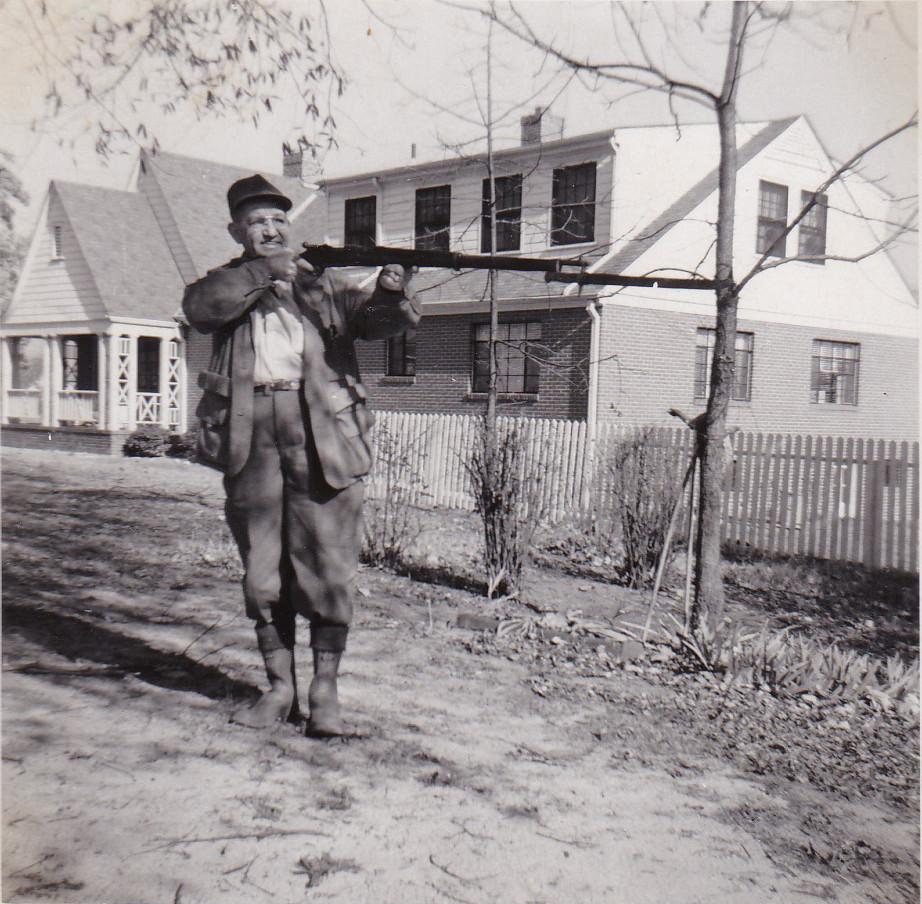 Bonnie McCoy Gregory in hunting regalia with the western half of the duplex built for two of his sons in the background (c.1950, Courtesy of Marcia Gregory)
Owners of the Rite-Way Laundry on Angier Avenue, Bonnie and Inez Gregory raised six sons at 1402 Holloway - just adjacent to this property at the corner of Holloway Street and Park Avenue.
Having purchased that house and surrounding plots from Mrs. Mary Florence Rowland when their children were little, the Gregory family used the additional space to have homes built for three of their older sons who were starting their own families by the mid- to late-1940s.
At left - February 1928 plat map showing subdivision of lots surrounding the Rowland-Gregory house; 1404 Holloway sits mostly on lot 1, slightly expanded to include a sliver of lots 2-4 (North at bottom, County Register of Deeds). At right - 1950 Sanborn Fire Insurance Map showing newer structures built for the Gregory family - this duplex east along Holloway and another south on Park (available online via NCLive.org).
Gerald Gregory moved into the house at 808 Park Avenue, Richard Gregory and his family remained in the 1402 Holloway house after Bonnie and Inez passed away in the early 1950s, and the duplex (then listed as 1404 and 1406 Holloway Street) was home to Bernard and Coy Gregory and their families.  This formed a kind of family compound - with shared yard space, outbuildings, and a patio with fire pit.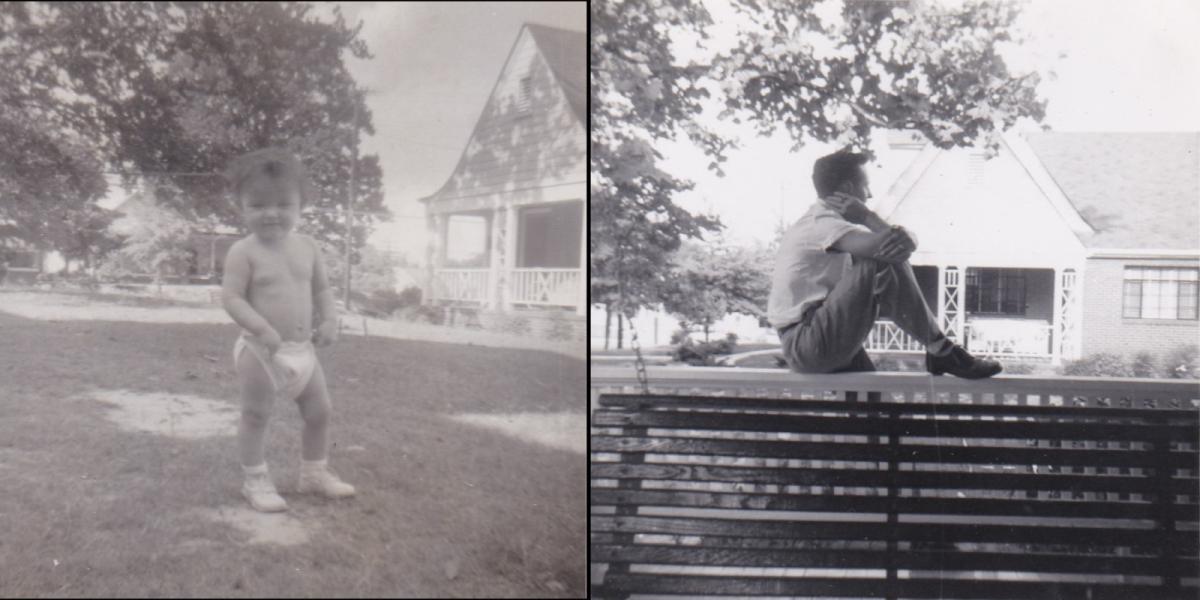 Whether playing in the yard or sitting on the porch at 1402 Holloway Street in the early- and mid-1950s, the proximity of family in the adjacent duplex is evident from multiple pictures (Courtesy of Marcia Gregory).
In 1963, Bernard Gregory sold this property to James C. Malone, and it would stay in that family until it was sold in 1995 to a local non-profit, Housing for New Hope.
While many of the Gregory Duplex's original mirrored elements remain (most promiently the dual side entry porches), the house has been converted to a single, unified plan.  Dedicated to ending homelessness, the group has renovated the property twice to provide housing services for women in need - first as a transitional facility known as the Dove House, and again in 2018-19 as Holloway Place.  See information from the December 2018 groundbreaking and find out more about this and other projects by Housing for New Hope on their website here.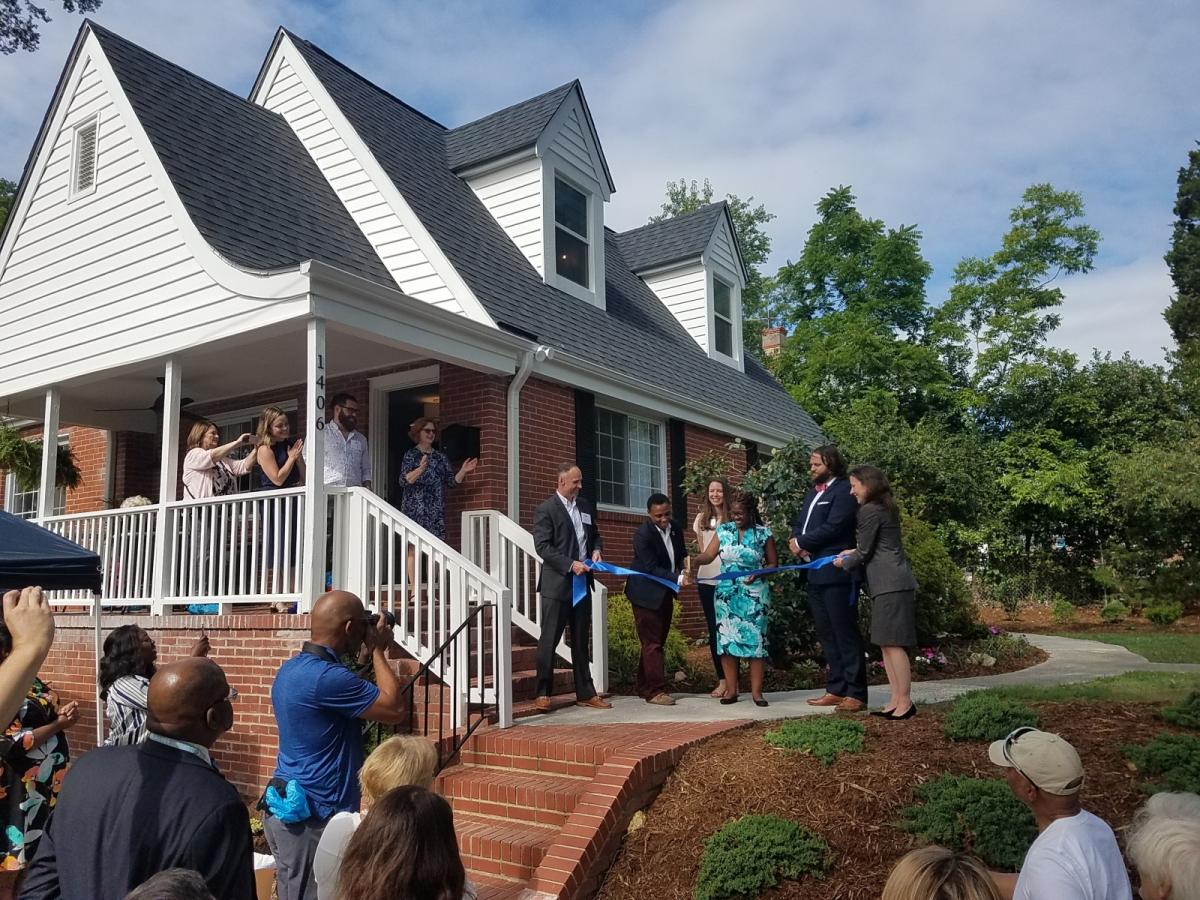 Durham City Council member Vernetta Alston joins project designers, volunteers, and community members at the ribbon-cutting ceremony for Holloway Place (06.11.2019, N. Levy).
Donated design and construction work, many days of volunteer effort on installation and decoration, and individual contributions through an online registry went into remaking this into an affordable and inviting co-housing space for seven single women - a demographic City Council representative Vernetta Alston highlighted as particularly likely to live below the poverty line in Durham today.
With members of the Gregory family on-site to celebrate the June 2019 opening of Holloway Place (some 70 years after the house was built for their relatives), this was a remarkable example of how - with the right combination of resources, careful attention, and stakeholder cooperation - preserving and repurposing pieces of Durham history can also address some of the critical problems confronting our communities in the present and into the future.