35.973491448733, -78.905423246926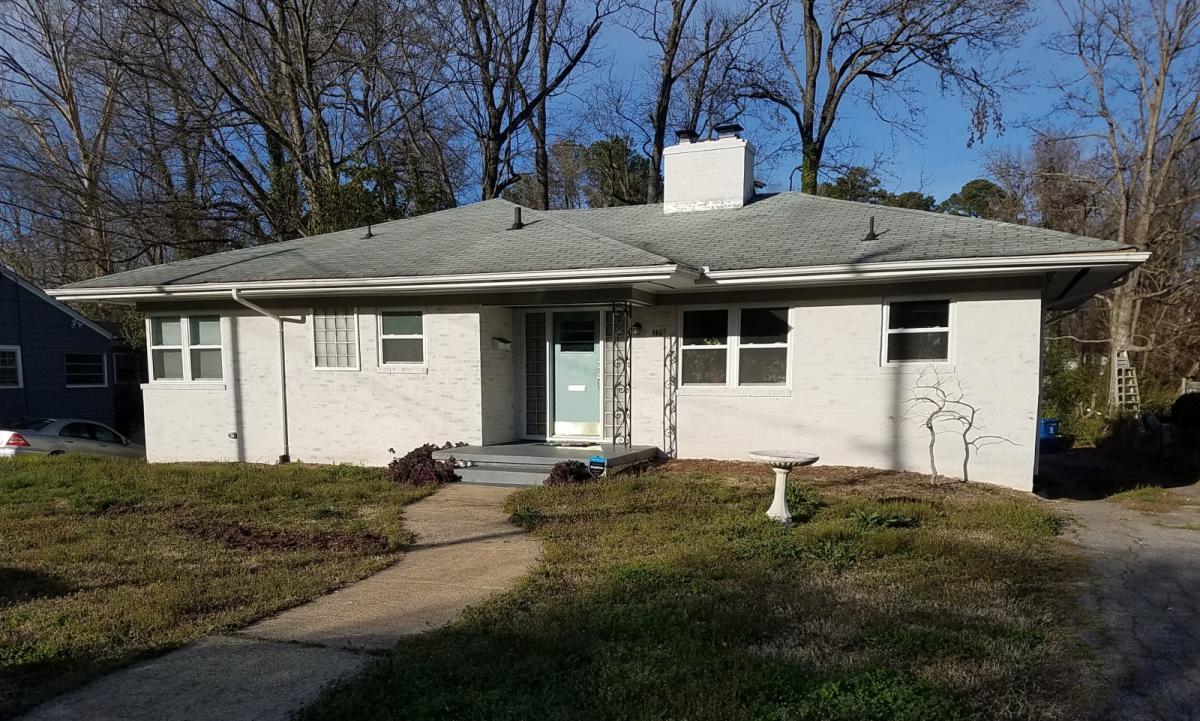 (03.12.2019, N. Levy)
From the National Register Historic District description:
This one-story, hip-roofed Ranch house is six bays wide and double-pile with a wide, projecting, hip-roofed wing on the left (northwest) end of the façade. The house has a painted brick veneer, deep eaves, vinyl windows, and an interior brick chimney. A solid wood door with three horizontal lights is located near the center of the façade, has glass block sidelights, and is sheltered by an inset porch supported by a decorative metal post on the right (southeast) end of the projecting, hip-roofed wing. Near the center of the hip-roofed wing is a glass block window and windows on the left end of the wing wrap around the corner. County tax records date the house to 1953 and the earliest known occupants are Frank McCrea, one of the first African American police detectives, and his wife, Louise T. McCrea, an administrative assistant at NC Mutual Life Insurance Company, in 1955. 
On December 1, 1947, Howard E. Wrght and Anne N. Wright sold the lot to B.H. Thornton and his wife, Anna K. Thornton.  County deed records show that the Thorntons sold the lot to Frank McCrea and Louise T. McCrea on April 25, 1950.  Detective and Mrs. McCrea lived in the home for many years until her death.  He married Genevieve McCrea who died at age 101 on January 6, 2017 who had lived in the house.  Charles L. Steel, IV, guardian of the estate of Genevieve McCrea sold the property to Diane Suner on April 28, 2017.  Ms. Suner sold the property to Triangle Homes Transformed, LLC on August 3, 2017.  After renovating the property, Triangle Homes Transformed LLC sold the house to Stepen Andrew Thomson and his wife, Judy Ann Thomson.  The Thomsons are the current owners and occupants.
Mr. Frank McCrea died on December 30, 2020 at the age of 98.
Frank McCrea. age 98
The Herald Sun, January 5, 2021