View of the rear of 1212-1214 Angier, with the two long monitor roofs, looking north, 1950s (Courtesy of The Herald-Sun).
  Though county tax records date these buildings to 1900, it appears they were built later on the site of earlier houses on the streets north of the
Commonwealth / Morven Cotton Mill
.  

The evolution of construction at 1212-1214 Angier Avenue showing the replacement of mill houses and the expansion of the laundromat facility built in their place (Sanborn Fire Insurance maps available online at NCLive.org)
From 1925 this was the site of Rite-Way Laundry, a business run by Bonnie McCoy Gregory (in previous years listed as proprietor of a Durham Damp Wash at the same address on N Roxboro that became New Method Laundry).
For some fifty years, this was a familiy business - run by five of his sons after Bonnie Gregory's death in 1952.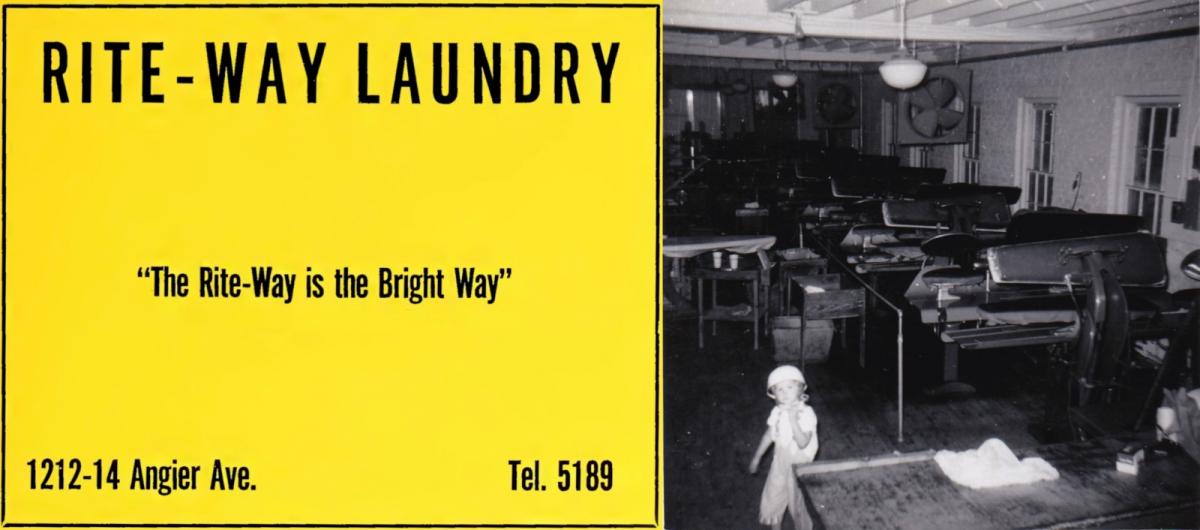 At left - an advertisement from the 1955 Hill's Durham City Directory (online at DigitalNC.org); at right - one of Bonnie Gregory's granddaughters pictured playing in the family business (August 1955, Courtesy of Marcia Gregory).
  Three generations of the Gregory family who ran Rite-Way lived in the
Rowland-Gregory House
at the corner of Holloway Street and Park Ave.   In addition to expanding at this location, Bonnie Gregory's sons established a coin laundry on Alston Avenue and a branch location on Guess Road.   The original facility at 1212-1214 Angier was run by the Gregorys until sometime in the 1970s, after which the exact sequence of tenants is difficult to establish based on ownership.  Clearly at some point the premises were home to The Cabinet Shoppe, but we've yet to turn up evidence of it in operation.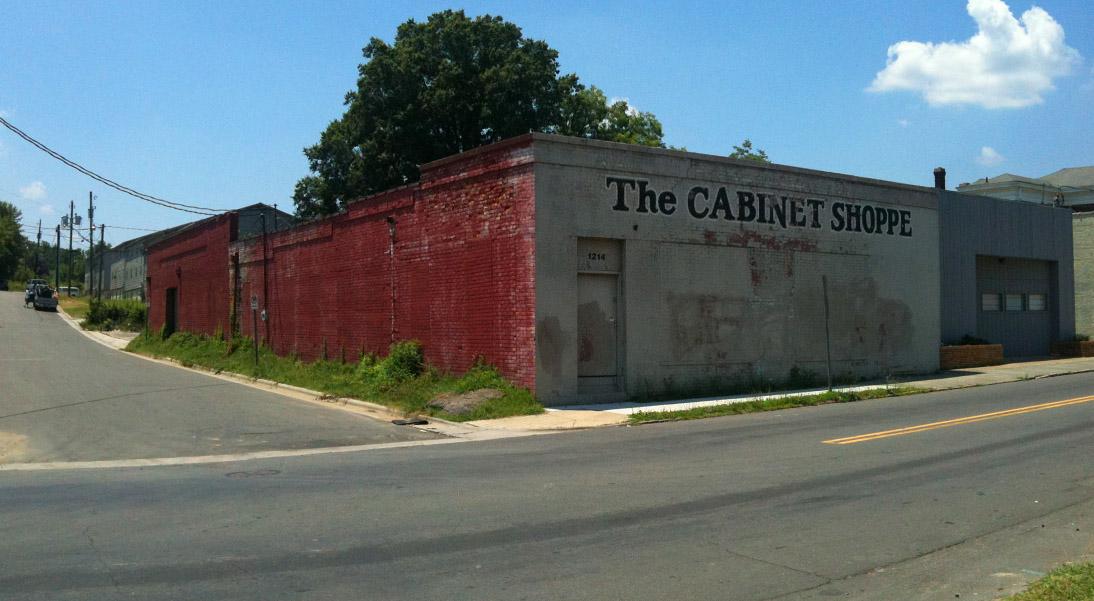 1212-1214 Angier Avenue, 06.30.11
Since 2007, the building is property of the Church of Apostolic Revival - owner of several other properties in the area, including their base at the former Edgemont Freewill Baptist Church a block north at the corner of Holman and Main.