111 NORTH DILLARD STREET
Built in
1900s
/ Demolished in
1970s
Comments
Built in
1900s
/ Demolished in
1970s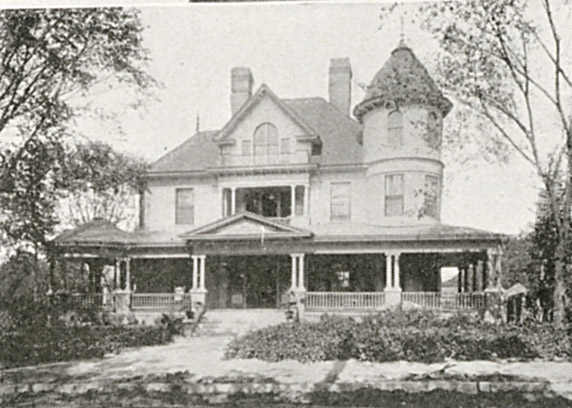 Looking west from Dillard St., 1905
(Courtesy Duke Archives)
Among the large houses built along East Main, Liberty and Dillard Sts. during the 1890s, the TJ Lambe house at 111 N. Dillard St. (pictured above) was one of the more impressive. Thomas J. Lambe owned a clothing store, located at the northeast corner of Mangum and Main Sts.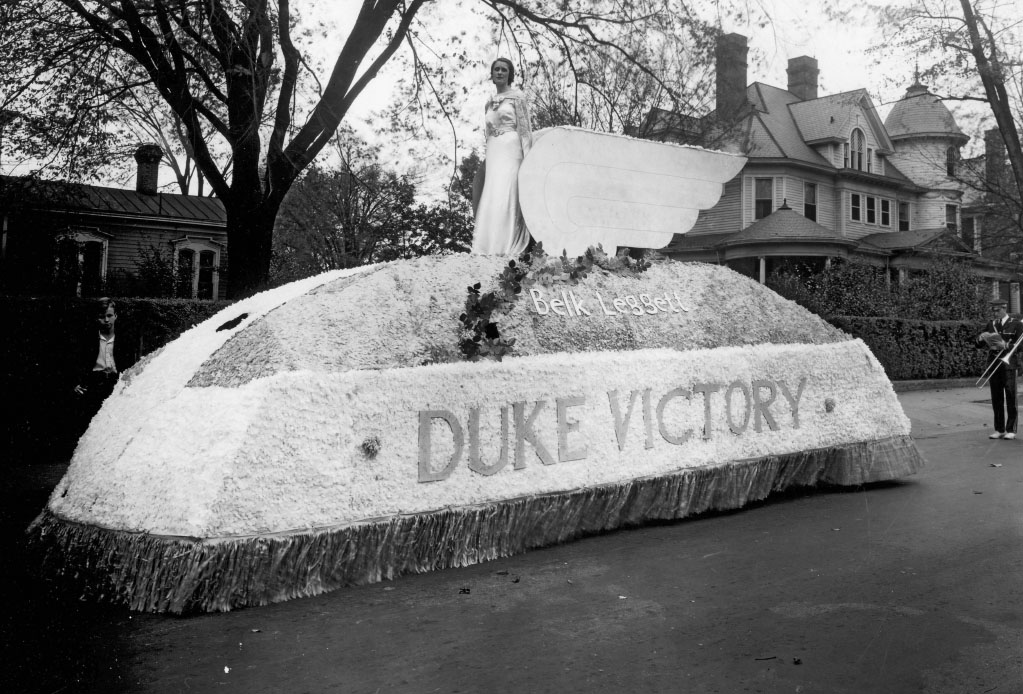 Duke Homecoming parade, 1930s, with 111 N. Dillard in the background. (Courtesy Duke Yearlook.)
By the 1920s, as I've previously mentioned, commercial succession had begun along the East Main corridor. Likely the most significant change to the district was the demolition of the WW Fuller house and construction of the Union Bus Terminal in 1942.
By 1944, the TJ Lambe house had become a rooming house.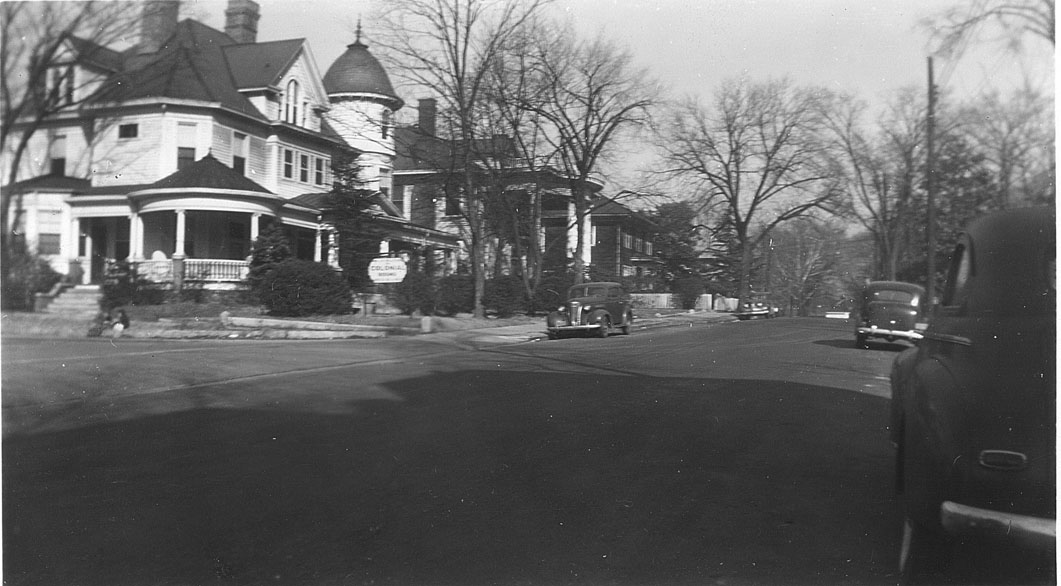 Above, looking northwest up N. Dillard St. from near East Main, 1944. There is a "Colonial Rooms" sign in front of the former TJ Lambe house. (Courtesy Durham County Library - 1945 Geography of Durham dissertation)
These houses were still around in the 1960s, and showing some signs of deferred maintenance.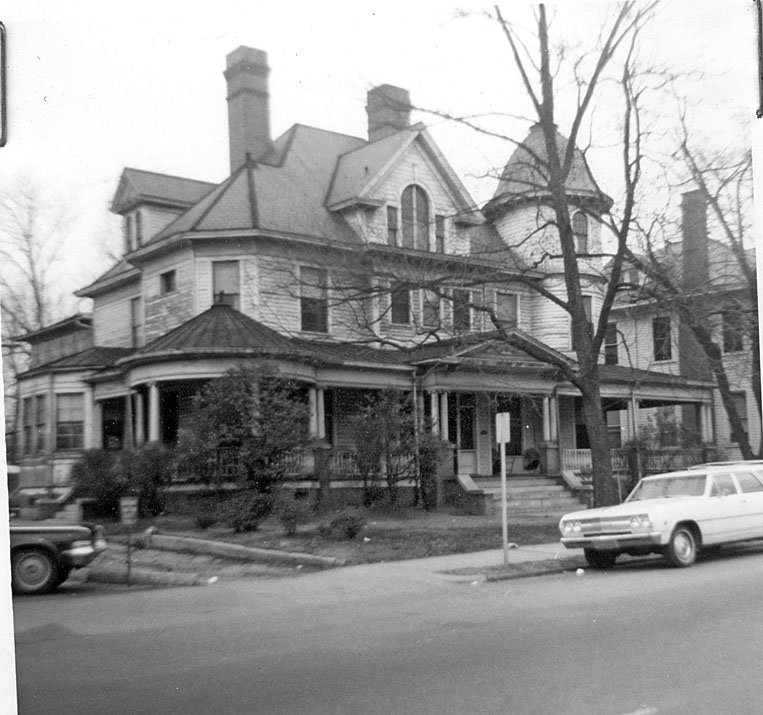 111 N. Dillard, looking northeast, 1966. (Durham County Library - urban renewal photo)
These houses were torn down during the late 1960s via urban renewal. Likely during the 1970s or 1980s, Durham County built a social services building at this location. Urban Ministries. Urban Ministries, which had been established on adjacent land in 1985 as a joint operation between several churches that acted as a landlord for local non-profits, expanded to take over this building. The center became the home of two merged homeless shelters during the 1990s, and the facility expanded again in 2000-2001.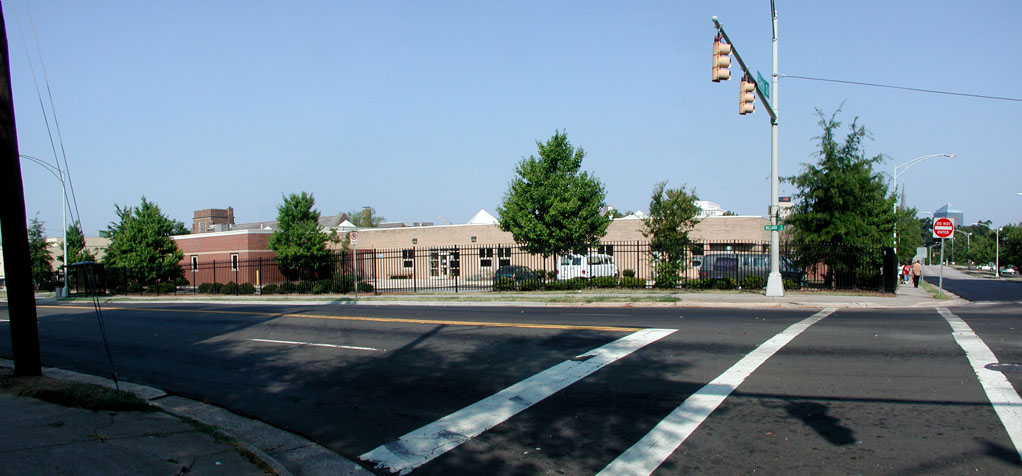 Their street frontage along Dillard is the popular style in East Downtown - Fortressian with a hint of Bunkeresque Revival. (Photo by Gary Kueber)