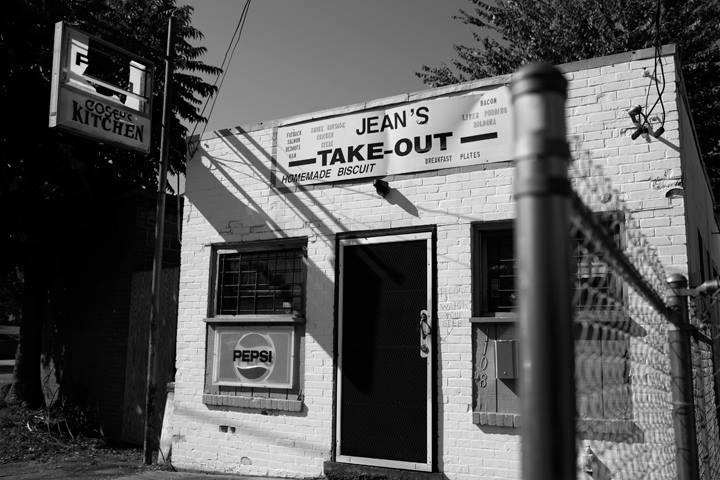 Above, 1108 MG as "Jean's Take-Out"  - date unknown.
1108 Morning Glory was Vickers Grocery in the 1930s-1940s. During that period, it was a frame structure located on the same footprint. By 1950, the building had either been replaced or encased by cinderblock and brock.
By 1962, it was "Harvey's Sandwich Company."
As of 2012, it's most recent incarnation is "Sneed's Tater Bread Cafe"
From the Durham Voice, 11.07.12:
Sneed's Tater Bread Café sells soul food
By Jonathan Alexander
NCCU Staff Writer
the Durham VOICE
thedurhamvoice@gmail.com
It didn't take long for Walter Sneed, owner of Tater Bread Café, to decide he wanted to run his own restaurant.
Owner Walter Sneed prides his new Tater Bread Café on cleanliness and customer service. (Staff photo by Jonathan Alexander)
He was riding through Northeast Central Durham and stopped at what was formerly Jane's Takeout. He said he asked the people next door who owned the building, which had been vacant for some time, and they told him the Durham Rescue Mission. An opportunist, as he describes himself, Sneed then had an idea to lease the building and join the food industry.
"I went and talked to Reverend Mills and he sent me over to his property management person to talk to them and they basically agreed to lease me the building the same day," Sneed said. "I went back home to my wife smiling and she asked, 'What is this grin on your face?' And I said, 'Well, we're now in the restaurant business.''
Located directly behind Los Primos supermarket on Alston Avenue, "Tater Bread Café" is a takeout restaurant that serves soul food made from scratch, from meatloaf to chicken and dumplings, to salmon and grits.
It was named after their signature dish "tater bread." Sneed's wife, created the recipe. Tater bread is similar to sweet potato pie but without the crust.
"A number of folk have mistaken this shop for a bread shop," Sneed said laughing. "As the word is spreading among the neighborhood, business is increasing."
Although the signature dish is the tater bread, Sneed said the most popular item on the menu is the salmon.
"This soul food restaurant ain't nothing but the truth," Cecilia Johnson, of Durham said. "Better soul food than anybody.
Sneed prides his restaurant on their cleanliness. There are two other employees on staff. When one walks into the restaurant, they can see everything from the cook, Deborah Cragie cooking, to another person cleaning.
Sneed said he also prides himself on the friendly atmosphere of the restaurant. He said he's a people person and will do everything he can to make sure the customer is satisfied.
"The thing that we enjoy just as much as the food we make is the friends that we are also making. We try to remember two or three names each week so that when our regular customers come in, we can greet them," Sneed said. "I love the ma' and pa' atmosphere."
Craige said the rapport you have with your customers is most important.
"I like working with people, I like what I do, I like cooking, and I like making people smile," Craige said.
Marlos Uzzell of Durham is one who can attest to that notion. He said that in the three weeks he has known the restaurant was opened, he has come back six times. Uzzell said the thing that impresses him most about the restaurant and its employees is the customer service.
"They always have what they say they are going to have, and they're very friendly," Uzzell said. "They pretty much know us by name, so that's why we keep coming back."
Reverend Ernie Mills, co-founder and executive director of Durham Rescue Mission and owner of the building, is impressed with how the business is running.
"I think it's really good for the community," Mills said. "I love to encourage people to go there and eat and buy because it is revitalizing our community and we need to help each other."
Sneed's biggest influence is his father because of the lessons he instilled in him.
"There is no such word as 'can't' in my dictionary so that's how I regard things," Sneed said. "He (his father) goes with me daily.
Tater Bread Café is open Monday thru Friday from 6 a.m. to 3 p.m. serving breakfast and lunch.
"The folk that had this shop before, one thing it was known for was great food, so I'm just trying to live up to that reputation with my shop," he said.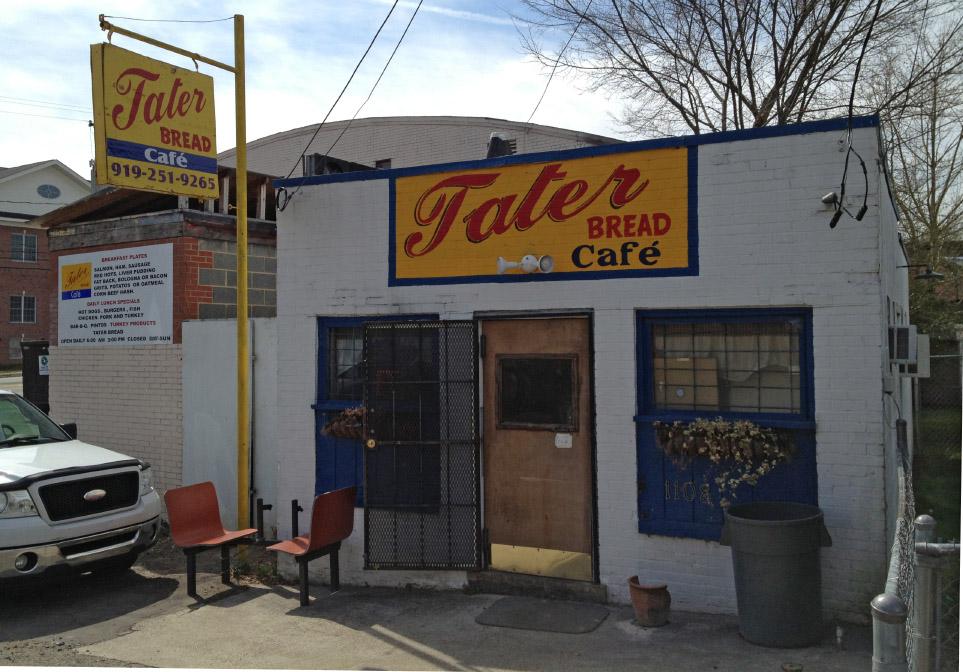 03.27.14 (G. Kueber)