35.974481203881, -78.90637288641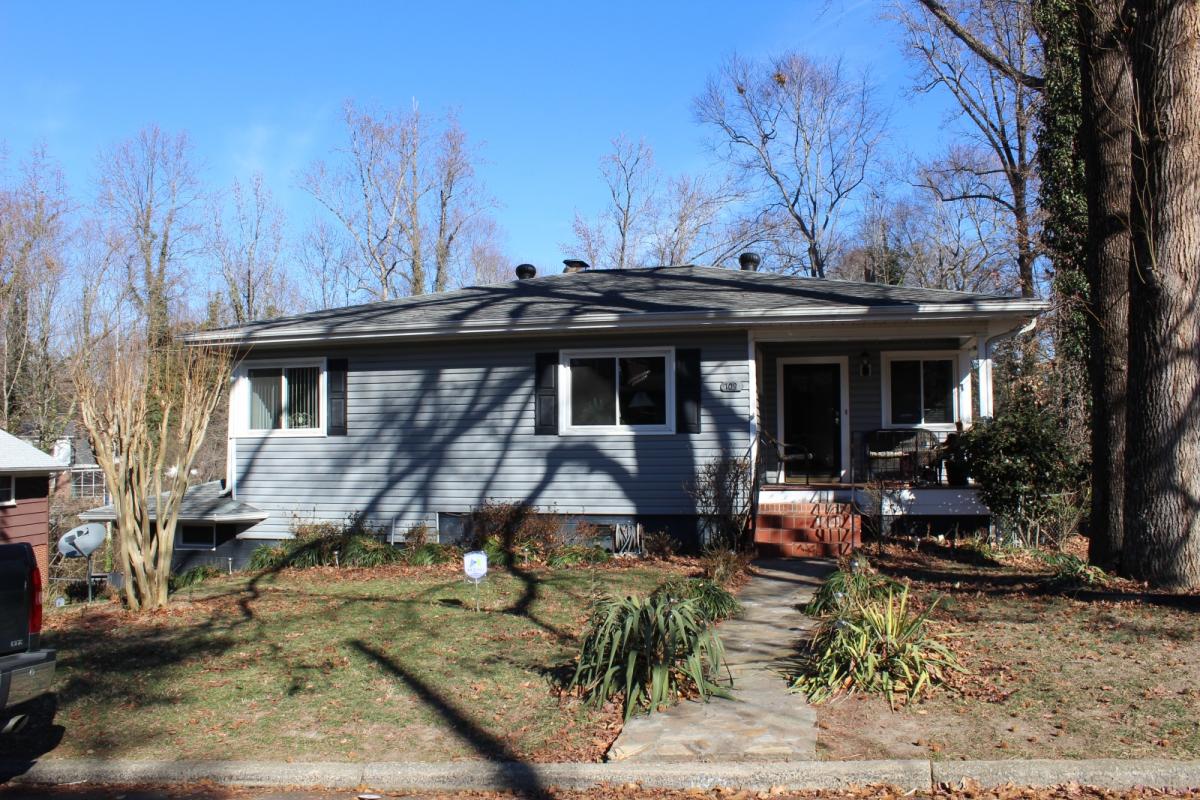 Photograph taken by Cheri Szcondronski, National Historic District Submission, January 2018
This one-story, hip-roofed Ranch house is four bays wide and double-pile with vinyl siding and windows and an interior brick chimney. Windows wrap around the front corners of the building and likely replaced original metal-sash windows common on this type of house in the district. An inset porch on the right (southeast) end of the façade is two bays wide, shelters a replacement door, and is supported by a decorative metal post. A basement-level, hip-roofed wing on the left (northwest) elevation is constructed of concrete block with vinyl on the left elevation surrounding a wide, overhead garage door. According to the current owner, his uncle, John Stewart built the house in 1952. City directories confirm the earliest known occupants as John L. Stewart, a professor of Biology and Dean of Men at North Carolina College (later North Carolina Central University), and his wife, Charlie K. Stewart, an employee of North Carolina College (later North Carolina Central University), in 1955.  Mr Stewart was appointed later to Dean of Students at North Carolina College.
According to deed records, the Stewarts bought the lot on October 11, 1949.   They did not build their house until late 1954.  At that time, theysold the house to George W. Logan Sr. and his wife, Maude on February 25,1956.  On that same day, the Logans, sold the house back to John L. Stewart, an unmarried man. 
Mr. Stewart lived in the house formany years.  On July 20, 2005, Thomas R. Freeman and his wife, Brenda Freeman became owners of the house.  Thomas Freeman was the nephew of  Alice Stewart, wife of John.
John L. Stewart North Carolina Central University Faculty and Staff The James E. Shepard Memorial Library, Photograph Record 1910 - 2005