35.974533299575, -78.906662564982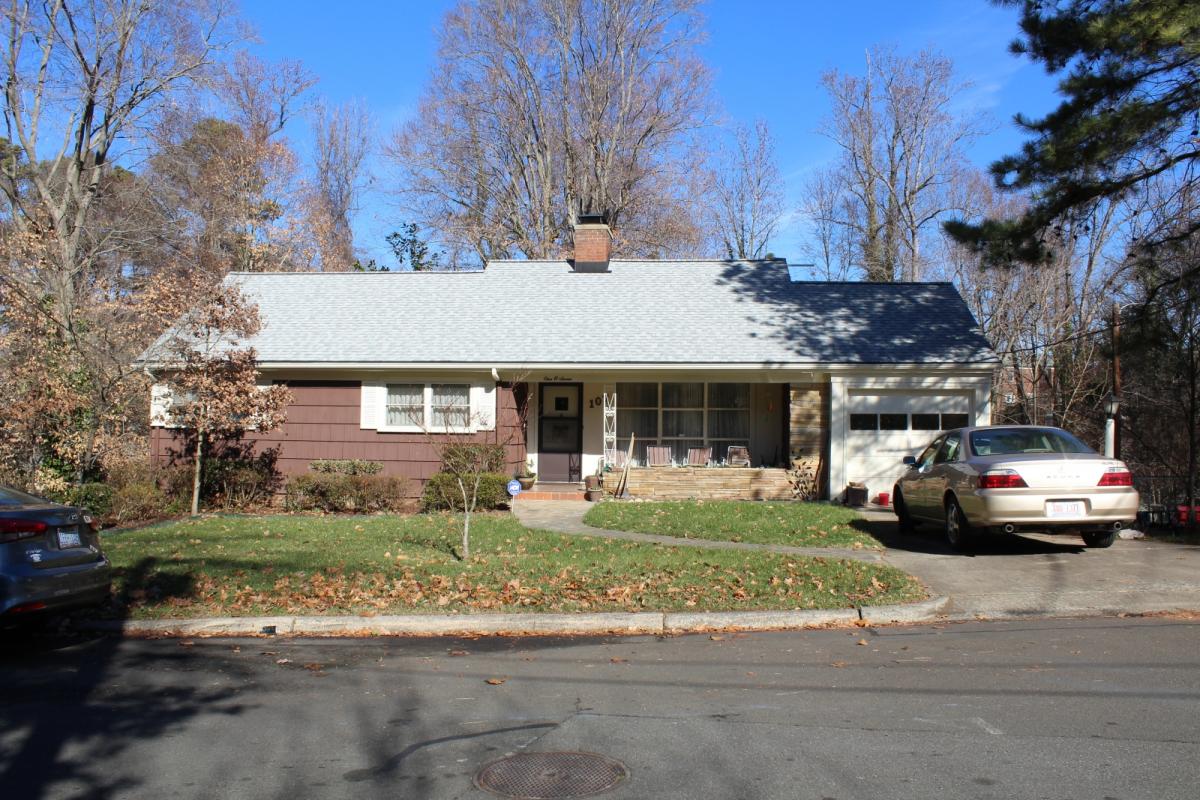 Photograph taken by Cheri Szcondronski, National Historic Register Submission, January 2018
Still occupied by its original owner, this one-story, side-gabled Ranch house retains high material integrity with original one-over-one wood-sash windows, a large multi-light picture window, and a stone planter. The house is five bays wide with the left (west) two bays under a slightly lower roofline and the center two bays recessed. It has a wood shingled exterior, faux batten in the gables, and an interior brick chimney. A solid door with one light and a nine-light picture window are located in the recessed bays with vertical wood sheathing. The roof near the entrance is supported by a decorative metal post on a low stone planter with the right (east) end of the planter extending up as a stone pier to support the roof. The rightmost bay has a four-panel-over-four-light-over-eight-panel garage door. There is a gabled ell at the right rear (northeast) and the site slopes to the rear to reveal a basement level on the left elevation. County tax records date the house to 1953 and the earliest known occupants are Benjamin F. Page, a history teacher at Hillside High School, and his wife, Mildred Page, in 1955. Mildred Page, who still occupies the house, worked for the state in the tuberculosis program and was later a professor of Health Education at North Carolina Central University.  Mrs. Page was the first African American Health Educator to work in the tuberlosis program.for the state in 1948.  While working there, she acquired her Masters degree in Health Education.  
Mr.and Mrs. Page purchased the lot from William McLaughlin and his wife, Mozella L. McLaughlin on April 15, 1952.  The McLaughlins still live at 1929 Cecil Street in College Heights.  Mr. and Mrs. Page are the parents of five children: Benjamin, a psychiatrist and retired colonel; Angela, a retired teacher; Craig, a certified public accountant, Carol, an attorney, and Emily, a human resources professional and consultant.  In 2020, Craig's wife, Wanda, was named Interim City Manager for the City of Durham.
Mr. Page was my history teacher in the 10th grade at Hillside High School in 1964.  His classroom was structured as a learning laboratory.  Our classes were instructed by Mr. Page and via closed circuit television, Iola Parker, a professor at the University of North Carolina.  On several occasions, Ms. Parker mispronounced the word "Negro".  We felt it was intentional.  In protest, all of the students turned off the televisions and refused to take the course with her being one of our teachers.  In support of our protest, Mr. Page wrote an impassioned letter to Ms. Parker and her superiors.  As a result of his action, as well as our refusal to watch her for over two weeks, Ms. Parker wrote a letter to the class and made an apology via television as well.  His efforts to show us that we did not have to accept such behavior was impressive.  This was in the midst of the Civil Rights Movement and we felt empowered.  This story is just one example of how the teachers at Hillside High School supported the black movement however they could, since they had to continue working.
Mr. Page's father owned J.L. Page and Sons Grocery Store at 1304 Fayetteville Street.  The store is vacant now; but the building is still at the location.  According  to https://wfpc.sanford.duke.edu/durham-food-history/urbanization-upbuilding-black-durham-1900-1950, "As Benjamin Page, whose family owned JL Page and Sons recounts: "My father would go out on the streets, as what we called "street peddlers, and take vegetables and things and sell them off his wagon… and my mother would stay and take care of the store."
Mr. Page died in 1997 and Mrs. Page is the owner and occupant of the property.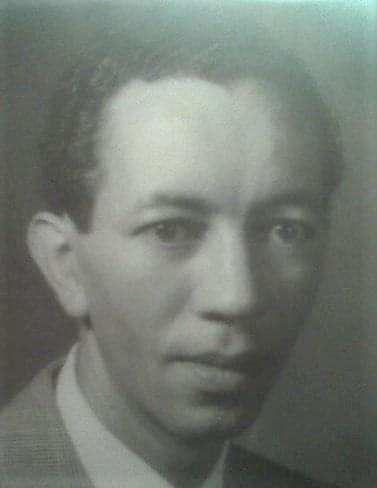 Mr. Benjamin Page
Courtesy of the Page Family Photo Album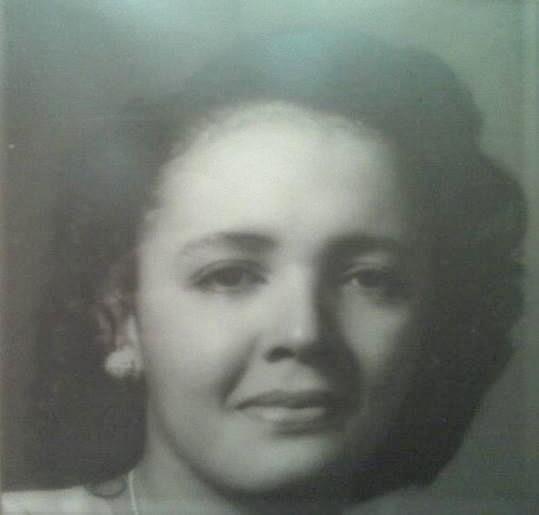 Mrs. Mildred Page
Courtesy of the Page Family Photo Album