The buildings on the northeast corner of East Main St. and North Mangum St. were constructed sometime prior to 1891 and housed a variety of commercial establishments, the first being the T.J. Lambe's men's clothing store.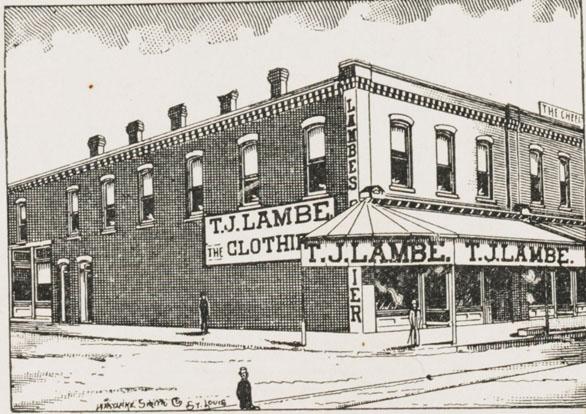 Looking northeast from Mangum and Main, 1895.
(Courtesy Duke Archives)

In 1936, Harvey's Cafeteria opened at 105 East Main Street.
Per Durham and Her People
Harvey's Cafeteria was opened in1936 by Harvey Rape. There were 84 seats, and one short serving counter. [As of 1951] Harvey's Cafeteria, owned and operated by Mr. Rape, has two modern serving counters, with a seating capacity of about 200 in the main dining room and about 85 in the auxiliary dining room upstairs, three banquet halls upstairs seating about 34 each and a main banquet hall seating about 175, especially designed for serving civic clubs and special occasions. For larger banquets, they can seat and serve about 400.
A modern kitchen with expert chefs is personally supervised by Mr. Rape. The cafeteria employs about 60 people, including high school and college boys and girls for part-time work and has a capacity of 2500 meals per day. Personnel includes: BR McLeod, acting manager; James L. Wilkins, Sr., assistant manager (both are Durham men) ; Mrs. Lillian Bobbitt and Mrs. Wayne Williams, office secretaries; Mrs. Ivey Graves Selfridge, manager ; Excell Holland, chef ; John Singletary, second cook ; Robert Choats, head baker,; Miss Aurelia Laws, salad maker. Many have long service records.
Harvey Jordan Rape was born in Union County on October 24, 1904, the son of William L. and Rebecca Baker Rape. After finishing high school at Prospect, he went to Carolina, where he worked in the University Dining Room and in boarding houses. Later, he taught school for two years, did outside sales work for about two years, and then went with the S&W cafeterias in Charlotte in a very minor capacity. Through various promotions, he became traveling supervisor for the chain before deciding to enter business for himself.
[Mr. Rape and his wife and two daughters] live at 118 West Seeman Street.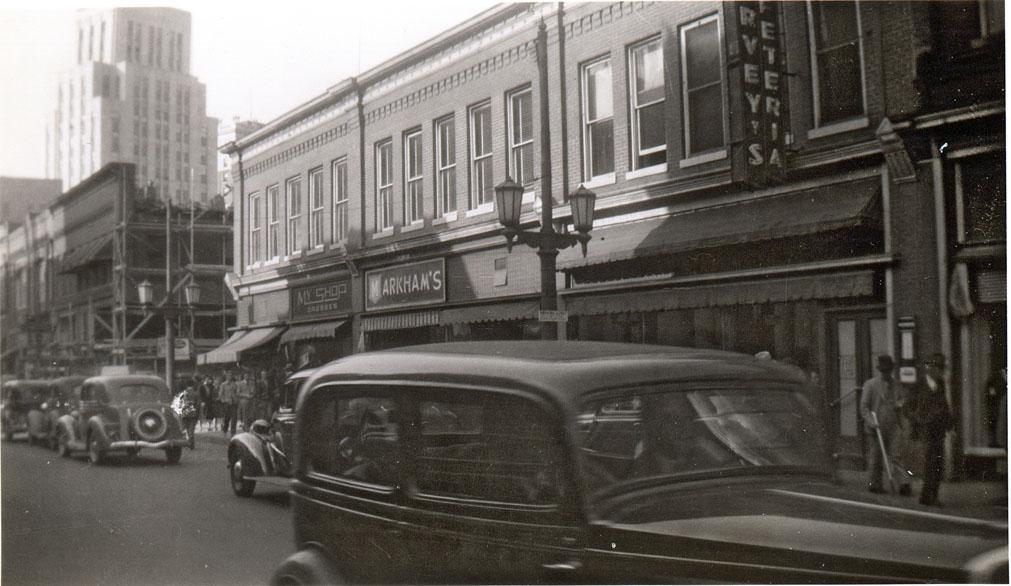 Looking northwest.
(Courtesy Duke Archives)
Other tenants of the storefronts of this building in 1940 included:
101: Vanity Shoe Co.
101 1/2: My Shop - women's clothing
103 Markham Clothing Company, Inc.
103 1/2: Smith-Albright Company

Another view from the early-to-mid-1940s shows the Harvey Cafeteria, Globe Jewelry, and Weavers Men's Shop.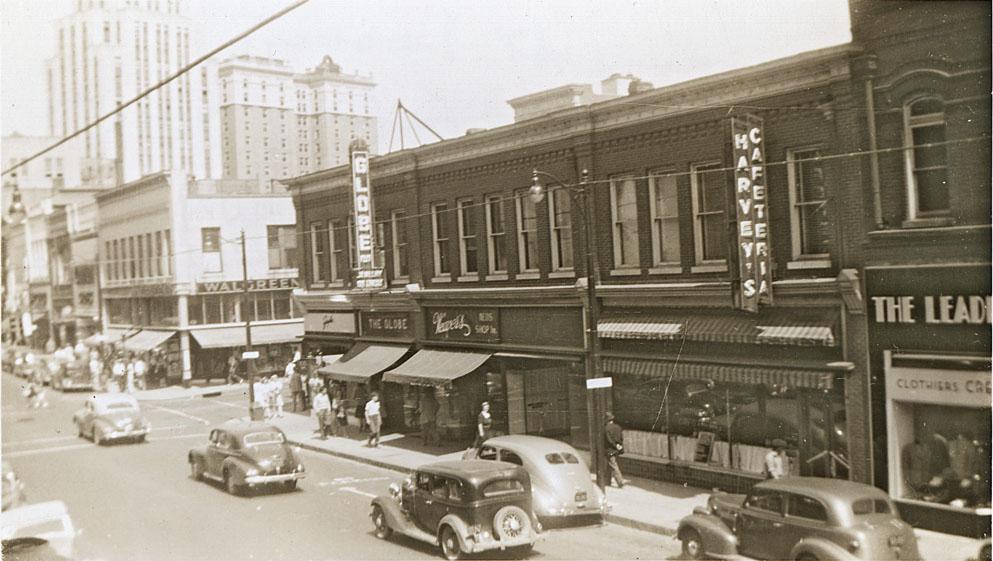 Looking northwest.
(Courtesy Duke Archives)

A view from Mangum St., looking southeast shows the Mangum St. facades of the building, including the taller portion containing the Fuller Music store.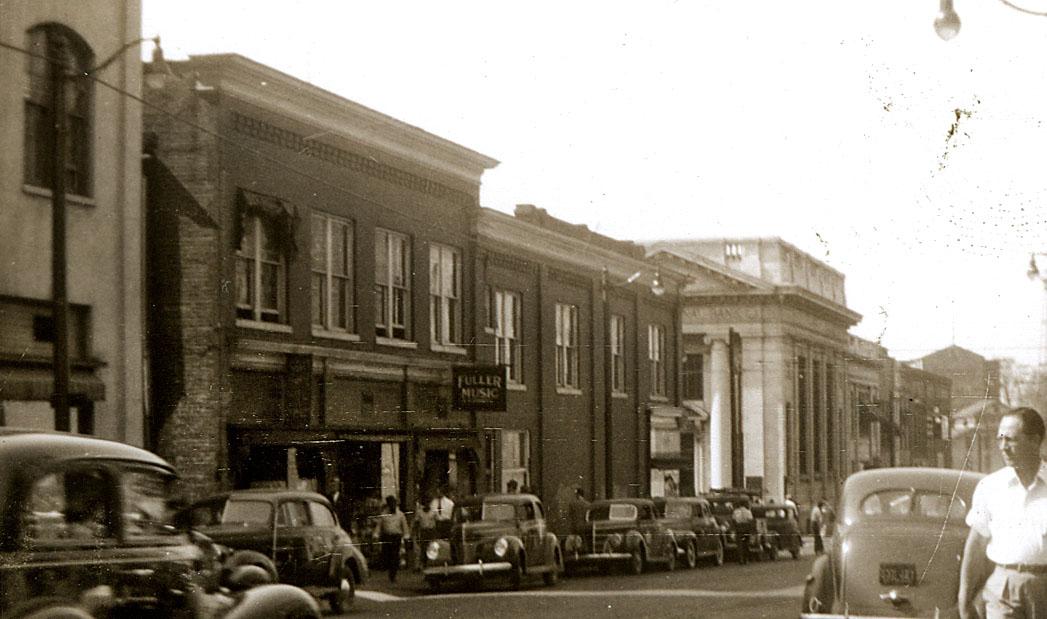 Looking southeast, ~1940.
(Courtesy Duke Archives)

The Citizens Bank is in the background, along with the eastern facades of S. Mangum St. In the distance is the Austin-Heaton Co./Peerless Flour Mill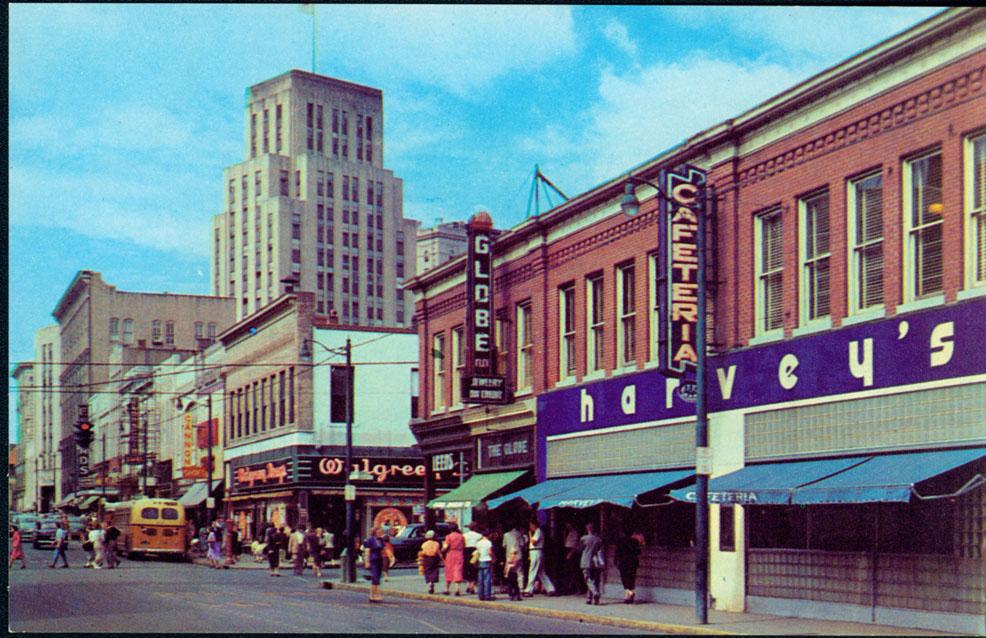 The view of the Harvey Cafeteria and "The Globe" looking west-northwest, ~1960.
(Courtesy John Schelp)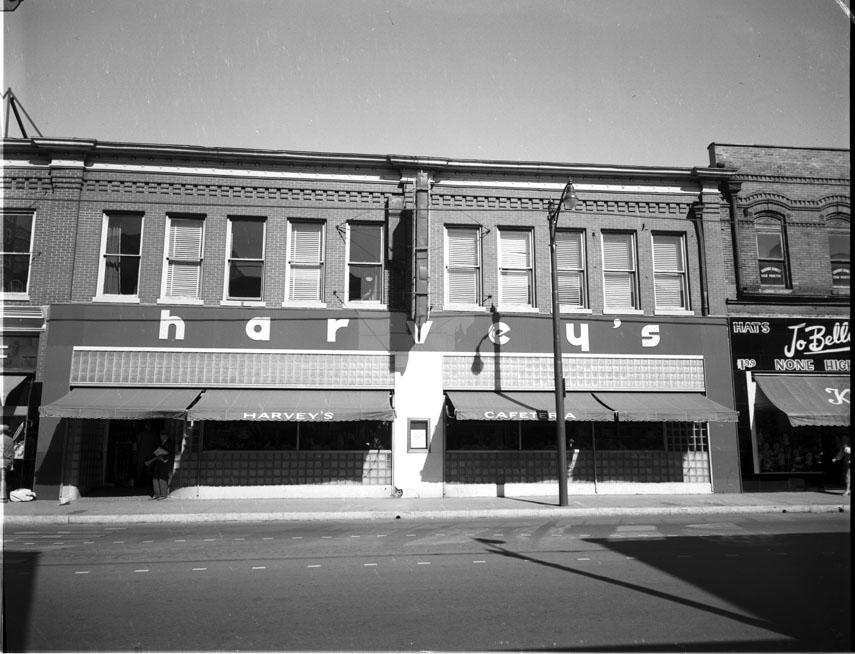 Harvey's in the 1950's - when it appears from looking at the number of meetings and events held there that it was a well-patronized establishement.
(Courtesy Herald-Sun)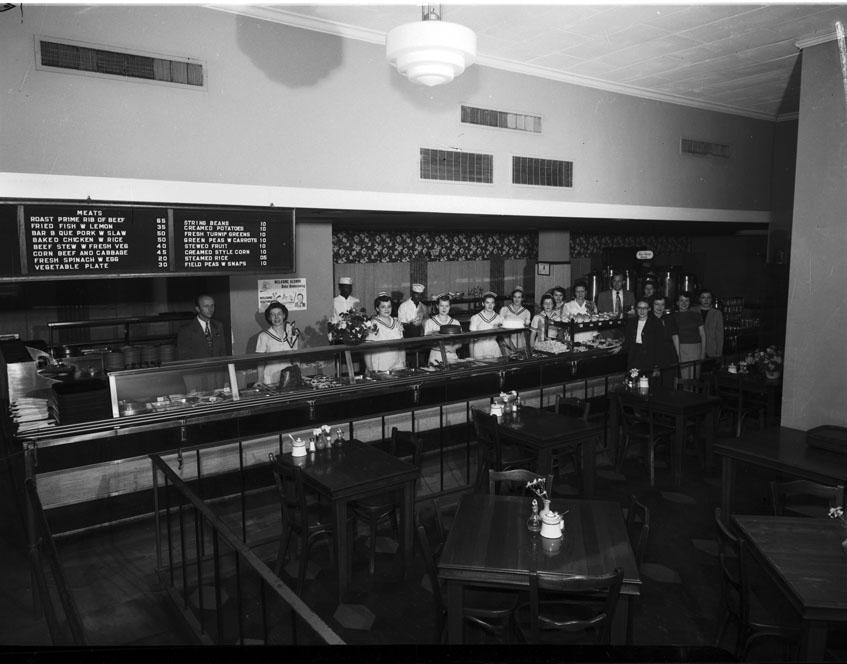 The interior of Harvey's
(Courtesy Herald-Sun)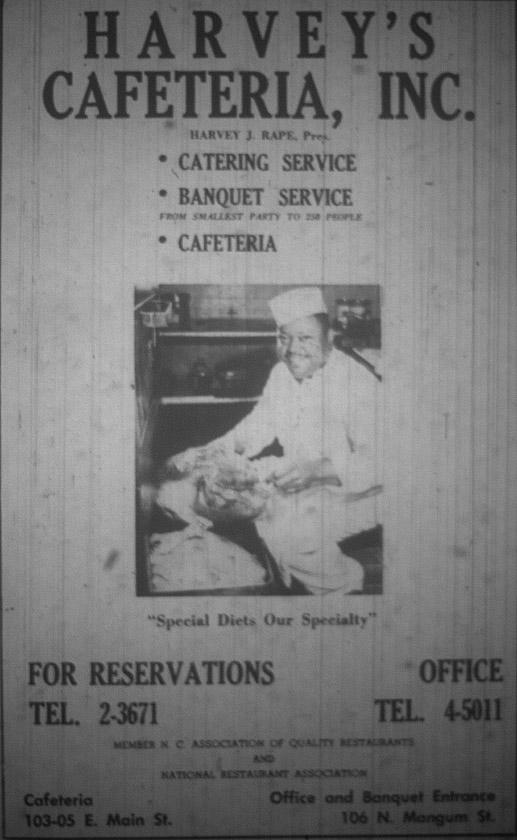 Ad for Harvey's in the 1960 Durham City Directory (from Durham County Library)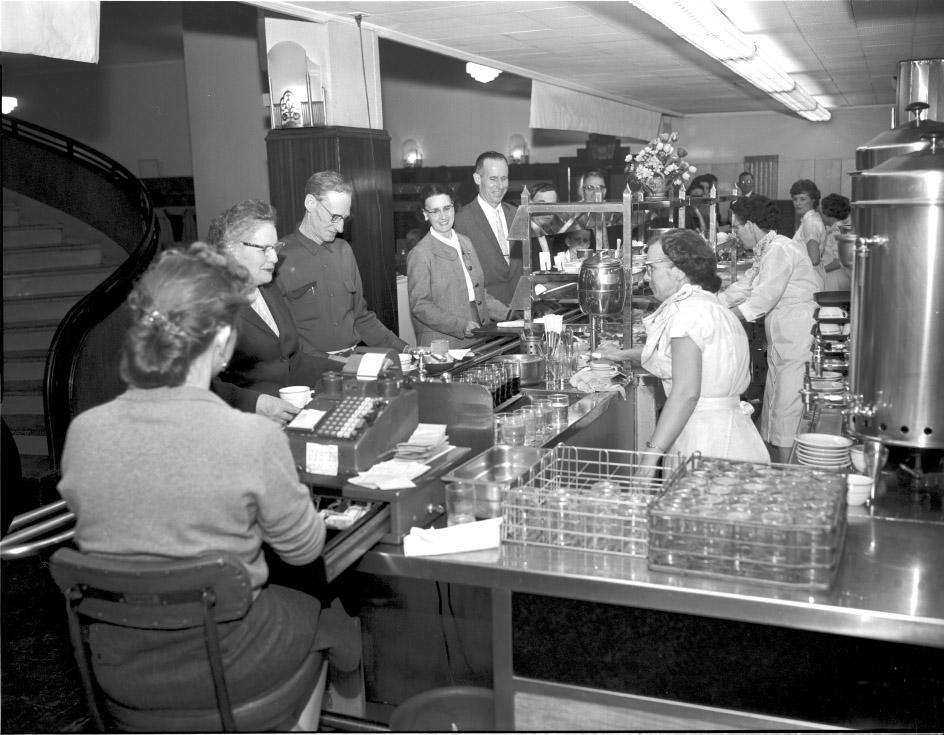 04.13.61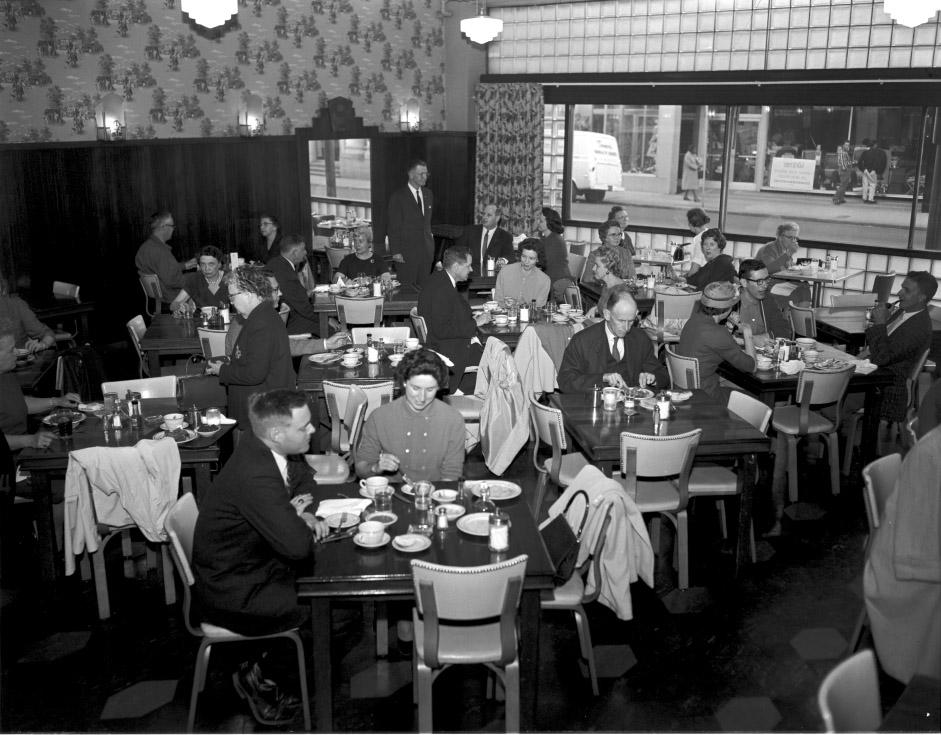 04.13.61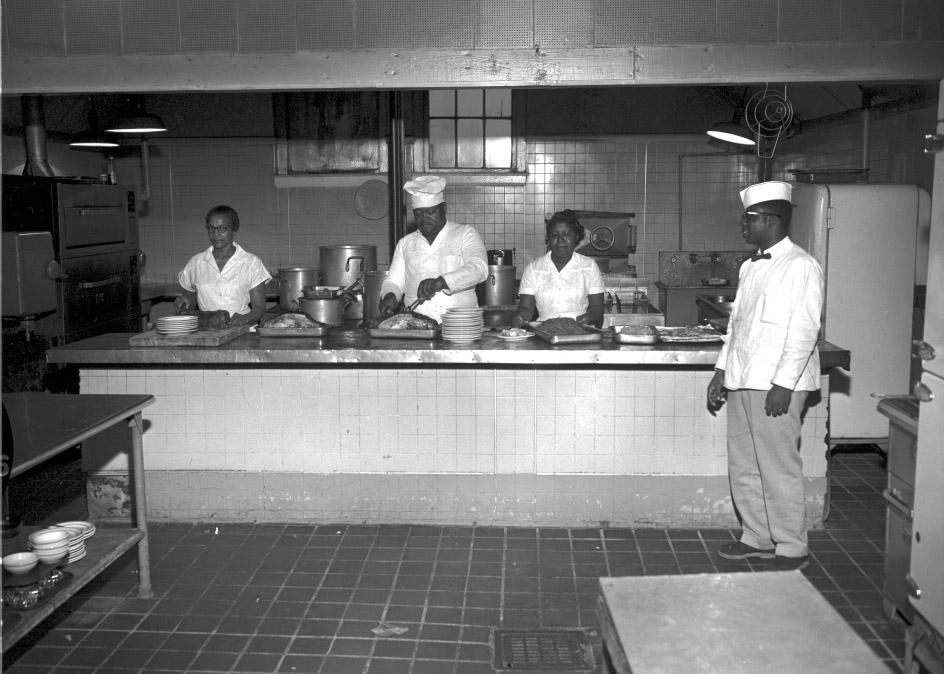 04.13.61
Harvey's did not integrate easily in 1963, when civic pressure had risen for retail establishments to voluntarily do so. Rape sat on his front steps with a shotgun and threatened to shoot any African-American that tried to enter his establishment. (To eat; cooking for him was evidently fine.) Reportedly, after having adopted this stance for some period of time, he "prayed on it" and called mayor Wense Grabarek sobbing, saying that he had seen the light and would integrate.  Grabarek appointed Rape to the Durham Interim Committee, which worked to desegregate local businesses.
Harvey's complied, sort of, with desegregation, but not very willingly. A passage from To right these wrongs: the North Carolina Fund and the battle to end poverty makes clear that, in 1964, the restaurant had agree to serve African-Americans and whites - but not if they sat together.
By 1965 Harvey's Cafeteria and Drink Shop was still around, along with the 'Shoe Box'.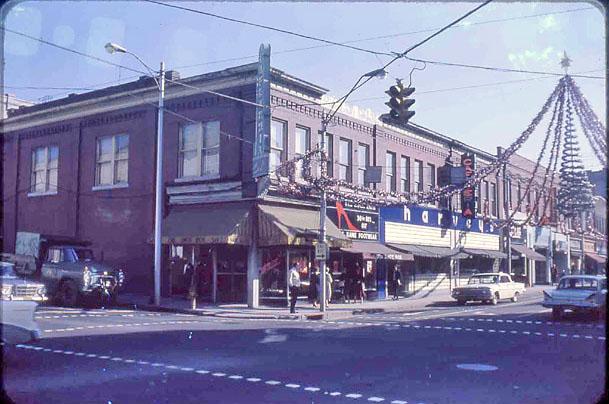 Looking northeast, 1965.
(Courtesy Durham County Library)
Harvey Rape opened a restaurant on Hillsborough Road; the handsome buildings at 101-105 East Main were demolished in 1967 for a new building for Duke Power.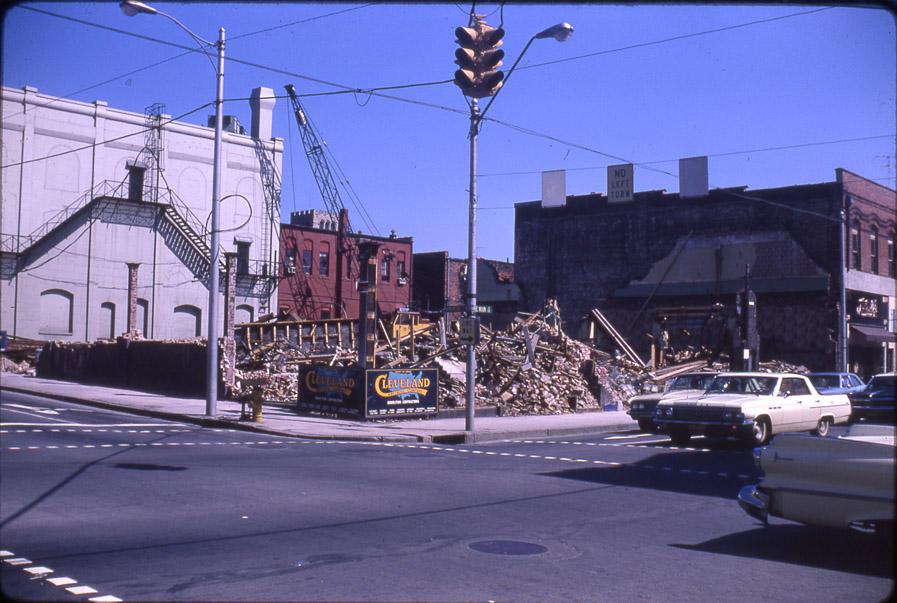 Looking northwest, 1967.
(Courtesy Durham County Library)
Building or Xmas tree - always a tough choice.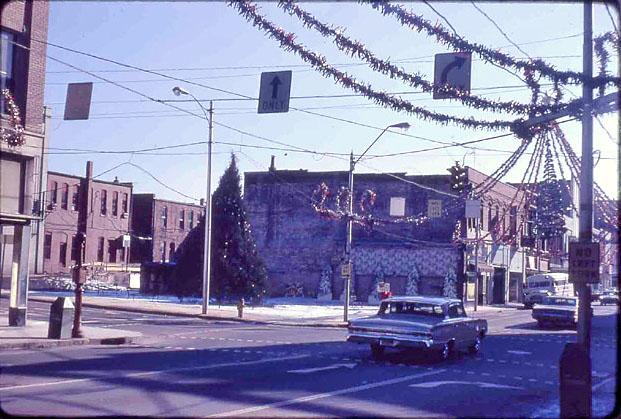 Looking northeast, 1967.
(Courtesy Durham County Library)

Duke Power Co. had decided to build a modern building to move to from the EJ Parrish buildling, just to the north of this site.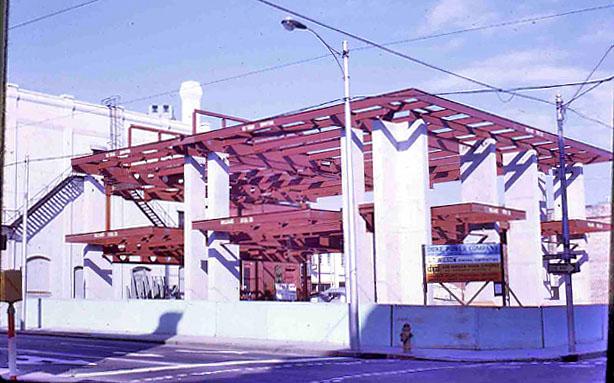 Under construction, 1971, looking northeast
(Courtesy Durham County Library)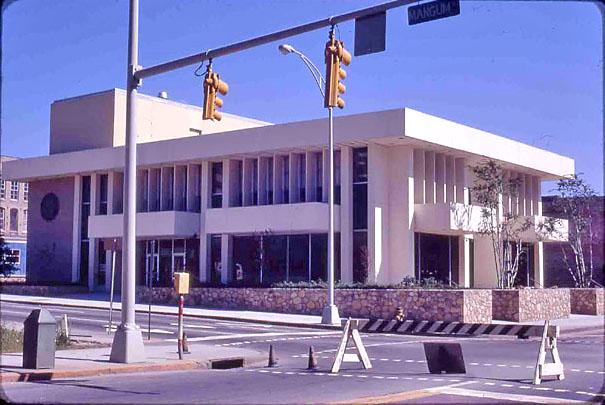 Completed product, 1973, looking northeast.
(Courtesy Durham County Library)

I'm not sure when Duke Power moved out of this building, but it's now owned by the Masons, or, as the property record calls them "PRINCE HALL GRAND LODGE FREE &ACCEPTED MASONS OF NC INC, THE."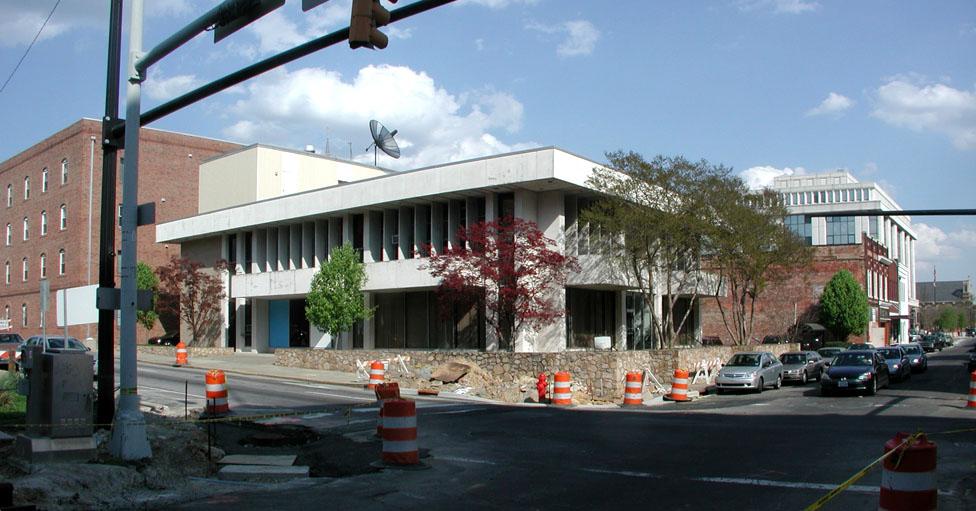 Looking northest, 2007. (G. Kueber)