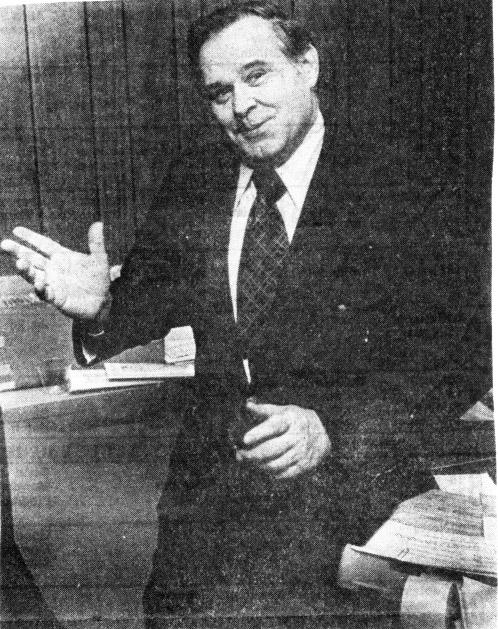 "Put the bird in the cage," hollers Ike Terry. "Well, the bird's in and the hawk's out."
The clamor of a pet store owner? No, Ike Terry is a square dance caller. He learned when he was a little tyke, he said, from some of the "best in the business."
The bird is a lady, "caged" by dancers joining hands around her, Terry explained. The "hawk" is the man who replaces her.
It's the picturesque jargon of old-time dance formations.
Lots of the metaphors have dropped out in calling the enlarged, social square dances, Terry said. When leading groups of 100-200 people, he must clearly spell out moves.
But though the terms are less colorful, Terry said he likes the large groups best because he "gets to dance with more folks."
Terry, agency manager for the Durham Farm bureau, sees square dancing as a chance for great fun for just about everybody.
"Anyone, if they can step in time to music, can square dance in five minutes with real pleasure and very little fear," he said.
Terry said there are two types of callers. Ones like Terry dance along with the group and yell calls when needed. Other stand by and "constantly chatter," he said.
Immersed in the art since childhood, Terry has "called figures" since 1943.
His father had a a dance hall on his farm, about 15 miles north of Durham on the road to Roxboro, he explained. It was called the Clover [Hill] Dance Club, and drew people from 40 miles around – from Stem, Hillsborough, Durham, Creedmoor, and farther.
"Back then, all you could do for entertainment was play an instrument and dance or go visit someone," Terry noted. He also plays the fiddle.
His father, a fiddler, built the dance hall by popular demand. He started building a corn mill, Terry said. But "neighbors and friends kept hounding him into making it a dance hall," and he complied.
When Terry was a "little bitty fellow," he said, 25 to 30 people would come to do the old folk dancing. Sometimes for a change of pace, a couple dozen would do their own solo buck dancing simultaneously.
Later, the clogging was dropped for fast marching steps and the squares abandoned o form large circles. Circles work better for keeping large groups moving, Terry explained.
The hall was a popular spot with Camp Butner soldiers during their era, Terry said.
"It was one of the places to gather and meet the girls," he noted. "We didn't have a corner store out in the country."
Terry's skill as a caller helped pay his way through Duke Unive­rsity. When he returned from the armed services, he leased the dance hall from his father on Saturday nights.
The dance profit along with the GI bill put him through school.
Though the dance hall later became an apartment building, Terry kept calling dances on request.
He calls figures less frequently in the past several years. One vocal cord became infected he said. His doctor advised him "to quit all that hollerin'"
But occasionally, he still gives it a whirl: "Open up the gates and let the water flow."