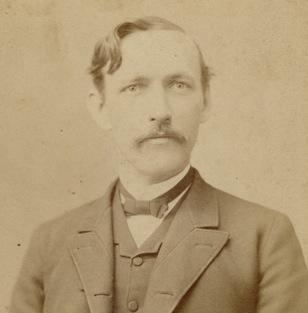 Thomas Decatur Jones (1852-1889) was in the tobacco business, buying into an auction house in 1880 and building a monumental brick warehouse at Morgan and Great Jones streets in 1885.

He was born on a tobacco plantation, "Bachelor's Hall," in Pittsylvania County, Va. and came to Durham in 1881 to represent the tobacco merchandising business he and his brothers had formed. Prospering in the growing town, he married Mattie Southgate, daughter of insurance broker James H. Southgate and built a mansion at the corner of Willard and Chapel Hill streets.

In his 1884 History of Durham, author Hiram V. Paul praised Jones: "Mr. Jones has unquestionably done more towards building up the fine tobacco trade of Durham than any other man engaged in the business."

In his youth, Jones had contracted tuberculosis but thought himself cured after several years' treatment in Asheville. Unfortunately, the disease recurred in early 1889 and he died in October of that year.