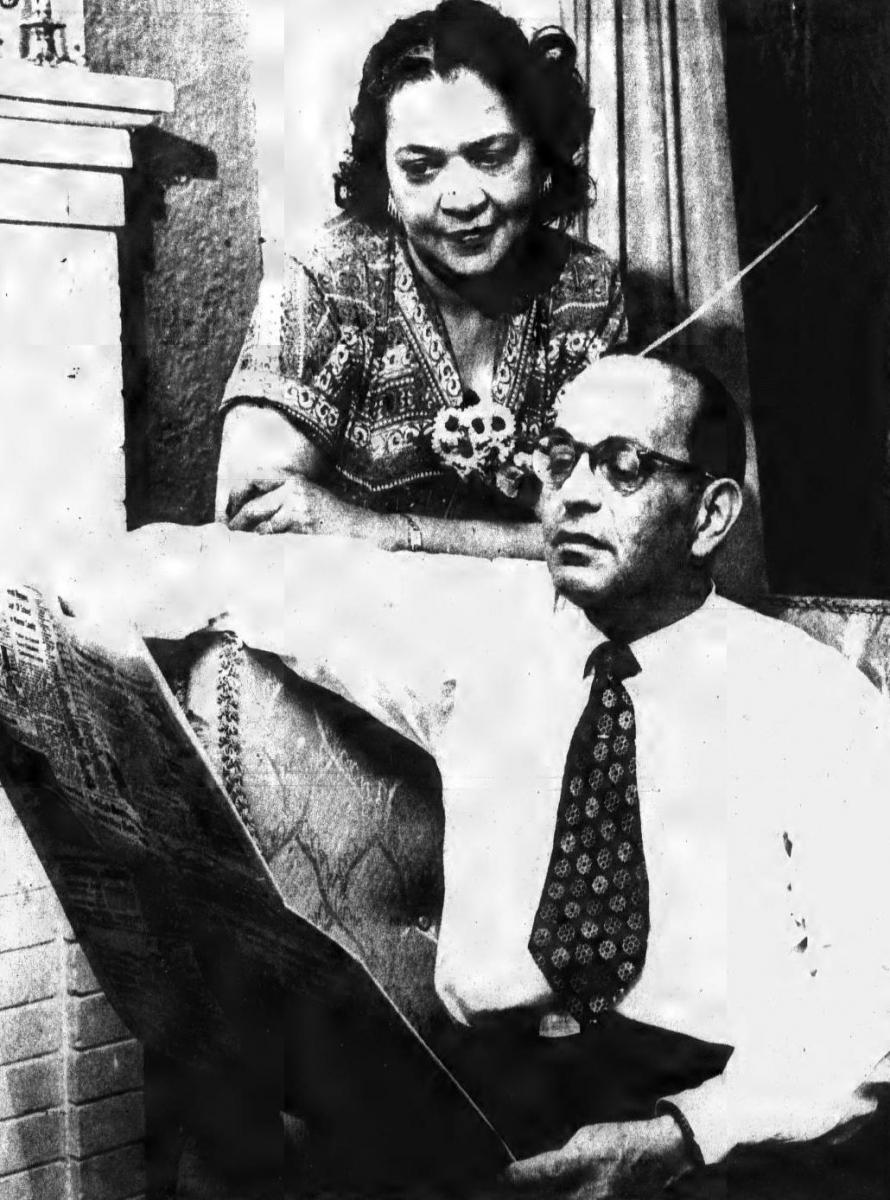 R. N. Harris, just elected Durham's first black city council member, shown reading the paper with his wife, Plassie W. Harris, May 1953 (Reprinted in a Durham County centenial review in Carolina Times - May 2, 1981, p.2. Available online at DigitalNC).
Rencher Nicholas ("R.N.") Harris was a prominent black businessman and community leader, the first African American to be elected to the Durham City Council in May 1953.  After declining to run for reelection, he was also the first African American named to the Durham City School Board in 1958 (decades prior to the city-county merger).
Born and raised in Virginia, Harris moved to Durham in the early 1920s as an employee of Banker's Fire Insurance, where he climbed the ranks to company secretary by 1939.  He also served for a time as the head of the Durham chapter of the NAACP, and on boards at Lincoln Hospital, NC Mutual, and Mechanics & Farmers Bank.
Reporting on his election, the May, 9, 1953, edition of the Carolina Times newspaper led off with the following lines:
It finally happened. After nearly a decade of fruitless attempts by several Negro candidates to obtain seats on Durham's City Council, a Negro was at last elected to serve on the government body. In an unprecedented show of liberality, Durham's voters went to the polls Tuesday and elected R. N. Harris, affable insurance executive, to the Third Ward seat. (see the entire issue at DigitalNC)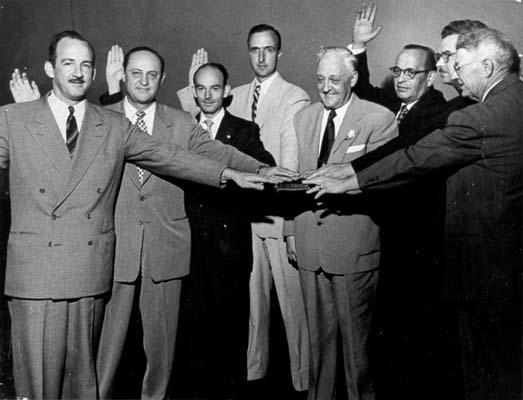 Third from right, R. N. Harris poses with the rest of the Durham City Council after his election (Source: Durham County Library - North Carolina Collection).
In fact, the Third Ward seat that Harris won was treated as a kind of concession to the Durham black community's desire for a voice in public affairs.  Harris had first to prevail in a heated campaign within that community, particularly for the endorsement of the Durham Committee on Negro Affairs.
In office, Harris faced an uphill climb in the effort to desegregate Durham schools, as the first efforts during his time on the City School Board took more than a decade to lead to full-scale integration.  Public discrimination, housing disparities, and other forms of systemic inequality were major issues Harris tried to shed light on in a municipal government still overwhelmingly run by and for whites.  His efforts were honored just years after his death in 1968 when R. N. Harris Elementary School opened bearing his name.
Harris was a long-time resident of the College Heights neighborhood, and for more than four decades the husband of Plassie Williams Harris.