36.131779292054, -78.828009475037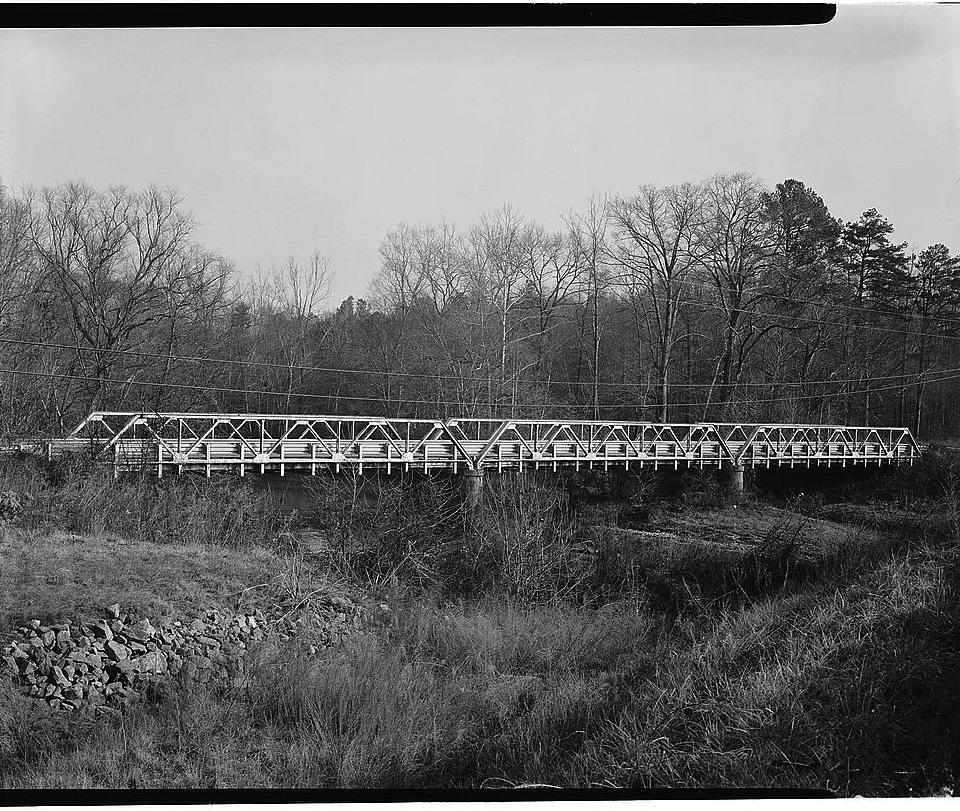 (Looking north from the west bank of Flat River, January 1983, Courtesy of
Library of Congress, Historic American Engineering Record
)  
Bridge across Flat River on Old Oxford Road built in the 1920s, replaced by new span in the 1980s, but kept in place alongside the current roadway.  Listed in the Historic American Engineering Record as "one of three [bridges remaining in 1983] representing the full era of Warren truss building in North Carolina."
From the text of the HAER survey:
The bridge consists of three identical spans, each 70 feet long and divided into five panels. Its members are built of channels and angles joined by stay pieces and lace bars. The heavy construction of this mid-20s bridge indicates that it was designed for a heavier volume of traffic than the road presently carries. The bottom chord is of note, as the angles of the chord are deeper in the middle three panels than in the end panels. The number of the state road [NC-1004] on which it is located indicates that it was once a major route that has been relocated in recent years. This road was serving the area by 1790, for it passed through Cameron Plantation. This bridge is one of three representing the full era of Warren truss building in North Carolina.
While there is some dispute about when the bridge was constructed (NCDOT gives the date as 1935, after it assumed control of county roads), it does seem that a crossing was in use well before these trusses.  The flow of equipment into the area for the construction of Lake Michie Dam - built just upstream in the 1920s - may well have precipitated the installation of the new bridge in that period.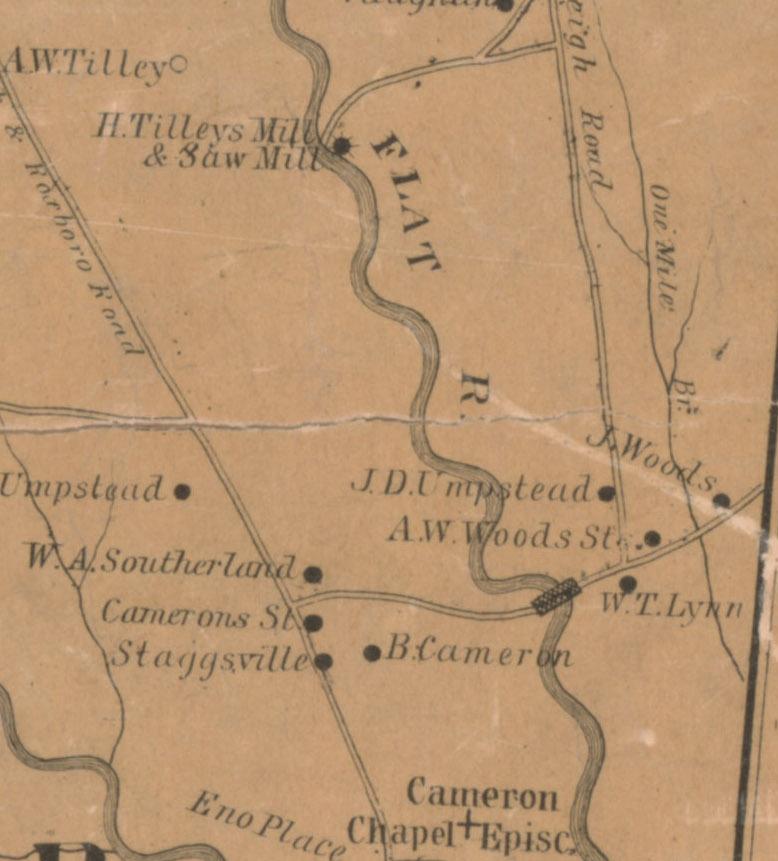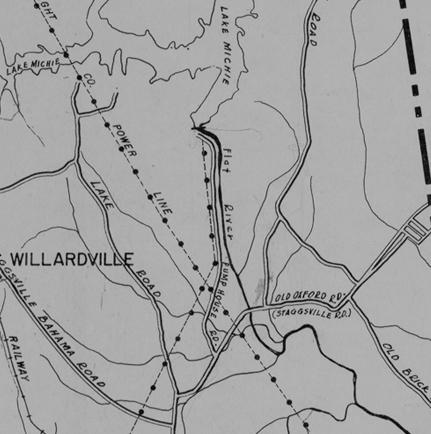 (Fragments of: 1887 Durham County map showing roads and bridge near Cameron lands; 1948 County map showing dam access road and Lake Michie - both Courtesy of
Digital Durham
)
Preservationists drew attention to the span across Flat River in the late 1970s, leading to its inclusion in the national survey and saving it from demolition when another new bridge for Old Oxford Road / SR-1004 was opened in 1981.
Though somewhat overgrown, the historic bridge is visible just north of the current one heading from Stagville towards Butner.  The former roadway approach is obscured from the west, but remains as a short pull-off on the east bank of the river.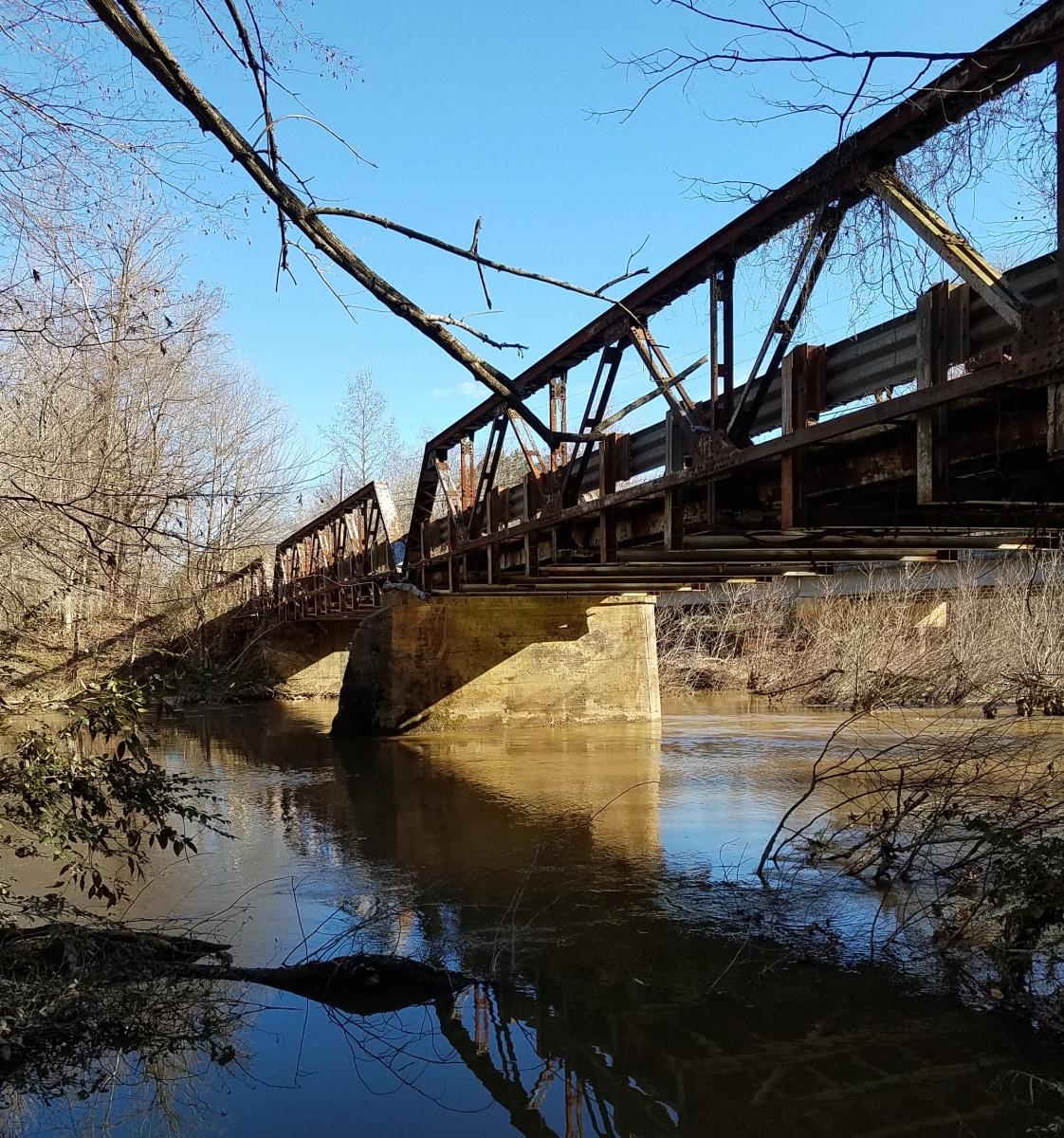 (12.22.2018, N. Levy)
This bridge was the subject of a What's It Wednesday?! post on Open Durham's social media accounts (Facebook and Instagram), the week of January 9, 2019.  Follow us and stay tuned for more finds!
p.p1 {margin: 0.0px 0.0px 0.0px 0.0px; line-height: 21.0px; font: 16.0px Courier} span.s1 {font-kerning: none}