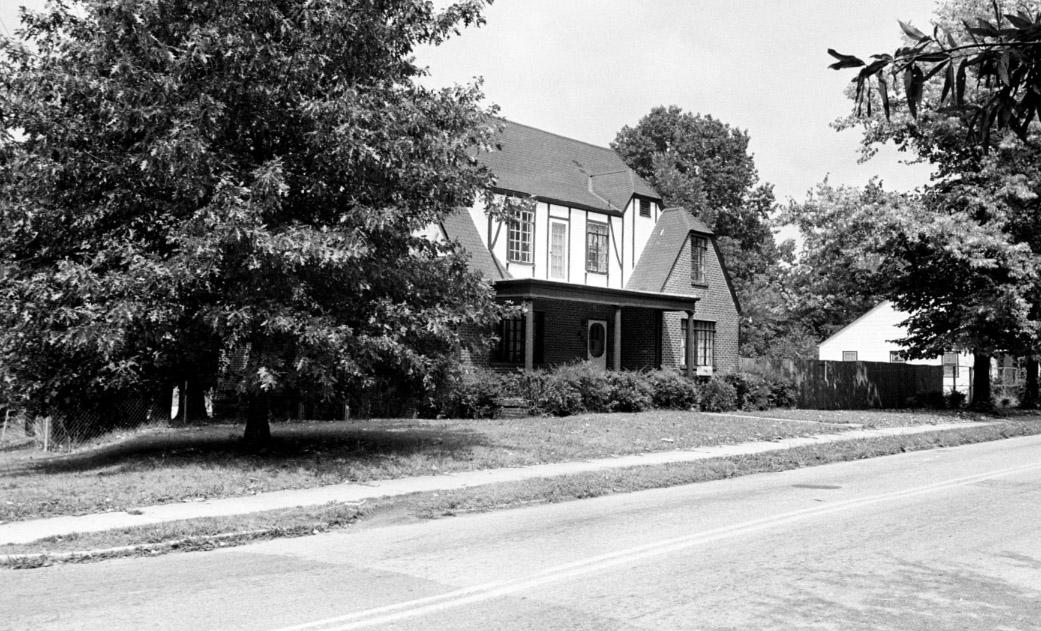 401 East Trinity, ~1980.
(State Historic Preservation Office)
In 1912, Lonnie Hamlin and his wife Mabel are listed at 308 N. Elizabeth Street. They appear to have lived at this address only briefly; in October 1913, they purchased property (two separate lots) on the corner of "an unnamed street" (which would become "Hamlin Street") and Trinity Avenue.  Given that they paid $3000 for the property, it seems likely that a house had already been constructed on the property.  The property was party of Brodie Duke's holdings, which were subdivided and sold by the Duke Land and Improvement Company - this property had been sold by them to Anna M. Murray in 1909.
The next available city directories show Mr. Hamlin and his wife Mabel living at the address. 
1915 CD: Hamlin, Lonnie D carrier, RFD No. 4 (home E Trinity nr. Elizabeth)
1919 CD: Hamlin, LD (letter carrier, Post Office) 401 East Trinity.
The property was subdivided in 1928. It appears the house above was constructed at that time, both based on the architecture of the house as well as the mortgage taken out by the Hamlins at the time.
.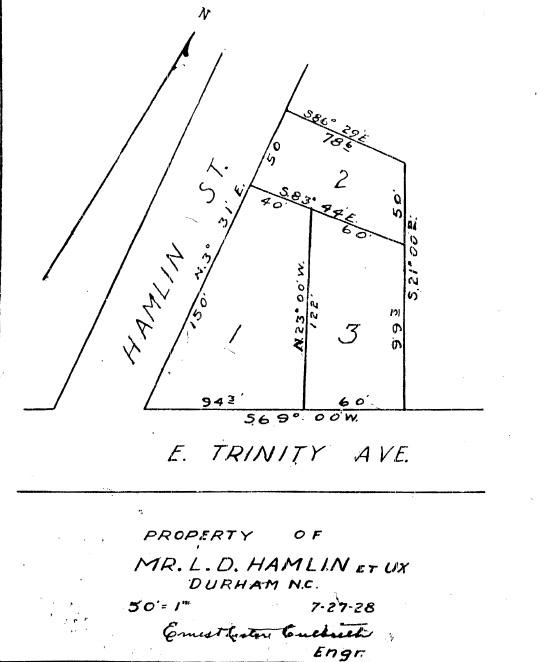 It's not clear whether the "401 East Trinity" that the Hamlins lived in prior to 1928 was replaced by this house, or whether that house was extant on "Lot 3" and Lot 1 had been vacant prior to that time.
1931 City Directory: Lonnie D. Hamlin, Mabel V. Hamlin,  Percy Poole (dept. manger, Alexander Motor Co.)
Lonnie Hamlin died on 01.23.32 and is buried in Maplewood Cemetery.
1934 CD: Mrs. Mabel V. Hamlin (noted as widow)
1938 CD: Mrs. Mabel V. Hamlin, Nolan E. Wiggins. (agent, the Life Insurance Co. of VA)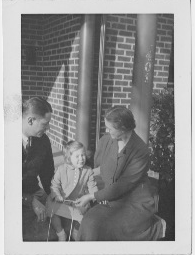 Courtesy:  Charlotte Hamlin.  This picture c. 1946 shows Mabel Hamlin (right) with her son, Bill Hamlin (left), and granddaughter, Charlotte Hamlin (center) sitting on the front steps of 401 E. Trinity.  Note the original round columns behind them, which had been long since replaced when the present owner acquired the house in late 2011.  
Courtesy:  Charlotte Hamlin.  Mabel Hamlin and her younger son, David, standing beside the porch at 401 E. Trinity.  Notice that the casement windows behind them are open.  Labor Day, 1947.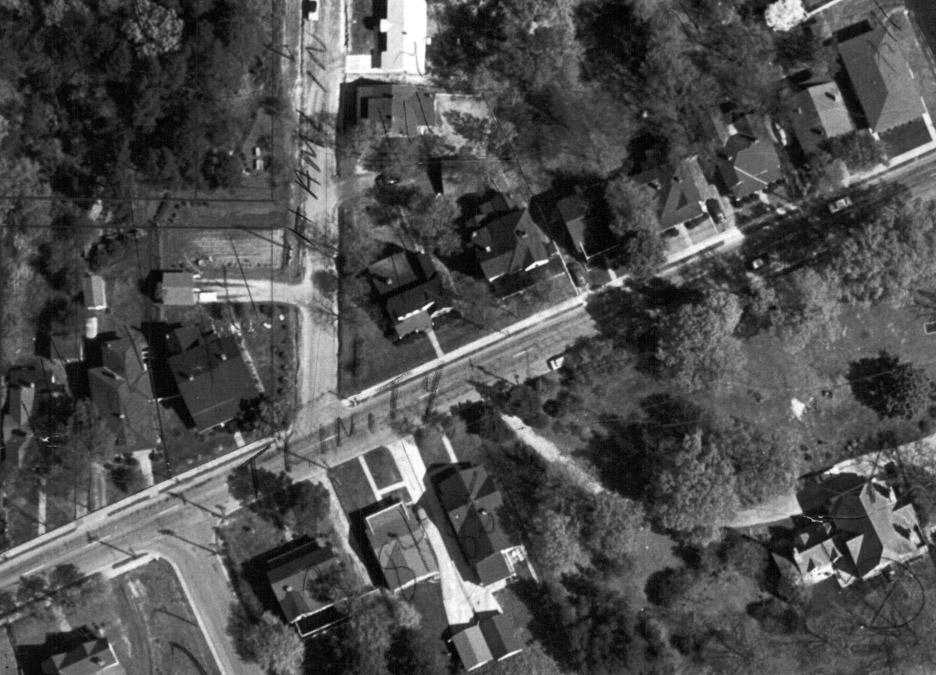 1959 aerial showing the corner of Hamlin and East Trinity. Hamlin Street was later renamed as Rosetta Drive.
Mabel Hamlin is listed in the city directories as living at 401 E Trinity until 1966; she died on 03.11.68. In 1967-68, it is vacant, and by 1969, it had been subdivided into apartments. In recent years, as of 2011, it has been four apartments. The exterior has had various vinylization and other out-of-place oddities added to it. 
1990s
It has recently been purchased; the current owner is in the midst of restoring it to a single-family dwelling as of November 2011.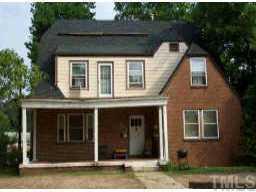 T
In 2006.  Note the absence of any sort of railing around the second-floor porch, which also appears to be sagging.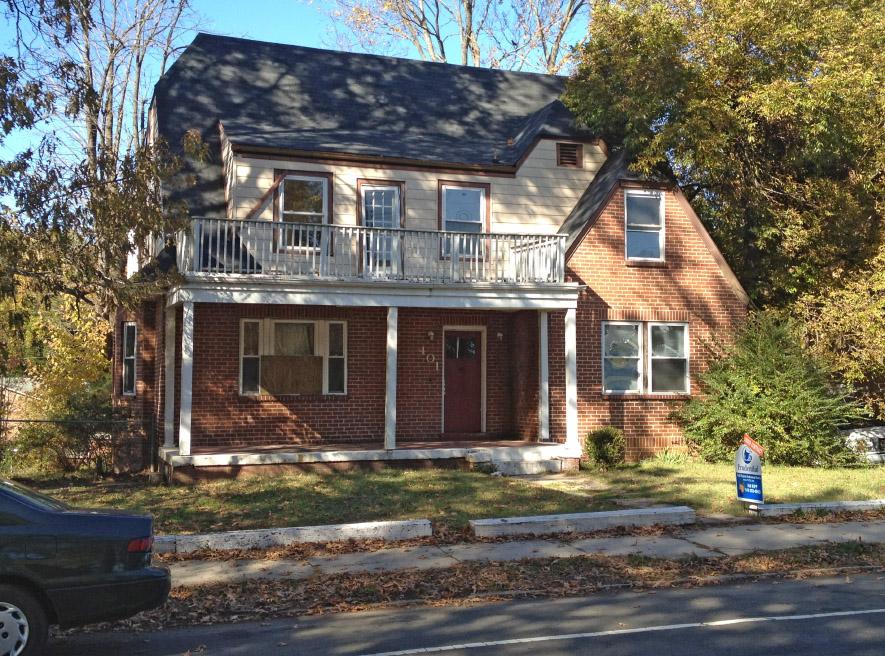 11.06.11  Someone put an architecturally inappropriate railing on the second floor porch between 2006 and 2011.  They didn't really repair the porch, which was rotting out.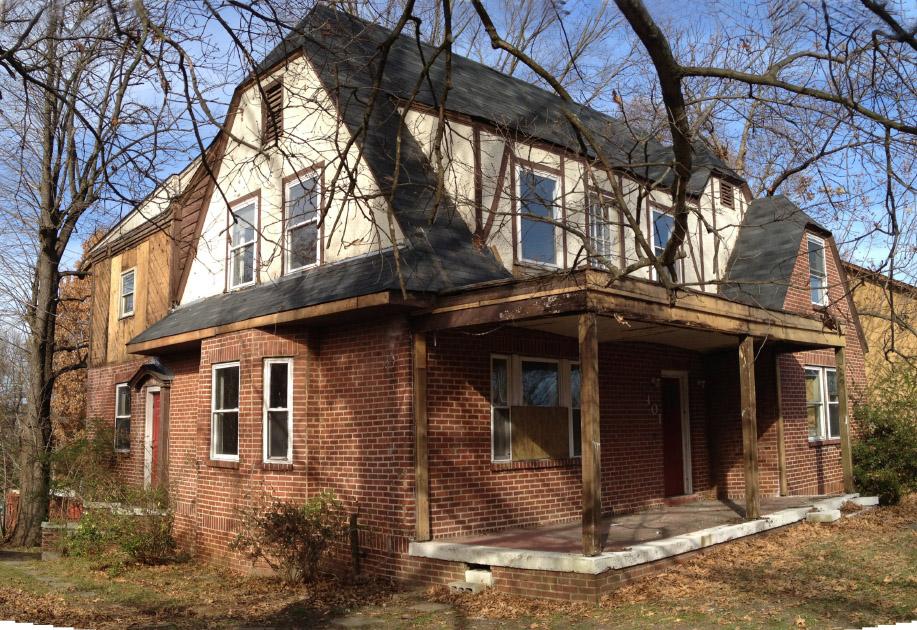 11.26.11, with vinyl and other later additions removed, re-exposing the half-timbering.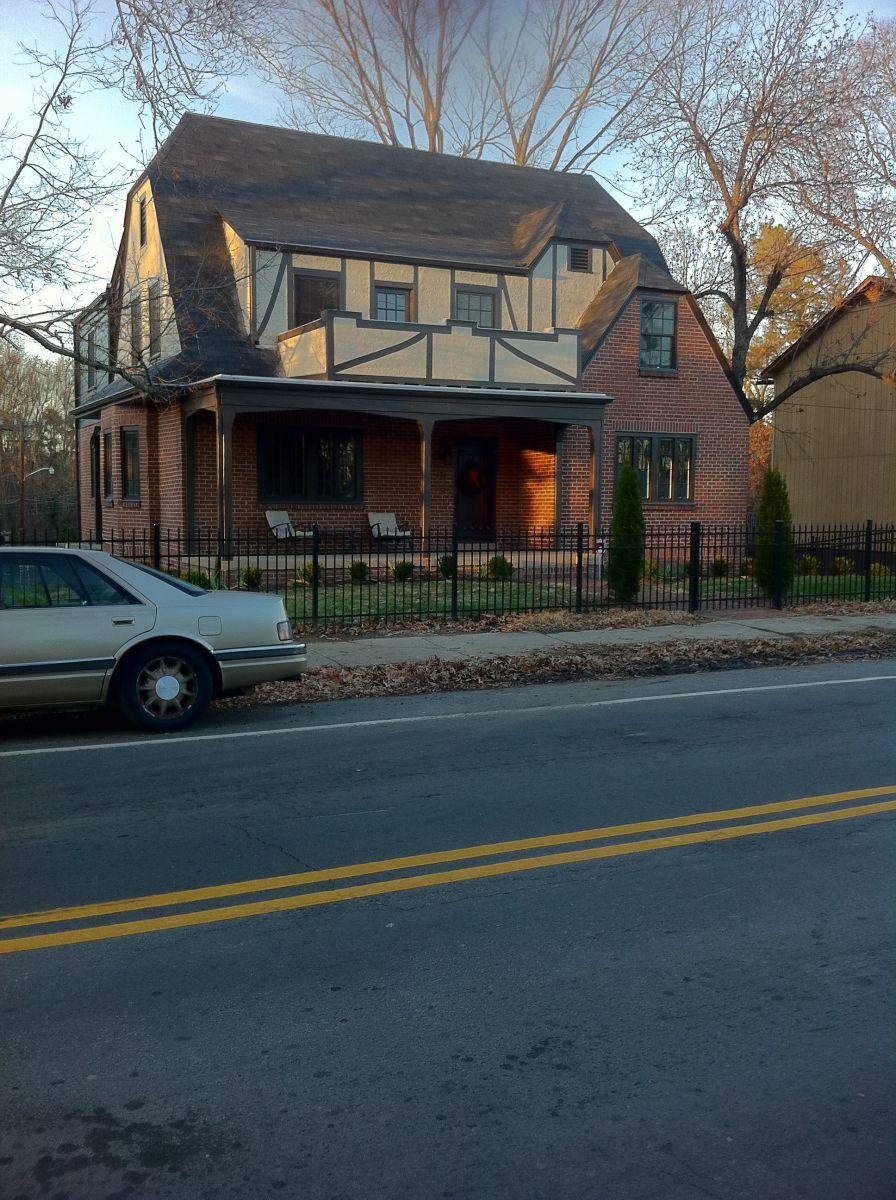 2012