A little jaunt back to the West End today to cover the University Apartments, which I skipped previously simply in hopes of stumbling upon more information before writing about it.

However, Lisa Sorg at the Independent published the news that the apartment complex had been purchased by Capstone Development, a Birmingham, AL-based student housing developer, and followed up the blog post with great article providing more in-depth coverage.

The University Apartments were built in 1938 on two 'bundles' of land between Duke University Rd. and Burch Avenue. The first was a parcel of land that had belonged to prolific Durham contractor Norman Underwood and his wife Elise. They had purchased the 3.87 acres of land in 1904 and built their home fronting on what was then called West Chapel Hill Street. Underwood built the Durham Public Library on East Main St., the Trust Building as well as numerous houses - including Greystone and several on Vickers Ave.

In 1936 the Underwoods sold their house and parcel to H. G. Hendrick who in turn sold it to C. W. Hall in 1936, then to L. H. Fountain in 1937, then to University Housing Corporation in July of 1937.

The second set of parcels, facing Burch Ave., belonged to Benjamin C. Ross. He sold 7 lots to the University Housing Corporation in August 1937. He eventually would sell two remaining lots to the company in 1958. The only remaining lot in the block, on the southwest corner of Burch and Maplewood, belonged to J. R. Cannady. This house still sits on the corner behind University Apartments.

A 1937 deed between University Housing Corporation and New York Life Insurance Co., the construction lender, includes a cost break-down for the apartments (named University Apartments on the deed) pegging the total building construction cost at $497,750.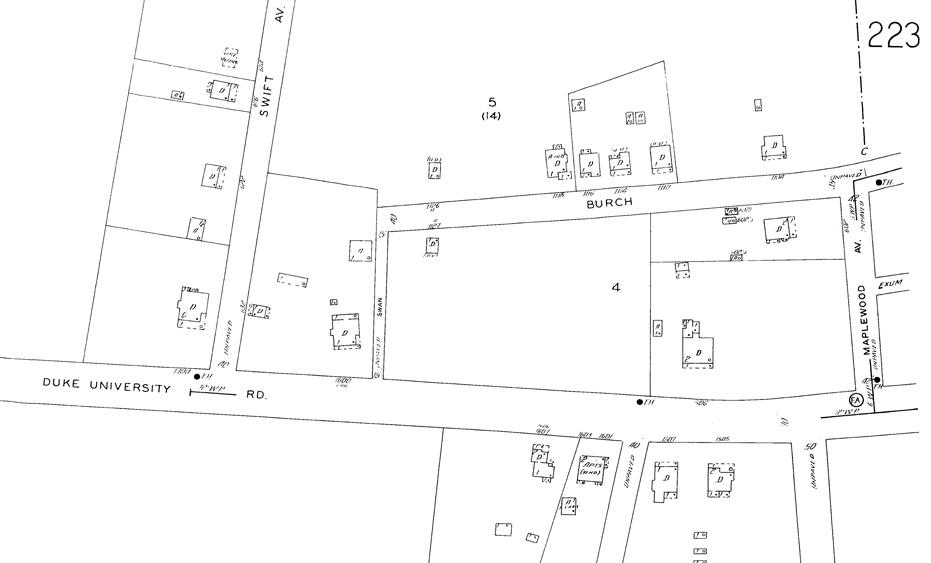 1937 Sanborn Map showing the site of University Apartments just before they were built.

Neither the builder nor the architect are known. Interestingly, there is a nearly identical set of apartments in Raleigh on Hillsborough Road, called Cameron Court. These were also built in 1938, on the former site of the in-town homeplace of Duncan Cameron.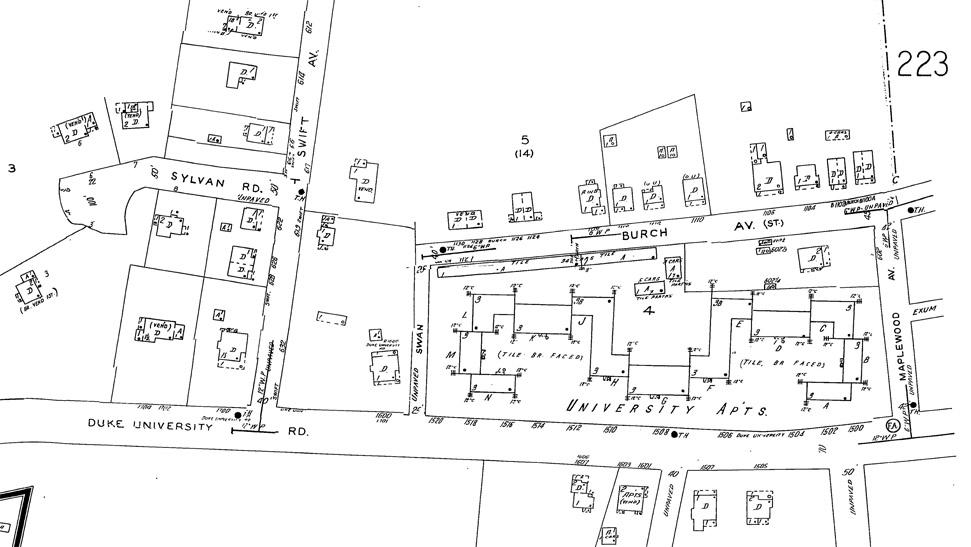 1950 Sanborn Map showing the apartments.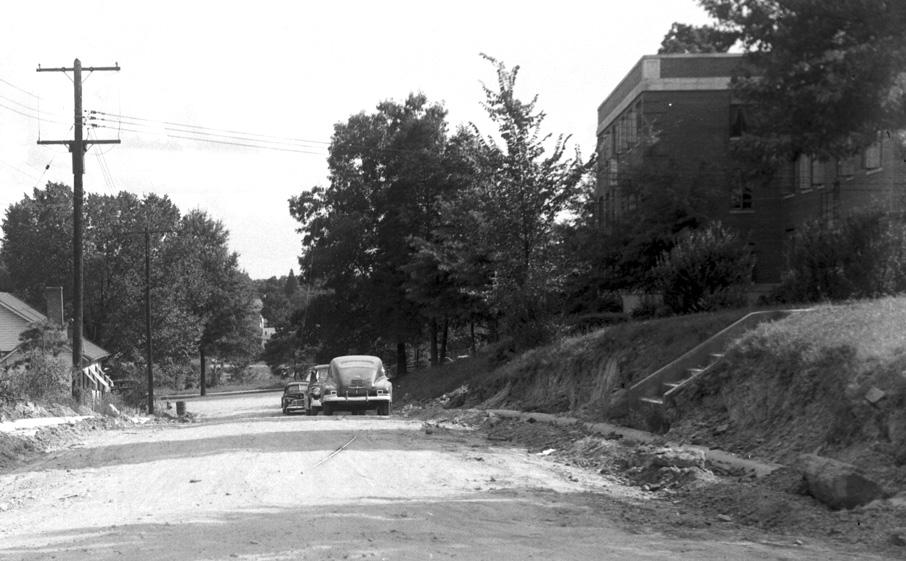 The only old picture I have showing a portion of the University Apartments, mid-1950s, looking south on Maplewood from near Burch.
(Courtesy Barry Norman)

Ownership of the apartments remained remarkably stable. University Housing Corporation sold the apartments to University Associates in 1981, which held the apartments until their recent sale to Capstone.

University Apartments presents such a different look and feel, from the exterior, than any apartment complex built after the 1950s. Handsome architectural detailing, large multi-paned windows, and large mature trees without a parking place in sight from the main roadway. It seems to have attracted a loyal following of people who have lived there for years, and thus created a greater sense of community than what one would typically find in an apartment complex. Out on West Chapel Hill St., I started a conversation with a woman who lived in the apartments - she had lived there for seven years, which was not atypical. Current apartment developers should take note; perhaps you can reduce turnover if you didn't start your architectural plans with the layout of the parking lot, and then ring that parking lot with vanilla boxes.

I also received several concerned emails from residents regarding the recent sale and what it might mean for the apartments. The developer specializes in student housing - which really hasn't been typical of University Apartments. They plan 'upgrades' to include removal of the historic windows and carpeting the bedrooms. It seems an odd approach to shift a stable working-class apartment community to student rentals, unless you figure that the added costs of itinerant undergraduates are outweighed by what their parents can pay - a point Lisa makes in her Indy article.

I question the business logic of avoiding historic tax credits in order to put in new windows. Having replaced glazing on very similar windows at Golden Belt, you can achieve excellent energy efficiency and noise dampening from placing insulated glass in the original steel frames, without compromising the architectural character of the building. Of course this costs more than putting in a single sheet of glass +/- those damnable fake muntins, but that's where the historic tax credits offset things.

It's hard to think that University Apartments will be changed for the better by the acquisition and renovation by a national company for whom the buildings are just another student housing facility in their portfolio. Anecdotally, residents evidently aren't having their leases renewed, and the interior changes have already begun.




University Apts from Duke University Road, 06.06.09

(Many thanks to Heather Wagner for her deed research, which I incorporated into the post.)

Find this spot on a Google Map.


35.997294,-78.922343