Trinity Avenue takes its name from Trinity College, (as of 2013, Duke's East Campus) which is the western terminus of the street. While divided with a median in the first block east of Buchanan Boulevard, the remainder is a two lane road.
The earliest map to show Trinity Ave. is an early 1890s map of Brodie Duke's landholdings and subdivision of Trinity Park.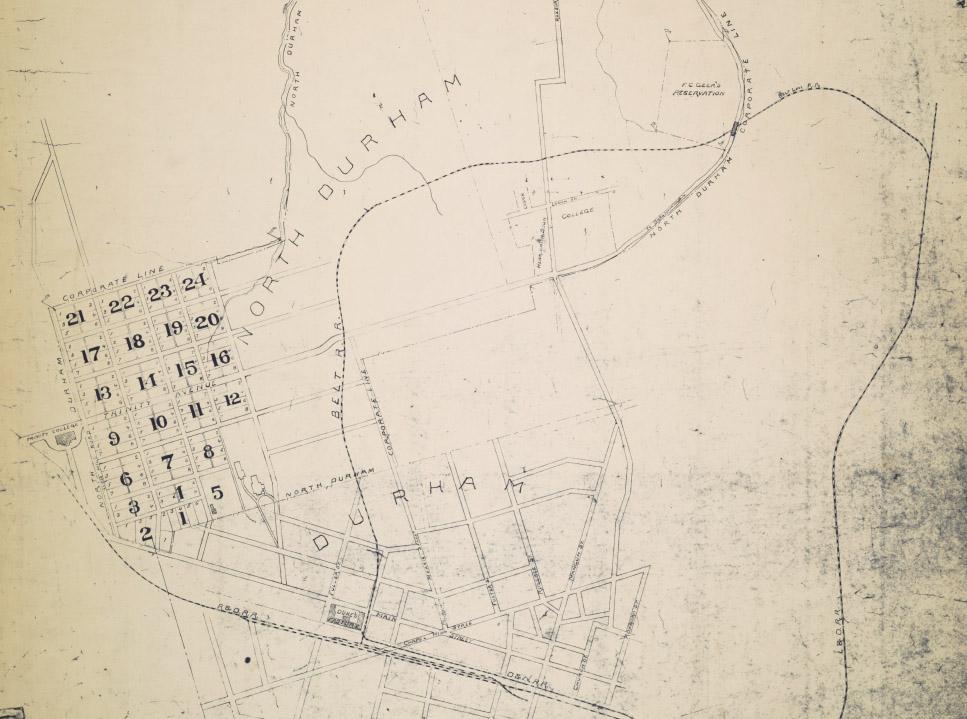 It appears from this map as if Trinity lined up with some existing roads that wended their way through the Geer land and northward towards Bragtown.
The path of Trinity Avenue into the mid-20th century extended eastward along the present-day streets of Colonial Avenue and Camden Avenue (i.e., those streets were part of East Trinity Avenue.) If you look at the path of East Trinity and Colonial Ave today, you can see the outline of the northeasterly curve shown on the map above.
Sometime mid-century, Avondale Drive and a new bridge across the Beltline severed this curve - and the disconnected sections east of Avondale became Colonial Street and Camden Avenue; the older houses along these streets attest to the earlier road connection, though.
Trinity Avenue today terminates at Avondale drive on its eastern end. It forms a backbone of two major inner-Durham neighborhoods: Trinity Park and Old North Durham. Between the two, it sits at the northern edge of the former light industrial Central Park area.