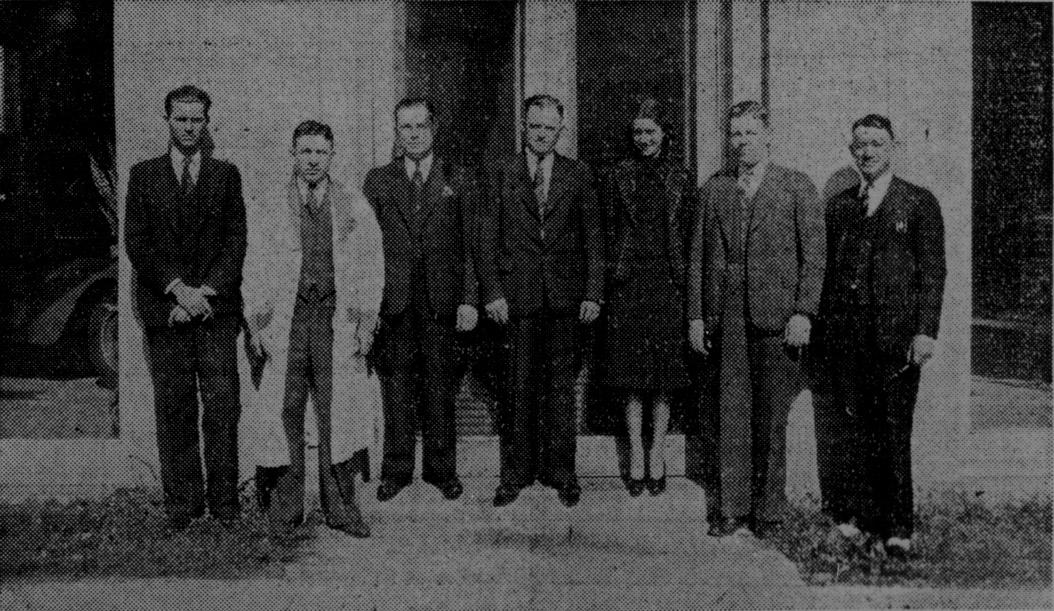 Business / Organization Type
Elkins Motor Company was founded in 1918 by Augustus B. Elkins in Mebane, NC. Elkins worked for the DuPont company in Hopewell, VA before starting the business. The dealership initially sold Studebaker and Willis Overland vehicles, but "acquired the Chrysler franchise" in 1926. 
In 1933, AB Elkins moved the business to Durham, and it was initially located "in the 900 block of Morgan Street." In 1935, it moved into the former Nash Dealership at 112 South Duke St. By the mid-1930s, both his son J.P. "Ted" Elkins and AC "Coolidge" Elkins were working with the dealership.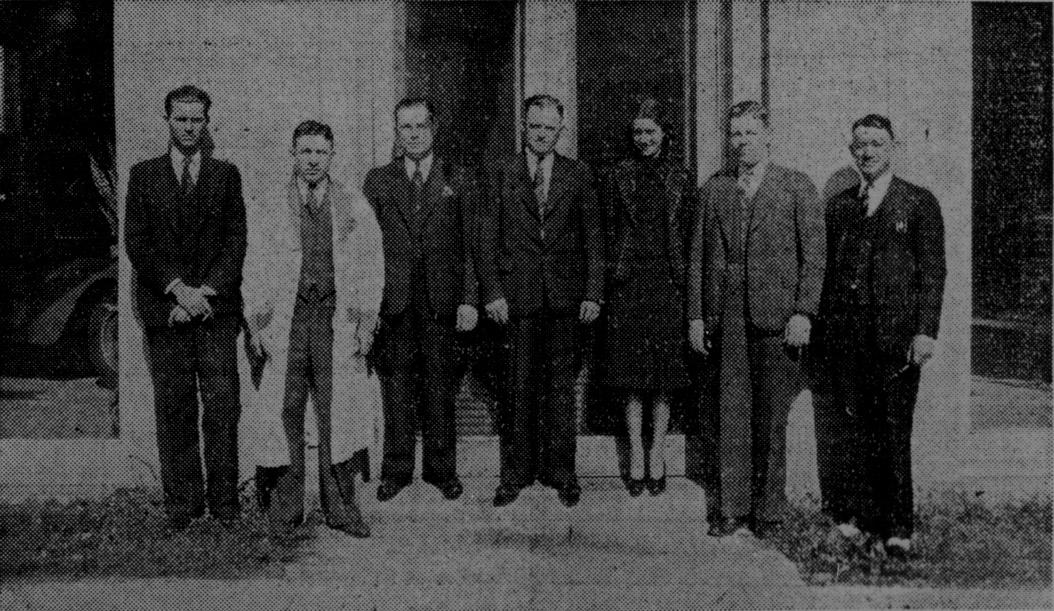 "The above personnel of many years experience stand squarely back our policy. Reading left to right; WG Hoggard, Stockroom Mgr; HE Marshell, Service Mgr.; J Marvin Mangum, Sales Dept., CN Riley, Sales Dept; Miss Rebecca Elkins, Secretary; Aubrey C. Daniel, Credit Mgr., and AB Elkins, General Manager."
The 1939 article noted:
"In discussing the two cars he sells, Elkins states his customers are particularly enthusiastic this spring about the convertible Plymouth coupe. With this car the struggle to change from closed to open car is gone. With the engine running, a light twist of the fingers on a button in the instrument panel, and the top of this coupe rises into position.
....
At present, Elkins has dealers in Burlington, Chapel Hill, Sanford, and Mebane, and expects to incrase this number shortly. 
....
In Elkins used car department, there is always an average of from 30 to 400 good used cars, representing the finest to be had in their price range. Each car is checked, necessary repairs made and cleaned before it is offered for sale by this old reliable distributor of Plymouth and DeSoto automobiles."
Associate dealers in 1939 are noted as Imperial Garage in Mebane, Poe's Auto Service in Chapel Hill, Elkins & Terrell Motor Co. in Burlington, and Sanford Motor Sales in Sanford.
In 1942, the business moved to 217 E. Parrish Street. In 1951, AB Elkins died; J.P. Elkins and A.C. Elkins became the full proprietors of the business.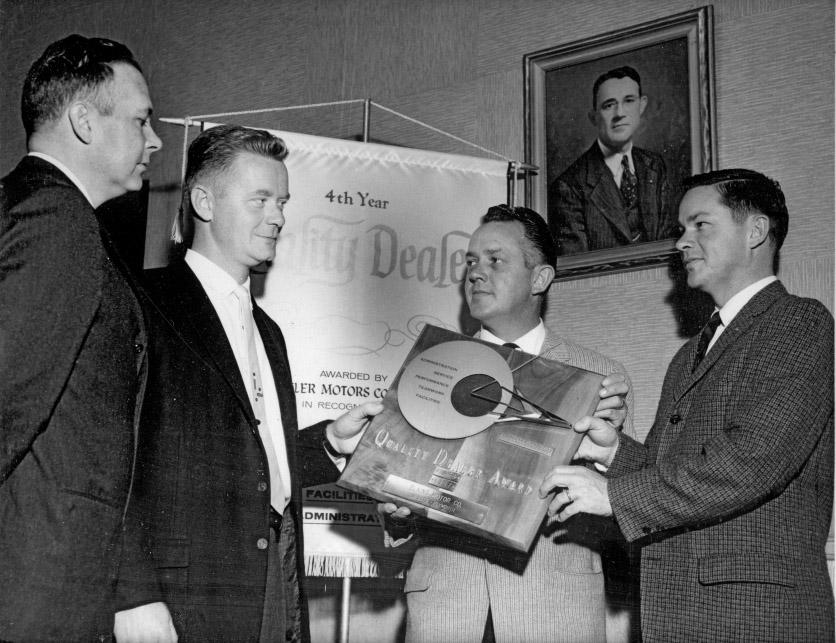 1961 "Quality Dealer Award" - Sid Hodges, Regional Manager and Brad Lynn, District Manager with Ted and Coolidge Elkins.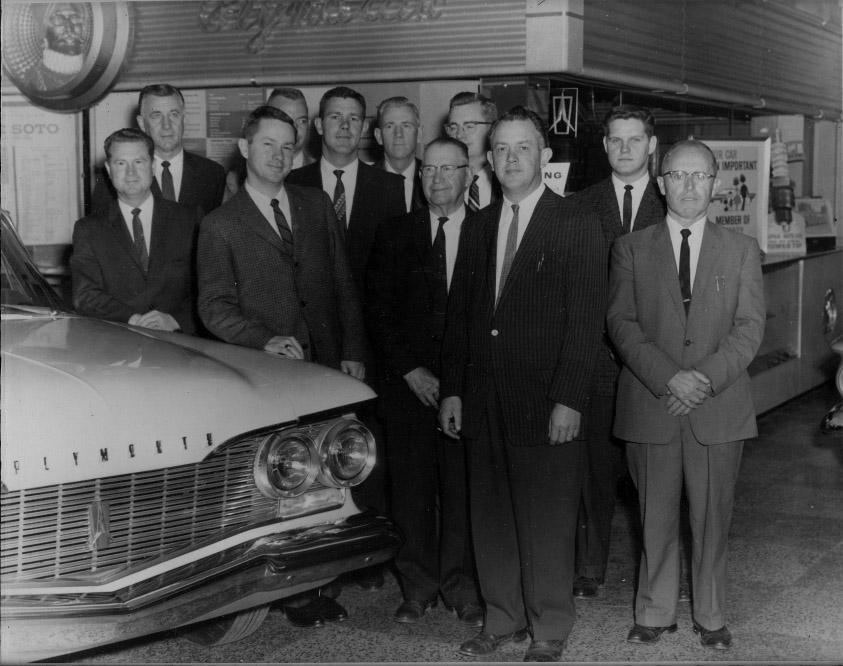 "Left to Right: Virgil Vogue, Paul Casey, AC Elkins, Harley Howard, Fred Elkins, Dave Clayton, EJ Tippett, Buddy Thompson, Sales Manager, Ted Elkins, Roy Lowder, Pierce." - 1960 (Courtesy Jim Elkins)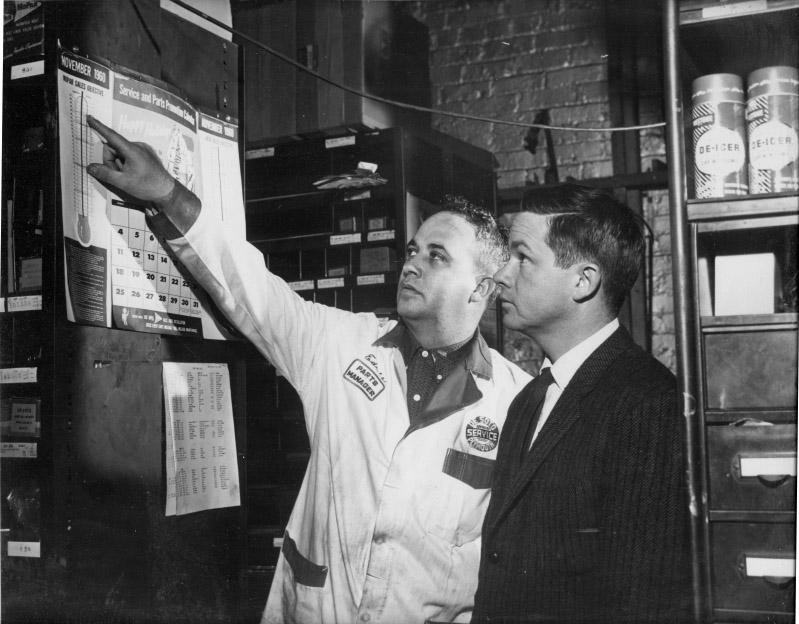 Eddie Richards, parts manager and AC "Coolidge" Elkins, 1960 (Courtesy Jim Elkins)
In 1969, the company built a new dealership on urban renewal-ized land between S. Mangum and S. Roxboro, adjacent to the Durham Freeway.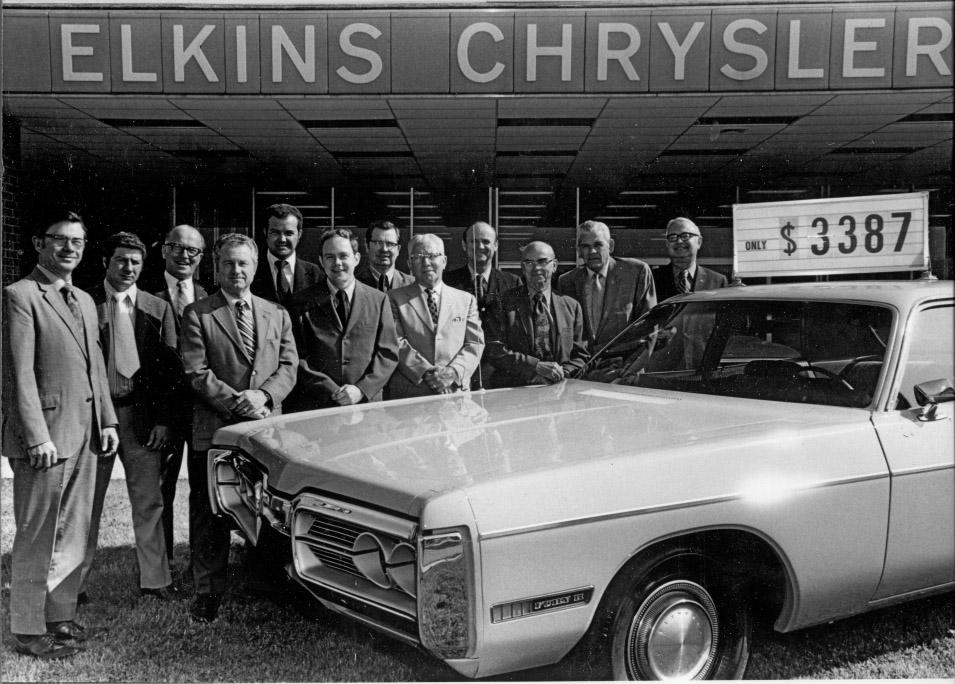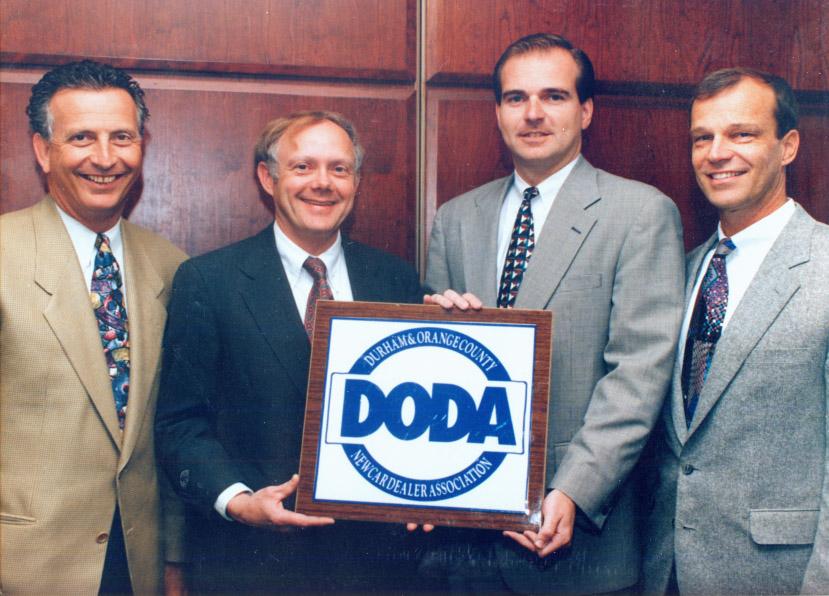 Pat Pascarella (RPM Nissan), Jim Elkins, Tony Fisher (University Ford), and Joe Morgan, Jr. (Morgan Motors)
Per Jim Elkins:
Elkins Chrysler (E & L Automotive, Inc) purchased the Mitsubishi franchise in 2002. The Mitsubishi building was built in 2004-2005. We moved the franchise into that building in 2005. (We worked out of a "sales" trailer during the planning and construction of the Mitsu building.
The Chrysler and Mitsubishi franchises were sold to David Johnson (Johnson Lexus of Raleigh & Durham) in April 2007. Johnson was forced to close the Chrysler-Jeep-Dodge-Ram store in June 2009 due to the Chrysler bankruptcy. The "New" Chrysler awarded the Chrysler-Dodge-Jeep-Ram franchise to David "Sport" Durst in August 2009 and he started operation in the old Toyota building (4513 Durham-Chapel Hill Blvd) in September 2009.
Johnson brought with him, to the Chrysler property, the Kia franchise (he purchased from Sport Durst)....I do not recall the timing, but Johnson then sold the Kia franchise to University Ford (Tony Fisher) and swapped the Mitsubishi franchise for the Jeep-Dodge-Ram franchises with Morgan Motors (Joe Morgan, Jr.)