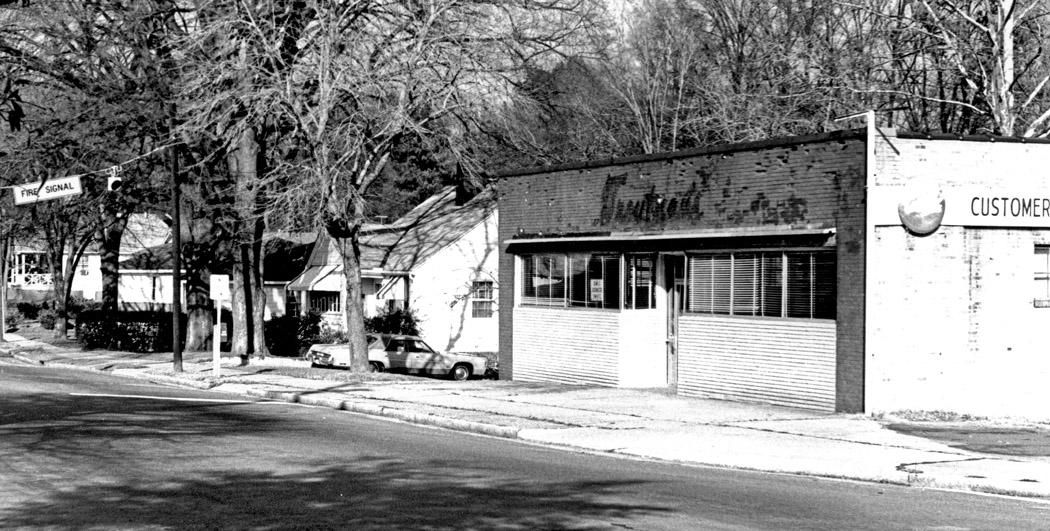 Ninth St., looking northeast, ~1980.

Floyd Wright opened a grocery on this corner between 1926 and 1930. By the late 1930s, this grocery had been taken over by long-time County Commissioner Dewey Scarboro, who lived next door at 1006 Ninth St. Per the Old West Durham website, Scarboro's Food Store was a favorite stop for children from EK Powe School, located across the street. In ~1947, Scarboro demolished the original frame store which sat at the corner replaced it with a masonry structure, pictured above.

Mr. Scarboro closed his store in 1978, although he continued to live next door into the mid-1980s.

In 1981, Lex and Anne Alexander opened Wellspring Grocery in the space, just two blocks away from the original Durham Food Co-Op on Broad St. (aka the People's Intergalactic Food Conspiracy No. 1.) Offering a vegetarian selection, but open to all consumers, unlike the original food co-op, Wellspring quickly gained a loyal following. In 1986, the grocery moved 3 blocks south to a new building on the southwest corner of Hillsborough and Ninth Street. They would later moved to the former A&P on Broad Street and become part of the Whole Foods chain.

After the departure of Wellspring, a husband and wife team - Ben and Karen Barker, who had worked locally at Chapel Hill's La Residence and Pittsboro's Fearrington House, decided to open their own restaurant in the space. After remodeling the former grocery, they opened their doors in November 1986. It remains in operation at this location, one of the most prominent restaurants in the Triangle.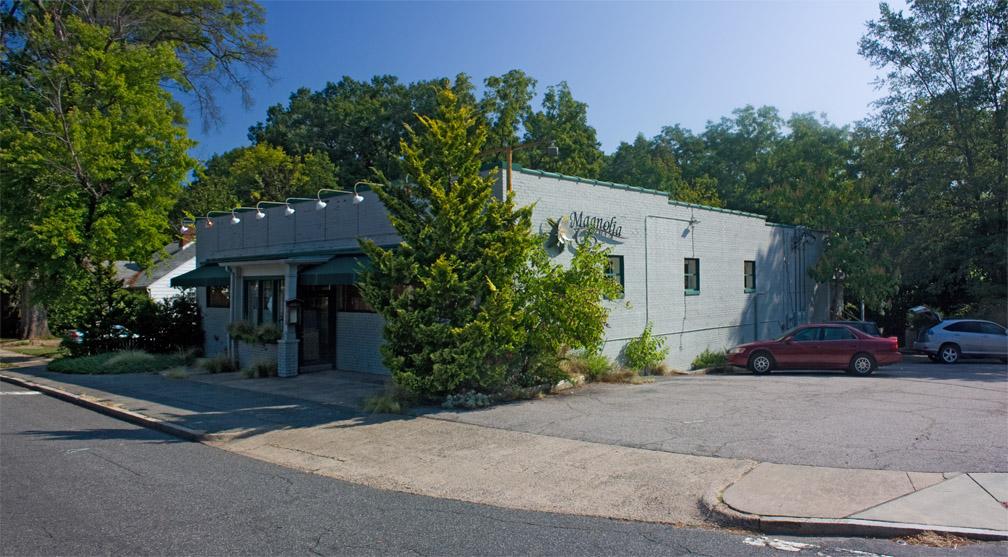 Looking northeast, 09.12.09
The Magnolia Grill closed on May 31, 2012. The building, as of 2013, remains vacant.
On 01.02.14, the building burned.
From the Durham Herald-Sun, 01.03.14
Fire on Thursday damaged a West Durham landmark that's been a renowned restaurant, health-food store and neighborhood grocery at different times for more than 60 years.
The Ninth Street building, which most recently was Magnolia Grill, had been vacant since it closed in 2012.
Firefighters were called to the brick building across from Fire Station 2 near E.K. Powe Elementary School at 2:47 p.m. There was heavy fire in the rear of the building when firefighters arrived, Deputy Chief Chris Iannuzzi of the Durham Fire Department said.
Iannuzzi said the fire was under control in about 20 minutes, but it caused heavy damage to the basement and main floor at the building's rear. The rest of the building sustained heavy smoke damage.
No one was hurt, and the fire's cause is being investigated.
Ann Alexander, who owns the building with husband Lex Alexander, was contacting her insurance company about the fire Thursday afternoon. She said she was too pressed for time for further comment.
Before it was Magnolia Grill, the building housed Wellspring health-foods store, which the Alexanders founded in 1981.
They sold Wellspring in 1991 to Whole Foods, the natural-foods grocery now located on Broad Street.
But the building's history goes back much further.
Since the 1920s, it was a neighborhood grocery owned by the family of Dewey Scarboro, former chairman of the Durham County Board of Commissioners.
The original, wooden building stood on the current parking lot, according to 84-year-old Jim Bock. It was torn down and rebuilt in its present location in 1947.
Bock, who has lived in West Durham since 1929, said Scarboro's father operated the first grocery there, and his son took over later.
"Mr. Scarboro was a wonderful fellow," Bock recalled as he watched smoke pour from the building.
In the 1930s, Bock said, he would stop by Scarboro's Grocery to buy candy on the way home from E.K. Powe school.
"There used to be an old fellow who would sit there on a bench, and us school kids would come by, and he'd reach out with his cane and trip us up," he said. "So I've got a lot of good memories from around here."
Later, after Bock married, he and his wife would do their grocery shopping there.
"I hate to see anything happen to the building," he said. "It's a shame and a pity."