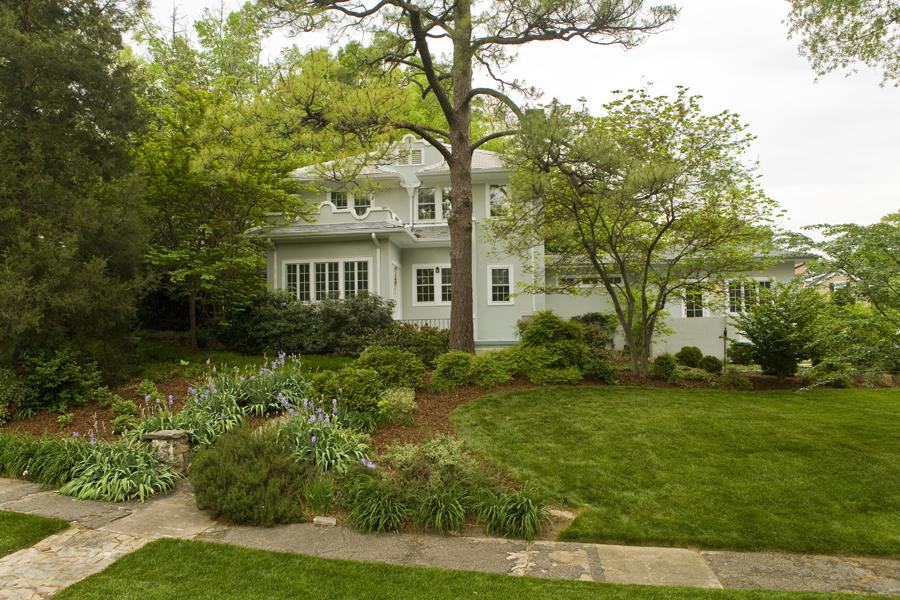 (photograph courtesy Alex Maness)
Below in italics from the 2012 Preservation Durham Old Home Tour booklet:
Kitty Moses and Ken Soo's Spanish Colonial Revival home at 1523 Hermitage Court sits in the middle of a wonderfully designed yard and garden. This is due to careful choices and expert planning that have transformed this half acre property into one of Forest Hills' most interesting and beautiful landscapes. The house – built in 1930 – is a Sears "Alhambra", nationally one the most popular Sears kit homes. The Alhambra was designed on a basic Foursquare layout with Mission-style detail like curved parapets, stuccoed exterior, and iron railings. Because the house was built in 1930, it is not surprising that there are a few respectful giants casting shade over this address. A Southern magnolia, eastern red cedar, and post oak serve as anchors just as they were imagined to do 80 or so years ago when they were planted. However, the real delights on this home's outside tour come in more recent and medium sizes.
Twelve years ago, Kitty and Ken enlisted landscape designer Sally Pagilai in reimagining their property after their major renovation project flattened and churned up a shady side yard. After adding several smart plant choices to this area just off the "porchlet," the next phase of their garden planning began. An old driveway extension and carport/pergola was scrapped. In its place came a beautiful stone patio and mudstone walk to carry visitors around the front of the house. In between the stones are well-suited and low maintenance groundcovers such as: ajuga, moneywort, and dwarf mondo grass.
Sally helped create the perfect divide between the house and the public sidewalk without forgetting or overplaying the lawn.  A modest and gorgeous greensward of turf sets off the "bird garden" which buffers the front and east sides of the house with a smart combination of service berries, abelias, arborvitaes, cherry laurels, and several 'Tardiva' hydrangeas. In working with Sally, Ken humbly asked for a single fig tree and room for blueberry bushes. But rather than banish them to an edibles-only bed, he decided to plant them out front the way most folks would a boxwood or an azalea.  Because these homeowners and their designer obviously know how to combine plants, the edible and ornamental juxtapositions work perfectly. Now they have several figs, a persimmon, and even a small mulberry tree working together as secret partners in an otherwise ornamental show.
The mixtures of perennials, vines, and understory trees make this landscape a worthy inclusion on the Forest Hills Home tour. A 'Forest Pansy' redbud draws visitors around back in the early spring while a bottlebrush buckeye makes drivers slow down and ask "what is that" every June when large candlestick panicles of white flowers explode along the western property line.
If you talk to Kitty and Ken, you can tell that a lot has changed to this yard in the dozen or so years since it began its transformation. But it is easy to see why they are so proud of the resulting landscape. Like any successful garden, it is a place that draws you outside in any month of the year and for a whole host of reasons.
The plan for the Sears "Alhambra":