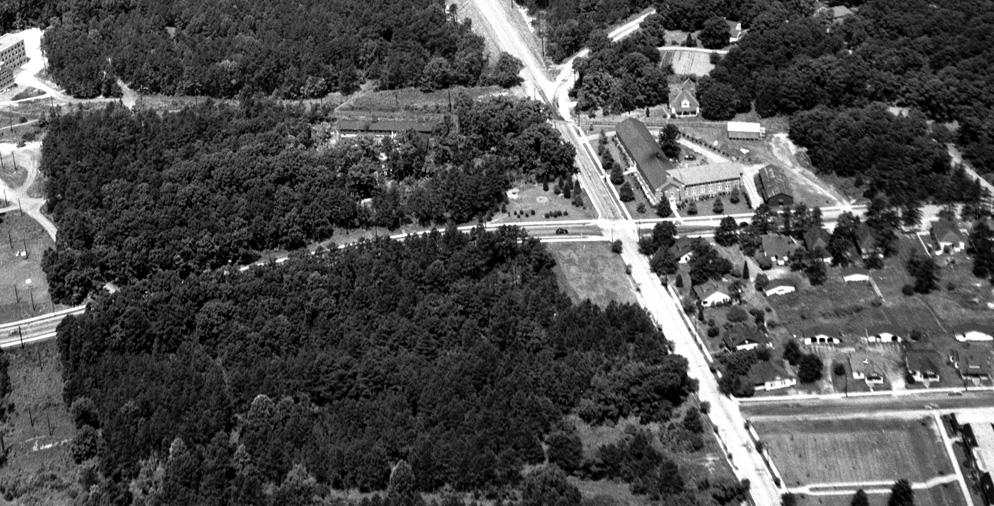 Looking west at the intersection of Trent Dr. and Erwin Rd., 1950.
(Courtesy The Herald-Sun Newspaper)

The erstwhile dormitories clustered around the intersection of Trent Drive and Erwin Road were built between 1942 and 1951; for a period of time, this cluster was known as 'North Campus' - an appellation it appears to have shed at this point.

The oldest of the three structures was built on the northwest corner of Trent Dr. and Erwin Rd. in 1942 as a dormitory for the nursing school. The nursing school at Duke admitted its first students to a three-year program in 1931 and began awarding baccalaureate degrees in 1938. I'm not sure if the latter innovation was the impetus for the construction of a dormitory, but local architect George Hackney was retained to design a Georgian Revival structure. It seems rather an odd location to me - then a decent distance from the medical complex at Duke, directly adjacent to the rail spur that carried coal south from the main line to the Duke power plant. Perhaps the then-residential setting of Erwin Road seemed like a good location for a dormitory.

That character began to change decidedly with the construction of the Veterans Administration Hospital ~ 2 blocks to the west of the nursing dormitory in 1950-1952. Concomitantly, Duke began the construction of two new dormitories on the south side of Erwin Road.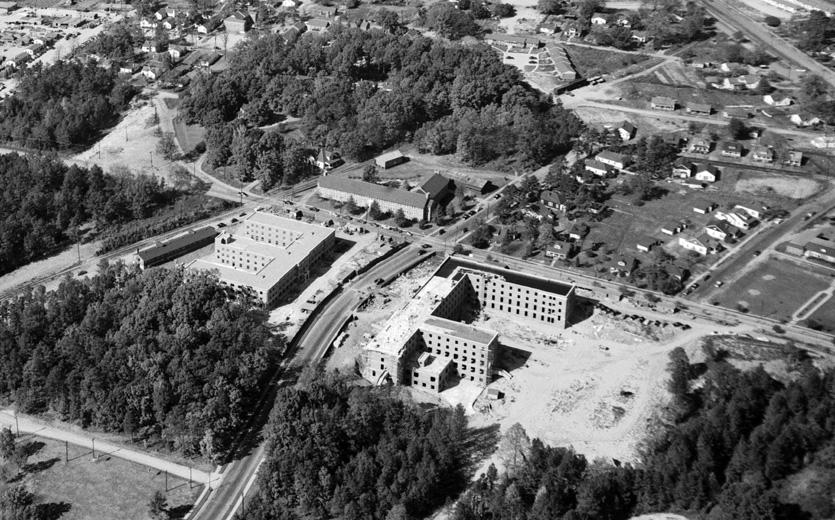 Looking north at the under-construction Hanes House and Men's Graduate Student Center, 1952.
(Courtesy The Herald-Sun Newspaper)

Hanes House, located on the southwest corner of Erwin and Trent, was named for Elizabeth Hanes, wife of Frederic Moir Hanes (1883-1946), a professor and Chair of Internal Medicine at Duke. It was constructed as a dormitory and teaching facility for nursing students, and completed in 1952. The original nursing dormitory on the north side of Erwin Road became known as Hanes Annex.

The Men's Graduate Student Center, on the southeast corner of Trent Dr. and Erwin Road, was built in 1952 as well, and provided dormitory space for 300 male graduate students. It contained a dining room and other services for students.

By the mid-1970s, all three buildings were in use as undergraduate dormitories, and the area became known as 'North Campus'. The Men's Graduate Student Center was renamed Trent Hall. By the 1980s, at the latest, it was an entirely freshman campus.

I know this because, in 1988, I moved into Hanes Annex as a Duke Freshman; to show how seriously I take ED, I proffer the only two pictures I have of the original front of Hanes Annex with, uh, some guy in them.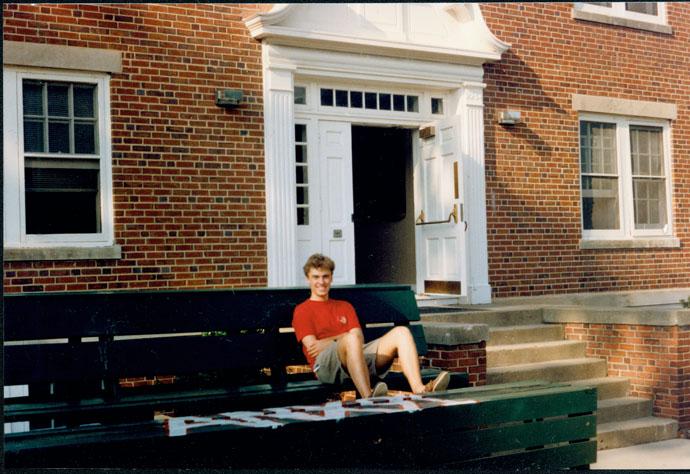 Front of the nursing dormitory/Hanes Annex, August 1988.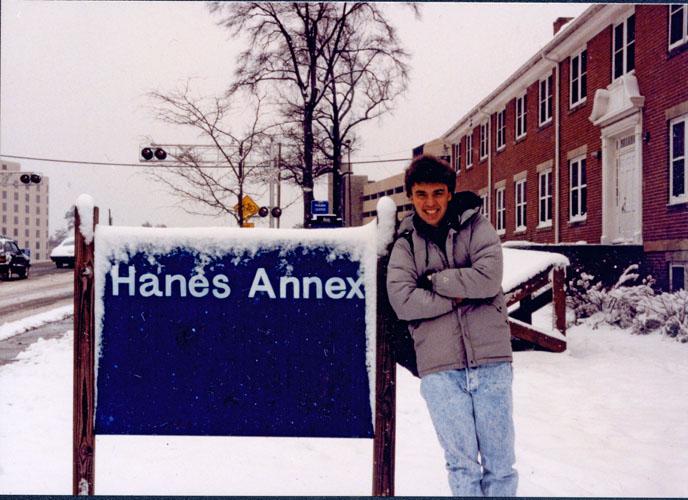 Front of the former nursing dormitory / Hanes Annex, December 1988. I wish I could say that I was wearing a hat, but, hey - it was the 80s.

Jokes about Hanes Annex abounded - I don't know if it was really all that bad - it hadn't been renovated seemingly since opening in 1942. We were convinced in 1988 that Duke hoped to get rid of us by placing us there. If the "low-impact, break-away walls" didn't fall on us, crossing a very busy Erwin Road that then served as the connector between 15-501 and the Durham Freeway, which had its western terminus at Erwin Road next to Sam's Quick Shop would certainly do us in as we attempted to cross morning and evening traffic.

In 1993, Duke's academic council implored the university to do away with North Campus entirely, but to close "at least Hanes Annex, one of our least-desirable dormitories." It stood vacant after 1993, but a $4.5 million renovation removed the original front entrance, replacing it with a curved glass facade, and removed the original side entrance. A new side entrance was added on Trent Dr. The building reopened in 2000 with classrooms and gallery space. The building was renamed the John Hope Franklin Center after the historian and civil rights advocate.

Trent appears to have become the unfortunate destination of sophomore students in the mid-1990s, after freshmen were consolidated on East Campus. I'm not sure when it last housed students, but is now comprised of office space.

Hanes appears to have stopped housing students after the freshman consolidation on East Campus in the 1990s, but continued to house nursing and PA programs; the PA program has recently moved to the former Blue Cross Blue Shield Building on South Duke St.



Former Hanes Annex / now John Hope Franklin Center, 04.04.09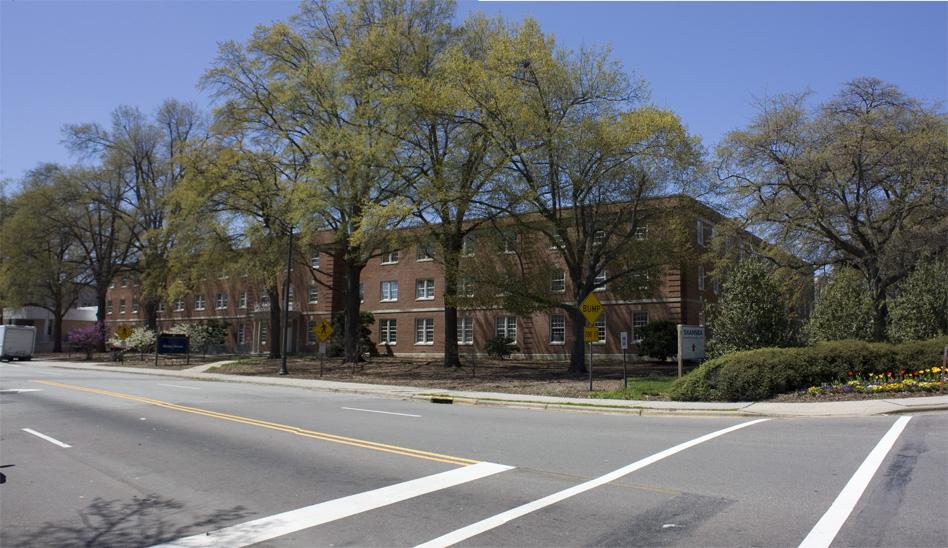 Hanes House, 04.04.09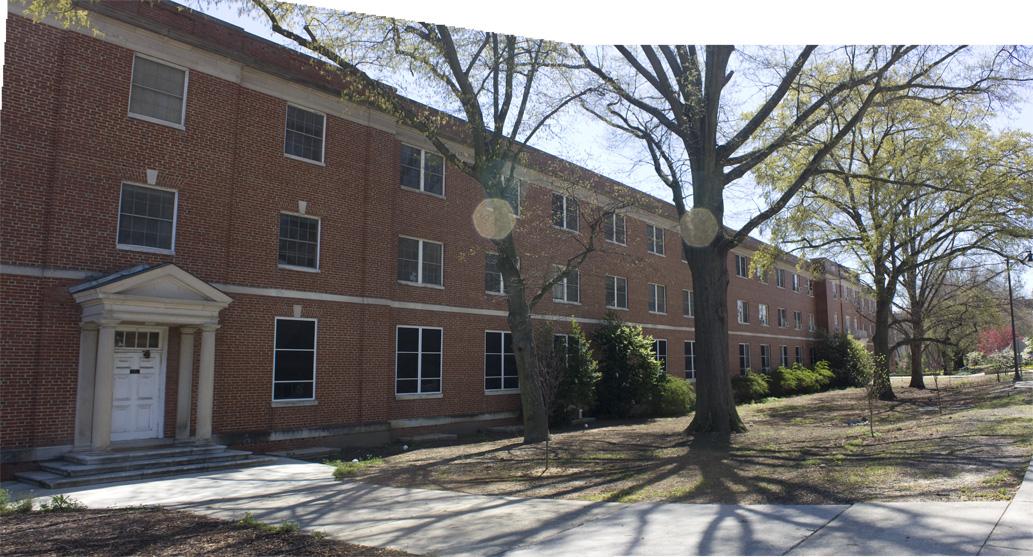 Trent Hall, 04.04.09

Find this spot on a Google Map.


36.007906,-78.934219