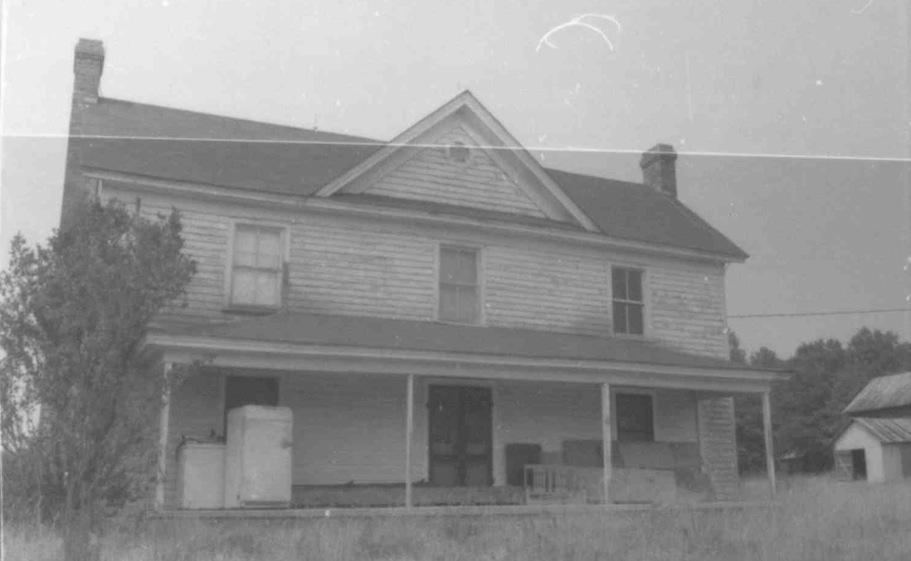 A double leaf entry door and a quatrefoil vent on the center gable are special enhancements on the well-preserved Triple-A I-house built in the late nineteenth century at the heart of the Martin Van Buren Ellis farm. The dwelling also has two-over-two sash windows, single- shouldered brick end chimneys with corbelled stacks, and full-facade front and back porches with hip roofs that were common to the house form and the time. A long one-story ell at the rear of the dwelling has a hip-roofed porch that abuts the back porch of the main block at a right angle.
Most of the interior is finished with modern wall coverings, but original mantels, different in each room, remain, and among them, a columned and mirrored mantel in the front parlor is particularly handsome. Behind the farmhouse, a one-pen, log kitchen covered with vertical weatherboard siding has been converted for use as a tenant house. A notable collection of
outbuildings on the farm include several log and frame tobacco barns, a log strip room, a large frame pack house, a frame smokehouse, and two log corn cribs that now function as chicken houses.
In the late 1930s, Martin Van Buren Ellis was chosen as the principal performer for the Liggett and Myers film, Tobaccoland USA. Much of the motion picture, distributed nationwide, was filmed on the Ellis farm.