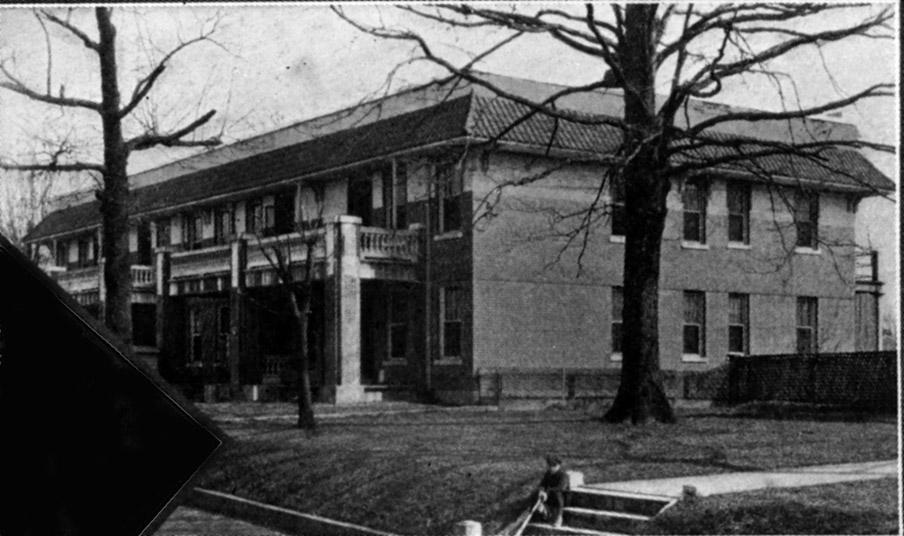 Markham Apartments, 1924.

A series of impressive apartment buildings were constructed in Durham neighborhoods during the 1910s-1930s. Many of these still survive, primarily in Trinity Park, although a few in Old North Durham and the West End still persist.
(Below in italics is from the 1984 National Register listing; not verified for accuracy by this author.)
This two story apartment building is a rare surviving example of Durham's earliest apartment buildings. The eight unit Spanish Colonial Revival style building is a good example of the small number of structures built in Durham using thisstyle, which was popularized by the construction of Watts Hospital (National Register) in 1909. The Markham Apartments, faced with brick and stucco and displaying its original exterior, is typical of the early apartment buildings that provided an alternative to the boarding houses and hotels as multi-family dwellings. The building is divided into four segments, each reflected on the main facade by the one story porch with balcony above sheltering two entrances, one door to each unit on the first and second stories. An eclectic design was achieved through the use of various materials, including turned balusters cast in cement. Notable exterior features of the building include its handsome brick work. metal shingles which imitate terra cotta tile on the hood, paired sawn brackets in the deep eaves, and 12/12 and 8/8 double hung windows. Notable interior features include the graceful plaster arch with consoles dividing living and dining rooms and the heavy cornice and dentil molding in the living rooms. C.W. Rigsbee acquired the property at public auction in 1938 for $18,085. The property has since been resold and has undergone extensive rehabilitation.

These apartment buildings were a new alternative to the more common rooming house, subdivided house, or hotels that people who did not own their own homes lived in at the turn of the century. Often they supplanted earlier single family homes on the site as neighborhoods grew.

The 8-unit Markham Apartments at 123 Broadway St. were built around 1910, adorned with decorative brick facing, balconies with turned balusters, and a metal faux-terracotta tile roof. It remained an apartment building through the 20th century, and was quite worn out by the 1990s. It was purchased by TROSA and renovated as housing for TROSA residents in 2001-2002. I'm not always a fan of TROSA's renovations, but they did a decent job on this structure. I'm never a fan of fake muntins and standard-issue Home Depot metal doors, but at least the other structural elements have been preserved.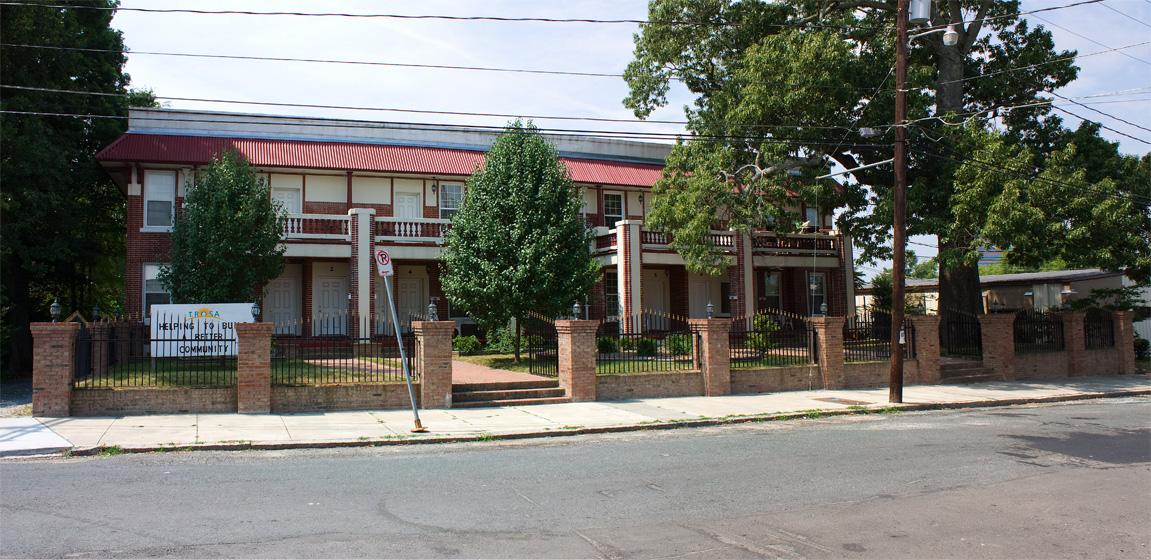 Looking southwest, 06.23.08


36.000688,-78.897698