35.992215202597, -78.892285396229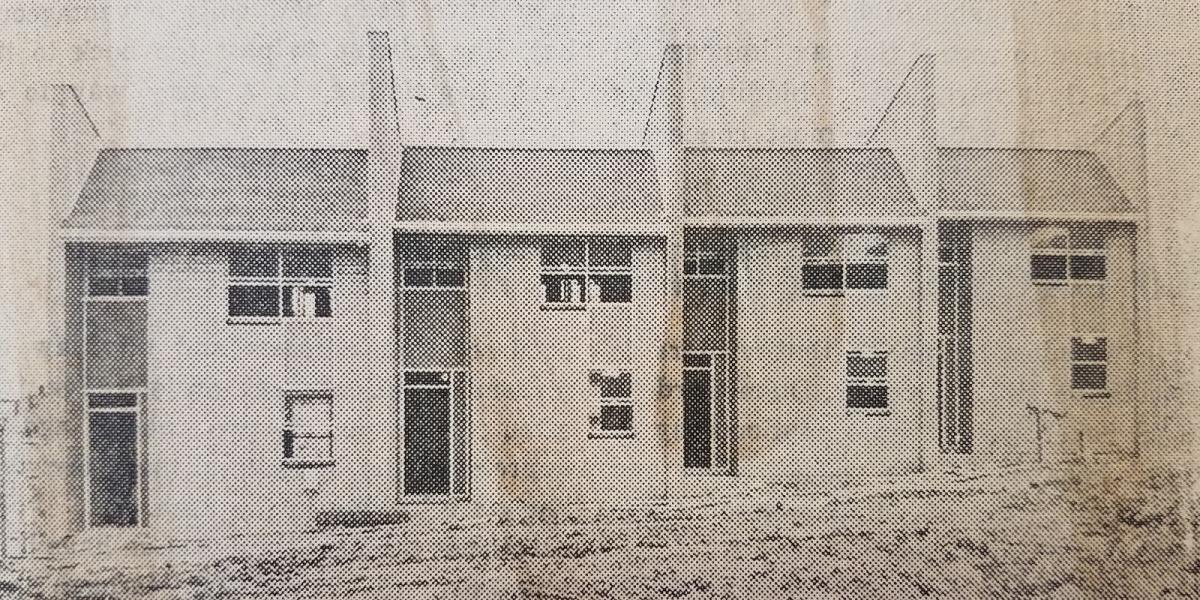 Clipping of units nearing completion from The Durham Sun, 7.10.1971 (From a scrapbook collection, courtesy of Durham Housing Authority)
Planned from the mid-1960s with the help of federal funding for both clearing existing structures and constructing public housing, the Liberty Street Apartments covered a site of roughly 9.25 acres just to the east of central Durham.  Bordered by Liberty Street, Elizabeth Street (including a portion of its former course now named Commerce Street), East Main, and Dillard Street, the project required the clearance of much of the earliest construction on this side of downtown.  Originally, these blocks had included some of the more opulent homes of wealthy Durhamites along the higher ground on Dillard and East Main, as well as rows of more modest houses down the slopes like Peachtree Place (at times alternately called Alley or Street) to the north and east.  Their original owners long gone, the once-glamorous turn-of-the-century homes had largely been converted to apartments, been demolished, or deteriorated significantly.  Along with the remaining working class houses, what remained was to be swept aside as part of the "slum clearance" mandate of Urban Renewal.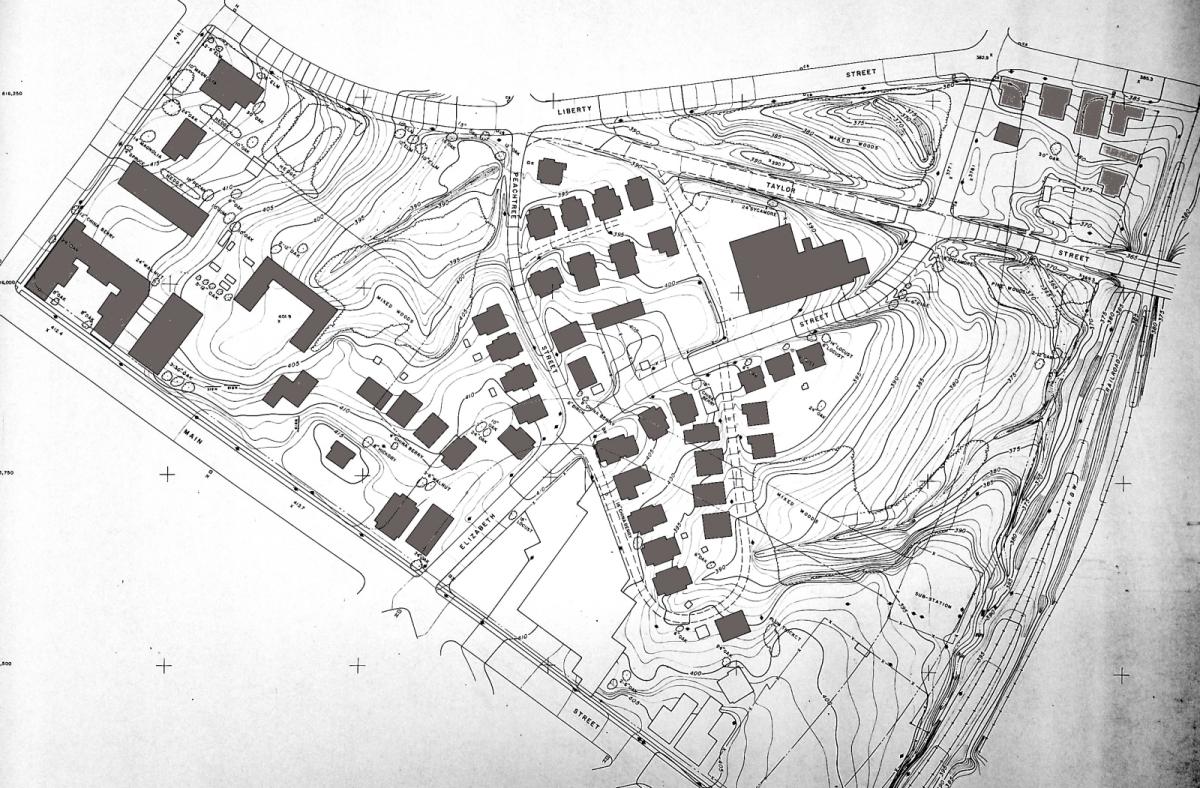 Late-1960s map showing the terrain to be reshaped and buildings to be removed for the adjoining developments of Liberty Street Apartments and Oldham Towers (at left, corner of Dillard and East Main).  In addition to the residential structures mentioned above, this included the former fire station at East Main and Elizabeth and the large Durham County Garage shown south of Taylor. (Source: "HUD Project No. NC 13-8," Sheet M2/2. Durham County Library - North Carolina Collection - Map Case 1, Drawer 10.)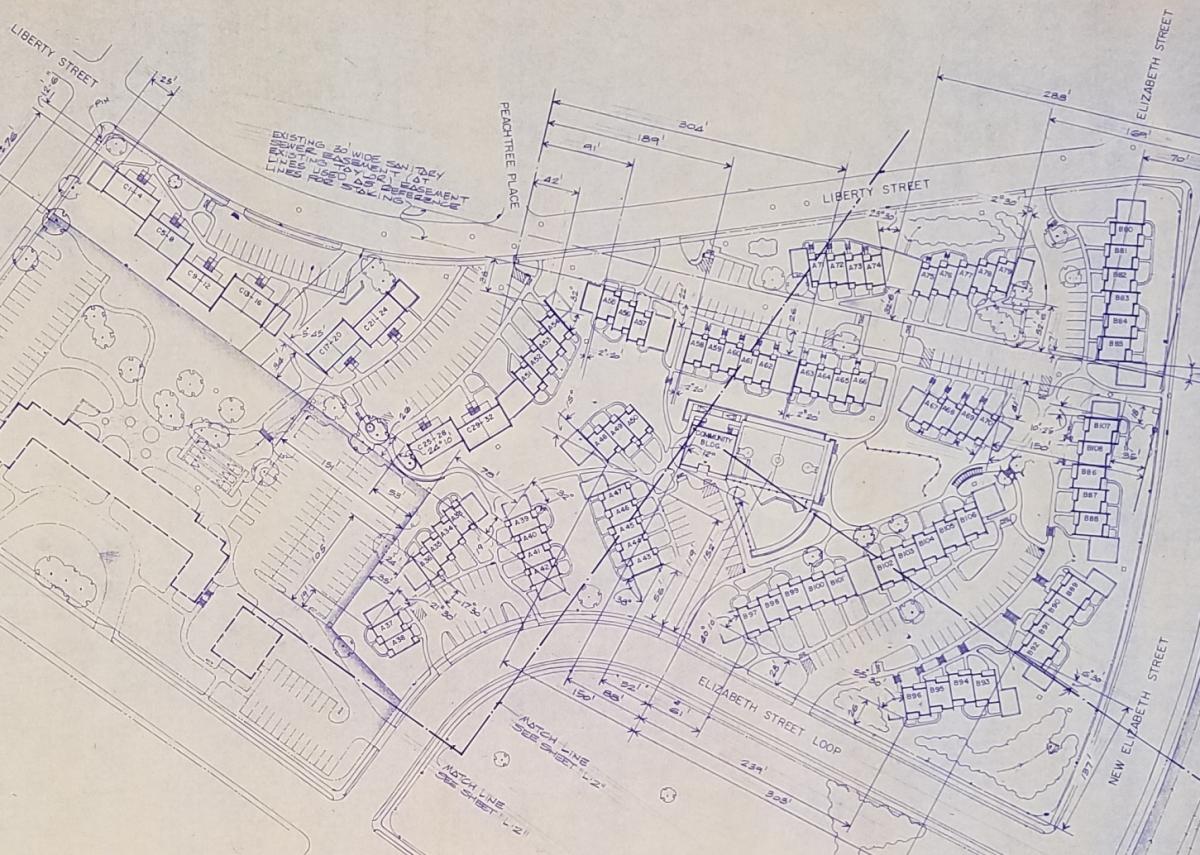 Development plan showing arrangement of buildings largely as built. (Source: "HUD Project No. NC 13-8," Sheet L1/4. Durham County Library - North Carolina Collection - Map Case 1, Drawer 10.)
The new campus - designed by local architecture firm Carr, Harrison, Pruden, and DePasquale - was to arrange 108 units in 26 buildings of a low-rise row house style, clad in beige brick.  The same number of units is in operation at Liberty Street Apartments to date, and the external appearance of the buildings remains largely unchanged.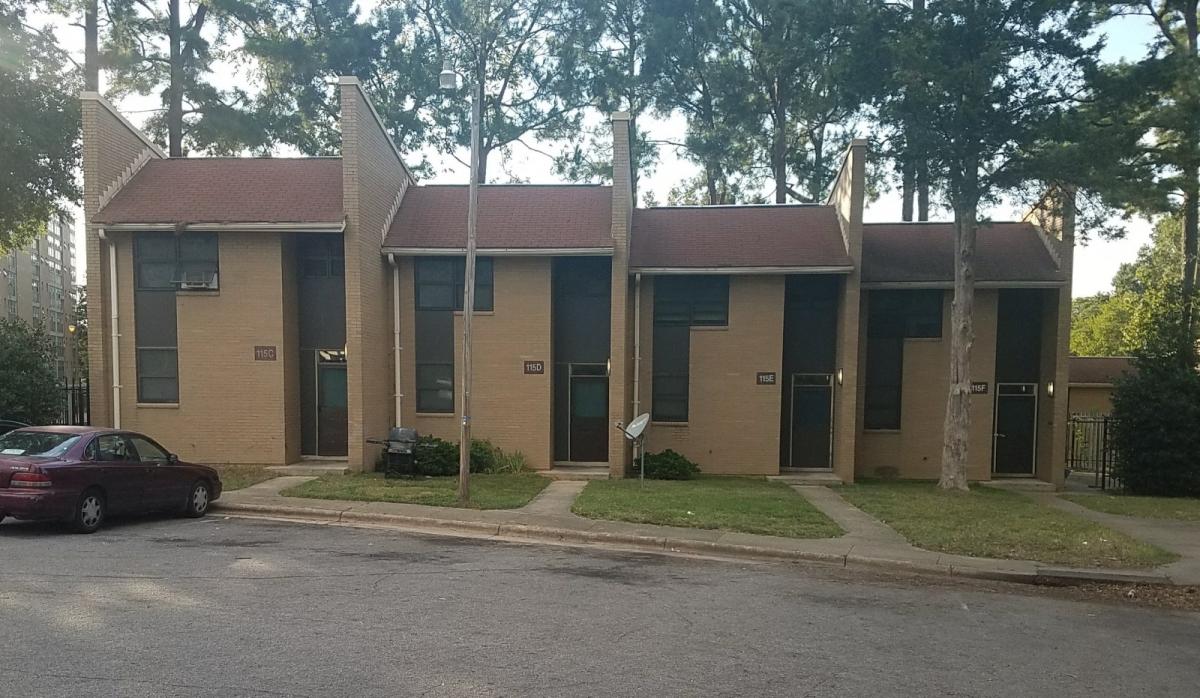 7.19.2019 - looking west with Oldham Towers visible at the left edge (N. Levy)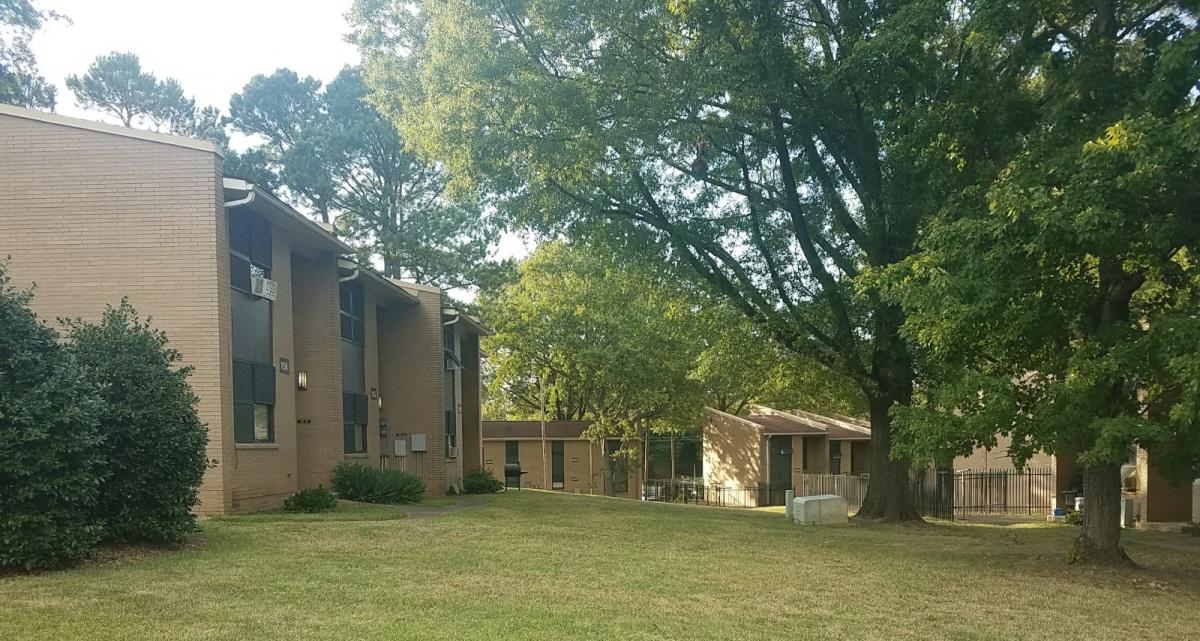 7.19.2019 - looking north with Liberty Street between the buildings in the distance (N. Levy)
Chronically underfunded by the federal budget, the Durham Housing Authority has long faced criticism over their management and upkeep of this and other properties as it approaches a half-century of service.  Not uncommon given the timing of national trends that produced the lion's share of public housing units, Liberty Street is just one of a string of complexes built in the late-1960s and early-1970s that - to say nothing of McDougald Terrace built two decades prior - are showing signs of age simultaneously, even as funding from HUD for meaningful repairs gets squeezed. (DHA just celebrated its 70th year in 2019 - learn a bit more about the history of public housing in Durham from the timeline pages they put together here.)
With the recent spike of downtown development pressure and concerns about a burgeoning housing affordability crisis under constant discussion in Durham, providing local support for DHA redevelopment was a major impetus for the $95 million housing bond voters resoundingly approved in November 2019.  Nearly two-thirds of that amount - and perhaps more with matching funds from other levels - is purportedly designated for DHA plans.  These have been in the works since at least 2018, with community meetings soliciting feedback from both current DHA residents and neighbors in surrounding areas.  While concensus is obviously elusive when it comes to large investments involving potential displacement, imprecise timeframes, and inconsistent federal support for whatever Durham may decide, those participating have largely coalesced around two main points: more affordable units should be built (including by DHA) and those currently in the heart of the city should remain on central sites.
From those conversations, consultants working with DHA have produced this "Preferred Site Plan" drawing of the adjoining Liberty Street-Oldham Towers block: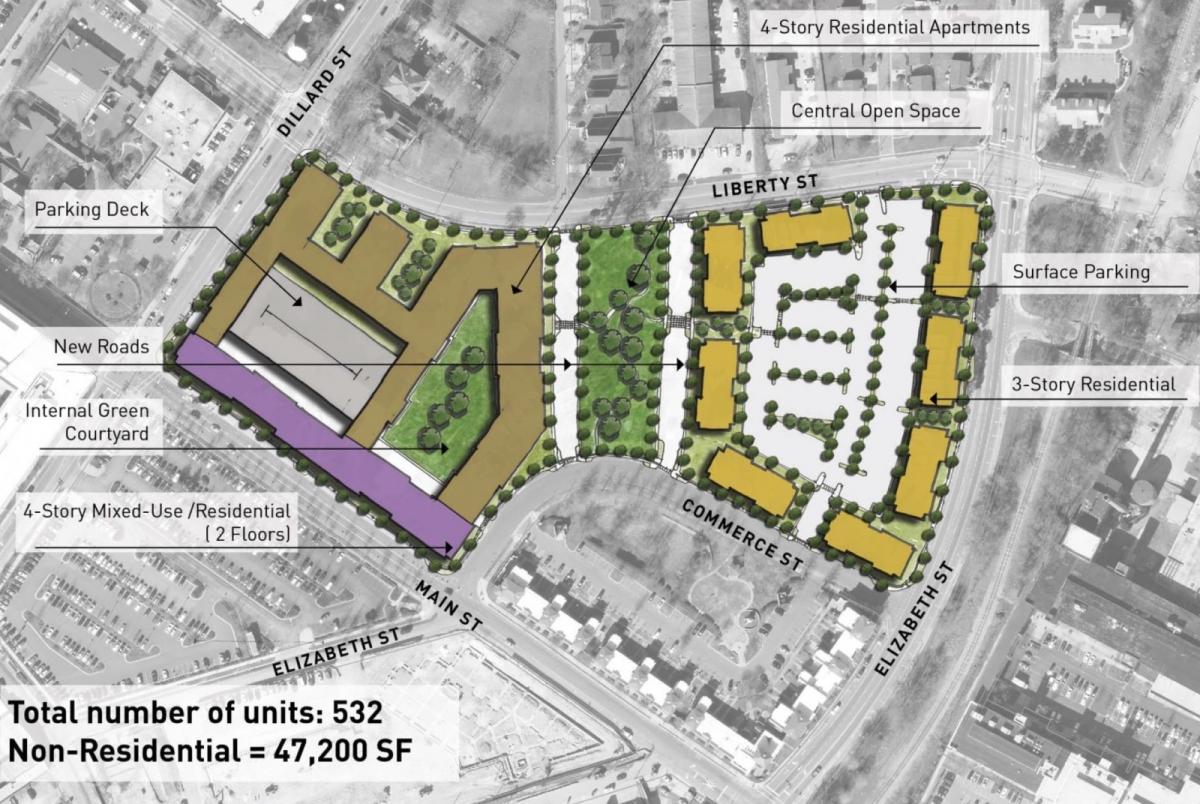 See the full January and August 2019 reports (both including this design) released by DHA here.
The desire to break up the existing super-block - the functionally enclosed space with no cut-throughs and only select entrances - was reportedly voiced by many at DHA meetings.  With 214 current units between Liberty and Oldham, this projection would mean more than doubling their number with higher construction density.  And the promise of some mixed-use retail or commercial life on this stretch of East Main Street has appeal after decades that have seen it wither to nothing.  The intended neighborhood regenerating effect could be amplified if DHA is able to act on any of its ideas for reviving some of the surface parking in the lot for the Human Services Complex across Main.
In late 2022 and early 2023, DHA began the process of relocating residents to other DHA properties (moving some out to private rentals using housing choice vouchers) while they began demolition of the Liberty St Apartments. The city awarded the contract for relocation services (facilitating the relocations) to a company called HousingToHome. 
This housing development was the subject of a What's It Wednesday?! post on Open Durham's social media accounts (Facebook and Instagram), the week of July 17, 2019.  Follow us and stay tuned for more finds!