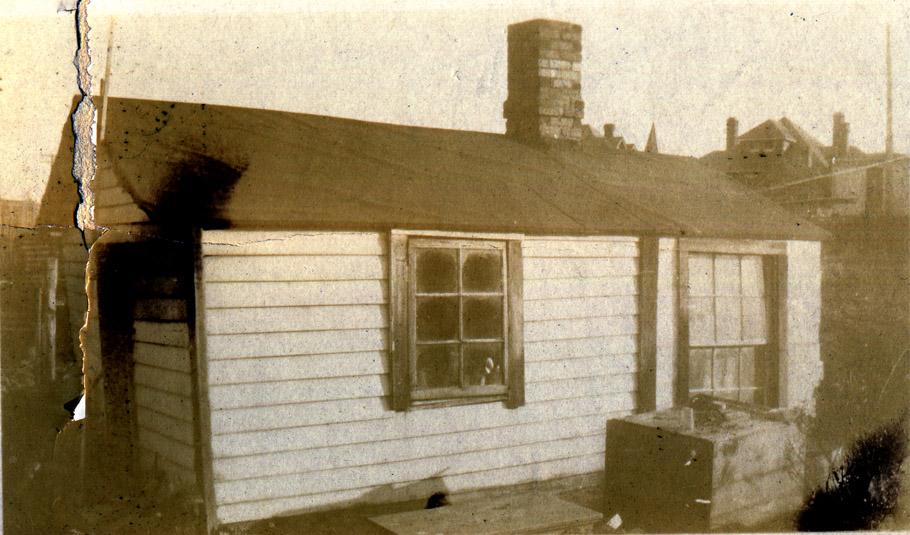 Jerry Markham house, looking southeast from South Duke St. near the railroad tracks, undated. The back of the houses in the 400 block of West Chapel Hill St. are in the background.
(Courtesy Duke Rare Book and Manuscript Collection - Wyatt Dixon collection)

One of the more unusual Durham stories, and principal characters in those stories, is Jerry Markham, and the story of his house.

The story was recounted in the Durham Sun in 1926 and re-recounted in a newspaper column by Wyatt Dixon, the inveterate Durham Herald columnist whose career spanned ~50 years. I'll reproduce the Sun page and Dixon's column here for Jerry's history; although I would love to have a different perspective, I rather doubt there is one out there; if there is, I think I'd have to do some pretty in-depth records research to locate it. If people are particularly intrigued by what I've conveyed here, I'll leave that to them. Dixon likely penned both the original Sun piece and the later column - he often reused material like this, which I can certainly understand when writing anecdotes about Durham for 50+ years.

I also think it's best sometimes to present the original text - as difficult as it is to read at times - in profiles like this, where race is a predominant theme. I'll leave it to the reader to decide what both Dixon and Markham perceive or believe in these pieces. The latter column is undated in Dixon's collection, but probably dates from the 1950s.

***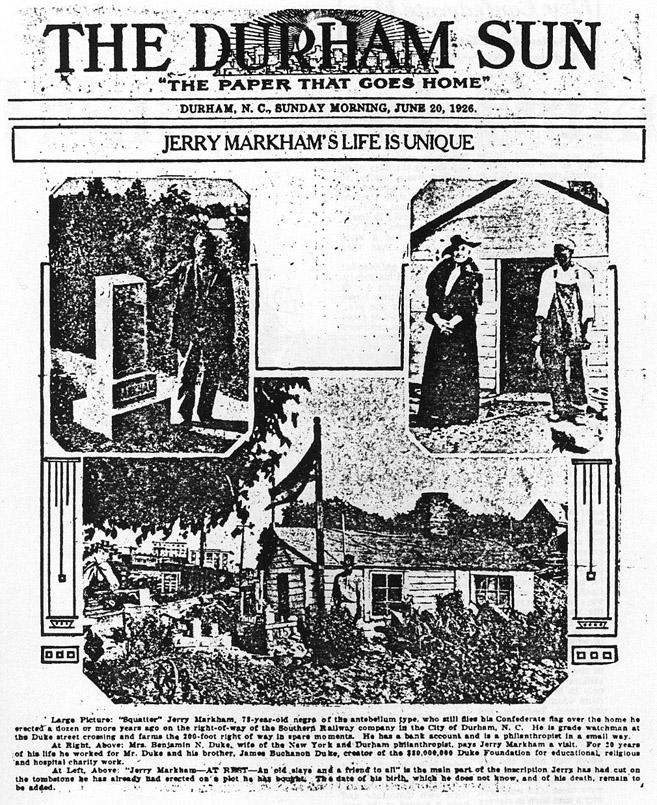 (From the Durham Daily Sun, June 20, 1926. I had hoped to find a better copy than a scan of a photocopy, but the Durham Sun from 1926 is not in the County Library's collection. Scanned from "How Times Do Change.")

****
"How Times Do Change.
Flew Confederate Flag
A series of sketches of Durham and Her Citizens
By Wyatt T. Dixon


"Jerry Markham was as much a part of Durham of the past as were Cameo and Duke of Durham cigarettes, and the small hut he occupied for many years at the Duke Street railroad crossing was a familiar sight to the people who daily passed by, some of whom would stop for a brief visit."

"It was while Jerry served as watchman for the Southern Railroad at the Duke street crossing that a portion of the railroad's right-of-way was developed for a homeplace for him and a profitable garden extended almost to the Chapel Hill Street crossing where in the cool of the evening the aging man tended it. He raised chickens and had a cow that was given to him by B.N. Duke. Despite the time required by his railroad job and vegetable garden, Jerry found time in season to beautify the place with a flower garden. Surplus vegetables, milk and flowers went to friends."

"Jerry was born in the time of slavery but never remembered the exact time of his birth. By frugal living he amassed considerable property during his early manhood only to lose it later as dealings in the sale of illegal liquor caused him to gradually dispose of it in meeting attorney fees and court costs for his law violations. He finally saw the error of his ways and for the rest of his life was a respected law-abiding citizen."

"The humble structure in which the Negro lived was the attraction. It measured about nine by 15 feet in size and Jerry and his visitors could stand erect only in the center of the room which served as living room, bedroom and kltchen. The floor was mother earth."

"One of the features was the Confederate flag which flew night and day on the tall pole that stood close by the house. There were those who wondered why a man born in slavery would display the flag, but it was one of his most cherished possessions. His first flag in time became faded and tattered and Jerry lost little time in obtaining a replacement. He once said, in answer to a question about his love for the emblem of a lost cause, that he would bave been contented to have gone through his life as a slave, for be received only kindly treatment. The flag of the Confederate represented to him his 'friends and the kindliness of the Old South.'"

"Jerry was a familiar figure in organized baseball during the days when Durham was a member of a league composed of teams in the state. Dressed in a high top hat and fancy clothes, he could be found at home games, and the team never had a more loyal booster than they had in him."

"Jerry was a philosopher and also saved his money. The writer recalls a visit with him in his little house near Christmas one year. He displayed two or three bank books, but cautioned us not to ask how much money he had in the bank because it wasn't any of my business."

"He was discussing Christmas gifts and was planning to give to some of his friends, including former local men who had risen to high position in New York, one whom was B.N. Duke. 'I'm going to send them some money,' he said. Upon being told that his friends had plenty of money and would prefer a purchased gift, he replied 'Boss, you don't know what you're talking about. Everybody likes money and rather have it than anything else.'"

"Evidence of influential friends of the old man was demonstrated when Jerry was asked by the railroad's local agent to move from the Duke Street crossing to the Chapel Hill Street crossing. He declined to do it on the grounds that working on the Chapel Hill Street crossing would place him a block from his home. The agent gave him the alternative of obeying the order or move off the right-of-way. Jerry was in the act of moving when the removal order was counter-manded through a visit by a high official of the line. Jerry's friends had interceded in his behalf and he kept both job and home."

"Not many people select their own tombstone and have it placed at the spot where they will be laid to rest for their long sleep. But Jerry did. He purchased the place where he wanted to be buried. He supervised the placing of the tombstone. Its epitaph merely says 'Jerry Markham - At Rest - An old slave and a friend to all."

***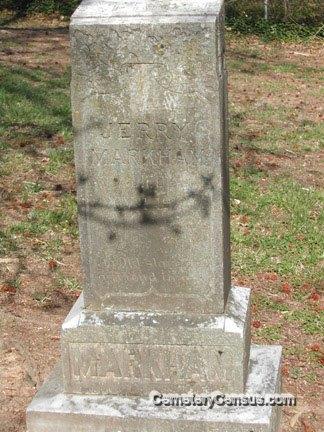 Markham's tombstone in Maplewood Cemetery.
(Courtesy Cemetery Census)

It's hard to tell when Markham's small home was torn down, but it was standing in 1937, and gone by 1950. It was replaced by a new warehouse for the Thomas and Howard company, a wholesale grocer that started in Durham in 1904 as the Thomas-White Company, located at 231 West Main St, then becoming the Thomas and Howard Company, located at 328-330 East Peabody by 1915. They moved from Peabody St. to South Duke in the late 1940s, constructing a concrete masonry warehouse building. Seemingly, the railroad was not always as uptight about structures constructed in their right-of-way as they are today.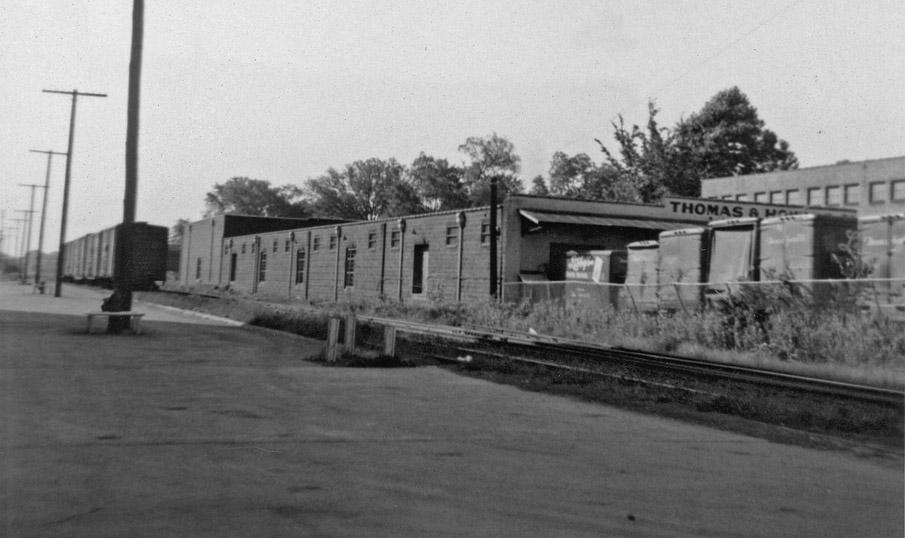 Thomas and Howard warehouse from South Duke St., late 1960s.
(Courtesy Durham County Library / North Carolina Collection)

Thomas and Howard built a new warehouse in the 1970s on the reclaimed Poplar St. right-of-way, now the northeast corner of South Roxboro and East Dillard Sts.; they are still in the wholesale grocer business, and one of the oldest continually operating Durham businesses still in existence.

Their former warehouse at 301 South Duke St. became an unfinished furniture store in later years. If a railroad expansion in any form ever comes to pass in Durham, this building will certainly be demolished for additional rail line/train platform. I'd certainly like to stand on that platform and think about Jerry, his cow and his chickens patrolling the right-of-way and vegetable patch.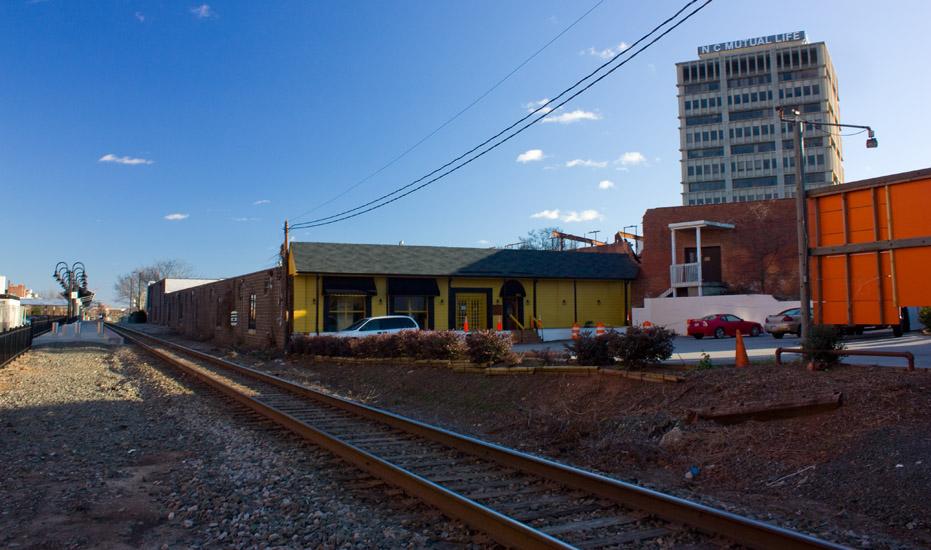 301 South Duke St., 01.02.10

Find this spot on a Google Map.


35.997978,-78.908542