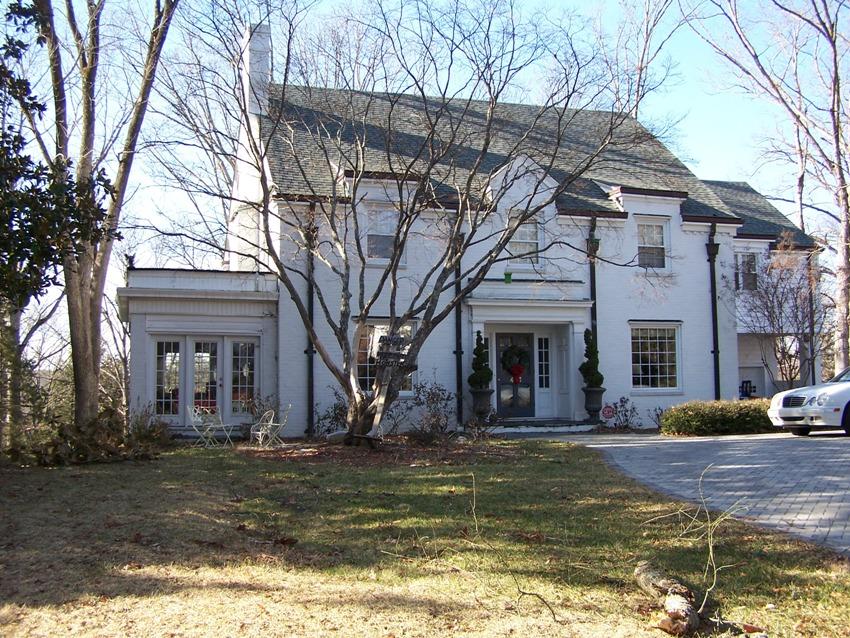 From the National Register nomination form of 2005, completed by M. Ruth Little
2 ½-story side-gabled brick Colonial Revival-style house with end chimney, 6-over-6 sash windows, and a recessed door with sidelights and a pilastered surround. The flanking lower façade windows are fixed multi-pane windows; the upper façade windows are wall dormers. At left is a 1-story sunporch, at right is a 2-story wing with a garage in the lower story. The brick has been painted. Dr. Calvin S. Hicks, physician at 123 W. Main St., was the owner-occupant in 1940. [1940 CD]  
The following information comes from the City Directories and general web searching:
Year
Occupant(s)
Occupation(s)
Other information
1934
Jane B. Hicks *
Dr. Calvin S. Hicks *
 
physician
Calvin had a private practice located at 123 W. Main St.
1941
Dr. Susan D. (Coons) Dees
Dr. John Essary Dees
pediatrician
urologist
Susan established the Duke Hospital School for Sick Children and was the first woman to achieve the rank of full professor in Duke Medical Center.  John was a surgeon of urology at Duke.
1995
(vacant)
 
 
 
 
1998
William Sandiford
 
 
 
 
1999
William H. Ashplant
 
 
 
 
2001
Teri (Barron) Underhill
Don Lee Underhill
 
 
 
2002
(unknown)
 
 
 
 
2003
Lola Clare Sullivan
Harold G. Slaughter
 
 
 
* The 1940 US Census shows that Calvin (age 60) and Jane (age 43) lived with no one else.  He was born in North Carolina, while she was born in New York.