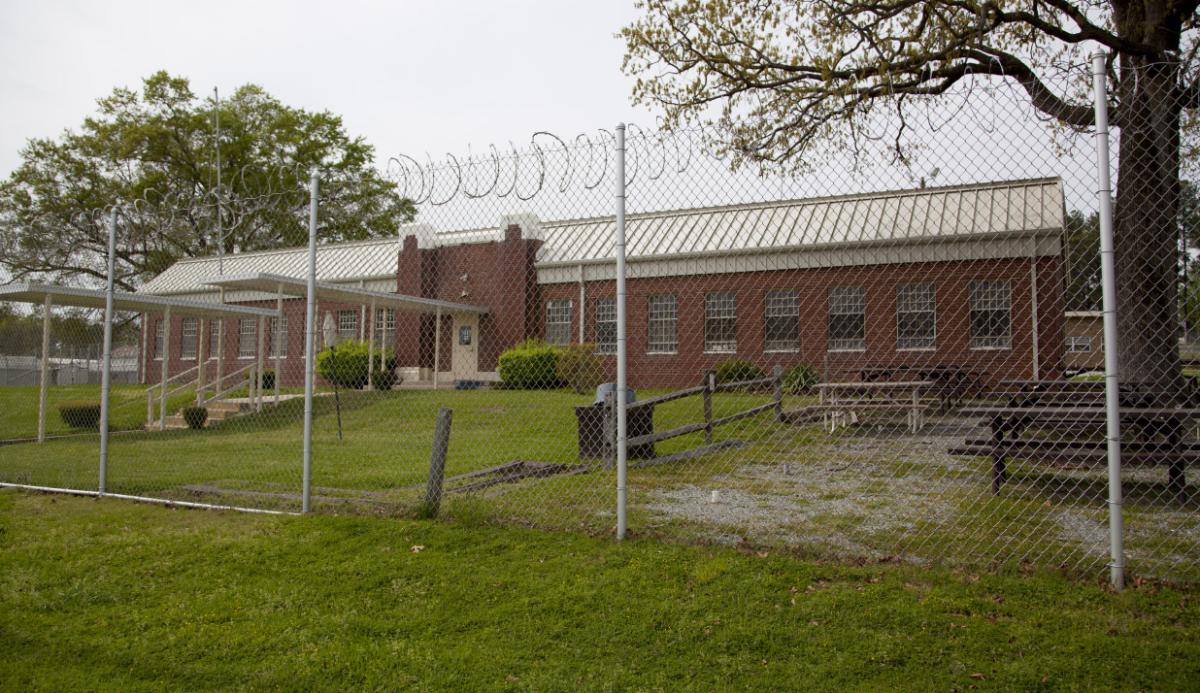 04.01.12
The state's website and the various newspaper articles written about the closure of the Guess Road prison camp conflate the facility with the County Jail that stood (and the building still stands) on Broad Street. It was the three story structure built in 1925.
After the state took over facilities in 1931, it constructed this facility; the former jail on Broad Street became a TB sanitarium. The following article from the News and Observer was published in September 2011, and gives a nice perspective on the closing.
The inmates have mostly been bused to other prisons. The correctional officers have put in their transfer or retirement papers. The beds, desks, computers and other equipment are piled up for storage.
After 86 years, the Durham Correctional Center is closing its doors – one of four state prisons being shuttered this fall because of budget cuts.
"It's a hurtful feeling," said Sgt. Bryant Hunter, 47 of Durham, as he stood in the prison yard Tuesday, watching over the few remaining inmates. "Being here for 22 and half years, I knew this place like the back of my hand. The people I worked with were like family."
Durham Correctional Center already looks more like a movie set than a real prison. Most of its 216 inmates have been shipped to other prisons – several were transferred on Tuesday. The remaining 18 will be gone by Thursday.
The prison will officially close on Oct. 1. It will be followed by the closing of Haywood Correctional Center on Nov. 1, and Cabarrus Correctional Center and Charlotte Correctional Center, both on Dec. 1.
All are small, old minimum security prisons that the legislature deemed expendable as it moved to close a $2.5 billion budget shortfall this year.
"We simply did what the prison system gave us," said state Rep. Leo Daughtry, a Republican from Smithfield, co-chairman of the House spending committee with jurisdiction over prisons. "We are closing old prisons. We have got new prisons coming on line that are much more economical, larger prisons."
Daughtry said the GOP-controlled legislature acted in keeping with the recommendations of Democratic Gov. Bev Perdue and the reforms under the Justice Reinvestment Act, a law passed by the legislature earlier this year which are designed to slow prison construction by relying more heavily on sentencing and probation for non-violent criminals.
Perdue's budget recommendations did not specify prison closings but did anticipate there would be prison closings as part of the Justice Reinvestment Act, said Pam Walker, a spokeswoman for the Department of Corrections. The legislature specified that four minimum custody prisons must be closed.
Many people probably don't even know the Durham Correctional Center exists. It is not visible from Guess Road, hidden behind a Department of Transportation facility, and encroached on by suburban shopping centers.
[...]
Until recent days, inmates still did road work, such as handling flags for construction crews or litter, or worked at the Umstead Laundry in Butner, or labored in work-release programs with Durham businesses. Inmates earn their right to go to a minimum custody prison such as Durham Correctional, and all are within five years of release or parole.
The prison's budget for the past year was $3 million.
The inmates have been transferred in small groups to other minimum security prisons. George Solomon, the department of correction's regional director, said there is enough space for Durham's inmates, but it could be a tight fit when beds have to be found for the other three prisons that are closing. Most of the prison additions are not minimum security prisons.
Armstead Hodges, the warden, said all 46 prison employees – from correctional officers to food service workers – have been offered jobs at other units. Most have either transferred and a few have decided to retire or go back to school. Most live in Durham, Creedmoor, Roxboro or Wake County.
Hodges is transferring to become warden of Orange Correctional Center in Hillsborough. So is Hunter, the sergeant.
"Everyone who worked here considered themselves like family," said Hodges, 51, who lives in the small town of Providence near Danville, Va.. "It was family-oriented as far as staff. When you get to the larger prisons, you lose that closeness."
Officials say no decision has been made on the future of the prison campus which includes four dormitories, a medical building and a dining hall. The department will talk with other public safety agencies to see if it is needed or it could be sold as surplus property.
The Durham Correctional Center did have one final moment. The prison was nearly empty when Hurricane Irene hit the coast, causing officials to evacuate 126 inmates from the Tyrell County prison farm. Within hours, the Durham staff had re-assembled beds and for a week the place came alive.
"The great thing about that week," said Hodges, "is we felt like we were a prison again. We were working and we had a smile on our face. It was one last hurrah."