Year built
mid-19th century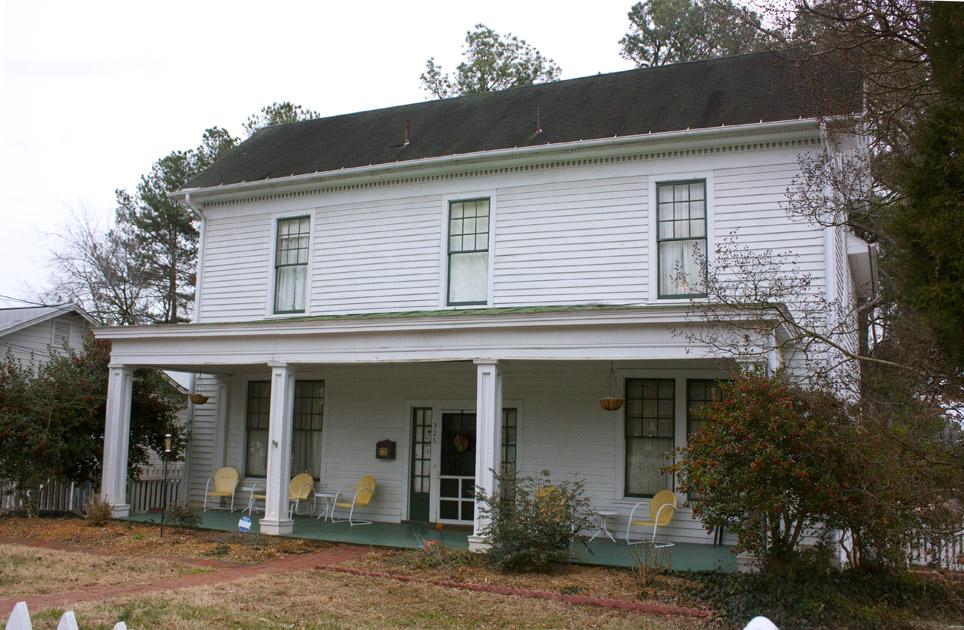 The Fred C. Geer Farmhouse is one of the oldest structures remaining in the City of Durham; much like the Calvin O'Briant farmhouse on Holloway Street, the city has grown to 'enclose' the structure in a city framework, although its move down-the-'block' in 1923 to a street corner gives it less of an appearance of inconformity to the grid than the O'Briant house.

The Geer family has roots in this area of the Piedmont dating back to at least 1758, when John Geer was living in then-Rutherford County. A son, Frederick C. Geer (c 1755-c 1840) was living in then-Orange County by the early 19th century; he willed property and enslaved people to Jesse B. Geer and another Frederick C. Geer (1823-1919.) These latter two appear to have had farmhouses northeast of Durham along the Roxboro Road by the 1860s. It is this latter Fred Geer that appears to have owned the farmhouse in question, and Jesse Geer was likely his father.

[I thought I'd try to neatly present the genealogy of the Geer family related to the farmhouse, but I'll need to leave that to a genealogy buff. Seems that the southeast was rife with Fred Geers. Of interest, a few internet ancestry sites assert that Fred Geer-the youngest was the maternal great-grandfather of Ernie Barnes.]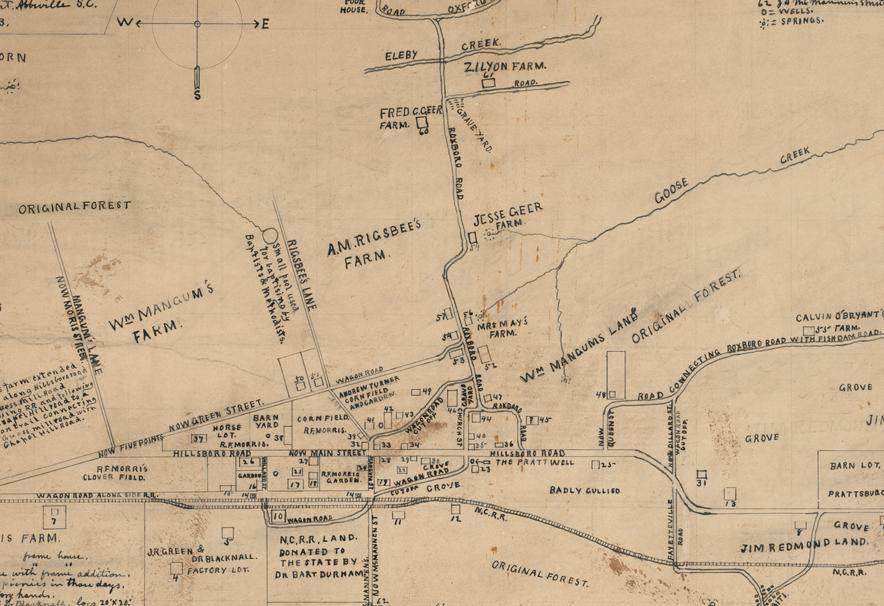 1867 Map, showing the Jesse and Fred Geer farms.

Between Jesse and Fred, the Geer family owned a great deal of real estate in Durham. Fred became involved in a number of endeavors, including but not limited to a stake in the Durham Railroad Company, laying out Main Street (also called Pratt Street), investing in the ZI Lyon Tobacco Co. (with JW Cheek), the Morehead Banking Company, and commissioner of the short-lived incorporated town of North Durham.



1887 Map, showing the "FC Geer" farm.

In Durham's ill-fated bid for what-would-become-Meredith College, Geer offered 16 acres of land in North Durham. I suspect that some portion of this land was what he donated to the North Durham Baptist Church in 1887 (later Grace Baptist Church.)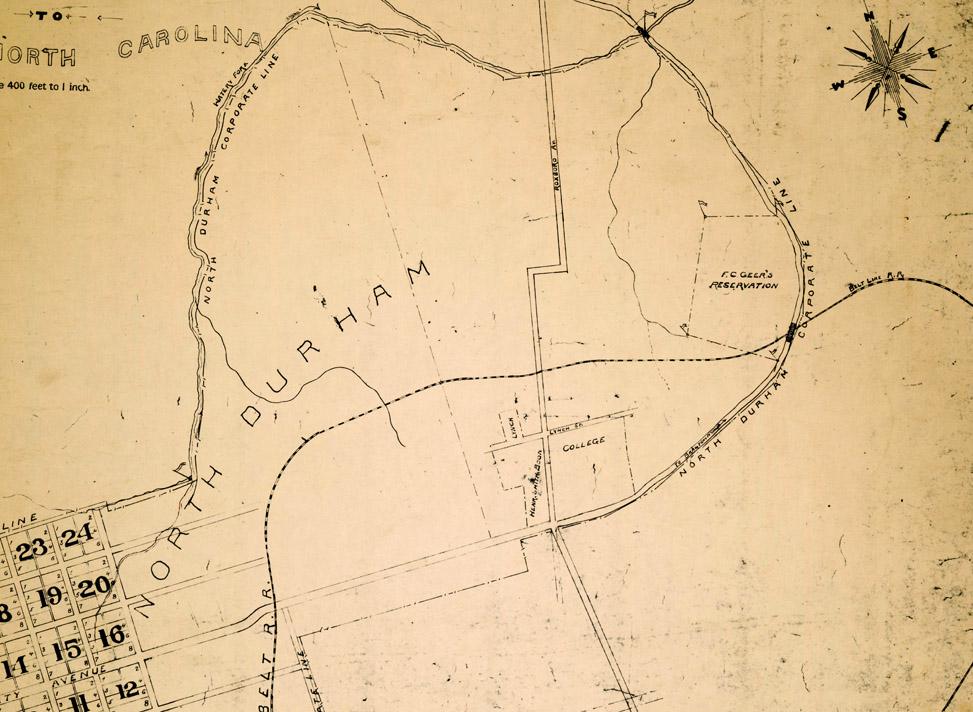 1890 map of North Durham

The construction of the [Fred] Geer Building, built in 1914, appears to have been a focused entrepreneurial endeavor on the part of Mr. Geer; in the 1915 city directory his occupation is listed as President of the FC Geer Co., owners of the Geer Building.

Geer died in 1919.

The fate of his farmhouse immediately after that seems unclear. Geer owned so much land that I became lost in the deed records trying to track down the disposition of the parcel of land that supported his home. Per secondary sources, it was moved to the west end of the block between N. Alston and Hamlin (Rosetta) in 1923 for the construction of the Thomas E. Cheek home.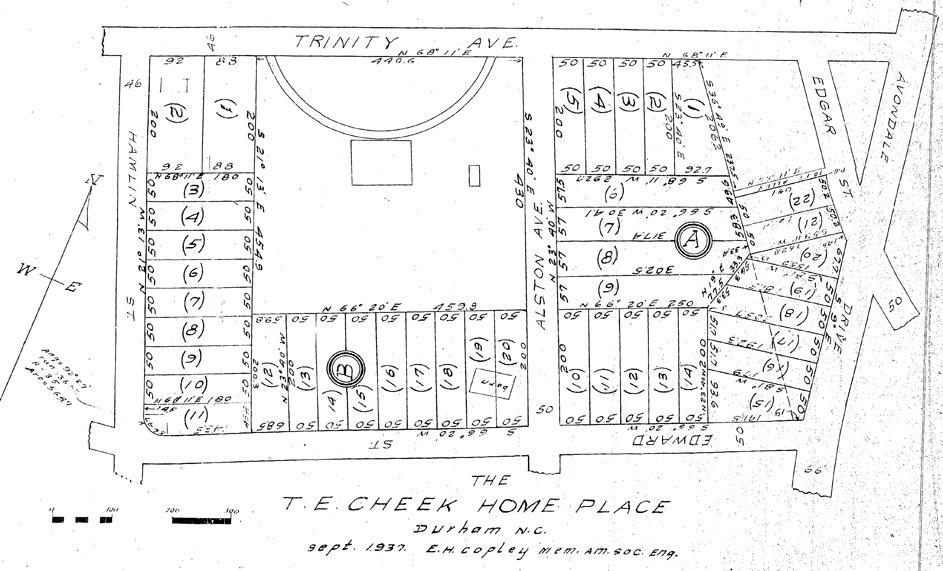 Plat from 1937 - the large parcel is the former location of the Geer Farmhouse - by then relocated to the smaller parcel at the corner of Hamlin and E. Trinity.

The house and land appear to have remained the property of Thomas Edgar Cheek until his death, seemingly at a young age, in 1947. The house appears to have gone into probate, with the Fidelity Bank, acting as guardian for Cheek's "infant daughter, Elizabeth Taylor Cheek" selling her share, their share, and TE Cheek's share to J. Langston Thomas.

JL Thomas and his wife Genevieve appear to have lived in the house until the 1960s; in November 1968, Genevieve, then widowed, sold the house to Ruby and Chauncey Planck.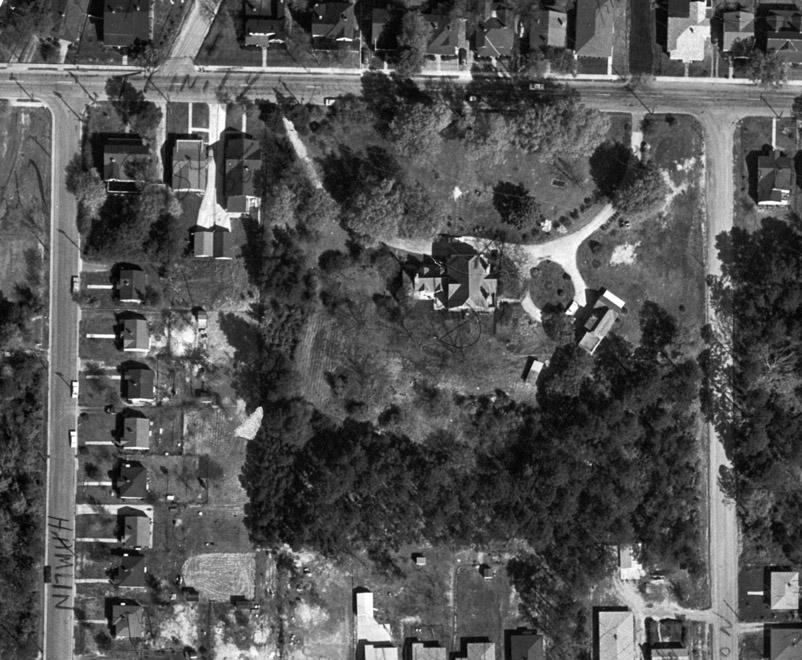 1959 aerial, showing the house at the upper left hand corner of the block.

Ruby Planck, known as "Mom" to a broader audience than just her progeny, became a beloved figure to, seemingly, an entire generation of young people in Durham. Ruby ran the Cosmo Room pub, upstairs from the Ivy Room on West Main Street. There, a diverse cross-section of Durham came and passed time. Jim Wise recounts more about "Mom" in a 2008 article from the News and Observer, as well as in his book Durham Tales. The below is excerpted from Durham Tales with Jim's kind permission:

[...]
Literally speaking, [Ruby] was mom to just her own five kids, and four of the children (the eldest having moved to San Francisco back when hippies were still beatniks.) Metaphorically, though, she was Mom and her home a sanctuary for an honorary extended family of in-laws, outlaws, mystics, mechanics, gypsies, geeks, poets, professors and plumbers.

In the '60s an early '70s, Mom was chief cook and bottle washer for the Cosmo taproom above the Ivy Room restaurant ... This is where, with wit and wisdom and good conversation, she collected a clientele mixed of physicians and pilots, [EPA] engineers, and already-aging flower children; trucker, veterans, freaks, flakes, and some souls lost and some souls looking to get into that condition after reading too much Kerouac. The occasional undergraduate would get sent back to campus early if Mom knew there was a test in the morning.

After she retired, much of Mom's coterie followed to her kitchen on East Trinity Avenue, where she held court while suppers simmered, sizzled or set. "Durham" and "gourmet" were mutually exclusive terms back then, but Mom's repertoire ranged from Assyrian to Harnett County and mealtime was as likely to mean dolmades as country ham. Between the street out front and the wildlife sanctuary out back, Mom's place was a cozy confine in the world but just a little outside it, too. Roger the Anglican/Catholic/Buddhist would wax metaphysical, George the physiologist would wax emphysemic about anti-smoking attitudes. Don would talk about growing things, Elton about flying things and Phrog about blowing things up or reading to children.

The house was full of living things: dogs, cats, rats, fish, ferrets, plants, and people. It didn't take much excuse for a party. The night Chaunce turned sixty, he was the last man dancing. Thanksgiving was occasion for true feasting, and any wedding in the crowd called forth one of Mrs. Planck's splendid, towering cakes - even if, once, the slippery layers had to be held together with a calvary saber. Poker games, cooking lessons and talk -- about big bands in the '30s, wartime in the '40s (Chaunce had been in the second wave into Normandy), New Jersey in the winter and gardens in the spring, and about books and writing and writers. Gathered around her kitchen table while something simmered on the stove, over coffee in the morning or Manhattans on Friday night, conversations ranged from Depression-era politics to the proper way of stuffing grape leaves, from media criticism to Buddhist theology and from growing peas and shrubbery to the power of the written word.

Mom loved writing, and she collected writers - real and wannabe - into her fold. She encouraged, cajoled, criticized, and shared rejection slips, as well as her Ladies' Home Journal piece, to show that, yes, it could be done. Some of those fortunate souls went on to see their names in print in the bookstores, while other found there were other forms of creativity. For all, Mom remained a matron Saint.

[...]

Mom would take on any challenge, especially if it involved cooking. In 1978, someone asked her, a one-time Southern farm girl, to demonstrate authentic, down-home, folky persimmon pudding for the Festival of North Carolina Folklife. She did it, for four hot July days and 50,000 festival-goers -- though theretofore she had never made persimmon pudding in her life -- authentic, down-home, folky or otherwise. Mom's court endured, but all things end. The courtiers aged, some moved away and some passed on. Mom eventually gave up the kitchen and moved to a retirement home -- all the way insisting it was NOT a "rest" home. Right to the end, she kept her spirit, her wit and her sense of humor.

Not long before she died, a preacher came to call. They talked for a while, then the good pastor said he'd be going since Miss Ruby looked ready to nod off.

"That," she said, "is because you're boring."


Her son, Joseph Planck, sold the house in 2003 to a group of Old North Durham residents, which eventually whittled down to Tom and Janice Transue and John Compton.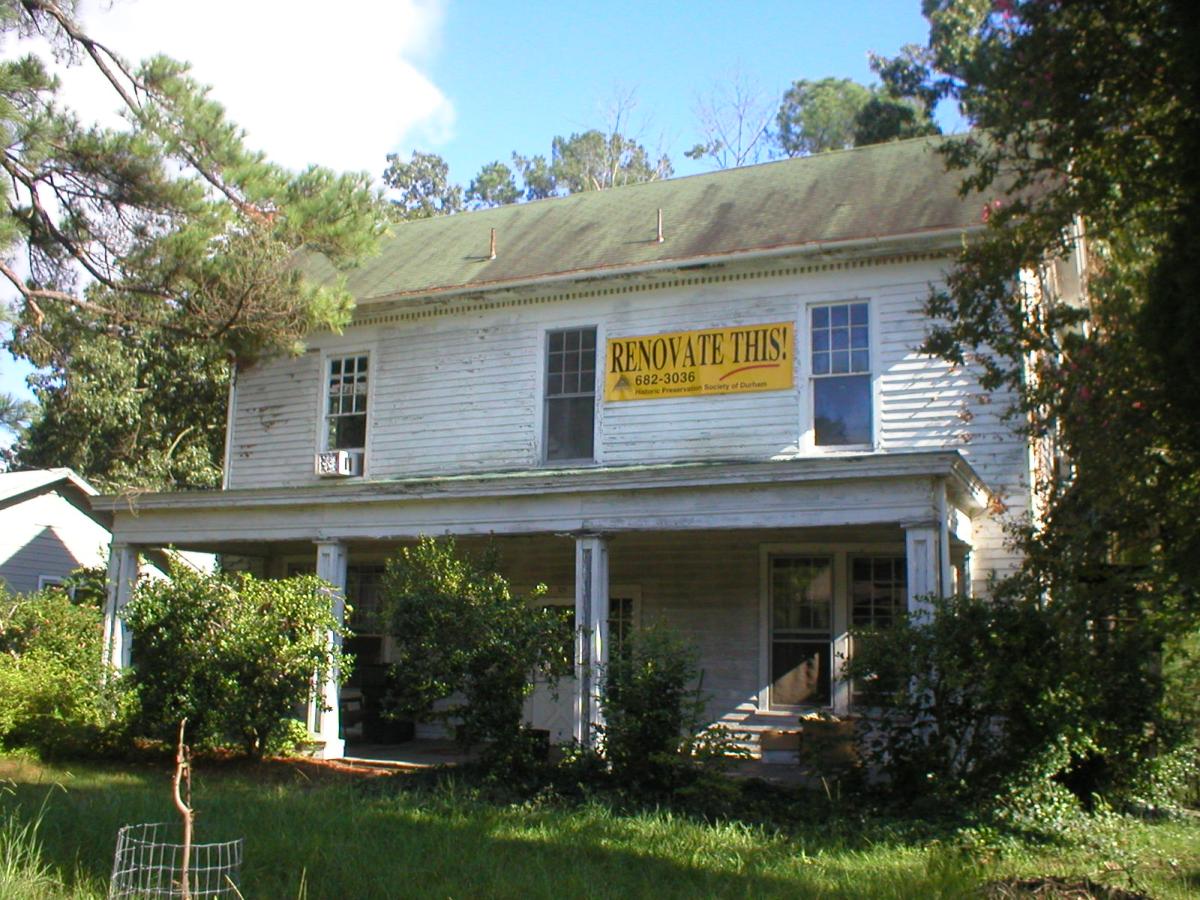 326 E. Trinity, 09.20.02
(Courtesy Tom Transue)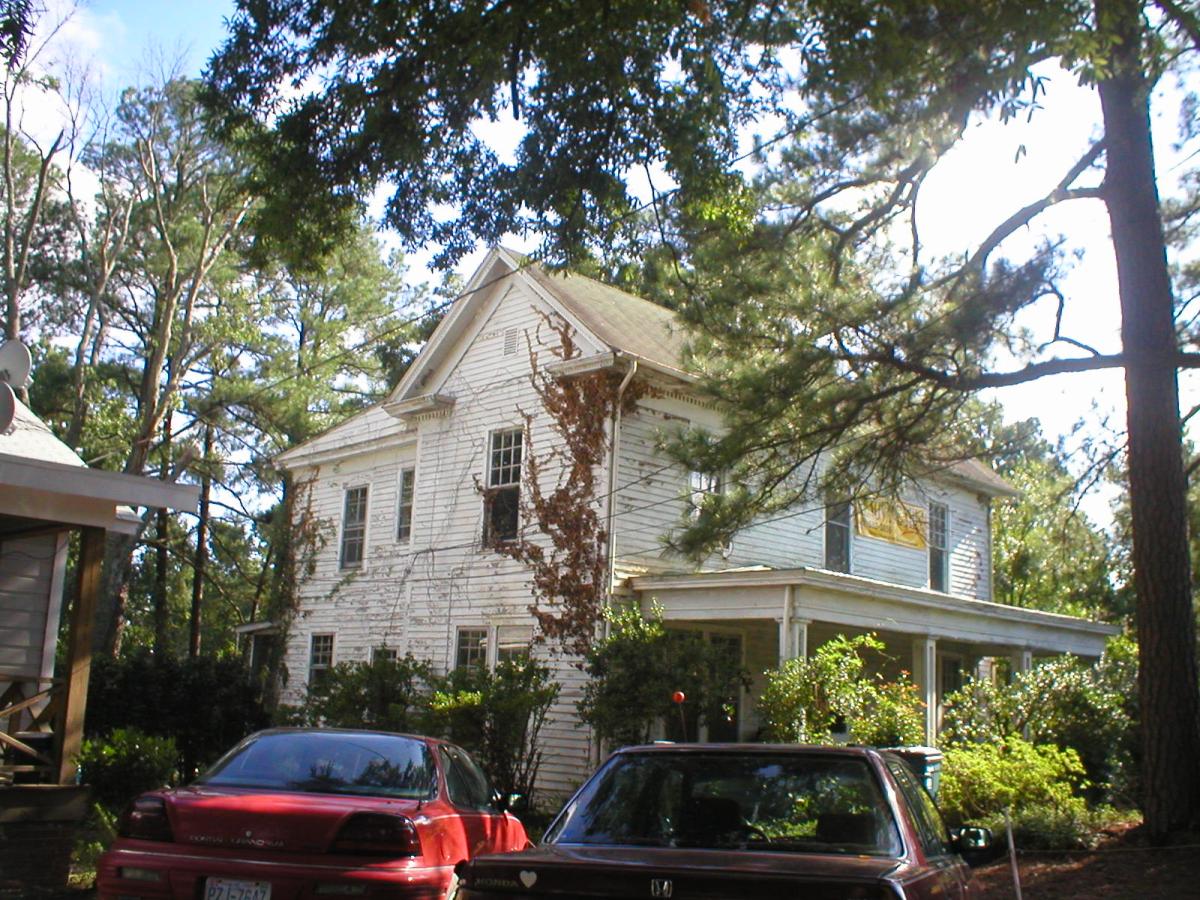 326 E. Trinity, 09.20.02
(Courtesy Tom Transue)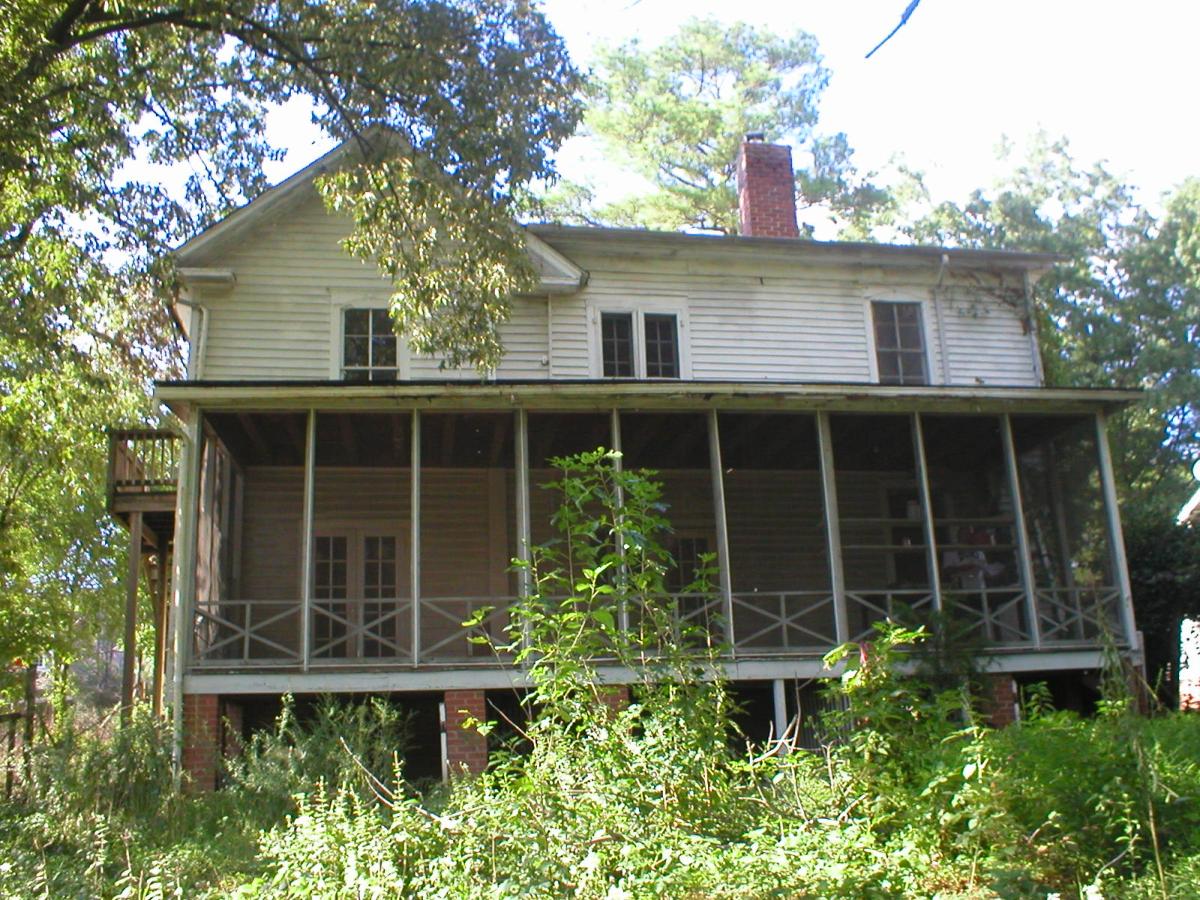 326 E. Trinity, 09.20.02
(Courtesy Tom Transue)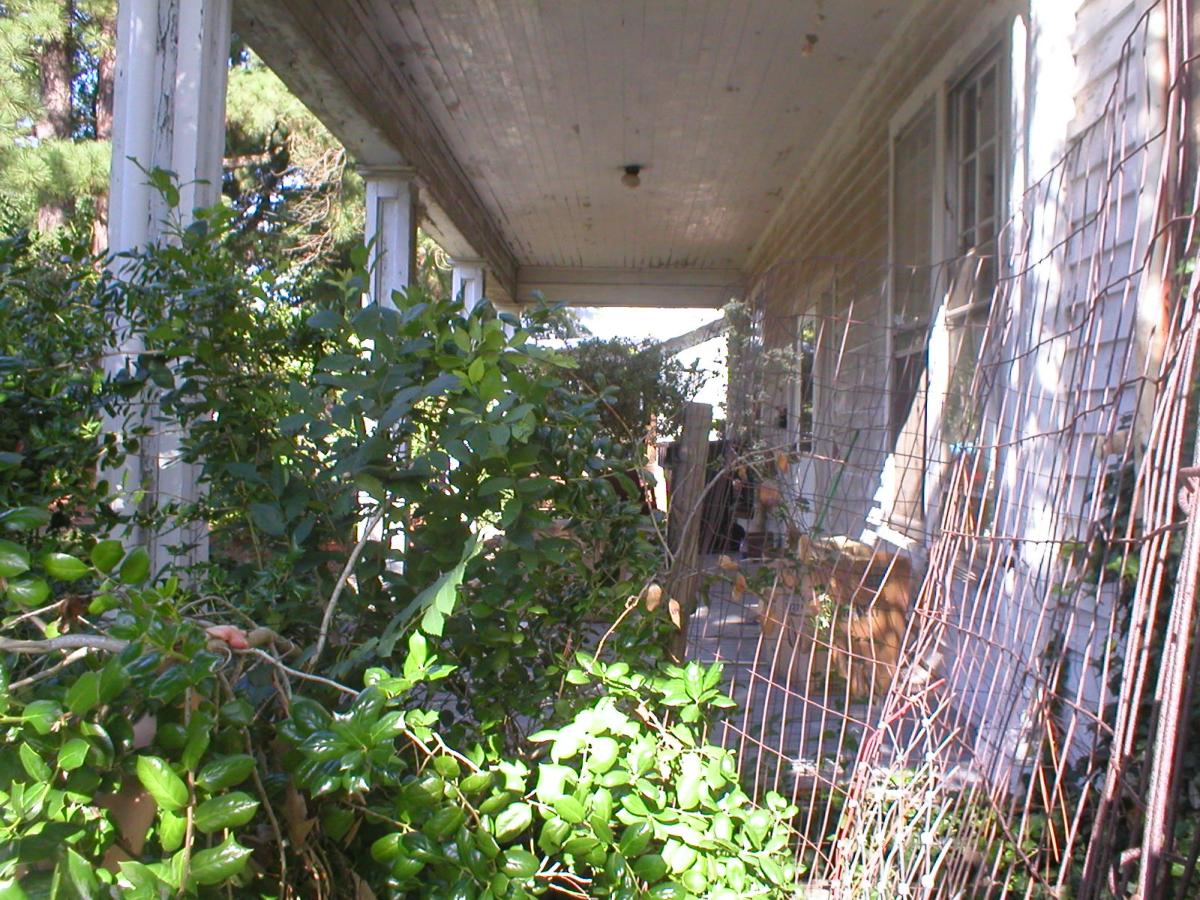 326 E. Trinity, 09.20.02
(Courtesy Tom Transue)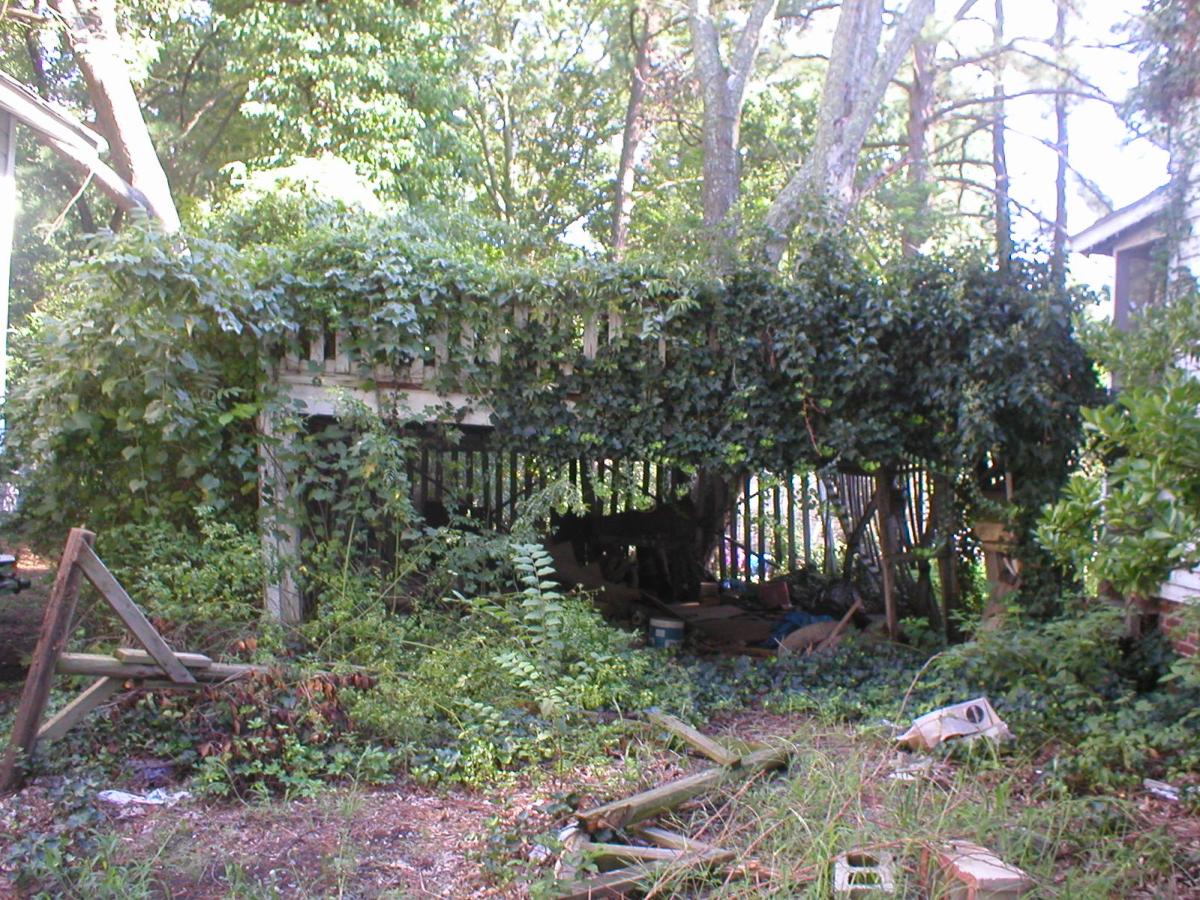 326 E. Trinity, 09.20.02
(Courtesy Tom Transue)

They renovated the house and, after renting it out for a short period, sold it to the current homeowners in 2005.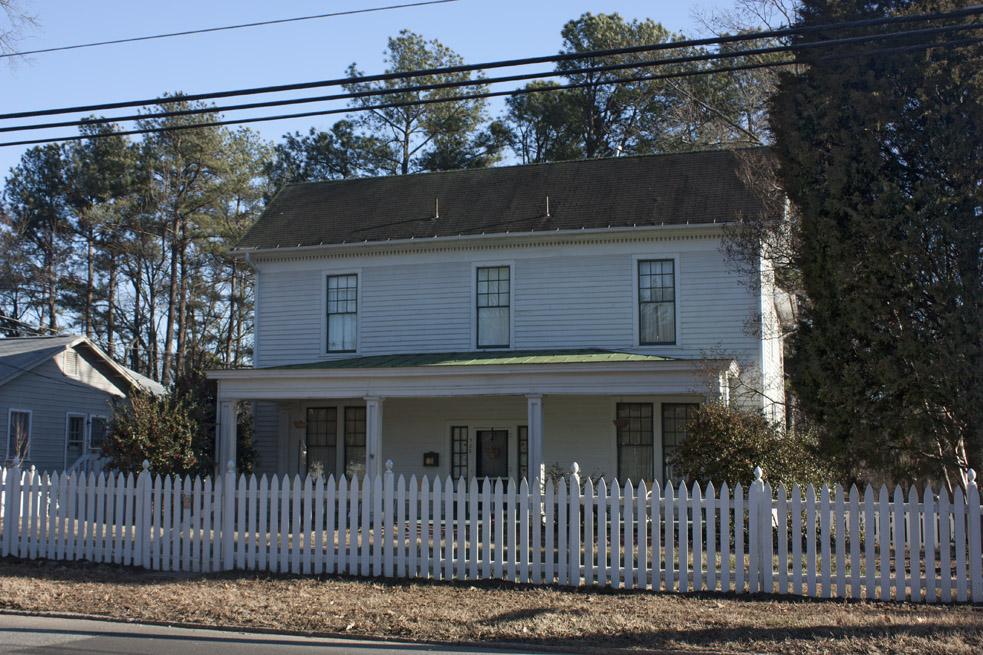 Geer Farmhouse, 02.12.11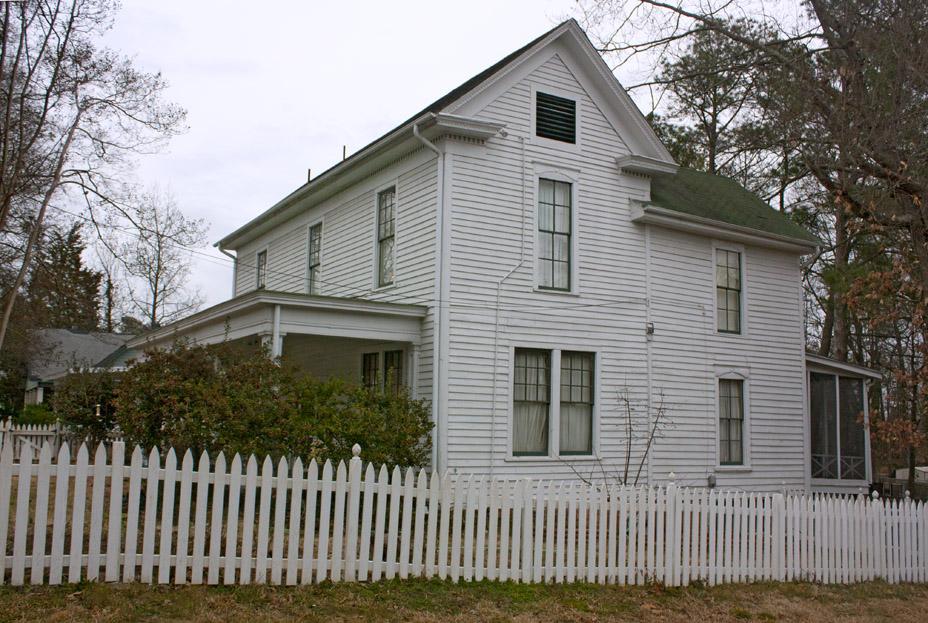 Geer Farmhouse, 02.07.11

Find this spot on a Google Map.

36.005939,-78.889398