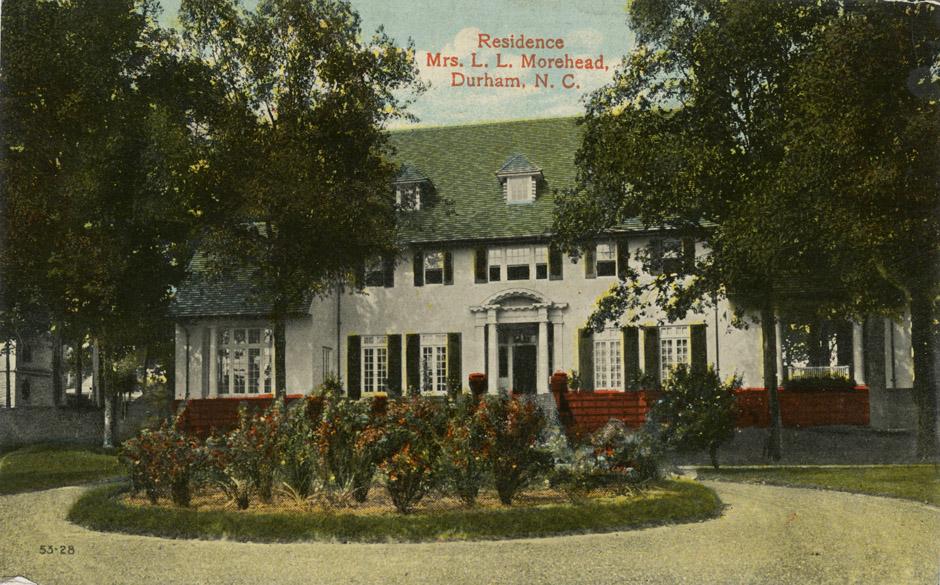 Morehead house - early 20th century.
Eugene Morehead came to Durham in 1878, having grown up in Greensboro - in the Blandwood mansion of his father, former North Carolina Governor John Motley Morehead. Little history is available as to Morehead's pursuits prior to coming to Durham, although Boyd noted that he was "one of the promoters of the Cape Fear and Yadkin Valley railroad. Morehead and Julian Carr had been classmates at UNC, and Carr had been instrumental in persuading Morehead to come to Durham, where he was an agent of the Department of Internal Revenue, and began Durham's first bank -the Eugene Morehead Bank.

In the summer of 1879, Watts and Morhead decided to establish their permanent residences on a promontory just south of downtown - separated from the ridge of West Chapel Hill St. by a small 'valley' between the current Morehead Avenue and ~ Jackson Street. William Vickers owned the majority of the land just southwest of downtown, and saw the opportunity to develop some of this land into what some researchers view as Durham's 'first suburb'. There is evidence that he intended from the start for the land between present-day Vickers and Duke to be large lot houses for the well-to-do. Watts and Morehead were his first two customers. The legend is that Watts and Morehead flipped a coin to decide whose house would be closer to town, and that Morehead won. Watts wrote to Morehead from Chicago in July 1879:

"Anything you do towards the improvement of the lots we bought will be approved by me, but don't clear any of the woods on my portion. I would be well satisfied to find upon my return that everything there was in apple-pie order and two nice houses on our building sites." (Covington, p. 35.)

Both built strikingly similar Queen Anne Victorian houses side-by-side (perhaps Morehead chose one style with different embellishments?) between present-day Morehead Ave., South Duke, and Proctor St., completed in 1880.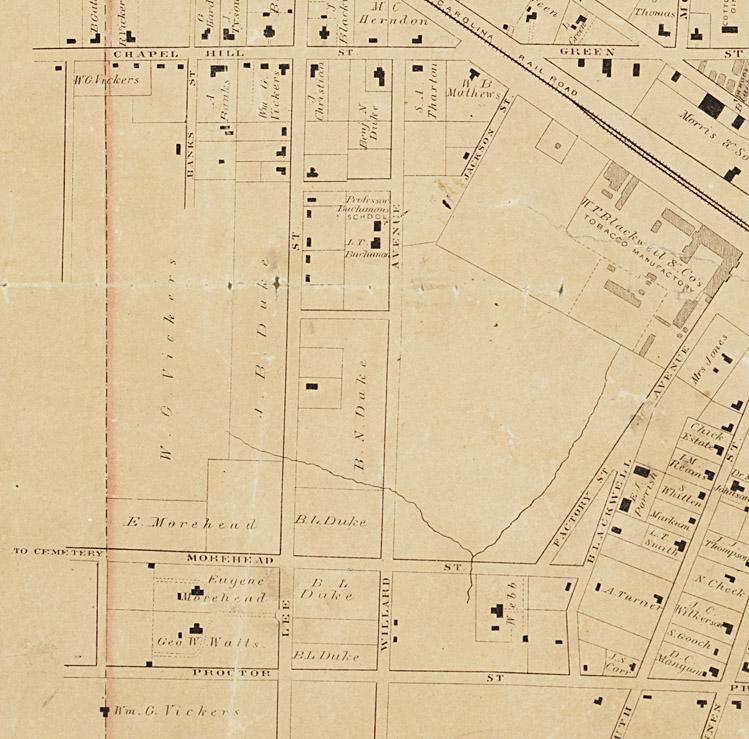 (Courtesy Duke Rare Book and Manuscript Collection / Digital Durham)

Detail from Gray's 1881 map of Durham, showing development along West Chapel Hill St., the branch of Third Fork Creek that drained the low areas southwest of downtown, and Morehead and Watts' houses. Lee St. (sometimes Lea St.) was the earlier name for Duke St. [Interesting to note that the 'river' at American Tobacco isn't entirely without historic precedent.] The map also shows the land ownership - much of the undeveloped land in this area belonged to the three Duke brothers and Vickers, although Morehead purchased the land on the north side of his eponymous street as well.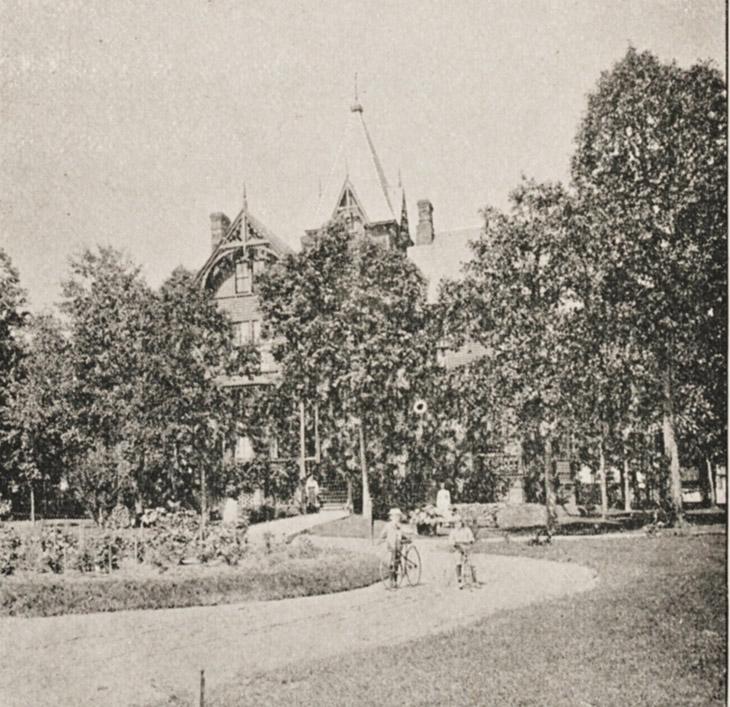 Eugene Morehead's house, looking west-southwest from S. Duke St. - 1895.
(Courtesy Duke Archives)

Morehead partnered in forming the Durham Fertilizer Company (later the Virginia-Carolina Fertilizer Company) and worked to increase the railroad lines running through Durham, including the Durham and Richmond, Durham and Northern, and Durham and Southern. Carr, Watts, and Morehead formed the Durham Electric Lighting Company in 1885, and Morehead was active in establishing a "graded school" in Durham - the first graded school in Durham was named Morehead School in honor of his dedication to the cause. He served on the city council in 1884.

Morehead became suddenly ill in 1888, and travelled to Savannah to convalesce with his wife, Lucy Lathrop Morehead's family. He travelled to New Orleans and Baltimore searching for a medical cure, but none was forthcoming. He died in February 1889, leaving a strong mark on Durham in just 11 years.

His wife Lucy Lathrop Morehead continued to live in the house after his death for many years. Sometime during the early 20th century, the original dwelling was torn down and replaced with a Colonial Revival home, retaining the large circular drive in front.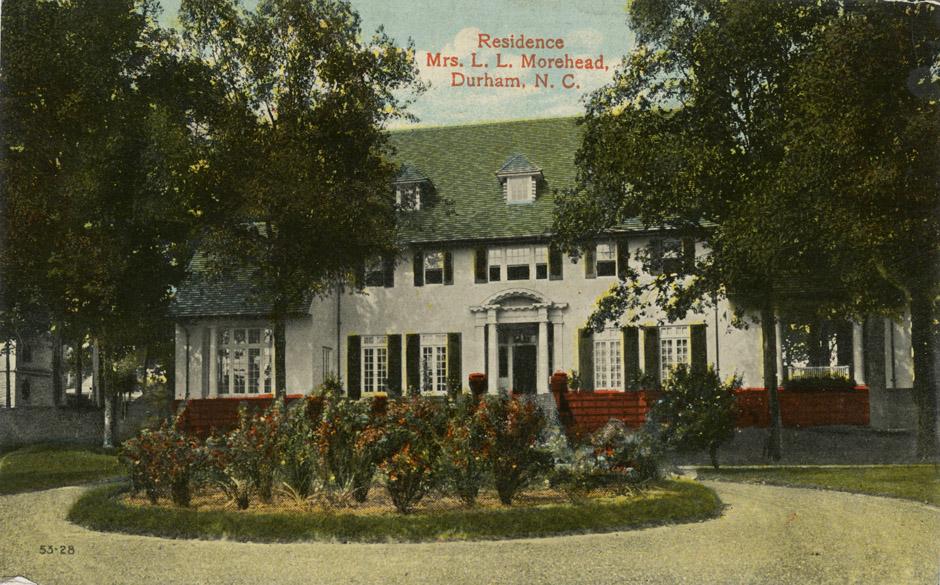 Morehead house - early 20th century.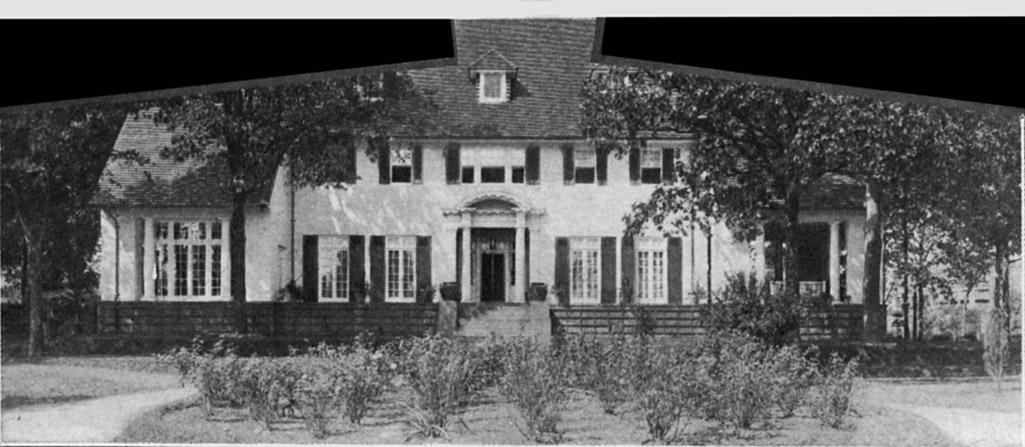 Morehead house - 1924. This looks strange because it came from a montage of photos with the other photos obscuring the upper corners.

Morehead's son, John Lathrop Morehead, who had been born in 1882, lived in the house subsequent to his mother. He had studied law at UNC and worked for the Cotton Exchange in Savannah before returning to Durham, where he served as city attorney and alderman, and was a longstanding chairman of the city recreation commission. In 1917, he married Caroline Douglas Hill, who grew up in a house on East Main St. - and per Mena Webb's book "The Way We Were: Remembering Durham" went by Douglas. It appears that John Morehead had died by 1954, although his wife lived on in the house.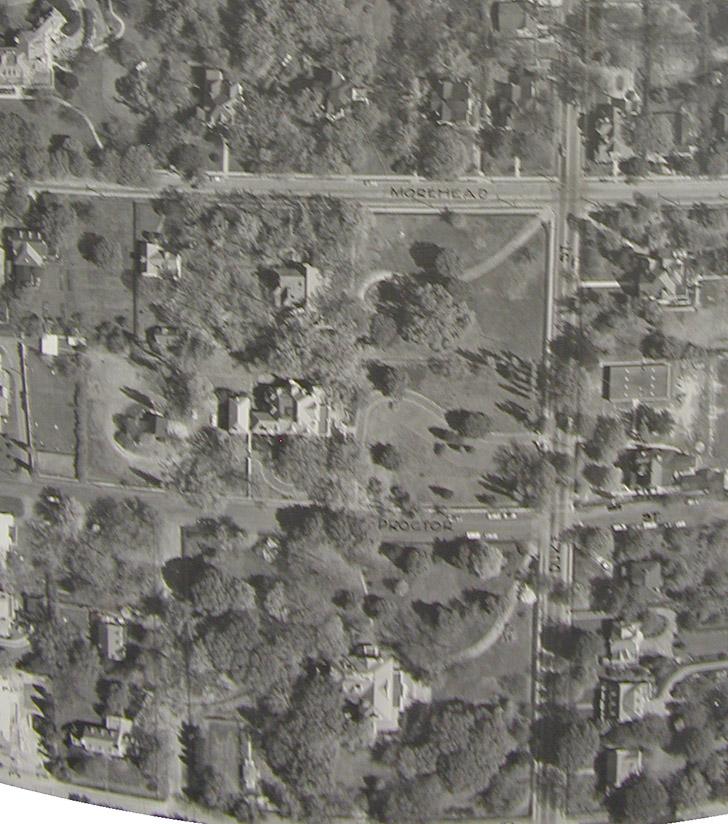 Aerial of the block, 1959.

In 1961, this house was demolished along with Harwood Hall next door to make way for the Hospital Care Building, later Blue Cross Blue Shield of North Carolina.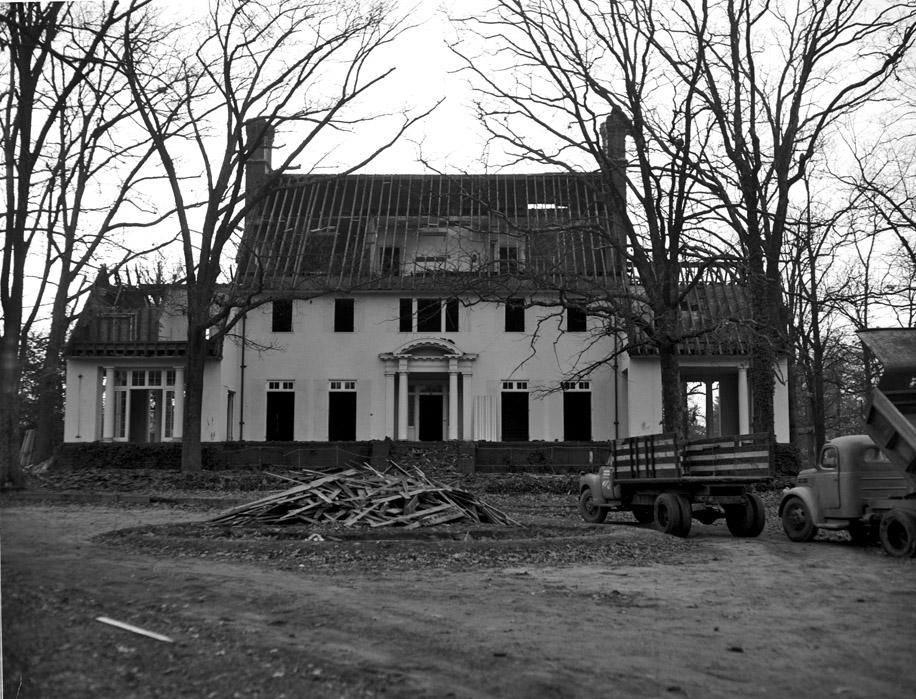 Looking west, 01.11.61
(Courtesy Herald-Sun)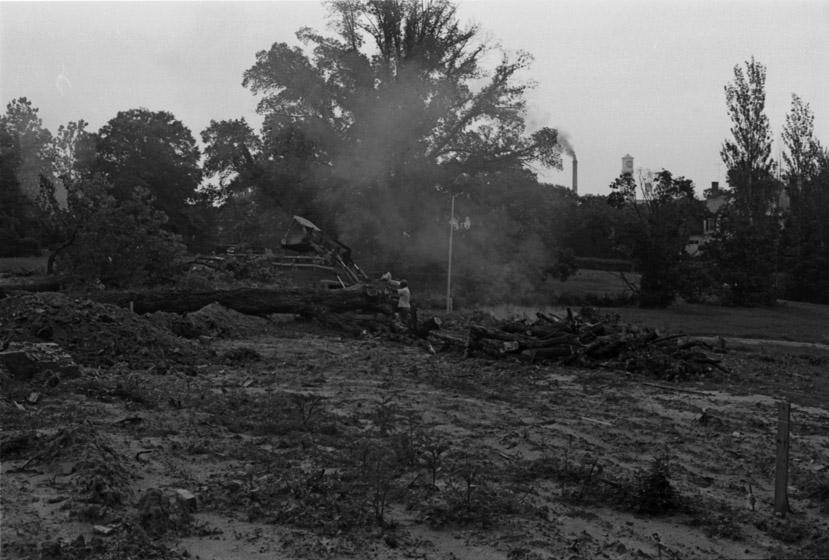 Grading the property for the HCA building, 07.12.61
(Courtesy Herald-Sun)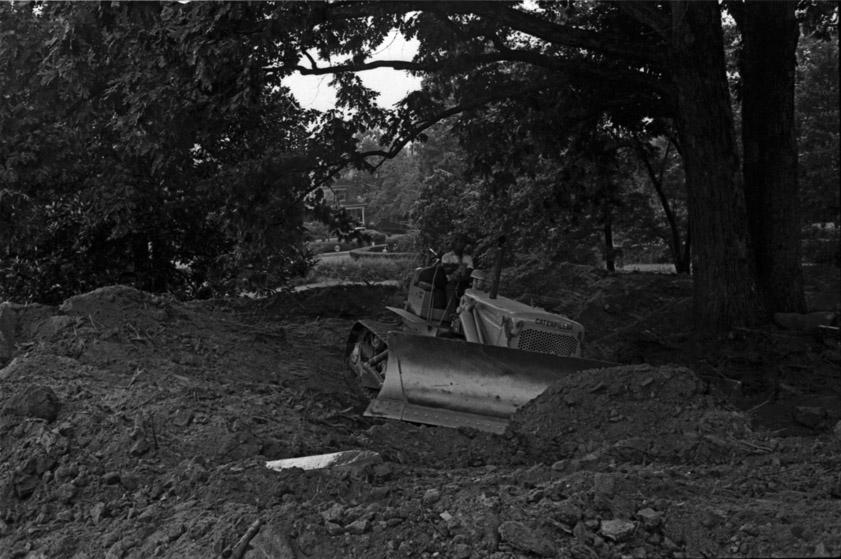 Grading the property for the HCA building, 07.12.61
(Courtesy Herald-Sun)

A large Georgian Revival building was constructed on the site of the two former houses. In 1968, the Hospital Care Association merged with with the Hospital Saving Association of Chapel Hill to become Blue Cross Blue Shield of North Carolina, which still uses the building today.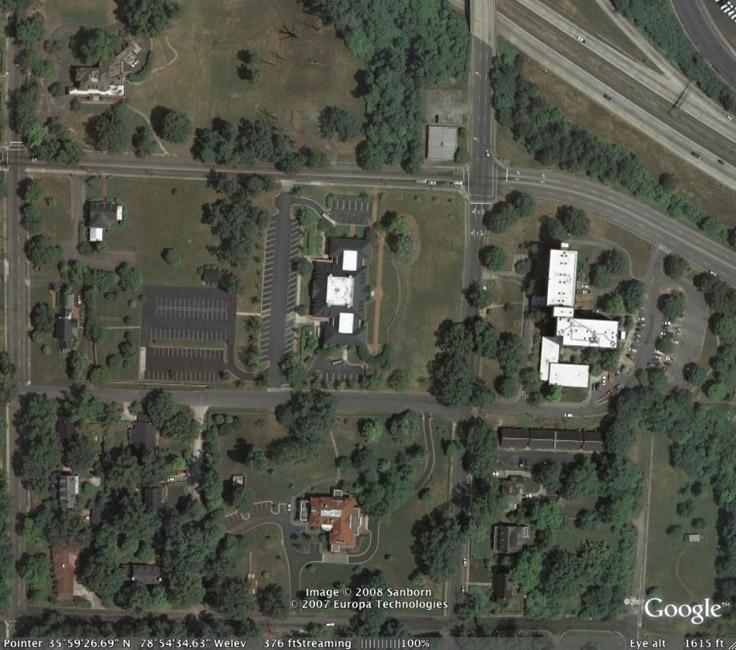 Aerial of the same area as 1959 in 2007.

Below, the view of Morehead's property today. The BCBS building is currently empty - rumor is (see the Harwood Hall comments) that it will be a new home for the Duke PA school.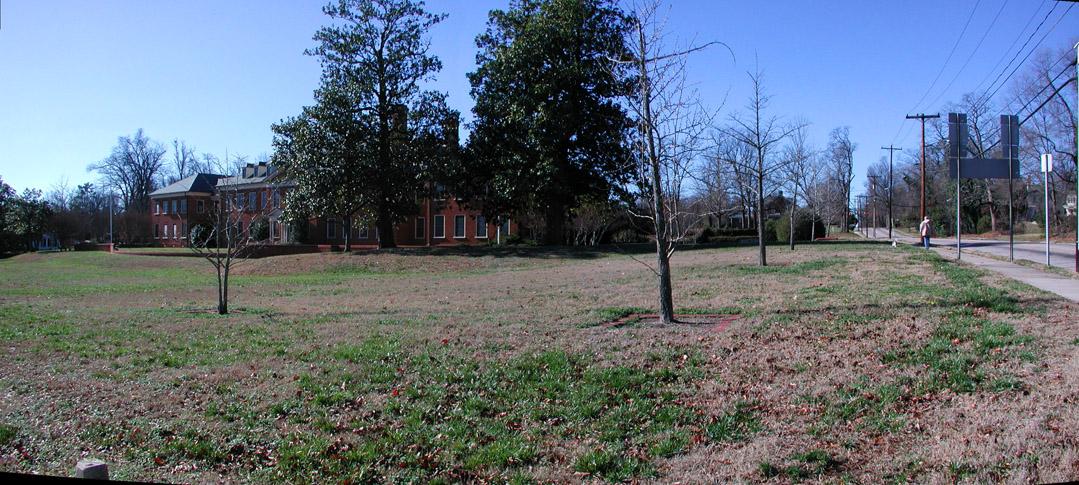 Looking southwest, January 1st, 2008.