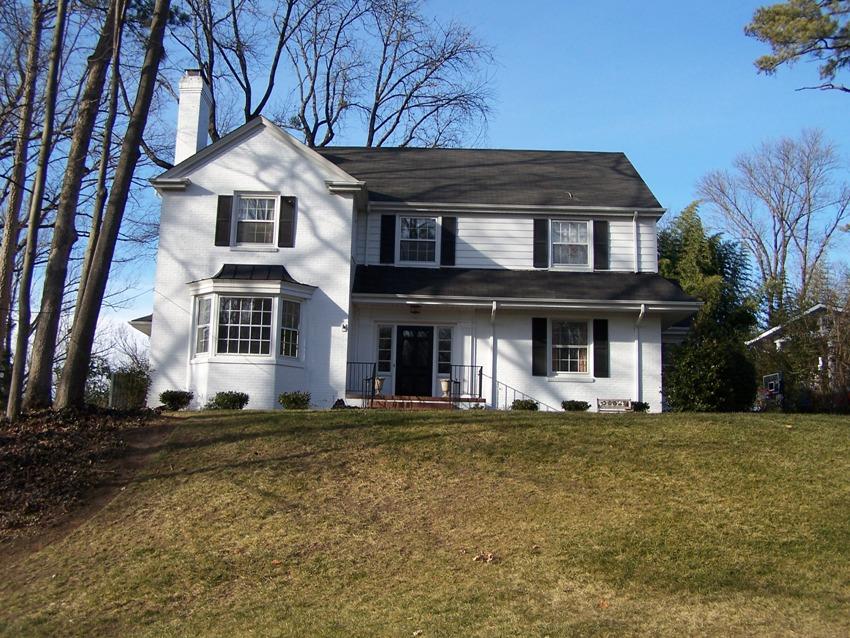 From the National Register nomination form of 2005, completed by M. Ruth Little
2-story side-gable brick Colonial Revival-style house with front gable wing with bay window with a multi-pane fixed window and concave roof. Other features are an entrance with sidelights and fluted pilasters, a brick stoop with metal railing, and a pent roof across the façade that shelters the entrance. Exterior end chimney, 8-over-8 sash windows. The brick is painted, and the upper level of the main block has vinyl siding. Demetrius L. Boone Jr. was owner-occupant in 1956. [1956 CD]
The following information comes from the City Directories and general web searching:
Year
Occupant(s)
Occupation(s)
Other information
1954
Elinor D. Boone
Demetrius L. Boone
 

pharmacist

Demetrius was the manager and secretary of the Boone Drug Company, located at 100 West Parrish Street, and treasurer of NC Mutual Wholesale Drug.
1963
Elinor D. Boone
 
 
 
 Elinor appears to have been widowed by 1963. 
1968
Nancy Hudson
William R. Hudson, Jr.
 
physician, professor
William worked at Duke University Hospital.
2002
Melinda Fisher
Stewart W. Fisher
 
legal services
Stewart's office was located at 400 West Main Street.