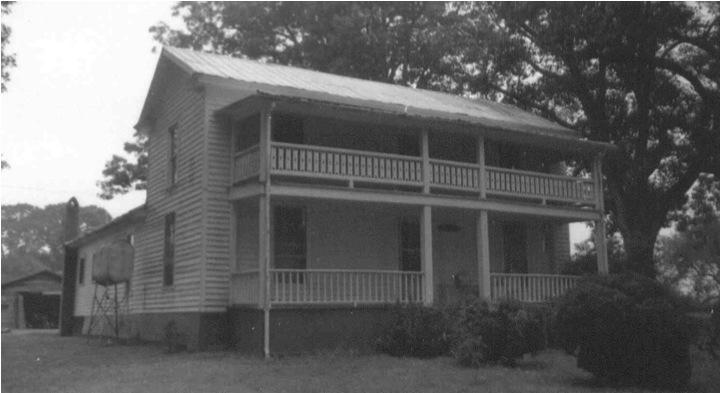 Notable for a two-tiered full-facade porch with an unusual sawn work balustrade on the upper level, the Dr. Edwin Holt House is a side-gable frame I-house with modest Greek Revival detailing. While the six-over-six windows with plain surrounds and boxed cornice with gable-end returns are typical of many Durham County residences of the mid- to late nineteenth century, the exterior chimney placement at the rear of a house is generally a late-nineteenth-century stylistic modification. The house appears on the 1887 Johnston Map where it is identified simply as "Dr. Holt's."
A kitchen house joined to the main block in the early twentieth century created an unusually long one-story rear ell. Other alterations have included enclosing a porch on the ell, adding a small rear shed at the juncture of the ell and the main block, and bricking over interior fireplaces for stoves. The property has a number of agricultural outbuildings including a barn, a large pack house, a tobacco barn, and several sheds.
Dr. Edwin Holt served in the Confederate Army as surgeon for Company B of the Sixth North Carolina Regiment.1 Organized as the Flat River Guards before hostilities began, the Sixth Regiment saw action at Manassas where Holt attended many of the wounded. After the war he returned to the Durham area to practice medicine, and was the first doctor to provide regular services for Orange Factory workers. Dr. Holt married sisters of the Parker family, and descendants report that by outliving both wives, he inherited land on one side of the Orange Factory Road from the first, and on the other side from the second.