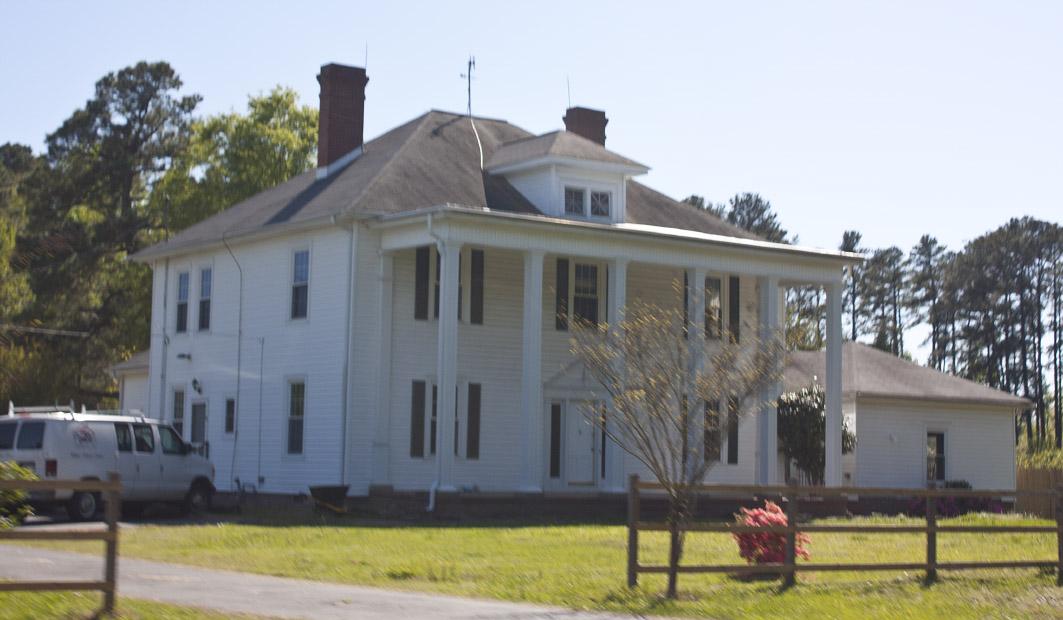 04.07.12
Around the turn of the century, "Doc" Nichols built this large, two story Colonial Revival residence. The colossal front porch, ornamented by a roof balustrade, and other decorative details were added during the ownership of the Glover family, who bought the property from the Nichols' estate in the 1940s. The 1990 owner, Anne Eakes, purchased the house in 1985. She used the building both as her residence and the location of Sandpiper Antique Store.
As originally constructed, the house consisted of a massive main block, rectangular in plan, with a rear ell and small doctor's office attached. The later porch diminishes the visual effect of the characteristic central dormer. The ridge of the high hipped roof is flanked by the tall,, corbelled stacks of two brick interior chimneys. Windows consist of six-over-one and six-over- six double hung sash. The elaborate pedimented entrance dates from the period of mid-century remodeling carried out by Mr. Glover. He is said to have been a "happy woodworker" because of the extensive amount of detail that he added to the residence. The one story rear ell also has a corbelled interior brick chimney. Much of its weatherboarded exterior matches the siding of the main block, though a porch, enclosed during the Glover period, has metal casement windows instead of double hung examples. The smaller hip-roofed appendage at the rear of the two- story portion once served as the office for Dr. Nichols' medical practice. The separate entrance on its east side has been closed up, as is evident by ghost marks in the siding. A modern improved garage has been added to the western side of the main block.
The interior consists of a combination of original turn of the century features and Neo-Classical decoration from the 1940s and later. When not covered by acoustical tile, the ceilings consist of narrow beaded boards. Square newels and balusters support the original stair rail. Original doors exhibit five raised horizontal panels, with frames made up of moulded lintels and uprights. Fireplaces include such characteristic features as flanking columns, paired overmantels, and brackets. While plastered walls are found in the principal rooms, beaded ceiling boards remain as interior finish of those secondary rooms that have not been remodeled. Other rooms display a variety of finishes. The two principal ground floor rooms have paneled walls, coved ceilings, dentil mouldings, and a corner cupboard. Walls of pre-finished plywood sheets are found in the rear ell.
A three-bay frame barn and other storage buildings are typical of the early twentieth century. The hip-roofed well enclosure remains, as well as a smokehouse with paired doors.