CLIFTON AND LEAH GARRETT FARM
Built in
1934
/ Modified in
2008
In tours
This building does not appear in any tours yet.
Last updated
Fri, 07/21/2017 - 10:14pm by gary
Comments
Built in
1934
/ Modified in
2008
A little field trip today out to western Durham County, near 15-501.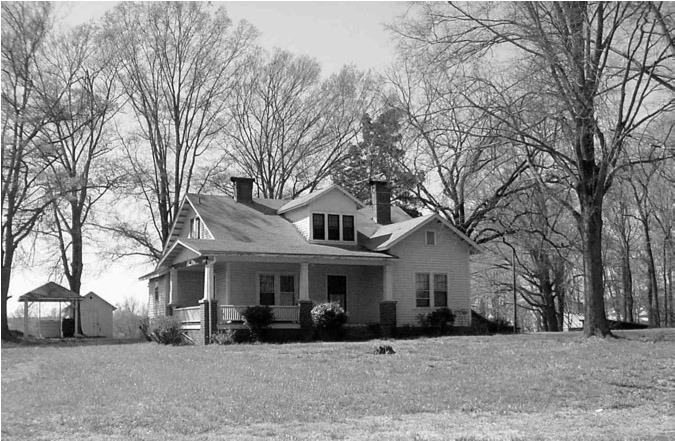 Clifton and Leah Garrett built their home and farm on 60 acres of family (Garrett) land in 1934. The bungalow was built by Mack Sims of Carrboro, and has several variations on the simple bungalow style: a wrap-around porch onto the south side of the house, and a front-facing gable ell off the north part of the facade.
The Clifton and Leah Garrett farm was one of dozens of farmsteads in the rural area between Durham and Chapel Hill during the early 20th century, many accessed along Pickett, Garrett, Mt. Moriah, and Old Chapel Hill Rds.
The boulevard to Chapel Hill was completed in the 1950s just to the south of this farm.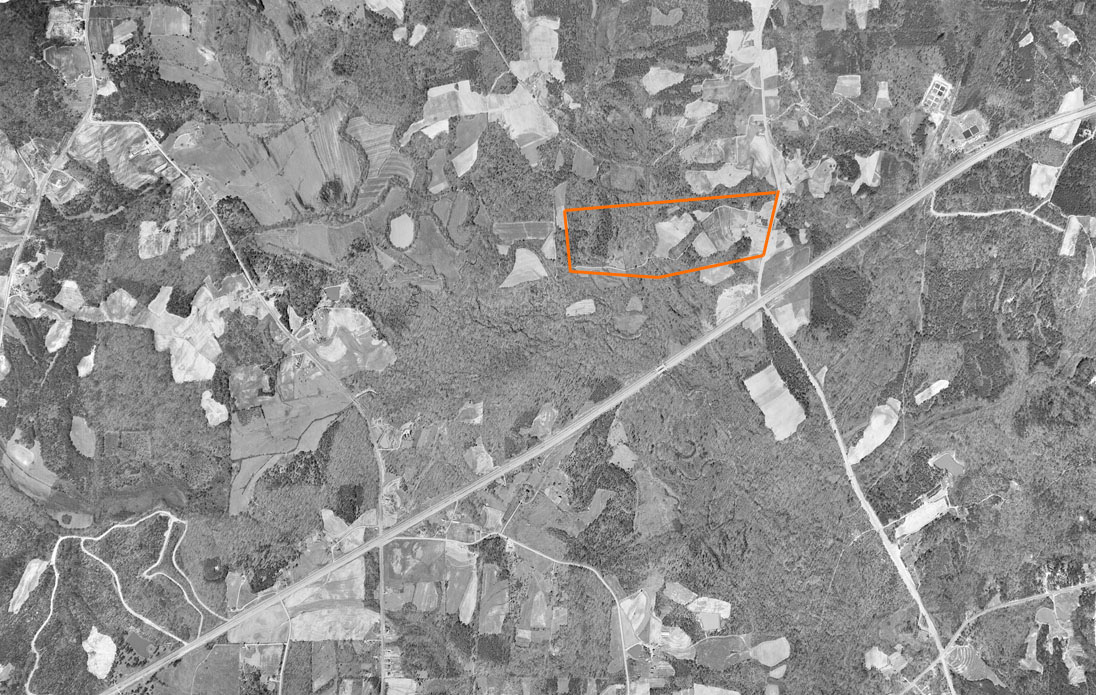 Aerial view of Chapel Hill Blvd., Garrett Rd., and Mt. Moriah Rd., 1955. The Clifton and Leah Garrett farm is outlined in orange. Notice the number of farms (cleared land.)
Growth along the 15-501 corridor and urban sprawl from both Chapel Hill and Raleigh have fundamentally changed the character of this area. Although the bottomlands of New Hope Creek just to the east remain undeveloped (and will likely remain so) land all around this farm has exploded in apartments and big boxy monuments to consumption.

Similar aerial, 2007.
And this farm persists, essentially unchanged.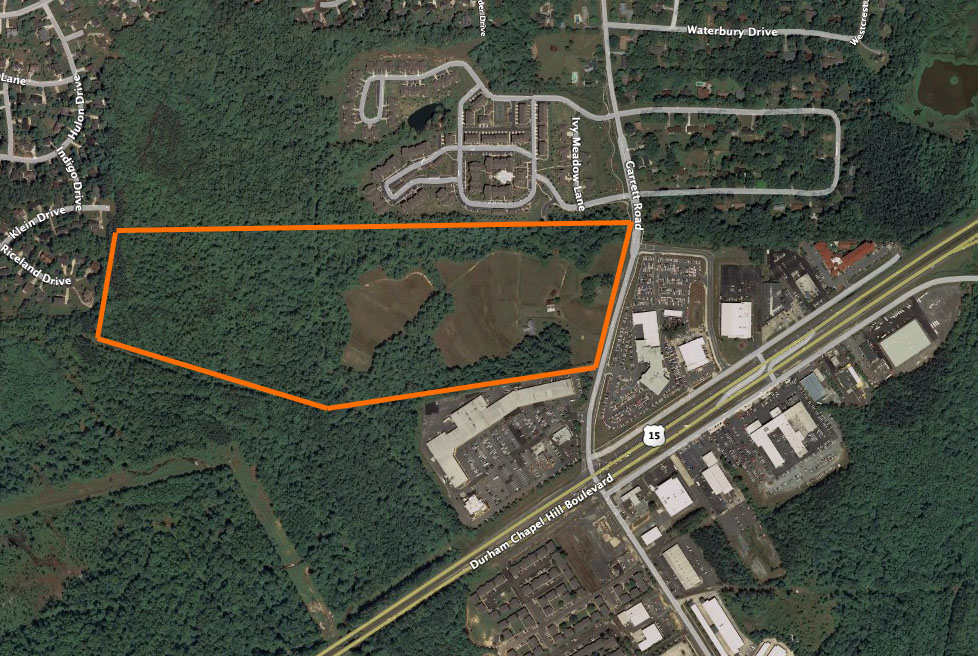 A closer view of the Garrett Rd., 15-501 intersection.
But not for long.
Trammel Crow Residential, which developed the Alexan Farms subdivision visible just to the north of this farmland, plans to build 308 apartments on the site of this farm. "Alexan Garrett Farms" would preserve 26 acres west of Mud Creek (wooded area adjacent to New Hope Creek) and an existing farm pond. The intersection of Garrett Rd. and 15-501 (and the adjacent section of Garrett Rd.) would be expanded to add more capacity for the extra traffic generated.
The developer would allow someone to cart off the historic house for free (at the cart-er's expense.) If that didn't happen in 6 months, the house would be demolished.
This plan was passed by our Planning Commission, 13-0. Because this requires a re-zoning, it will go before the City Council in November.
While development of this farmstead makes me sad, it seems somewhat inevitable in some form or another. I don't know when this was last a working farm, but it has been awhile. While I wish the Garrett family (who still own the property) had chosen to donate the land to the Triangle Land Conservancy, they didn't. The market value is likely far too high for any non-developer to afford it. I'd love to see someone keep this as a rural gateway to the New Hope Creek wilderness area/trail. But, again, that would have required the Garrett family accepted something less than what the market will bear.
I think it's a mistake for the developer to get rid of the house - not just from a preservation perspective. Clearly, I think an old farmstead like this is best preserved on site, and an offer to let someone take it isn't much of an offer. I'm surprised that the Planning Commission didn't do more to insist that the house - listed on our County Historic Inventory - was preserved.
But preserving the house on site and integrating it with the development makes good business sense. While it might require reconfiguration of the site plan, there is market value to imbuing an otherwise bland, repetitive development - particularly one with "Farms" in the name - with an actual farmhouse. It's been done before - even in Durham, with Bonnie Brae on North Roxboro. (Although it was moved away from the road.)
There is too little evidence left in southwest Durham of the life that once predominated the hills on either side of New Hope Creek. I hope somehow, some of this last little bit can be preserved.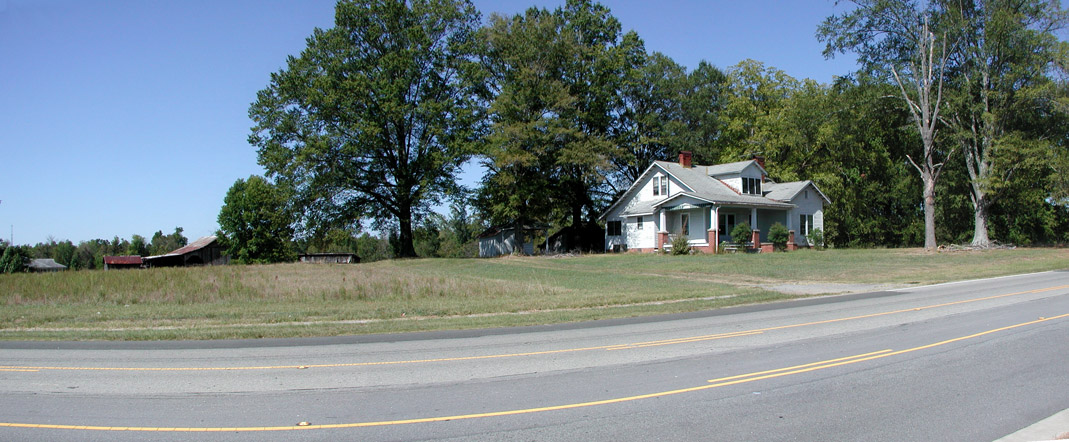 Clifton and Leah Garrett Farm, from Garrett Rd. looking northwest, 2007.
House was removed - I'm not sure to where.
2017 (google)