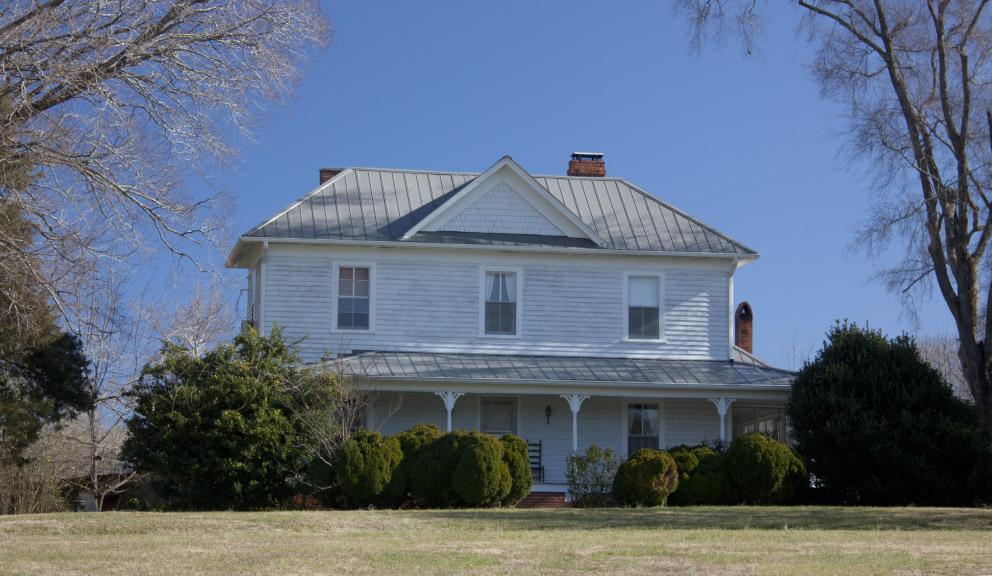 01.14.12
When Charles Crabtree demolished the home of his father-in-law, William Roberts, in 1918, he replaced it with a large frame I-house that commands the lovely site on a hill studded with mature hardwoods and overlooks a bend in the South Lowell Road. Although most dwellings in the nearby communities of Bahama and Rougemont now had Colonial Revival and Craftsman details, Crabtree's home has late Victorian styling; rear chimneys have corbelled caps, and a wide wrap-around porch, turned posts and sawn work brackets. Notwithstanding its hip roof, the house also has the popular ornamental roof gable in the center of the front facade. A one-story rear ell, contemporary with the main block, has a hip roof and a full facade entry porch with sawn work ornament.
The interior originally followed a center-hall plan but was reconfigured in the 1950s to create a large den and bathroom on the first floor, reorient the stairs, and enclose a portion of the second floor landing as a closet. More renovations in the 1980s screened a portion of the porch and added a large kitchen area at the rear of the ell.
West of the house, a log kitchen and storage shed remain from the mid-nineteenth century Roberts farmstead, and north of the house, early- and mid-twentieth-century outbuildings include a large frame barn, a corncrib, a smokehouse, and another storage shed. Nearby , surrounded by a white quartz wall, the Roberts family cemetery contains a few nineteenth and twentieth century markers.