BIG 4 WAREHOUSE - MORGAN AND RIGSBEE
Built in
1910-1920
/ Demolished in
1944
In tours
Last updated
Fri, 12/14/2018 - 7:22pm by gary
Comments
Built in
1910-1920
/ Demolished in
1944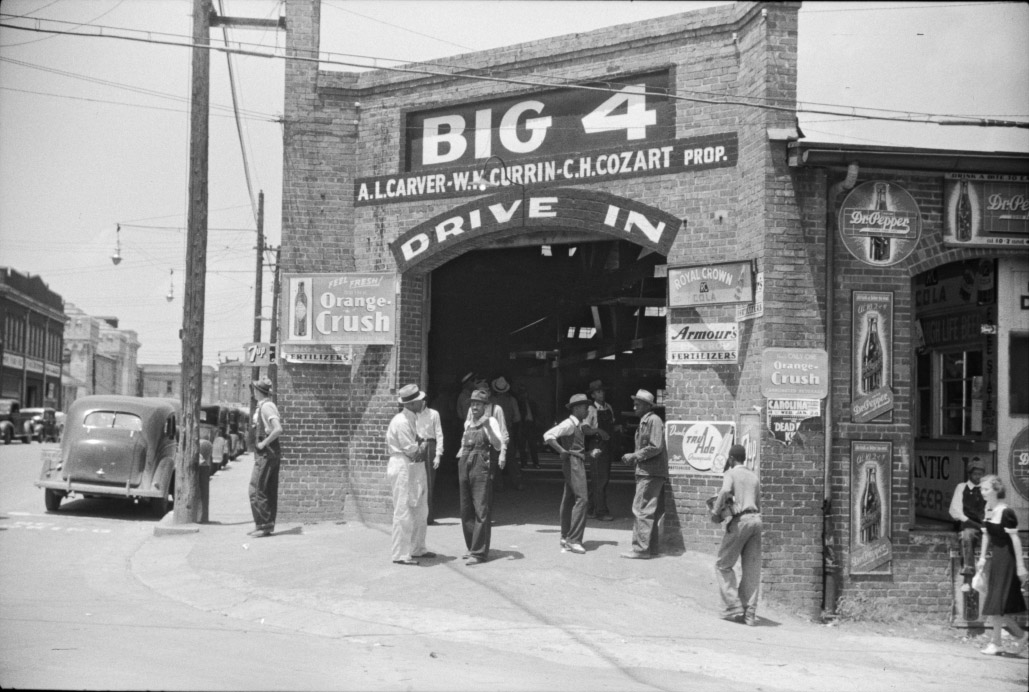 Looking northwest from Rigsbee Ave. and Morgan.
(Courtesy Library of Congress)
The north side of Morgan St. east of Foster St. was the southern extent of the early 20th century tobacco warehouse district, which extended northward along Rigsbee Ave.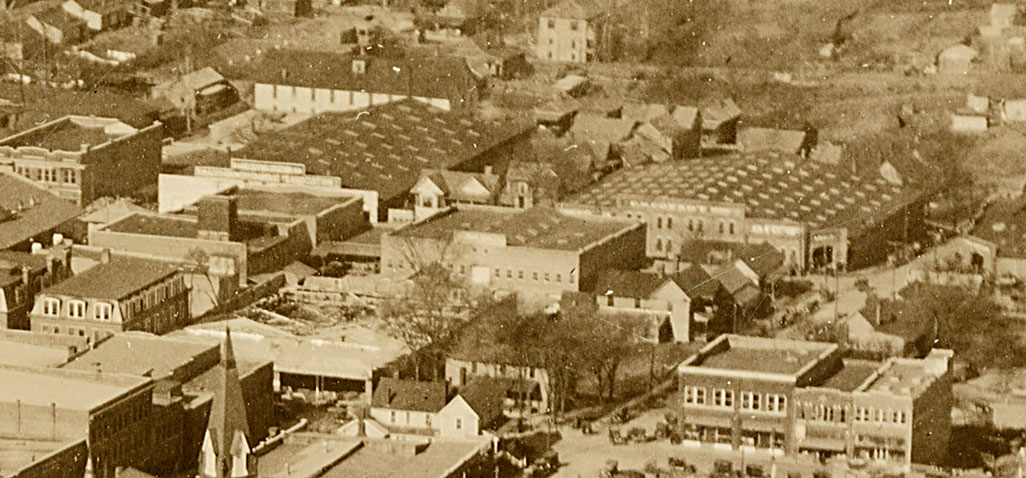 Above, looking north-northwest, 1924. Rigsbee and East Chapel Hill St. are in the foreground, and Morgan St. is the next east-west street to the north. Two large warehouses are to the west of Rigsbee Ave., separated by two small houses. One is labelled "Cozart" and "Big 4" - the other is the Banner Warehouse.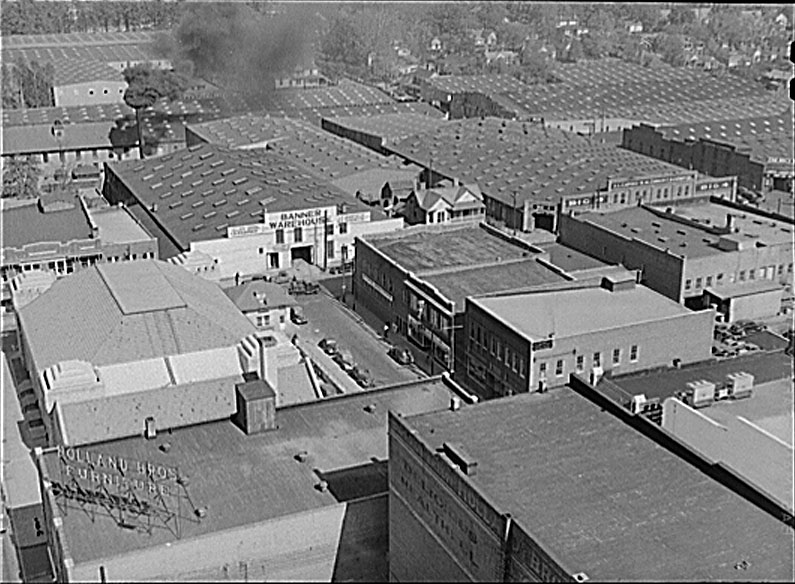 Another view of the warehouse district, significantly expanded, 1940.
(Courtesy Library of Congress)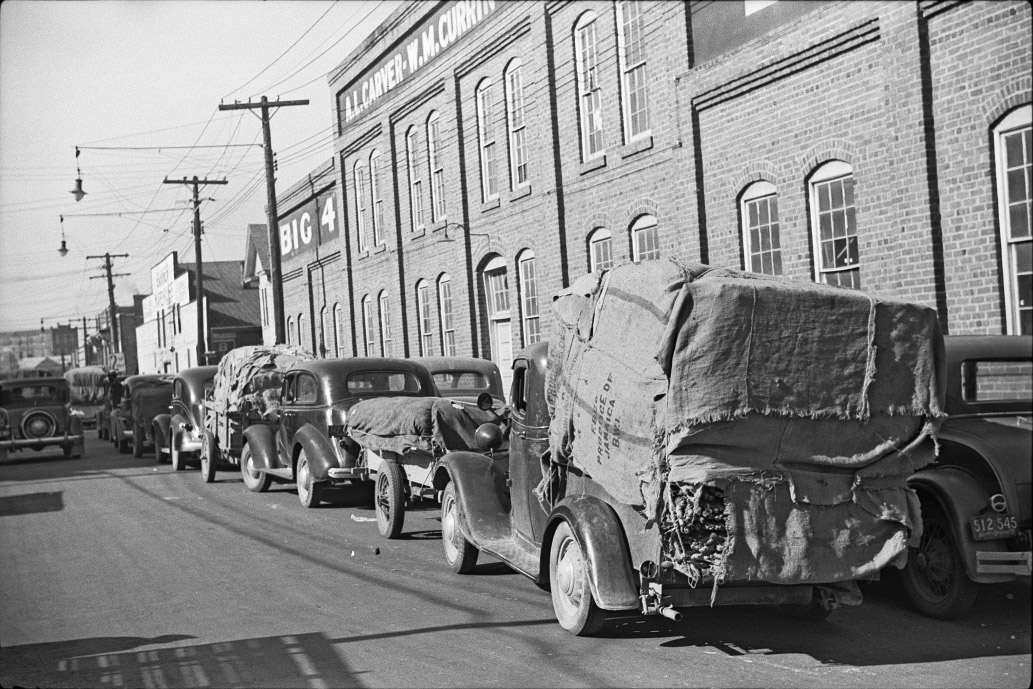 Looking west up Morgan from near Rigsbee Ave.
(Courtesy Library of Congress)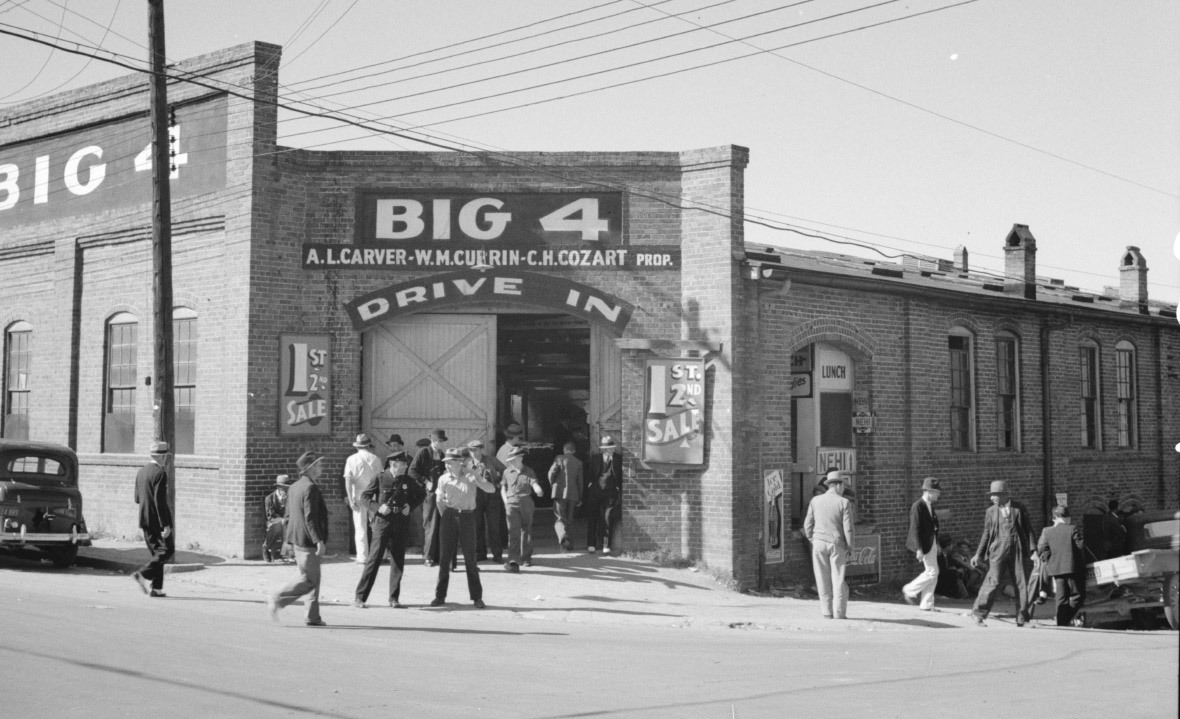 1938 (Library of Congress)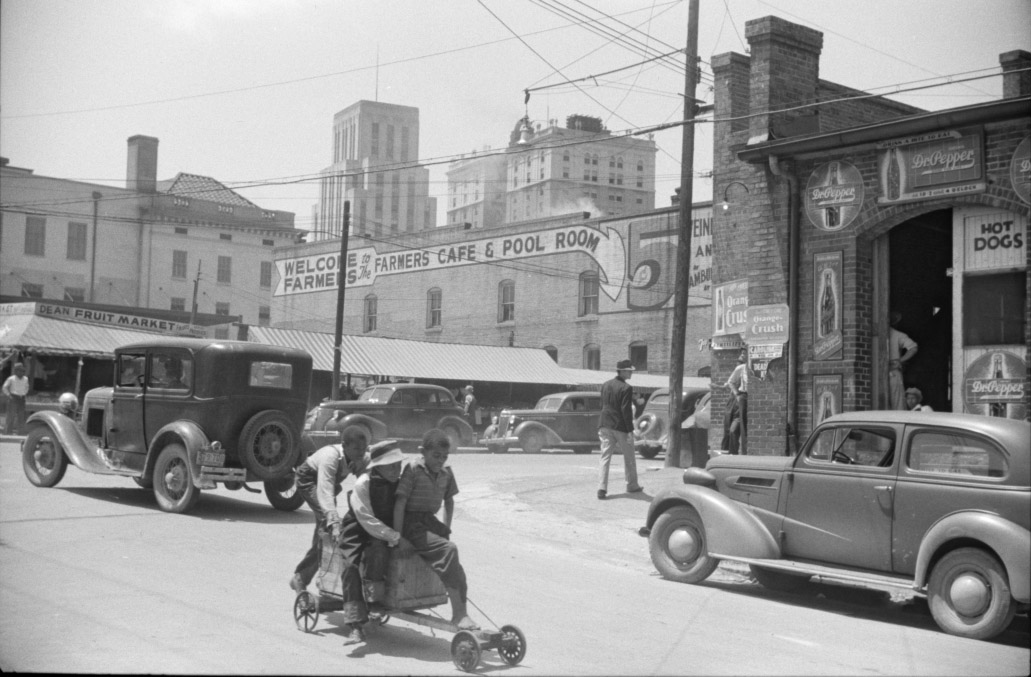 Looking south-southwest - the Big 4 warehouse is to the right.
According to newspaper accounts, around 9pm on July 8, 1944 a fire started in the the basement of the Big Four warehouse, where furniture was being stored. In less than three houses all but one building remained in the block - $250,000 in downtown property was destroyed. According to Charlotte Observer, July 9, 1944, "Other establishments burned to earth included the Central leaf redrying plant and the Dillard livery stables, where 12 cows and four horses burned to death."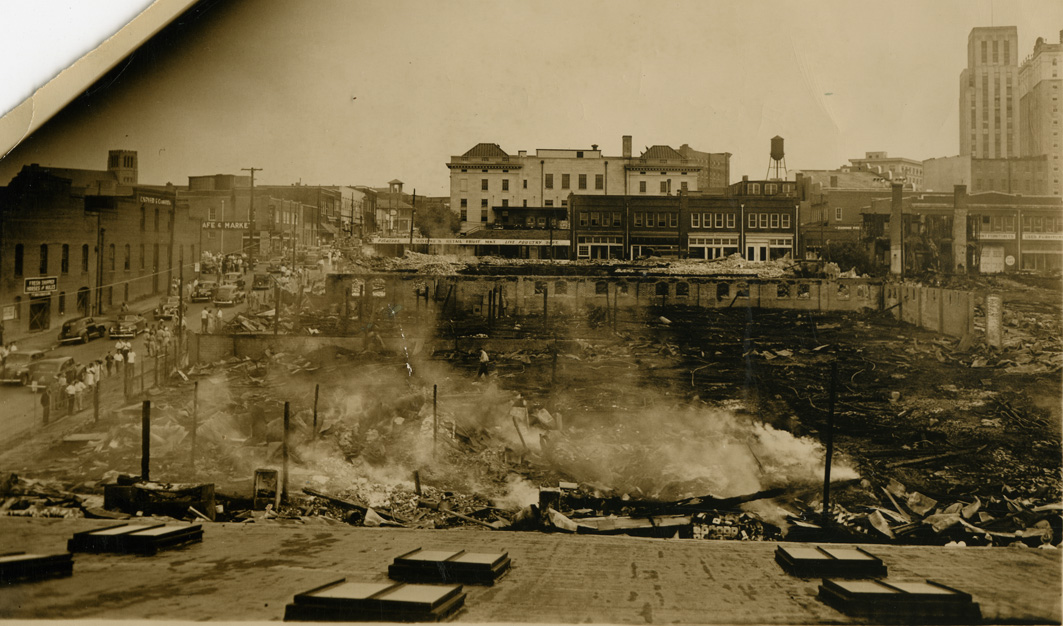 Above, the view from ~Seminary St. looking south. The structures on the south side of the 200 block of Morgan St. are visible beyond the burned structure.
Both Tim Tyson and Christina Greene have postulated that the fire resulted from protests on the night of the murder of Booker T. Spicely - he was shot and killed by bus driver Herman Council earlier that day. 
There is no mention in the newspapers - either Charlotte or Durham - of soldiers called from Butner that night, protests, violence, etc - even though they report on the murder of Spicely as well. It's doubtful that such a riot would have occurred the night of the murder - rather that upon Council's acquittal several months later. It's particularly dubious that a race riot, mobilization of Butner soliders, etc. would occur with no mention in the papers.  Unfortunately, the Carolina Times from that era is lost. Greene does not source her statements; I don't own Tyson's book to check his source for the assertion.
It's also particularly dubious that, if a mob was going to start a fire to destroy white-owned businesses, they would choose one big brick tobacco warehouse. The bulk of Durham's African-American population would have had to come from Hayti, across white-owned downtown, and past white-owned factories, where they could have inflicted far more extensive damage
Sometime during the 1950s, two car related businesses, Midtown Motors and Goodyear, opened on the site.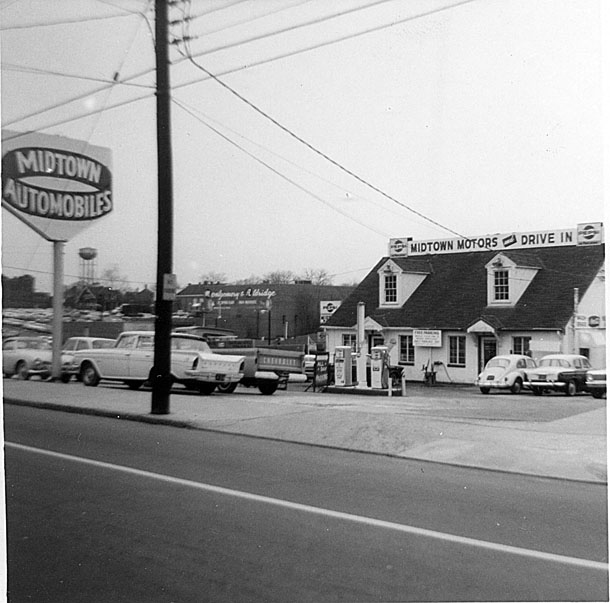 212-222 Morgan, looking northwest, 1966.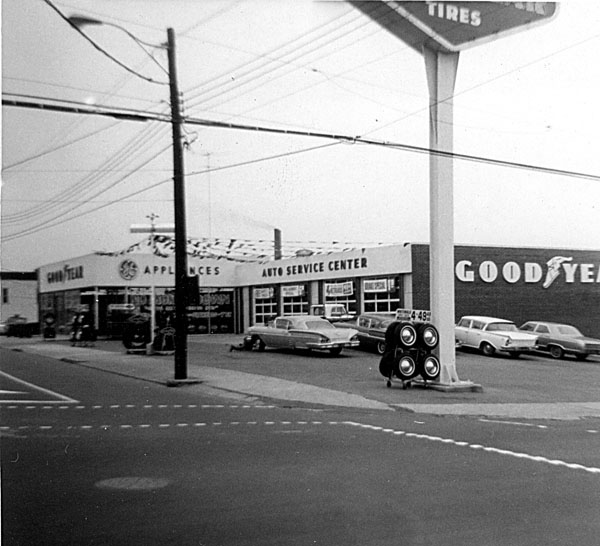 200-210 Morgan, looking northwest, 1966
These were still in operation in 1987.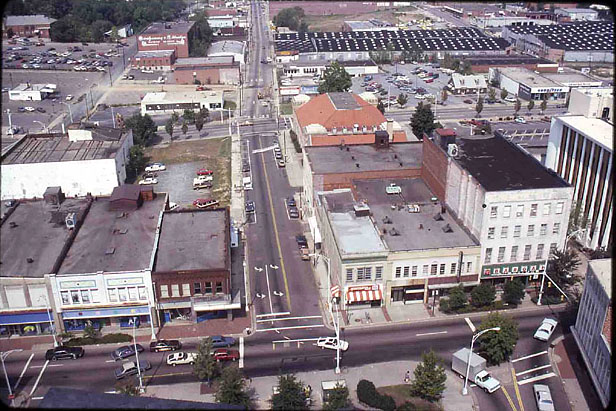 Looking northeast from the Hill (CCB/Suntrust) Building.
Midtown motors was torn down during the 1990s, and the Goodyear building persists in a more eye-catching form.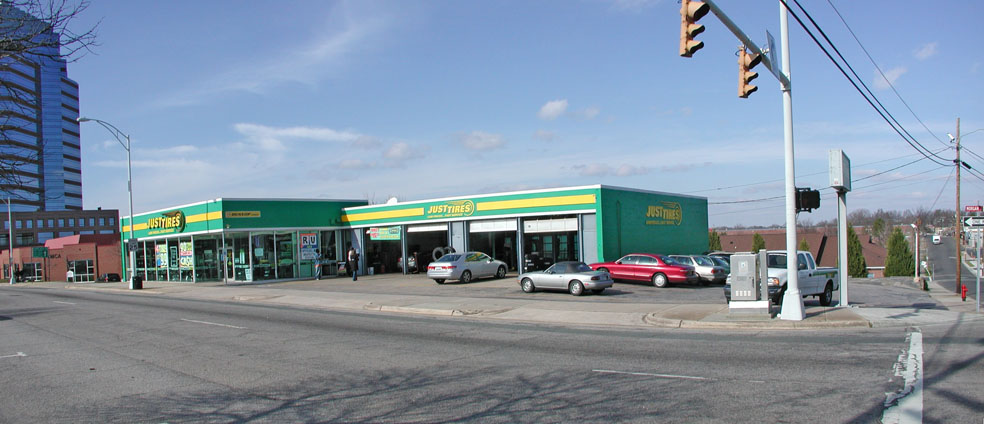 Looking northwest, 2007.
The 'fire view', looking south from ~Seminary