Year demolished
~mid-20th century
As Durham is a relatively young town compared to Chapel Hill, Hillsborough, Raleigh, etc., there is a great deal of history in now-Durham County (originally Orange County) prior to the existence of Durham proper. While it may sometimes be tempting to think of it in the same way we think of colonial settlements, Durham's history is more that of multiple small settlements and farms that rather quickly consolidated around the opportunity presented by a new railroad line.

One of those early settlements was Prattsburg (or Prattsburgh, sometimes) established by William Pratt in the early 1830s. Even Pratt's settlement was a successor to the previous settlement of Dilliardsville (from which, perhaps, Dillard St. is corrupted.) William Dilliard had established a small settlement around the current Dillard St. and East Main St. (on land he acquired from Absalom Alston - whose name lives on in Alston Ave.) around 1819, which became an early post office at the intersection of the Fayetteville to Roxboro Road (which retain their names) and the Hillsborough to Raleigh Road (now a combination of Hillsborough Rd., Main St., Ramseur, Angier Ave., and Highway 70.) When Dilliard died in 1824, William Pratt bought his land and established a store on the Hillborough Road.

This store was accompanied by a "grog shop" and a "tavern." (I don't know the difference.) It also had a cotton gin and press, as well as a blacksmith's shop. The post office was soon transferred to Pratt's store.

The settlement quickly gained a reputation for intemperate activity. Jean Anderson details a court case brought against Pratt in 1833 for:

"keeping a disorderly house for his own lucre and gain at unlawful times as well on Sundays as on other days [for] evil disposed persons of evil name and fame and conversation to come together [to] upset the peace and dignity of the state [by] drinking, tipling, playing at cards and other unlawful games, cursing, screaming, quarreling, and otherwise misbehaving themselves."

It's worth noting that one of the Durham area's other dens-of-iniquity, Pinhook (in the area of the Erwin Mil/9th St. in West Durham) was originally owned by Pratt as well. While debauchery along a major transportation route neither began nor ended with Pratt, he, as any good businessman, knew his customers' taste. Barter was often the transaction method of choice - exchanging bushels of corn for liquor was not uncommon.

Pratt is often treated with some derision in the common folklore for the conception that he botched the Big Deal. When North Carolina made the decision to establish a railroad line and incorporated the North Carolina Railroad in 1849, the ridgeline between Hillsborough and Raleigh (already the site of the roadway) was one chosen path. The railroad approached Pratt about purchasing a right-of-way through his land. Pratt undoubtedly set his price too high - perhaps because he already had a good thing going. The story goes that Pratt refused because the railroad would "frighten the horses" at his establishment. Sounds dubious - but perhaps it is something Pratt said in thinking he could drive a hard bargain.

But his 'miscalculation' was that Bartlett Durham, a mile to the west, was more than happy to give up part of his land for a new railroad depot. The collection of stores and houses a mile to the west became "Durhamville" and the site of the new station by the early 1850s. The post office was moved to Durhamville in 1852. Pratt hadn't realized, evidently, that he could be so easily undercut.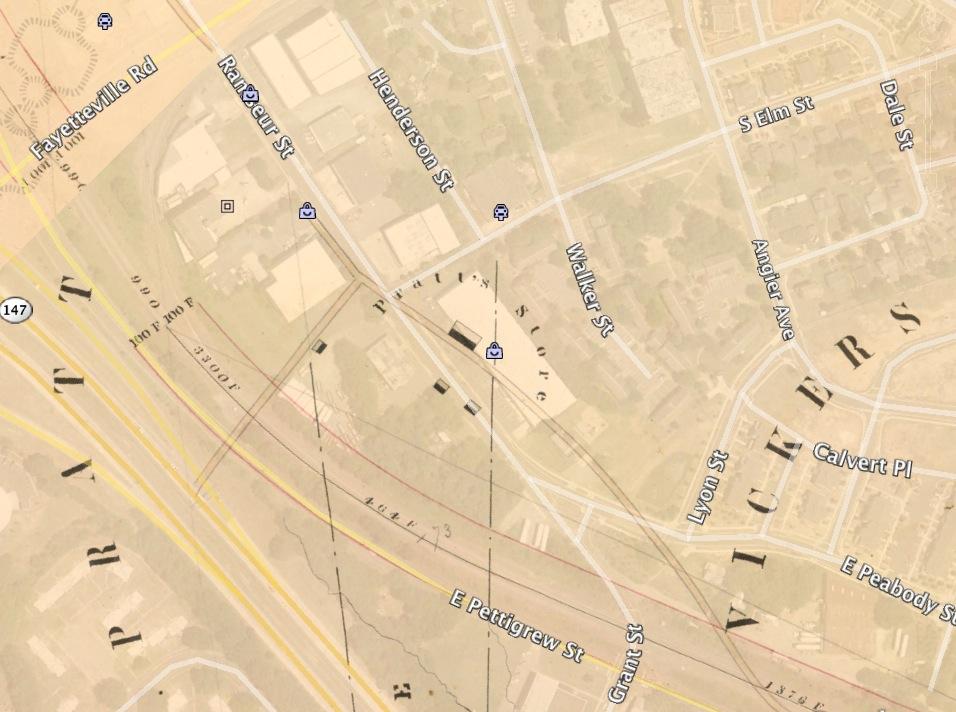 1852 railroad survey map overlaid on 2011 Google imagery, showing the location of Prattsburg.

Prattsburg likely lived on awhile longer. Lewis Blount's map of Durham in 1867 shows Prattsburg and Pratt's house (number 9) on either side of the Hillsborough Road. The curve of the railroad line - established to avoid Pratt's property - is somewhat exaggerated on this map, but still evident today.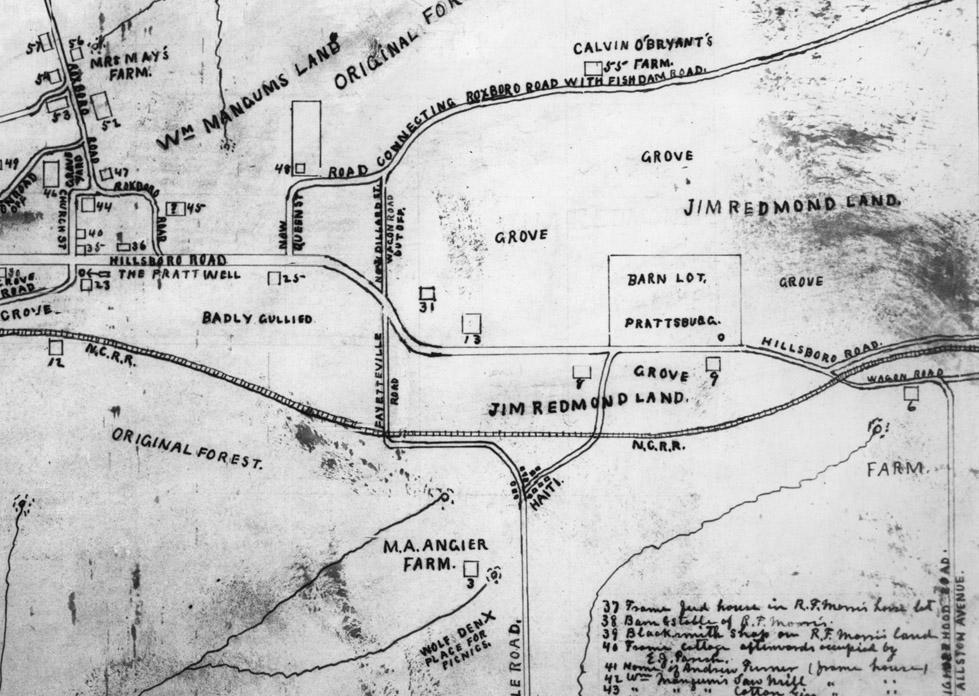 (Courtesy Durham County Library)

(Also visible on this map is how early "Haiti" was established - at the intersection of the Fayetteville-Roxboro Road and what would likely later be Elm St.)

But the slide was inevitable. Both Gray's 1881 map and the 1891 Bird's Eye map cover this area incompletely, but it appears that Prattsburg had disappeared by then. To some extent, this is why Pratt's miscalculation, at least from a monetary standpoint, was not as grave. He owned upwards of 450 acres on the east side of a rapidly growing city - which he sold at a higher value because of the establishment of that city. His miscalculation, if he would have cared, would be that we don't today live in Prattsburg. It seems likely, given his willingness to make money through the most expedient means possible, that he would have been happy to sell off his holdings at more than he paid for them.

By the 1880s, this section of roadway was called "Raleigh St." and by the 1890s, "Ramseur St." after CSA general Stephen D. Ramseur, a native of Lincolnton, NC. Suburbia - 1880s-style, plowed under Prattsburg and supplanted it with the large houses of the well-to-do along the horse-drawn trolley line. The strength of any direct connection between the libertine nature of Prattsburg and the moral turpitude of Smoky Holllow, directly to the north, is unknown, as Prattsburg's most accurate address was the later site of rather fancy houses.

Boyd's history of Durham - not always known for its accuracy - confidently puts the location of Pratt's store at the 1920s address of 907 Ramseur St. Wyatt Dixon faithfully reported this for the Herald-Sun in the 1950s, and took a picture of the 1890s-era house standing on that spot.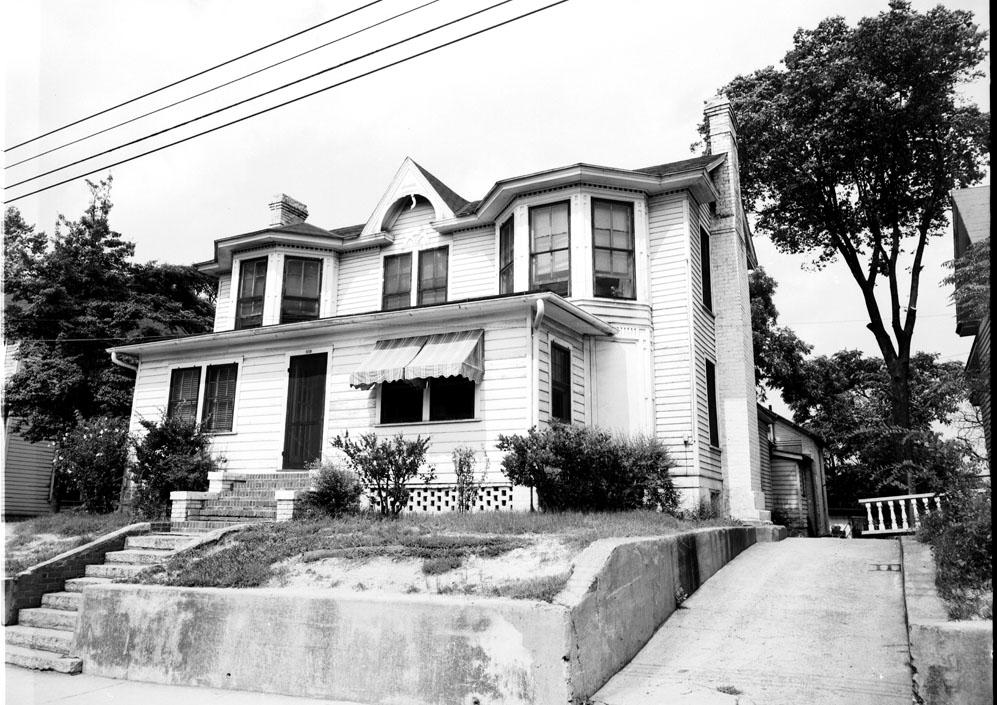 Looking north, August 1951.
(Courtesy Herald-Sun)

Given the quantity of different buildings and establishments at Prattsburg, it seems likely that the location of the settlement was more widespread than this, and the railroad survey from 1850 seems to show that it extended north at least to Angier Avenue. Blount's map puts Pratt's house on the south side of the main road, while Boyd states that Pratt lived farther away, near the current Club Blvd.

Regardless, the area around either side of Ramseur St. just north of the curve in the RR tracks was undoubtedly the general location.

By the mid-20th century, Julian Carr's early establishment of the Hosiery Mills just to the north, and the general increase of Durham industry changed this area - those with money had moved on to suburbs further afield. No houses from the late 19th century remain on Ramseur - which is now a light and heavy industrial strip.




907 Ramseur St., looking north, November 2007.