Year(s) modified
1950s, garage added (same style as other wing)
1991, first and second floor renovated, garage area turned into family room, laundry room and 1/2 bath
1995, basement renovation including full bath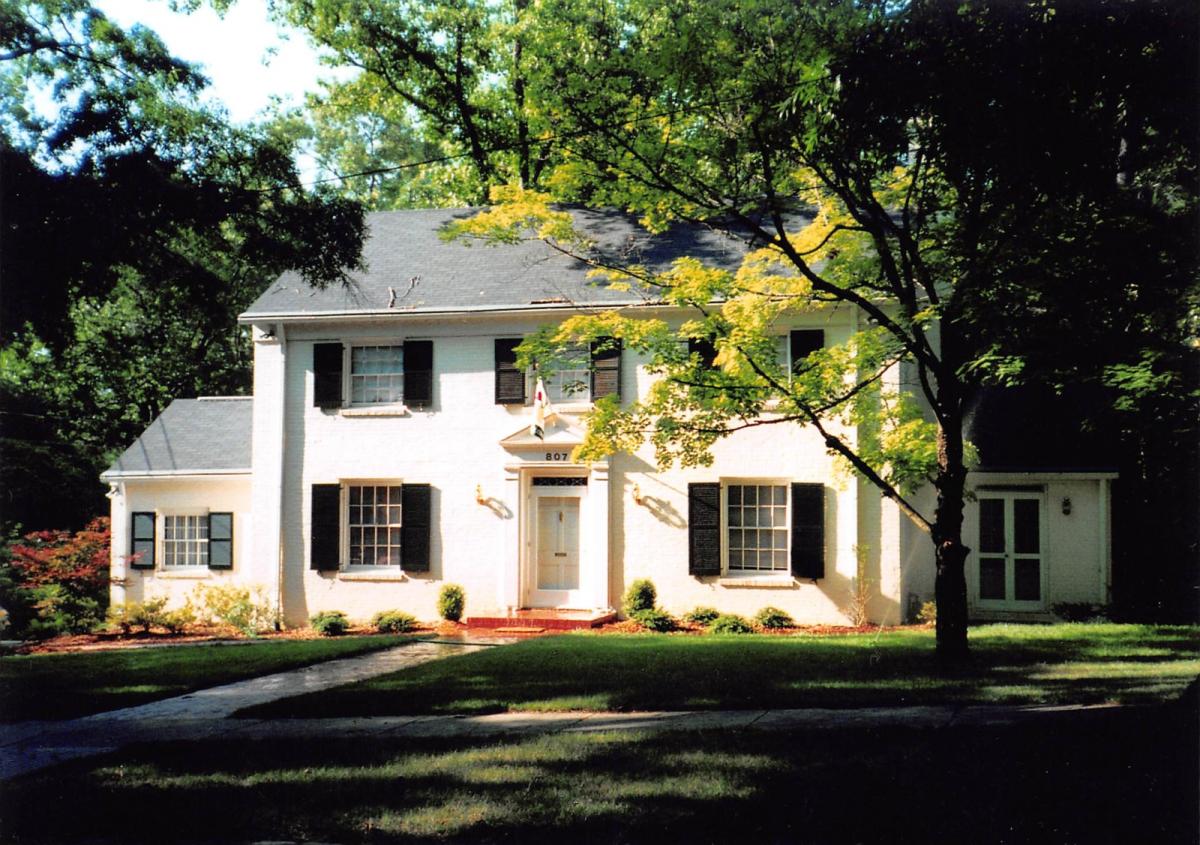 When entering the historic Forest Hills neighborhood in Durham, NC, one drives up a steep hill (Hermitage Court Drive) from University Blvd to the well-known Hermitage Court circle, a landmark of the neighborhood. This gateway to Forest Hills, a nationally designated historic neighborhood, is across from Forest Hills Park.
The house is one of the oldest homes in the Forest Hills neighborhood. James R. Simpson (born circa 1903; graduated from Duke Trinity College, class of 1924, died 12/12/73) and wife Mattie S. Simpson (born circa 1905; graduated from Duke Women's College, class of 1924, died 1 1/8/90) built the home in 1938; James was Vice President of Appointments at Duke University. They had one daughter, Joan Simpson Jones who graduated from Duke Women's College in 1950.
T. A. Broocks originally owned the property and the architect appears to be the renowned George Watts Carr. Although the Simpson family owned the home from 1938-1991, Mr. and Mrs. Simpson returned to Charlotte, NC in 1942, only 3 years after the home was completed. Thereafter the home was rented for a decade at a time to prominent Durham families.
After the Simpson family, the next occupants were William B. Umstead and his wife Merle D. Umstead, and their daughter, from 1942-1953. Mr. Umstead was not only a well known lawyer in Durham and a Duke law school graduate, he was also one of the NC senators in the US Senate from 1946-48, after being asked to take the place of Josiah W. Bailey who died December 15, 1946 in the middle of his term. Mr. Umstead lost his re-election bid for the US Senate in 1948 and went on to be the Vice-President and Attorney for The Citizens National Bank of Durham 1950-52. In 1953 he began the long and arduous campaign trail to become governor of North Carolina. He was elected governor in November 1952 and moved to the governor's mansion in January 1953. He soon suffered his first heart attack on January 8, 1953, eventually dying of heart disease on November 7, 1954 at Watts Hospital in Durham, NC.
Three other prominent Durham families lived in the home from 1953.