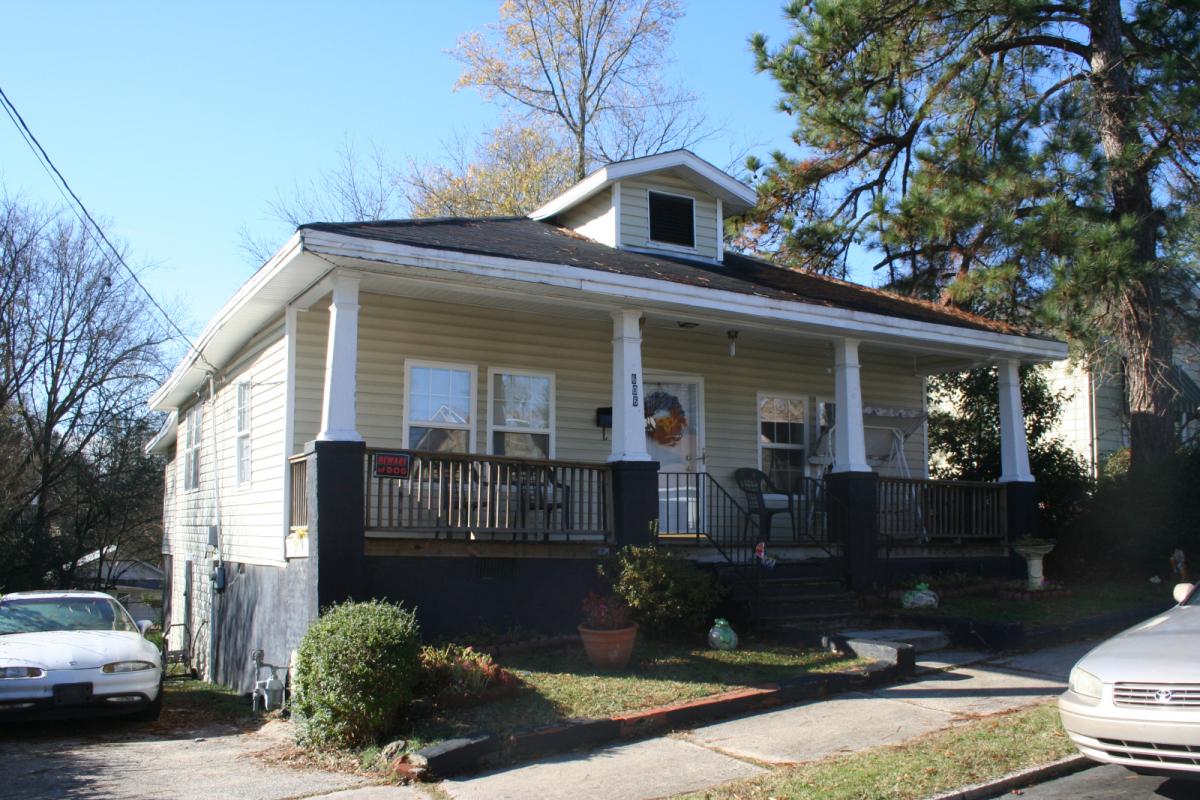 Photograph by Heather Slane (hmwPreservation) - December 2009.
Surveyors for the Stokesdale National Register Historic District determined this home at 606 Price Avenue retained too little of its original form to be considered a constributing structure:
This one-story, hip-roofed bungalow is three bays wide and double-pile with a gabled front dormer, an engaged front porch, and a shed-roofed rear ell. The house retains little visible historic fabric. The brick foundation has been covered with tar; it has vinyl siding, and trim, and no remaining chimneys. Vinyl windows on the façade are installed as individual units in place the original paired windows. The front porch is supported by tapered wood posts on brick piers (covered with tar) and has a modern wood railing between the piers. The dormer vent and front door are modern replacements. The site slopes to the rear to reveal an exposed basement. The earliest known occupant is Andrew D. Brewington (carpenter) in 1930.
Though the last sentence correctly cites the 1930 Durham City Directory, it appears the house was built a few years prior by a man more frequently called Adolphus (or simply A. D.) Brewington.  Both Brewington and his wife - née Mary Elizabeth Simmons - had been born to free families of color in a swampy corner of the state, near where Sampson, Cumberland, and Bladen Counties converge.  Their fathers both appear as coopers in the 1860 census, though it seems there was also farmland in both families as well.  This is a part of North Carolina where native groups like the Coharie, Lumbee, and Waccamaw lived in significant numbers, many classified as free people of color under the same 'mulatto' category applied to both the Brewingtons and Simmons families. (Note: in the process of updating this page, a Fayetteville-based fellow descendant of the Brewingtons - Gale Torregrossa - shared extensive genealogical background on their family, confirming that her ancestors were of mixed Cheraw Native, African, and European descent.  For more information please visit this Facebook page, on which Ms. Torregrossa and other descendants continue to compile their findings.)
We do not know how the Brewingtons initially identified, but it is clear that the sometimes blurred lines between free people of Indian and African descent in this region hardened amidst the raised stakes of access or its denial in the Jim Crow era.  Scarce resources for rural education would prove to be a particular flashpoint, with members of the large Sampson County Brewington family - possibly relatives of Adolphus - attempting to assert racial distinction in an early 20th century campaign for separate schools.  Whether by their own choice or that of census takers and other officials, the couple that would eventually come to Durham began to appear more consistently as Black in the historical record.
Brewington wed Simmons in Beaver Dam Township, southeastern Cumberland County, in the fall of 1881.  A. D. Brewington is listed in local newspapers as a Republican and elections registrar in the 1890s, though he either relinquished or was forced out of that role in the years that followed.  By the turn of the century they had 7 surviving children and owned a sizable farm in that same vicinity.  It is not immediately clear when Brewington entered the ministry, but around this time he is said to have become the first pastor of the Living Hope Baptist Church (now First Missionary Baptist) not far to the west in the Robeson County town of Parkton.  That likely accounts for the family's move across county lines by 1910, where the eldest daughter, Lillie, had become a school teacher, while the younger children helped maintain the farm.
Already in their early 60s, the Brewingtons may have made the choice to move north in the early 1920s to accompany several of their young adult children, pursuing more diverse career opportunities.  They first lived on Link Place (later renamed Mount Vernon Street) alongside their daughter Lillie, by now wed to Hezzie Shouard, who ran a grocery.  The Brewingtons purchased this property in the emerging Stokesdale neighborhood in January 1923.  Their house was likely complete by 1924, when Rev. Adolphus and Mary E. Brewington were first listed as residing on Price near Fayetteville - the same year the new Lincoln Hospital opened a block to the north.  Records of the White Rock Baptist Church both confirm the Brewington's address as 606 Price by 1926 and indicate they were consistent members of that congregation.
Perhaps in response to the increasing association of his name with that of the Nazi leader in the 1930s, Adolphus does appear more frequently as Andrew in the years that follow.  He is also described as a carpenter by trade consistently through what would be the last decade of his life.  At his death in May 1941, a short obituary in the Durham Morning Herald described him as a retired minister who "dropped dead while at work Wednesday morning."  Funeral services were held at White Rock, with Rev. Miles Mark Fisher presiding.
Mary Brewington lived on at 606 Price for another decade, much of it accompanied by her son, Willie "Doc" Brewington (who for at least a short time ran Doc's Sport Shop on Pine Street).  At her death in 1951, the division of her estate gave the house to Doc, who seems to have begun renting the house to a series of tenants.  In 1954, he obtained a permit and enlisted Home Modernization and Supply Company to make modifications to what the local newspaper described as "the substandard dwelling at 606 Price Street."  Overdue tax notices piled up in the decade that followed, and by the mid-1960s Brewington appears to have lost ownership.
For most of the 1970s, the resident here was Joyce Belton - a teacher at Hope Valley Elementary.  During these she years she also completed her Master of Education degree at NCCU.
Another round of renovations was permitted in 1980, and the property changed hands again multiple times in the early 2000s.  Following a mid-year sale, a demolition permit was issued for 606 Price in late 2021.  The fate of the house remained unclear in early 2022.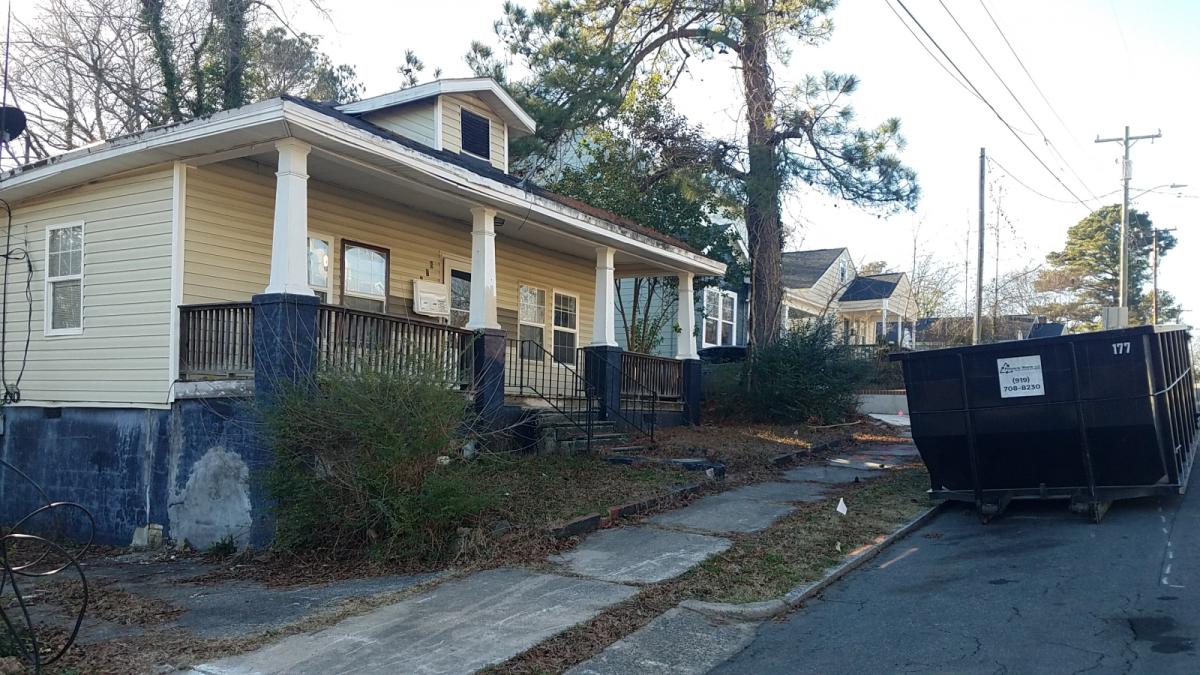 Construction dumpster and contractor board on-site at 606 Price Ave, 1.8.2022 (N. Levy)
Update: this house was demolished in mid-January 2022.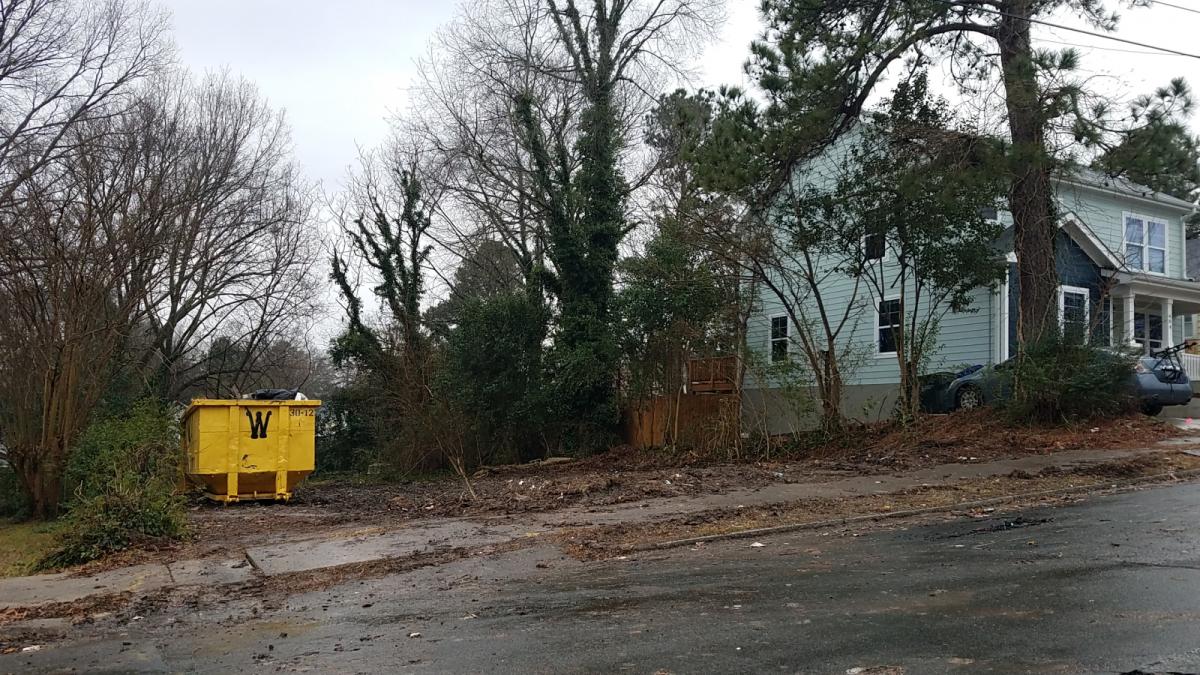 1.20.2022 (N. Levy)