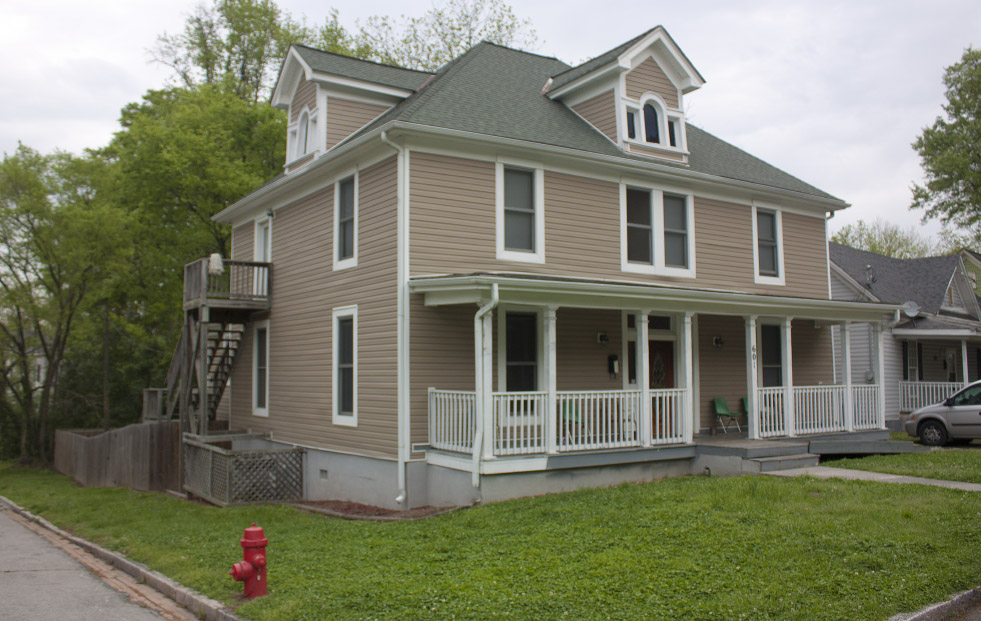 04.05.12
A substantial two-story, Colonial Revival-style house with hipped roof and gabled dormers, the William Thomas Murray House anchors the neighborhood at the corner of Carlton Avenue and Gurley Street. The house is three bays wide and double-pile with a stuccoed foundation, wood weatherboards, and an asphalt-shingled roof. The house has been altered slightly with replacement one-over-one windows with plain flat window surrounds. (Original surrounds had pointed-arched lintels like those on 509 and 511 Carlton Avenue.) The paired window above the front door was originally a single window. Each of the three dormers retains a Palladian window and the flared dormer trim. The full-width, one-story, hip-roofed front porch is a later replacement. However, the slender square posts and the overall scale of the porch are in keeping with the architecture of the neighborhood and do not adversely effect the historic character of the house. The front door is a replacement, but retains the original three-part transom and sidelights over panels. A modern, exterior wood stair runs up the left (east) side of the house, which appears to be a group home.
The house first appears on the 1913 Sanborn map, but little is known of the earliest residents, William Thomas Murray (upholsterer), Miss Alma Murray, Miss Florence Murray, Guy T. Murray (appraiser), and William H. Hamlet all in 1915.
Murray worked at the Durham Mattress Works - located on "Shawnee near Trinity" in the first decade of the 20th century, but lived on Carlton - then called "Appletree Street" - at 606. In 1911, he and his wife Callie Murray are located on Appletree, no address noted (only the Seeman directory is digitized for that year, and it sucks.) This may mean they were in a new house, without an assigned address.  James L. Murray, laborer, is also located on Appletree. WT Murray is noted as working for "D.T. Co.," which I would guess is an abbreviation for Durham Traction Company. 
By 1915, the family - minus Murray's wife Callie - is clearly living at 601 Carlton / Apple / Appletree. Murray had started his own business, and his "Mattress Works" were located directly behind the house, at 404 Gurley St.
Murray died in 1947.