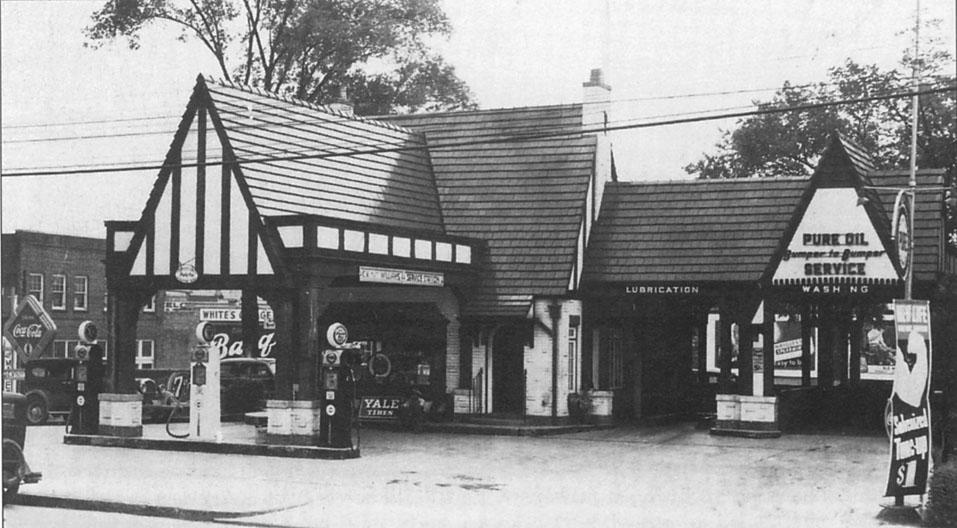 (From "Images of America: Durham" by Stephen Massengill)
Prior to the 1920s, 421 North Mangum Street was the site of the in-town TJ Rigsbee house (as opposed to his farm where Duke's West Campus now sits.) After TJ Rigsbee's death in 1917 and TJ Rigsbee, Jr.'s death in 1924, the house was sold, demolished, and the site redeveloped as a service station.
During the 1920s, many previously residential corners began to be replaced by 'filling stations', as they were commonly called. Pure Oil stations were common, and known for their distinctive architectural styles, which were meant to mimic cottages. Many had white stucco walls and blue roofs - one is still in existence at East Main and Alston - while others, such as this one, were built in a Tudor Revival style. Interestingly, this was in reaction to the explosion of 'eyesore' gas stations during the 1920s, which had led to protests from many people about their blighting effect on the landscape. Pure Oil, in particular, hoped that their designs would make them more welcome in residential areas.

Welcome or not, they came. One of these was developed at the northwest corner of Morgan and N. Mangum Sts. in the 1920s, and operated by Caley V. "Mutt" Williams.



Looking southwest, 1941.
(Courtesy Wayne Henderson)

This station was in operation into the 1950s and 1960s.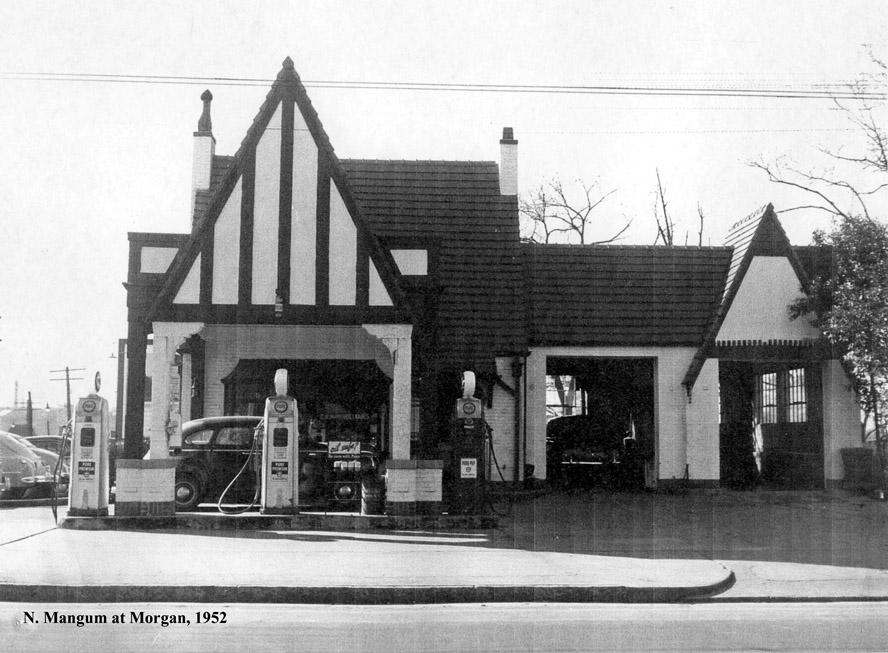 Looking west, 1952.
(Courtesy Wayne Henderson)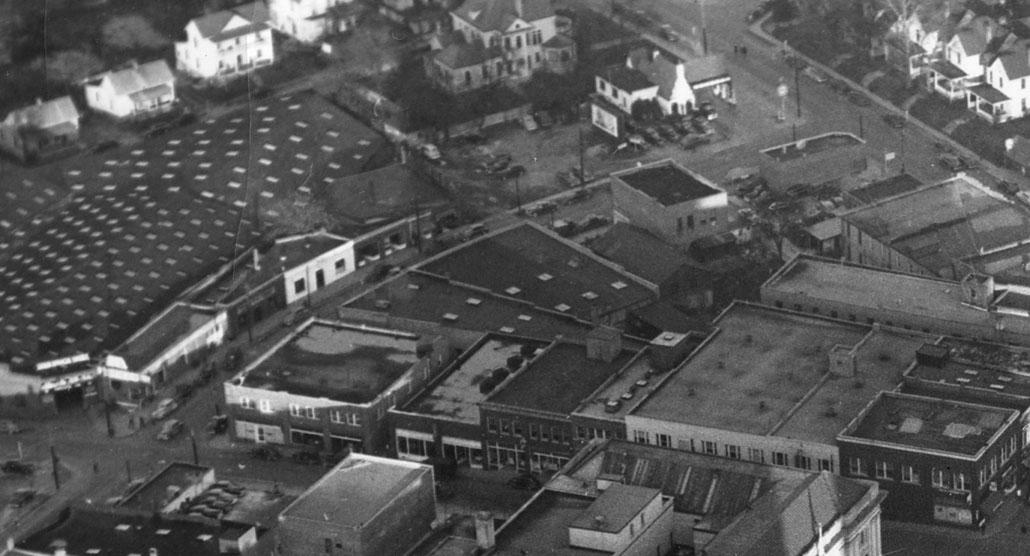 Aerial of northeast downtown; picture date is labelled 1960, but may be earlier.
(Courtesy Duke Archives)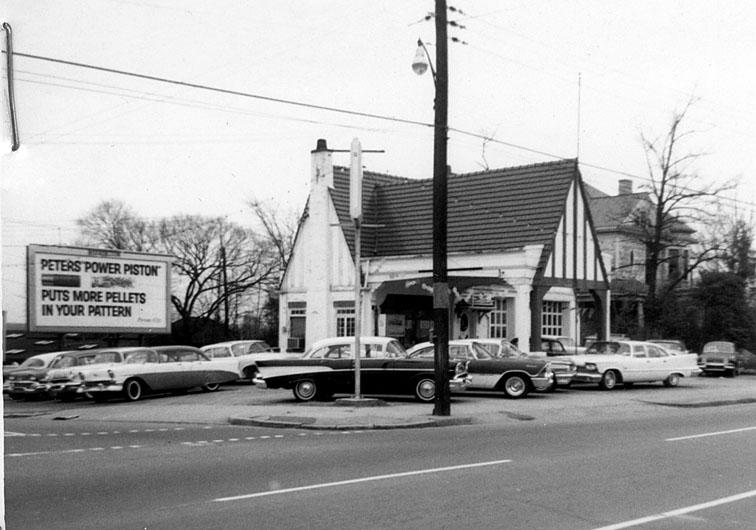 The station, looking northwest from Mangum and Morgan, 1966. (In the background is the house several people have commented on in the past few posts.)
(Courtesy Durham County Library)

This structure was torn down by the city in 1968 using urban renewal funds.

In the 1980s, the Durham Merchant's Association / Credit Bureau Systems built a bland suburban structure here.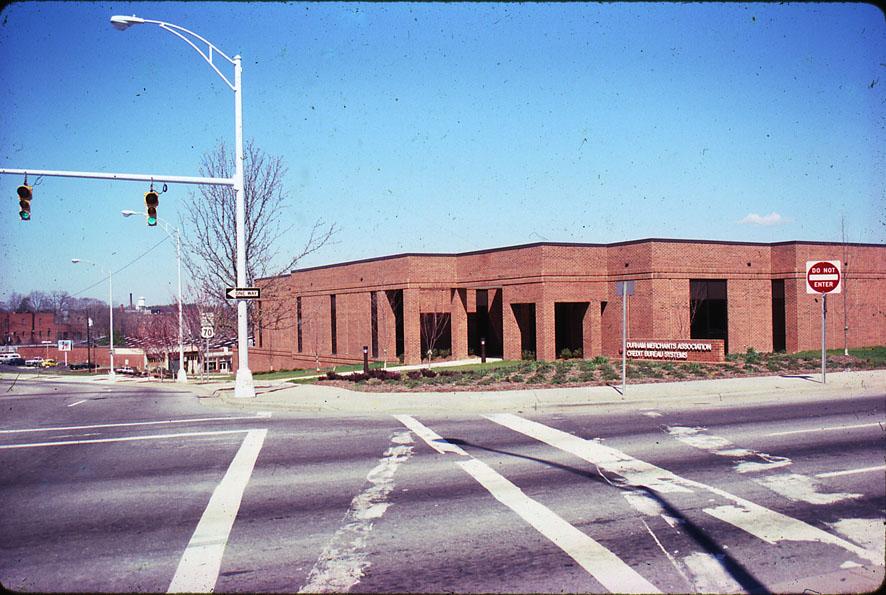 Looking northwest from N. Mangum and Morgan, 1987.
(Courtesy Durham County Library)

Until 2009, the building was home to Credit Financial Services, which seemed to primarily be a collection agency / credit bureau.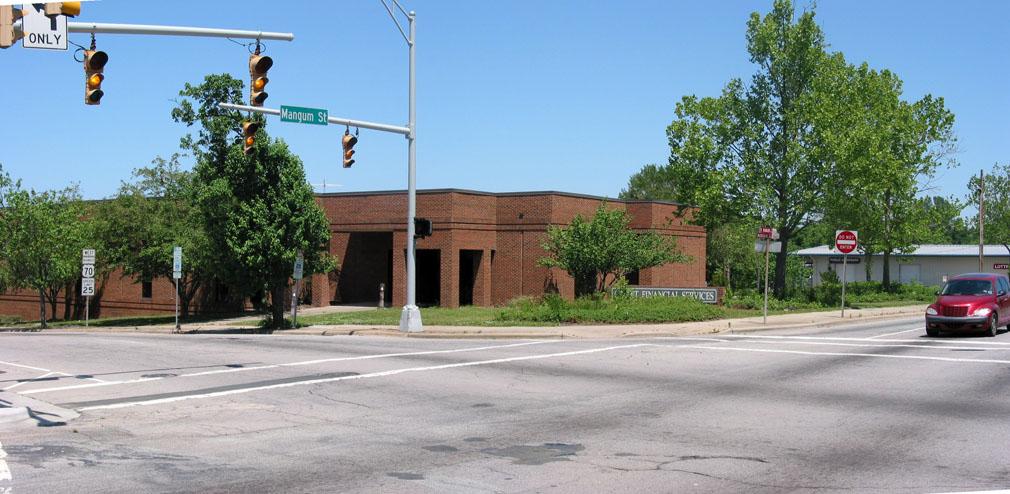 Looking northwest, 2007.
Since then, it has served as a branch of the Latino Community Credit Union.