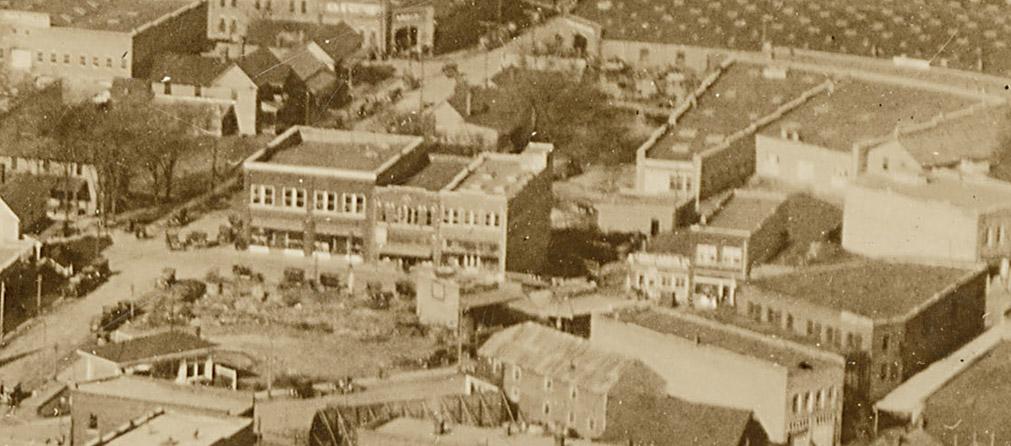 (Courtesy Duke Archives)

The 400 block of East Chapel Hill Street was primarily transformed from a residential into a commercial street in the 1920s. The above picture shows 401, 405, 407, and 415 had been built by 1924.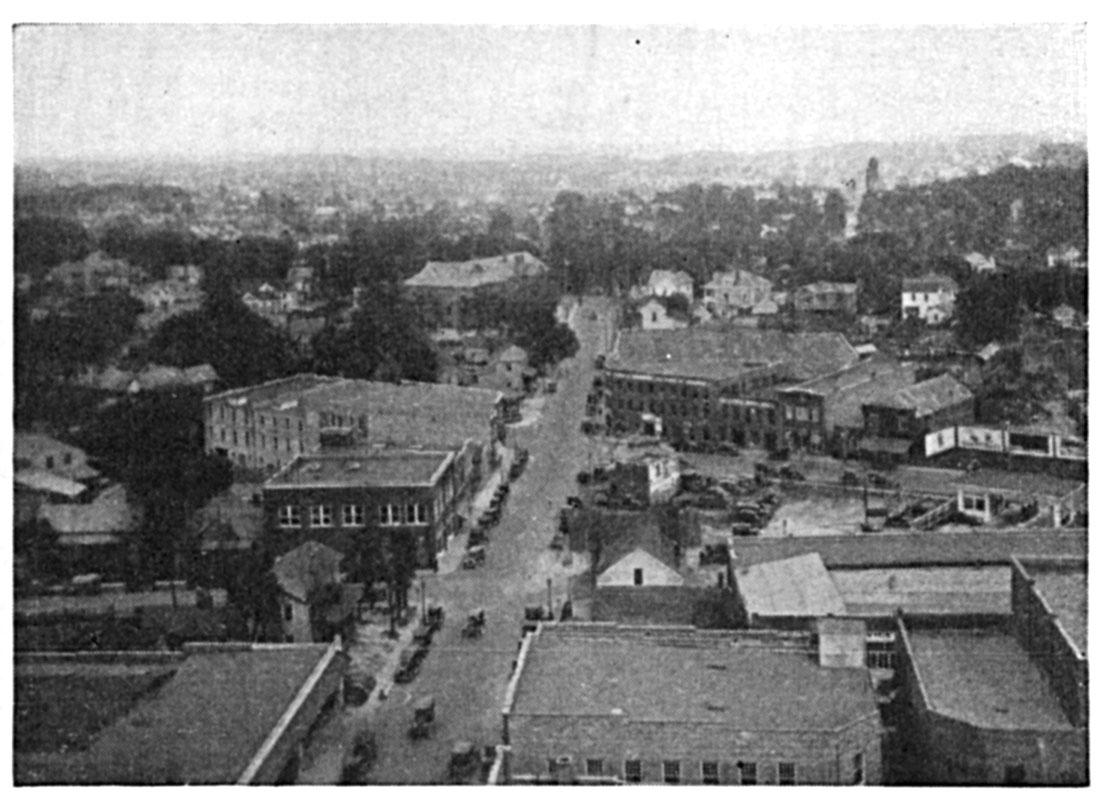 Looking east down East Chapel Hill, 1927
(Courtesy Durham County Library)

By the 1940s, the block was built out.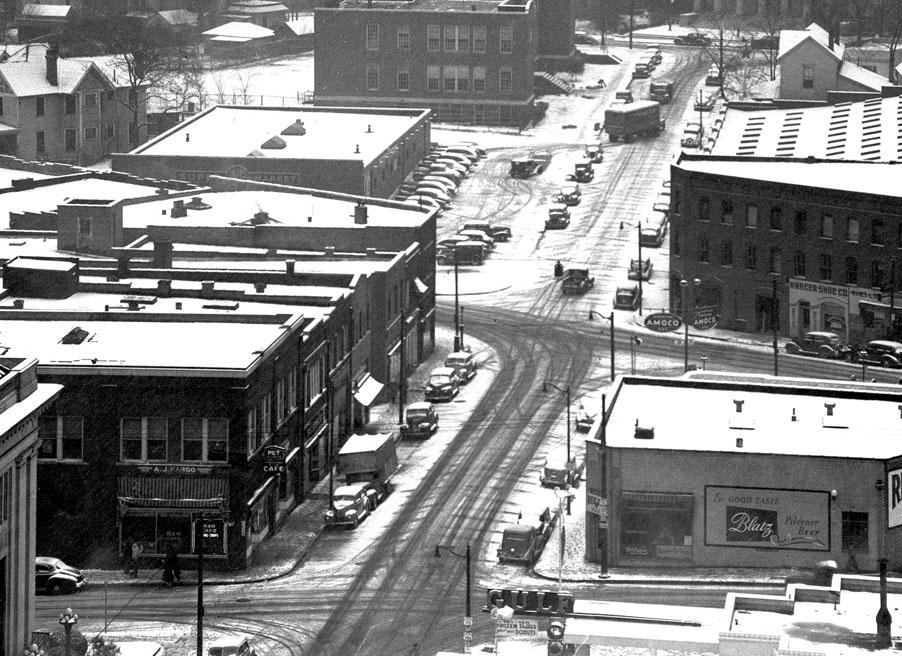 Looking east, 1945
(Courtesy Herald-Sun)

The below shot gives a clearer view of businesses, including McGhee furniture, Brass Rail Billiards, and Addison's Playworld.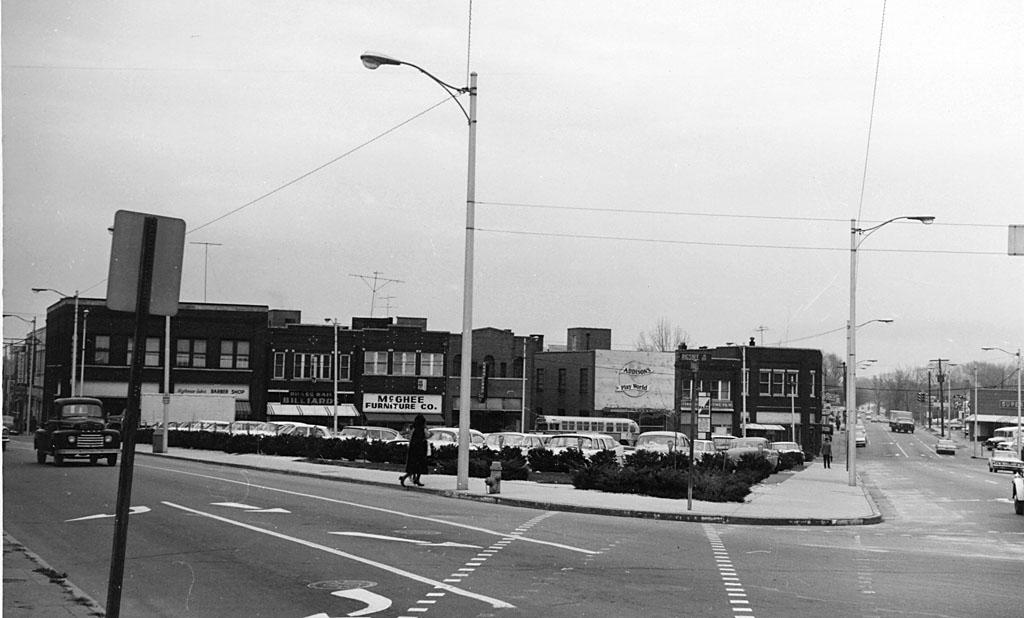 (Courtesy Durham County Library)

Below, mid-1960s, shows some changes in the line-up.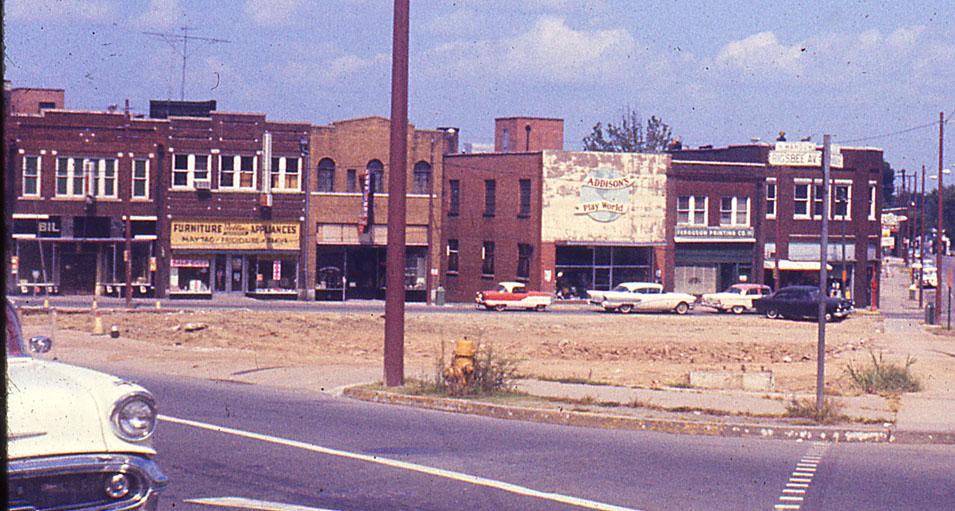 Looking north from Rigsbee and Mangum, 1961.
(Courtesy Durham County Library)
413 East Chapel Hill was home to Addison's Playworld from fall 1959 - and it was, from what I can gather, much beloved by kids in Durham.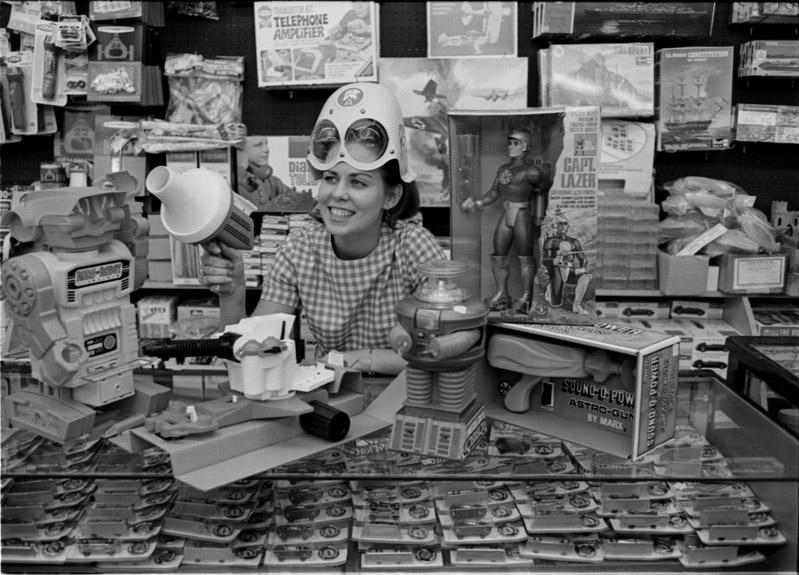 Interior shot of Addison's, captioned "Spacecraft at Addison's - 07/28/69". The woman is unidentified.
(Courtesy the Herald-Sun)
The same family had started a maternity and baby-focused business a few blocks west at 117 East Chapel Hill in 1950.  Apparently both the concept and their stock had outgrown that earlier space.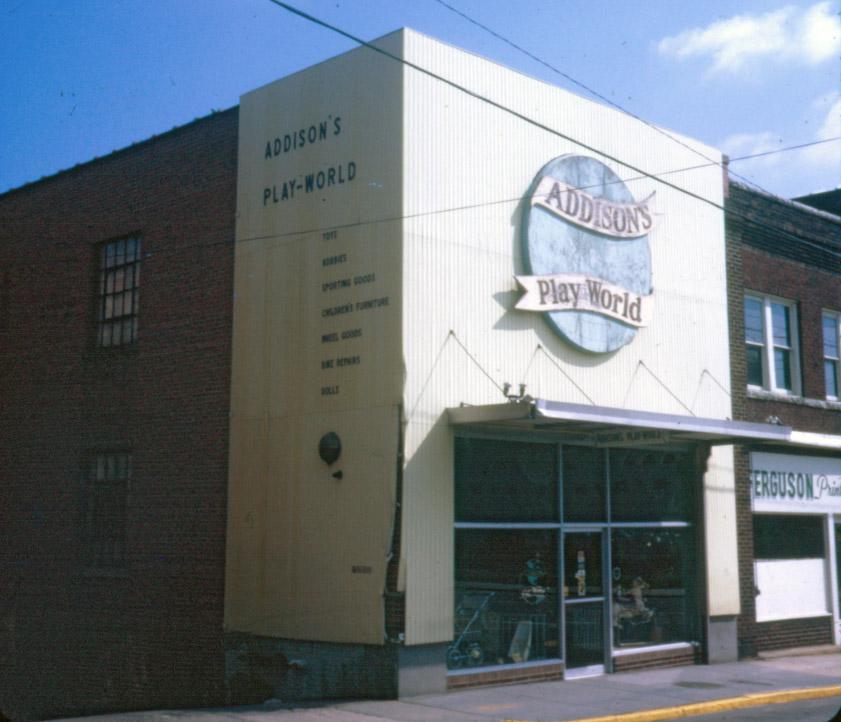 Addison's, 1970 (DCL)
Owner Anjel Addison was outspoken about the damage done to downtown businesses like his by the rerouting of streets to create new traffic patterns like the Loop.  Addison's Playword began merging their business into a Camping Center under the same ownership on US-70 in the mid-1970s.  They announced they would close in 1976 and ran "Going Out of Business Sale" ads the entire next year.  Apparently unable to get out of a lease, the once-beloved store sputtered into 1978 as a discount toy warehouse before finally closing.  The facility sat empty until opening in July 1980 as Budget Office Furniture, with its entrance facing the surface parking lot and Morgan Street from the rear.
As of the early 21st century, this is one of the most intact blocks of early 20th centry streetscape remaining downtown.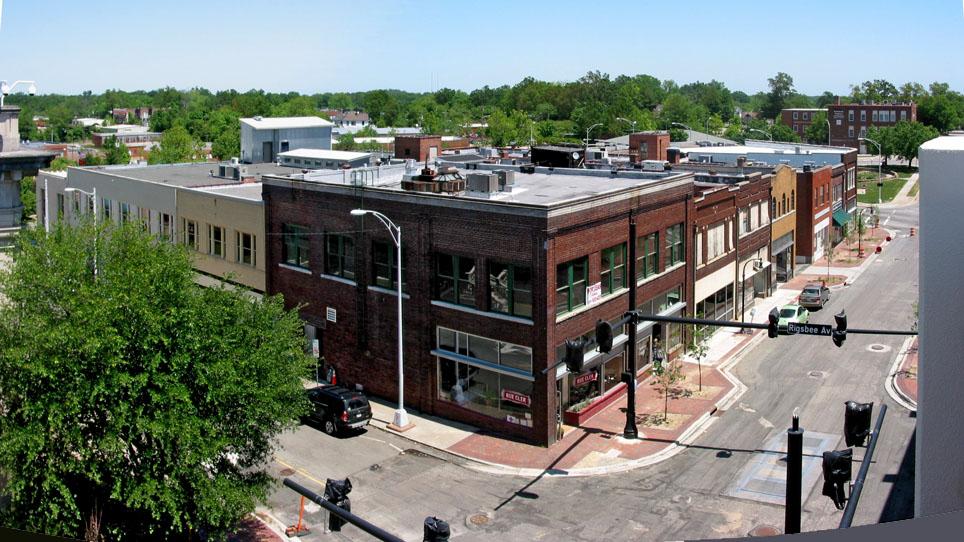 Looking east-northeast on East Chapel Hill, 2007. (Photo by Gary Kueber)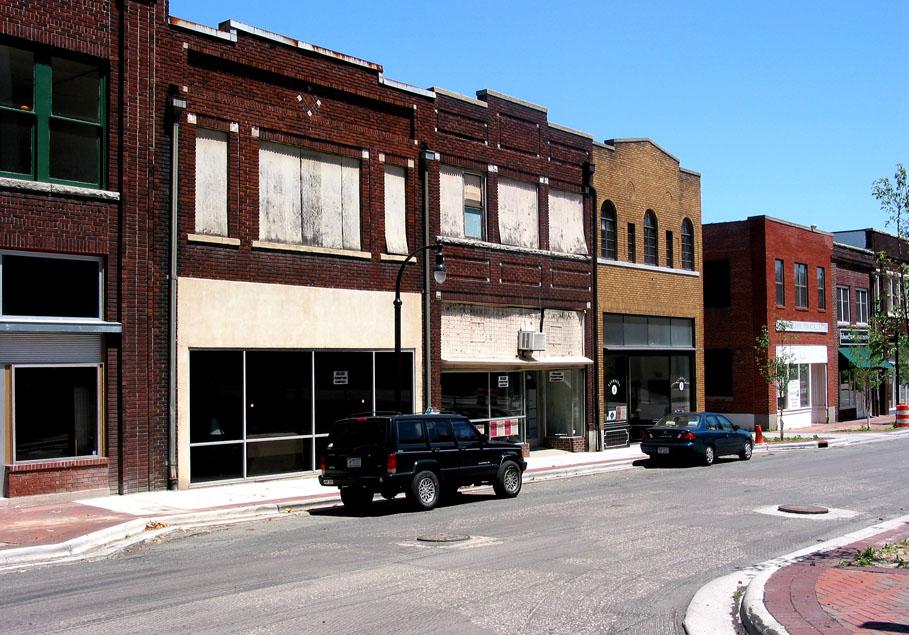 (Photo by Gary Kueber)
As of 2007:
Ward Furniture Occupies 405 and 407 - although there has been talk that Rue Cler might expand into 405 (same owners), 407 has a bank trustee name as the ownership, which isn't usually a good sign, but I read a few months back that the property had been transfered to John Warasila of Alliance Architecture, so I'm not sure what is going on there. 409 contains Flywheel Design - a cool graphic design/web design studio - on the first floor, but the building is owned by Merge Records which is headquartered on the upper floors. Merge began in 1989 in Chapel Hill, but moved to this building in 2001; it has some great bands on its label, including ~5 of my personal favorites.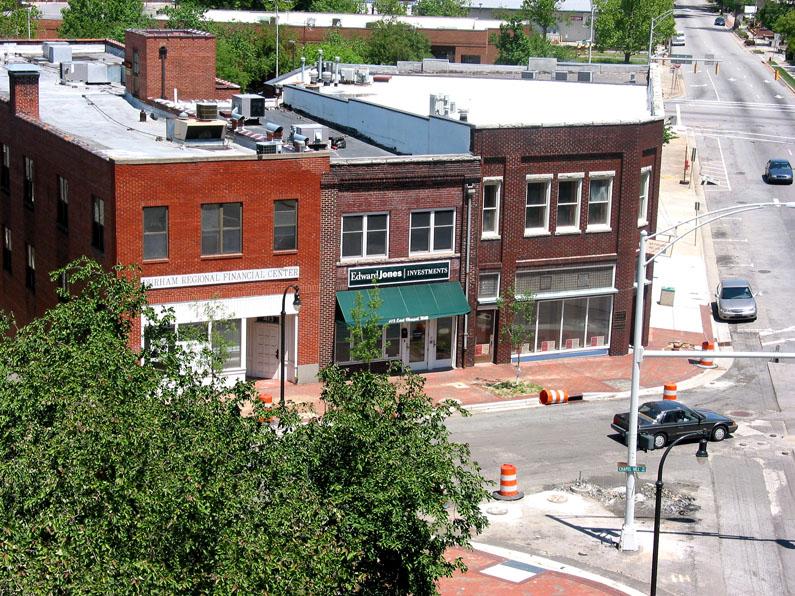 Looking north up Mangum, 2007. (Photo by Gary Kueber)
413 is no longer Addison's Playworld, but the ownership is still "Playworld, LLC." 415 appears to be an investment banking office.

This block is architecturally in great shape - it has traditionally suffered from the isolation brought on by the parking deck, city hall, the crazy loop between Mangum and Roxboro, and the dead space to the west brought on by empty buildings and the "We Want Oprah" parking garage. The success of Rue Cler might begin to improve some of the rest of these spaces, although I don't think it can reach its full potential without improving some of the surrounding issues.
The building was renovated in 2008, and as of 2011 houses apartments upstairs and a hair salon in the first floor retail space.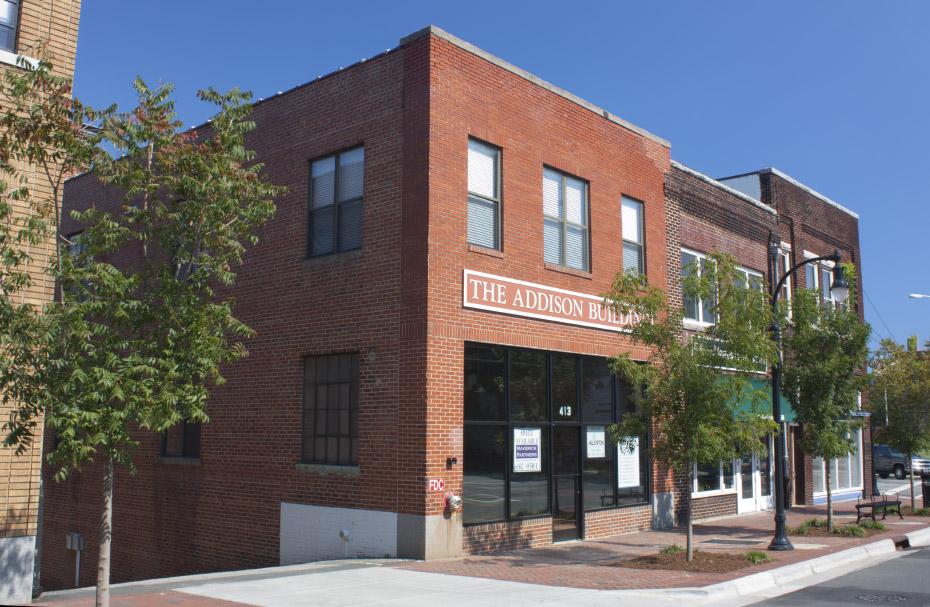 10.05.08 (Photo by Gary Kueber)