In tours
This building does not appear in any tours yet.
Last updated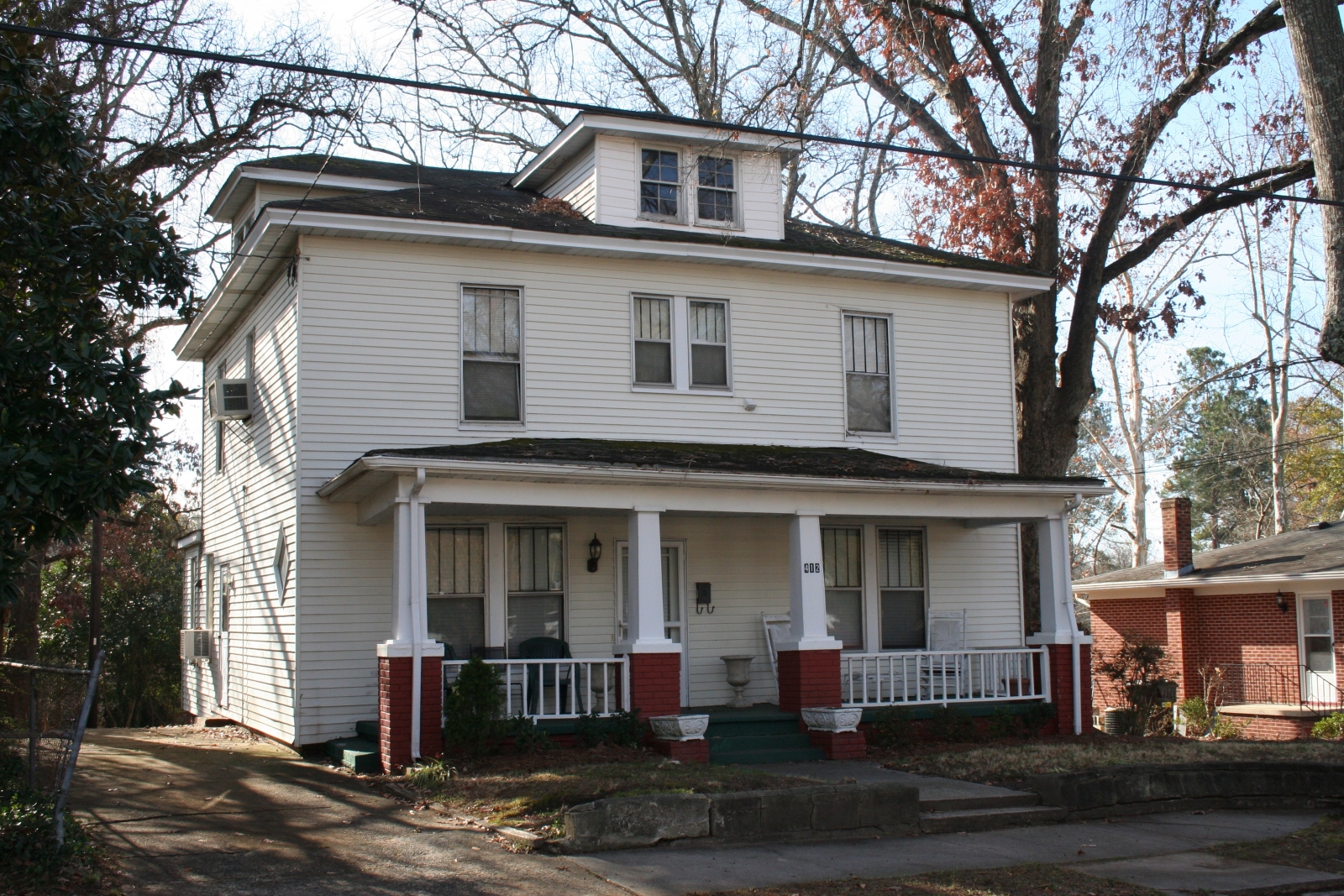 Photograph taken by Heather Slane, National Historic Register Submission, December 2017
One of a small number of two-story houses in the district, this two-story, hip-roofed house is three bays wide and double-pile. It has vinyl siding, and four-over-one Craftsman-style wood-sash windows, including paired windows flanking the entrance on the first-floor façade. The nine-light, Craftsman-style door is located slightly off-center and is sheltered by a full-width, hip-roofed porch supported by tapered wood posts on brick piers. A hip-roofed dormer on the façade has paired replacement windows and there is a matching dormer on the left (east) elevation. There is a diamond-shaped window on the front (north) end of the left elevation and an interior brick chimney near the right (west) elevation. A one-story, hip-roofed ell at the right rear (southwest) has an exterior brick chimney on its rear elevation and a shed-roofed wing to its left (southeast). County tax records date the house to 1925 and the earliest known occupant is Garland R. Reid, carpenter, in 1930. 
According to deed records, H. L. Wilson sold the property to J.W. Harrington on February 11, 1925 and Garland Reid and his wife, Estella,  resided in the house but did not own it as the submission states.  According to city directories, Mr. and Mrs. Reid lived in the house until 1939.  In 1940, Exie L. Bullock, a launderer, lived in the house until 1954.
On October 3, 1951, Bobby M. Thorpe and his wife, Evelyn M. Thorpe, purchased the house from J. W. Harrington.   The Thorpes lived in the house until January 8, 1954.  In 1954, Clarence C. Malone, a well known attorney and relative of the Thorpes lived in the house as well.  According to city directories beginning in 1955, Thomas D. Parham and his wife, Edith, lived in the house. By March 17, 1974, both of the Parhams had died.    Deed records show that on November 21, 1979, Thomas D. Parham, Jr. and his wife, Marian, lived in the house.  
Deed records show that the ownership of this house did not leave the Thorpe familly.  On December 8, 1998, Miriam Thorpe Rush, administrator of the estate of Evelyn Malone Thorpe, with her husband, reside in the house.